►
◄
latest
habitat tv
blog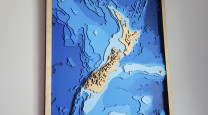 How Katie Scott transformed this home into a luxurious retreat
In the world of interior design, it's not every day that you get a canvas that's been splashed with beige and a homeowner's wish list that includes 'extraordinary elegance' and an 'unexpected wow.' This was precisely the case for talented interior designer Katie Scott, who transformed a dated house into a dreamy, modern retreat using sophisticated and charming Resene paint colours.
Katie's clients had a clear vision, they craved elegance, abundant natural light, and, most importantly, a 'wow factor' that would make their home truly unique. Armed with these dreams, Katie Scott took on the challenge. Out with the beige and in with luxury, light and entertainment space.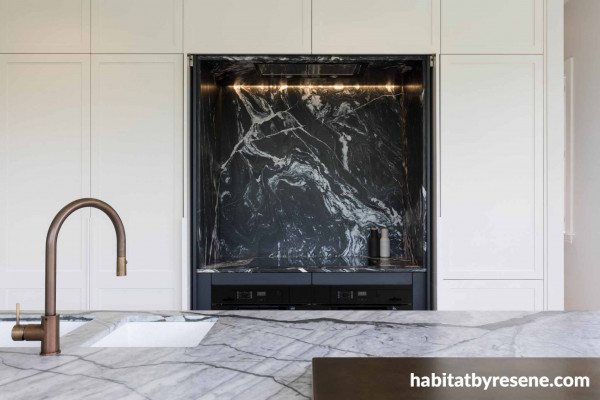 The client's desire for a moody palette was inspired by the selection of marble for the kitchen. The soft shade of Resene Half Sea Fog on walls acts as a bridge, seamlessly blending the marble and cabinets in Resene Double Tuna, adding depth while maintaining a tonal harmony. The result was a warm, inviting atmosphere that captured the essence of luxury.
One of the most significant design decisions made was to relocate the kitchen to the opposite side of the house. By doing so, Katie ensured that natural light would grace the space throughout the day. This positioning also allowed for an innovative design choice - the hob area, designed with Resene Double Tuna cabinetry and marble surround, could be concealed behind large, panelled doors, giving the impression of a sleek panelled wall. When opened, this feature added a dramatic surprise, perfectly encapsulating the 'unexpected wow' the clients desired.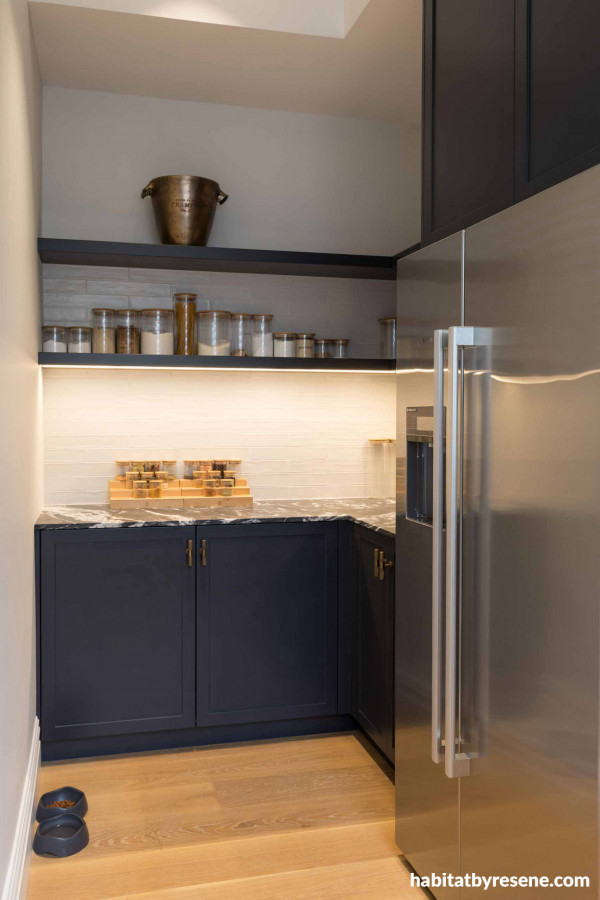 The scullery features Resene Double Tuna on the cabinetry with Resene Sea Fog on walls, and ceiling and trims in Resene Alabaster - contrasting shades that create a striking space.
To infuse warmth and timeless class into the renovated home, brass hardware, lighting and accents were used strategically. These elements created a consistent theme throughout the house, adding a touch of luxury and a classic feel.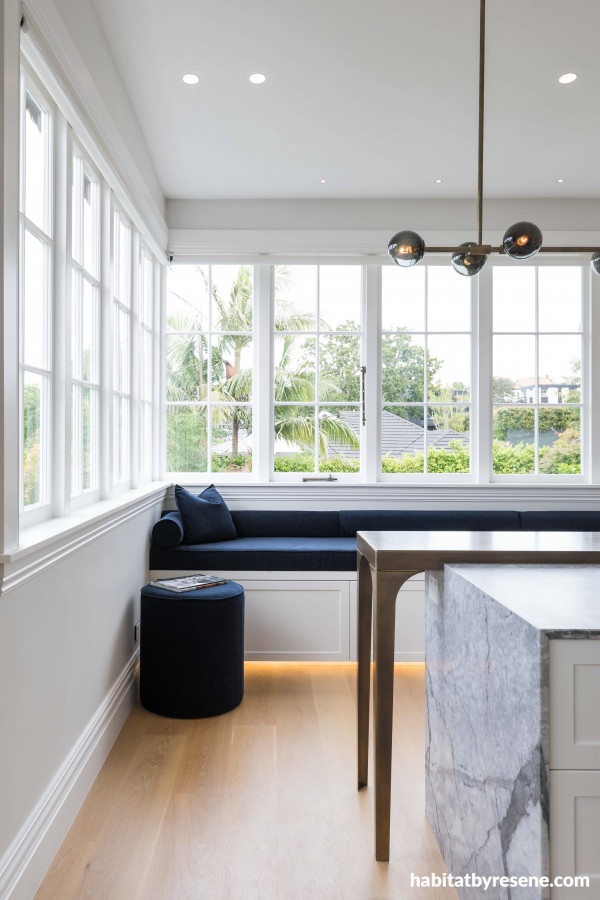 The custom-made bar leaner, handles and pendant lights, all in aged brass, became defining features of this elegant transformation. The walls are painted in restful Resene Half Sea Fog and ceiling and trims in Resene Alabaster.
The attention to detail didn't stop at the walls. The fabric chosen for the window seating was carefully selected to echo the deep blue-grey tones while contrasting with the light cabinets and walls. The result is a sense of opulence with a velvety texture, further enhancing the luxurious feel of the space.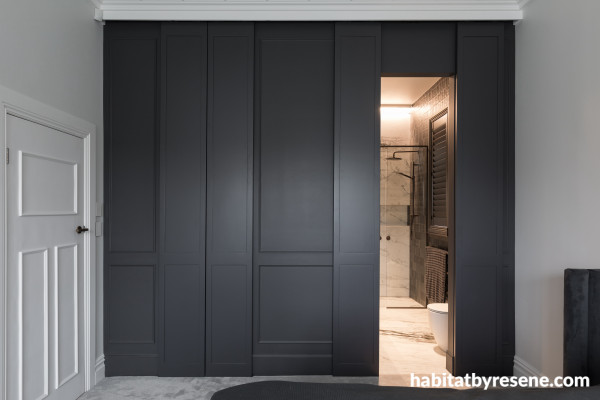 The master bedroom offers seamless sliding doors to the ensuite and walk-in wardrobe, painted in Resene Fuscous Grey, with walls in Resene Half Sea Fog and ceiling, trims and doors in Resene Alabaster.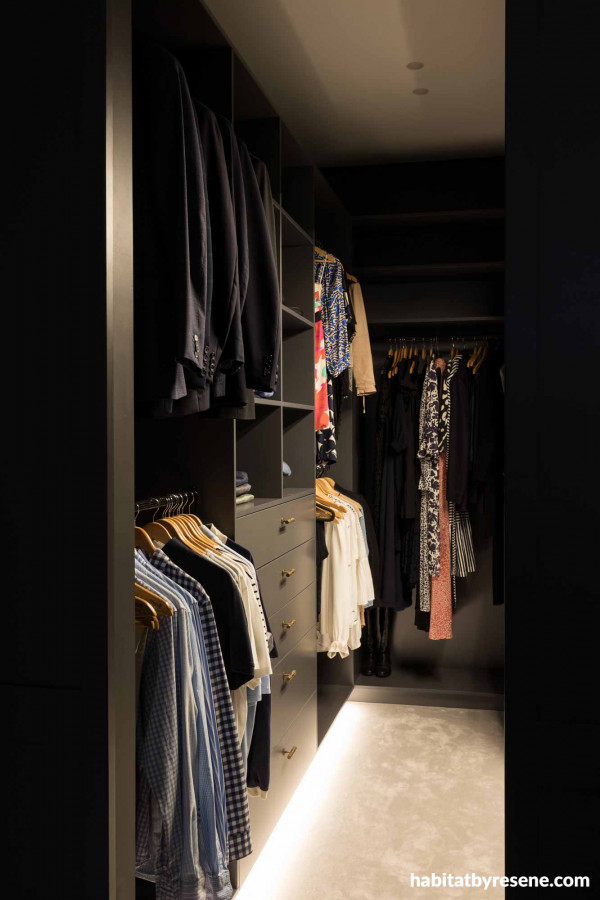 The elegant and moody walk-in wardrobe features Resene Fuscous Grey on shelving and walls, and Resene Alabaster on the ceiling.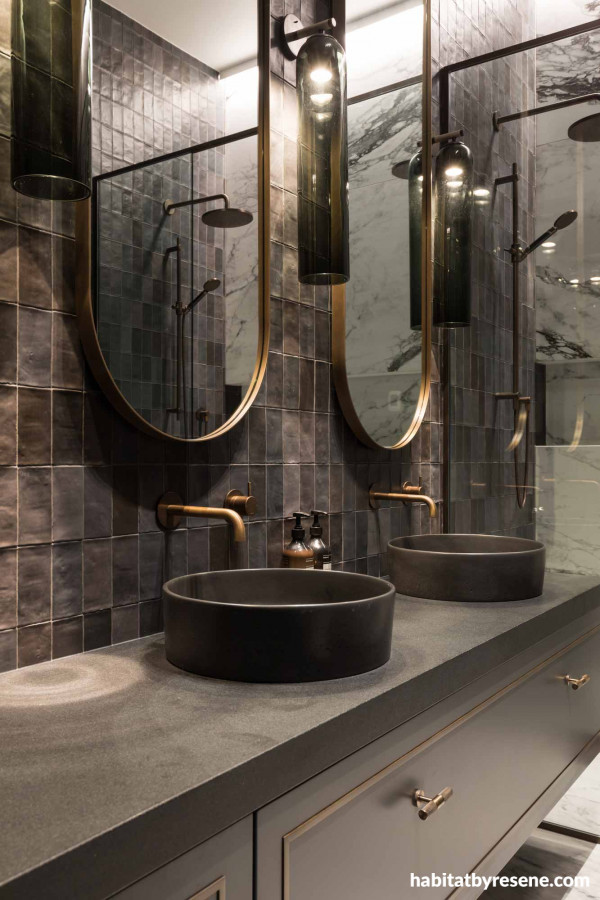 In the exquisite master ensuite, Resene Fuscous Grey was used on the vanity to harmonise with the dark marble and charcoal feature tiles. The ceiling is painted in Resene Alabaster.
As with many renovations, this one didn't come without its challenges. With the layout being completely overhauled, including adding a self-contained area downstairs with a separate bedroom, bathroom and lounge, it was a large job. Katie has truly created an elegant and timeless design with extraordinary attention to detail and finishes.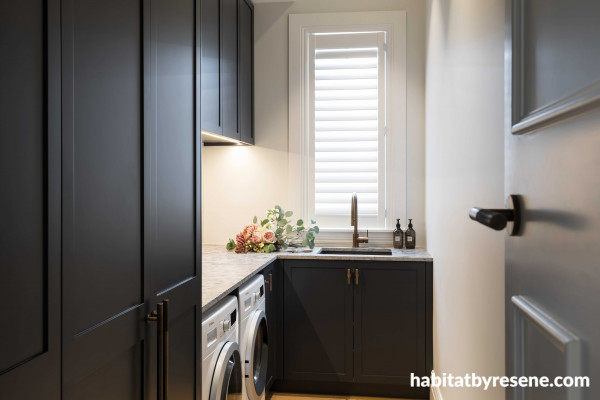 The laundry is a dreamy space that reflects the home's colour palette, with Resene Double Tuna on cabinetry and Resene Half Sea Fog on walls and trims.
Katie's keen eye for detail, combined with her versatile and exquisite colour choices, allowed her to bring the client's dream to life. This house has been transformed from an ordinary dwelling into a luxurious sanctuary filled with warmth, elegance and of course, that unexpected wow factor around every corner.
design Katie Scott, Sticks + Stones Design
images Mark Scowen
Top tip: When opting for dark and dramatic colours, keep in mind that you may need to adjust your lighting to suit. Use lamps, accent lighting and dimmer switches to help create the right mood. Choose flat or low sheen finishes, such as Resene SpaceCote, to bring out the moodiness of dark colours.
Published: 01 Nov 2023
Do you have a home full of wonderful Resene paint and colour? Send us some snaps by emailing [email protected].










the look
If you're stuck on what
colour to use or need colour
advice, try out the Resene
Ask a Colour Expert service.