►
◄
latest
habitat tv
blog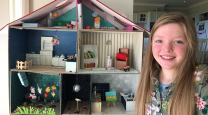 How to be flaw-some: Ten perfect touch ups to help you embrace your home's imperfections
Everyone needs a bit of TLC every now and then, including our homes. It's easy to see the flaws in our living spaces; a scuff mark here, a nail hole there, but it's how we resolve those flaws that can reveal our true creativity. Resene has plenty of ways to help you embrace your home's flaw-someness.
Rather than trying to achieve perfection in your home or apartment, try embracing those quirky flaws that make it unique and touch them up using Resene's extensive range of paint and paint effects.
Instead of suggesting a complete home renovation, these ten touch up ideas will provide you with creative ways of incorporating those flaws or small damaged areas into the overall aesthetic of your home. There are tricks and effects for every style of home, from Mediterranean to French Provincial.
Make your mark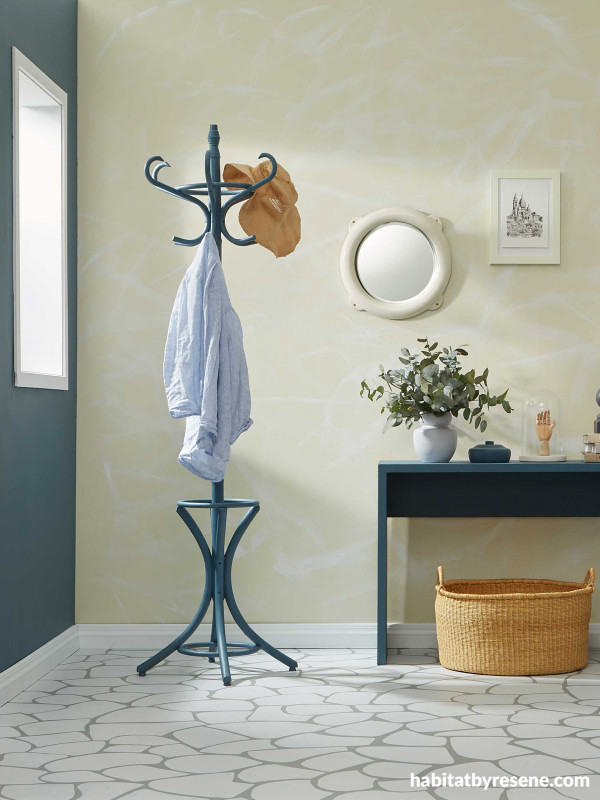 This sunny room uses Resene FX Paint Effects medium coloured with Resene Half Alabaster over a wall in Resene Arrowroot. The skirting board is in Resene Half Alabaster and the creatively painted tiled floor is in Resene Midwinter Mist with painted grout in Resene Stack. Left wall, coat rack and desk in Resene Explorer. Project by Kate Alexander. Image by Bryce Carleton.
Technique: Paint effect
Effect created: Using a paint effect can give your walls a similar look to a European building, with aesthetics including cob and mudbrick. Resene FX Paint Effects medium is perfect for a wall with unexpected bumps or stains and creates a distinctive and rough surface.
Top tip: Resene FX Paint Effects medium can be applied with methods such as dragging, limewashing and more. Mask off wall sockets, skirting frames and door frames so you can continue the effect right to the end. Check out more textured paint effects and how to use them here
Get the look: If you're after a moody parlour look, try using Resene FX Paint Effects medium coloured with Resene Indian Ink over a wall in Resene Waikawa Grey. Pair the wall with deep mahogany furniture and lamps painted in Resene Dark Slate.
Colour inside the lines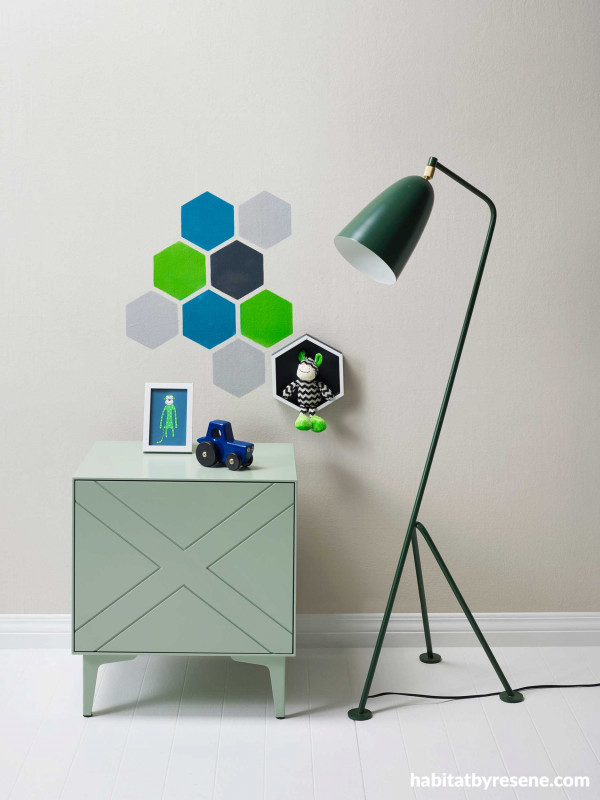 This creative hexagon stencil has been used in Resene Kakapo, Resene Optimist, Resene Transmission and Resene Coast. Try pairing your hexagon hive with a wall in Resene Ecru White and a painted bedside table in Resene Mantle. Project by Greer Clayton. Image by Bryce Carleton.
Technique: Stencilling
Effect created: Stencilling can be a flexible and diverse way of adding patterns into your living spaces. Don't just stick to the walls when using stencils; they look great when used on cabinets and bookshelves too. Use the stencil on portions of furniture that are weathered or could do with a touch up.
Top tip: Use low-tack masking tape to keep your stencil in place and use a sponge for stencilling to avoid visible brushstrokes. For more about how to use stencils with Resene paint and for more stencil ideas click here or check out these kids room stencil ideas Resene Paints - Kids Stencils
Get the look: With stencils, you can achieve everything from scallop-edged cupboards to faux filigree headboards. For an elegant touch, paint a chest of drawers or door in Resene Aquamarine. Use a fleur-de-lis stencil and Resene Goldmine metallic paint to create a graceful pattern fit for royalty.
Awash with colour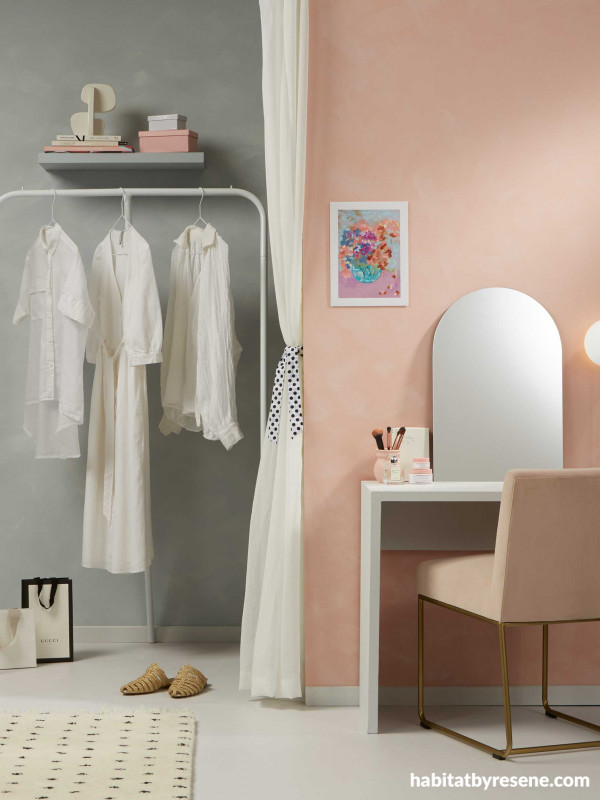 A marked wall will benefit from a colourwash effect, such as this dreamy pink wall created by using Resene Sakura with a wall texture in in Resene FX Paint Effects medium tinted with Resene Quarter Blanc. The grey wall is Resene Loblolly with the effect in Resene FX Paint Effects medium coloured with Resene Half Gull Grey. The floor is in Resene Mercury and the desk is in Resene Snow Drift. Project by Melle Van Sambeek. Image by Bryce Carleton.
Technique: Colourwashing
Effect created: Colourwashing rejuvenates your wall by giving it a softly broken colour aesthetic. It is an extremely versatile technique and can be used on smooth finishes or walls that have pre-existing texture.
Top tip: Use a basecoat of a lighter colour washed with a second darker colour that is combined with Resene FX Paint Effects medium. The lighter coloured base will show through the topcoat. The 'texture' is created by using your brush in a crisscross pattern. For full instructions on how to colourwash a wall click here
Get the look: It is best to use colours that are close to each other on the colour spectrum to get a cohesive look. Try a Resene Caper base colour colourwashed with Resene Clover for a lush meadow feel.
Flower power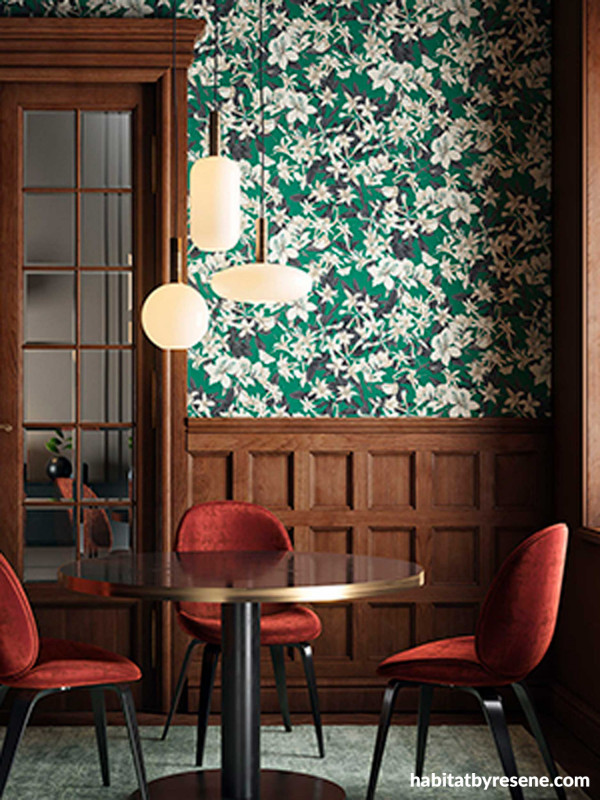 Resene Wallpaper Collection KEN207gives this room old English charm. Pair with wooden wall panelling stained in Resene Colorwood Cedar and a table in Resene Gold Dust for a contemporary twist on the traditional English dining room.
Technique: Wallpaper illusions
Effect created: A floral wallpaper is a great way of drawing the eye towards a particular focal point and covering up any imperfections beneath the surface such as crooked plasterboard on the walls.
Top tip: Busy detailed patterns cover a multitude of sins and will make a small room appear larger. Metallic patterns will reflect light and make a dark room appear brighter.
Get the look: Vintage-style patterns that nod to the classic designs of wallpaper and fabric designer William Morris look handsome when applied above the dado and paired with dark oak furniture and panelling – get the manor look by staining pine panels with Resene Colorwood with dark colours such as Resene Dark Oak or Resene English Walnut and finish with Resene Aquaclear.
Chalk it up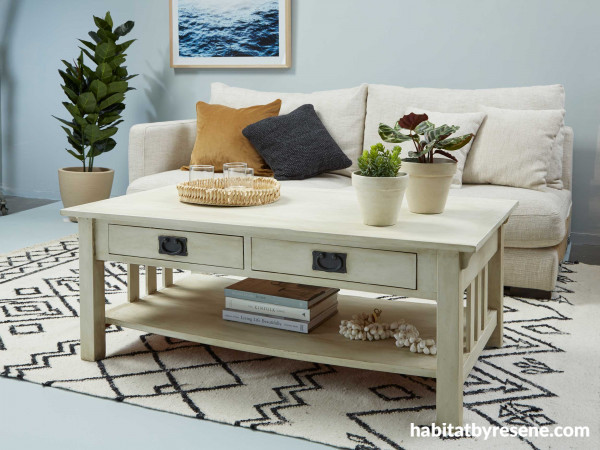 This classic coffee table has been painted in Resene Ecru White and finished with Karen Walker Chalk Colour paint in vintage and clear wax. It complements the calming wall in Resene Half Duck Egg Blue and floor in Resene Half Dusted Blue. Project by Leigh Stockton. Image by Bryce Carleton.
Technique: Chalk effect
Effect created: Karen Walker Chalk Colour imparts an aged, matte finish to pieces of furniture with little to no prep involved. The Karen Walker Chalk Colour range includes Resene Soft Wax in Vintage and Clear, which together create a shabby chic look that embraces all your furniture's imperfections.
Top tip: While you can apply it direct to most furniture, for the best adhesion, prepare your furniture by lightly sanding it down and wiping it with a clean cloth. This will help the paint stick to the furniture. For best results use a cloth to apply the Karen Walker Chalk Colour. Read more about how to achieve a chalk finish here
Get the look: A piece of furniture painted in Karen Walker Chalk Colour goes well with equally rustic or vintage décor. Choose subtle, pastel colours for your walls such as Resene Half Opal and Resene Wax Flower that will complement your vintage furniture.
Chock-a-block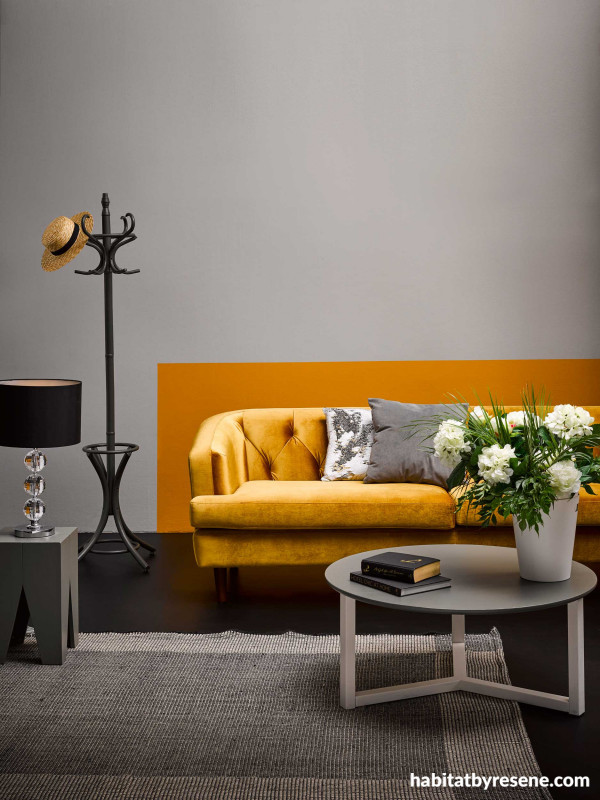 This living room uses a colour block in deliciously rich Resene Hot Toddy against a wall in Resene Delta. The coat stand is painted in Resene Double Gravel, the peg stool in Resene Half Gravel, the coffee tabletop in Resene Half Gravel and the table legs are in Resene Double Merino. Project by Megan Harrison-Turner. Photography by Melanie Jenkins
Technique: Colour-blocking
Effect created: Colour-blocking is a simple and effective way to transform a wall into a positive talking point. Colour-blocking adds variety and shifts the eye away from imperfections to focus on the movement between colours.
Top tip: Apply blocks of colour to the wall to create sections of your room, such as if you have a study space in your living room you wish to define. Or you can try applying a repeating pattern based on simple shapes like triangles or squares. Read more on how to colour block here
Get the look: Think about your existing furniture within the space you want to paint. Do you have a brightly coloured couch, a striking piece of wall art or a quirky bookshelf? These items might be the perfect starting point for your colour scheme. If you have a neutral colour on your wall, spice it up using colour blocks in Resene Pukeko, Resene Alaska and Resene Hive for a bold and rich update.
Roll with it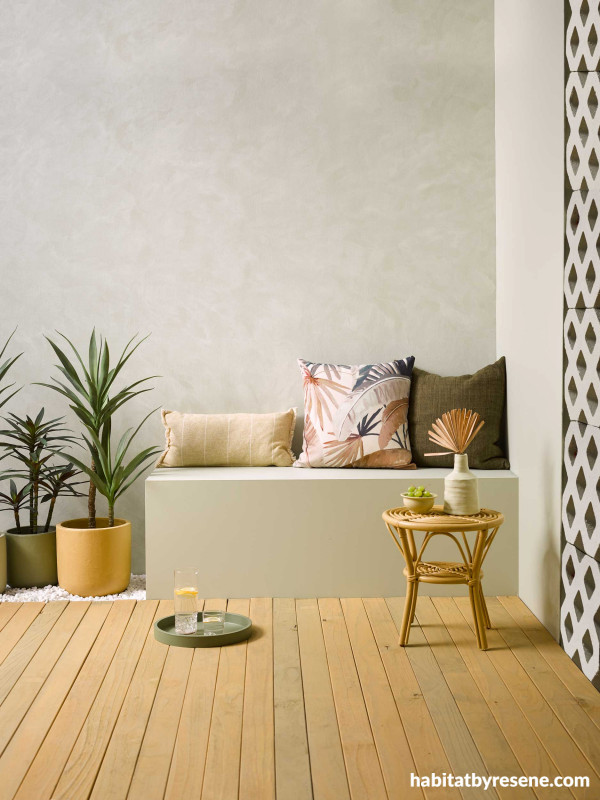 The back wall of this minimalist Mediterranean courtyard is painted in Resene Aspiring with a rag rolled paint effect in Resene FX Paint Effects medium coloured with Resene Moon Mist. The right wall, breeze blocks and vase are in Resene Moon Mist. The bench seat is in Resene Aspiring. The deck is in Resene Woodsman Uluru, with the table in Resene Teak. Project by Vanessa Nouwens. Image by Wendy Fenwick.
Technique: Rag rolling
Effect created: A popular paint effect in the 80s, rag rolling can also look great in a modern space. Rag rolling creates a bold textured effect and can replicate the appearance of marble. The uneven patterning that rag rolling creates will disguise any surface imperfections your wall may have.
Top tip: Your results will vary with your choice of materials. Old sheets will give a softer effect, while crisper fabrics will create a hard-edged look. Chamois leather will give a velvet finish while cheesecloth will leave imprints of the weave. Read more about how to rag roll here
Get the look: If you're after a traditional white marble look, try strategically rag rolling layers of Resene Nero, Resene Mystic and Resene Black White. Pair your rag rolled wall with wicker furniture for a relaxed vibe or create a more formal setting using crisp white chairs and lamps.
Age before beauty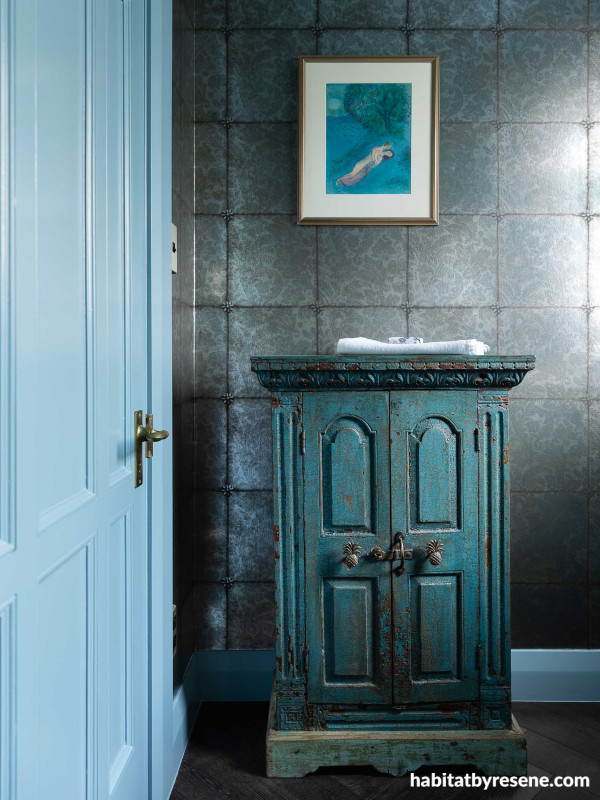 Interior Designer Natalie DuBois transformed this 1930s Takapuna home and painted the powder room door, ceiling and trim in Resene Blue Moon. You can achieve a similar shabby chic cabinet look using Resene Hippie Blue and buffing the cabinet with Karen Walker Chalk Colour Vintage Wax from Resene ColorShops.
Technique: Vintage buffing
Effect created: Vintage waxing, also known as antiquing, just got a whole lot easier with Karen Walker Chalk Colour Vintage Wax from Resene ColorShops. The antique finish can be used on bare timber, many stained timbers and paint finishes. Buffing creates a shabby chic look that can easily incorporate any pre-existing scuff marks.
Top tip: For an instantly aged look with a French Provincial feel, use a cloth to buff Karen Walker Chalk Colour Vintage Wax all over the furniture, concentrating on the grooves. To purchase Karen Walker Vintage Wax visit your Resene ColorShop or shop online
Get the look: Giving your furniture a vintage spin means you also have an opportunity to co-ordinate it with your wall colour. In homes with lighter coloured walls, paint your furniture in a similar paint colour that is a few shades darker. This will ground the room and keep your walls looking fresh. For example, if you have a wall in Resene Caramel try painting your furniture in a rich Resene Meteor or Resene Korma and then buff it using Karen Walker Chalk Colour Vintage Wax.
Stamp of approval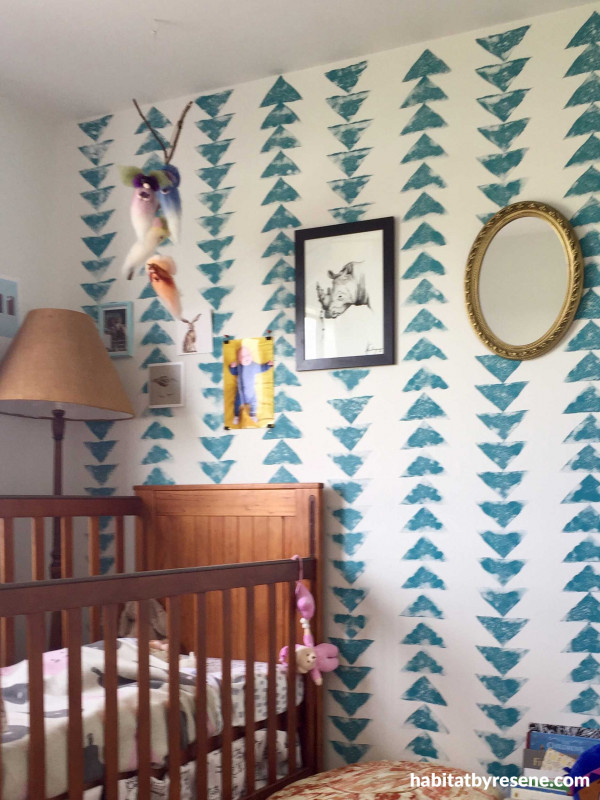 Sarah from Invercargill describes her decorating style as eclectic. She created this patterned wall in her daughter's nursery with a sponge cut into triangles and Resene Sea Foam.
Technique: Sponging
Effect created: The sponging technique allows you to keep your original painted wall but adds interest through patterns. It's a perfect cover up technique for white walls that have permanent marks.
Top tip: Soak your sponge in water first to prevent paint drying in the sponge. Coarse textured sponges provide an open, lacy pattern, while finer sponges give the wall a smoother, softer look. For full instructions on how to create a sponging effect click here
Get the look: You can use the sponging pattern technique to create wallpaper-like patterns or you can cover the entire wall using the sponge to create a soft marble or crushed velvet look. For an earthy, muted velvet look try a sponged effect using Resene Double Drought over Resene Biscotti.
The perfect disguise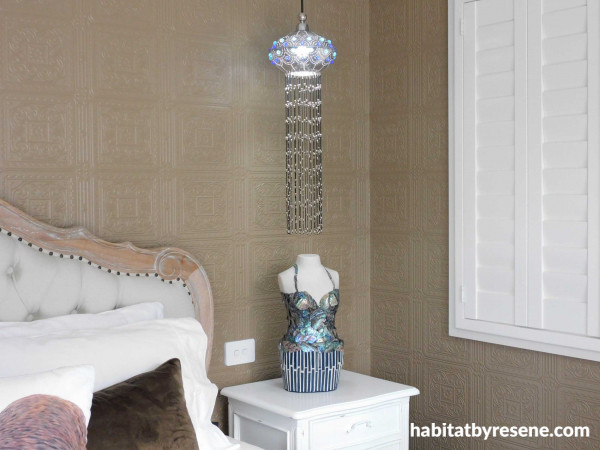 Homeowner Lorraine used pressed-tin style paintable wallpaper from the Resene Anaglypta Wallpaper Collection in her master bedroom. She achieved a cosy look by painting the wallpaper in Resene Cement and the trim in Resene Merino.
Technique: Anaglypta Wallpaper
Effect created: The Resene Anaglypta Wallpaper Collection provides a textured finish on your walls and comes in both traditional and contemporary styles. These paintable designs range from pressed tin to geometric patterns and are perfect for tricky plasterboard walls or where textural distraction is required.
Top tip: The texture of Anaglypta Wallpaper is a great way to disguise holes or dings in your wall. A few tips when hanging wallpaper include filling any holes with plaster and making sure to paint the trim first. For full instructions on how to hang wallpaper click here
Get the look: For a warm atmosphere, paint your Anaglypta Wallpaper in an earthy tan, such as Resene Cement. If you're after a sleek look in your kitchen, try Resene Tuna on a pressed-tin style wallpaper from the Resene Anaglypta Wallpaper Collection.
Published: 13 May 2021
Do you have a home full of wonderful Resene paint and colour? Send us some snaps by emailing [email protected].