►
◄
latest
habitat tv
blog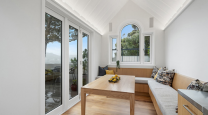 Master Builders' Chief Executive David Kelly shares his tips for building in the challenging climate.

Planning... more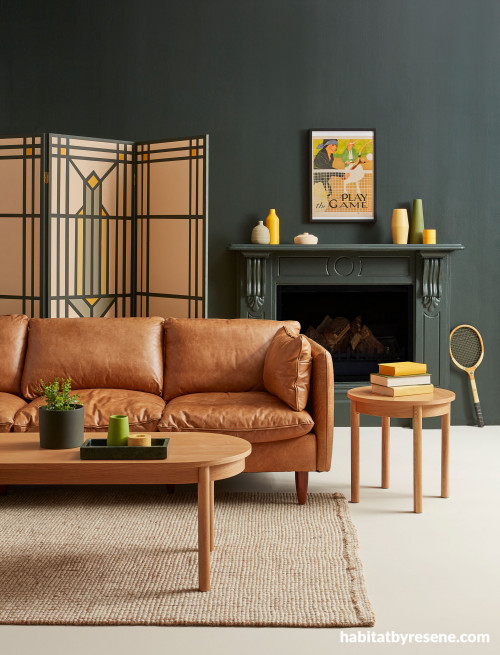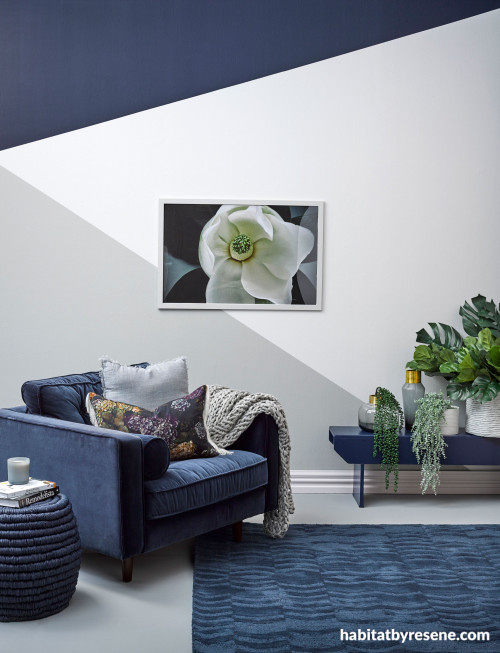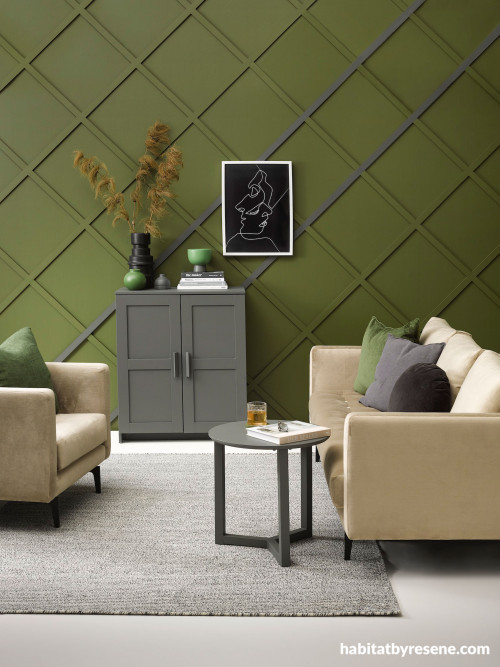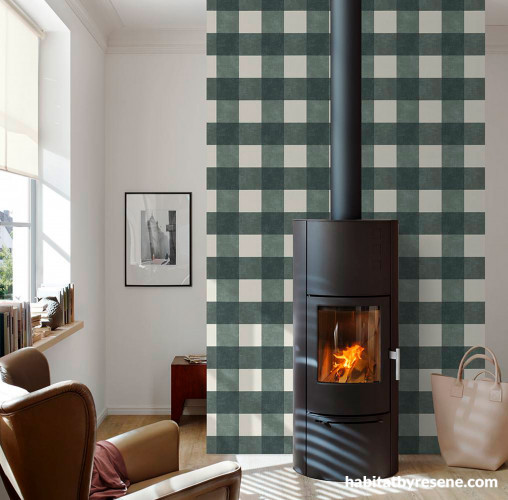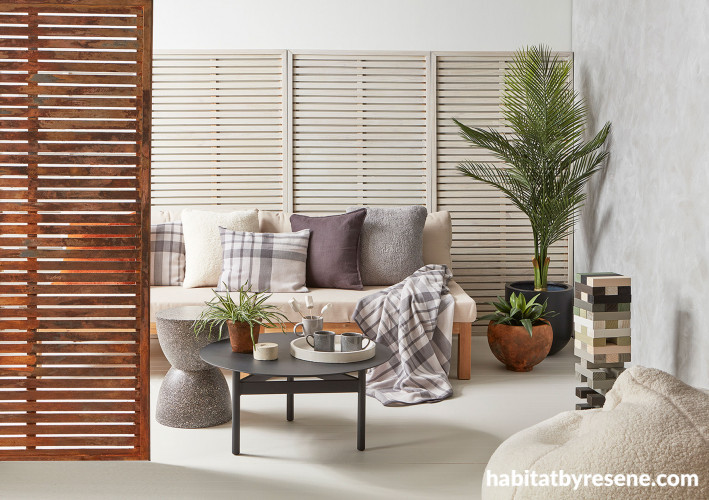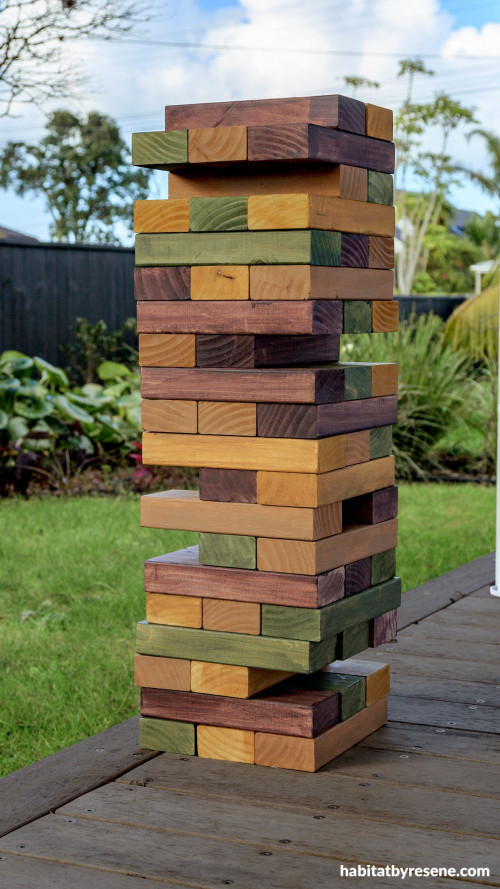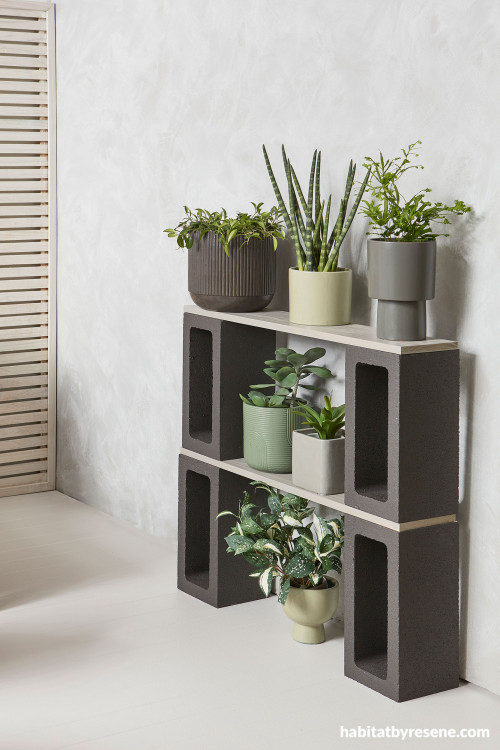 How to create a cosy living room using colour PLUS make your own plant stand and giant Jenga
There's nothing better than cosying up on the couch with a hot cuppa and listening to the rain pattering on the roof. Make your living room winter worthy with a blanket of Resene colour that evokes the heat of warmer days. Sometimes, the cosiest colours are the ones you least expect; think moody greens and sharp whites, as well as the more traditional warm and earthy colours.
Resene has a range of warming colours to completely transform a space and make the larger rooms in your home feel more intimate. During these darker days be sure to pair your colour choices with an abundance of light, whether it be a crackling fire or soft accent lights, to keep your home feeling bright and cheerful.
Game, set, colour match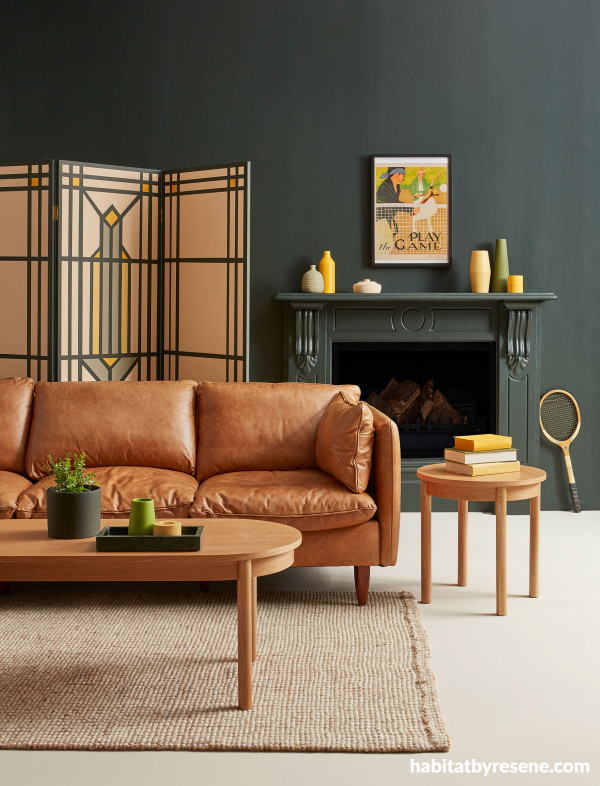 A warm wall and fireplace in Resene Midnight Moss is the perfect way to kickstart a winter colour palette. A light floor in Resene Half Fossil works well with accents and vases in Resene Black Forest, Resene Leather, Resene Rob Roy, Resene Clover, Resene Sushi, Resene Lightning Yellow and Resene Bandicoot. This elegant folding screen is in Resene Tequila with main accents in Resene Midnight Moss and faux stained glass in Resene Bandicoot, Resene Rob Roy and Resene Lightning Yellow. Sofa, rug, tables from Freedom Furniture, marble tray from H&M Home, 'Play the Game' poster from Pictorem, tennis racket from Junk & Disorderly. Project by Laura Lynn Johnston. Image by Wendy Fenwick.
A pop of sunshine on a rainy day is the perfect remedy to boost your mood. Accents in bright yellow, such as Resene Lightning Yellow or deep ochre golds such as Resene Rob Roy bring a touch of joy to a living space. Go natural with walls in a deeply saturated green, such as Resene Midnight Moss. Darker walls have a cocoon like quality and provide a grounded base for your lighter accent colours and will give the room a sense of depth, enhancing that cosy feeling. For a more whimsical approach to creating a colour palette, colour match your walls to your favourite artwork. Try the Resene ColourMatch tool and select the main colours within your chosen artwork to start your palette. This will give your room a cohesive base without looking too themed. Add a decorative screen using matching colours to create a snuggling shape that is warm and inviting
Drop it like it's hot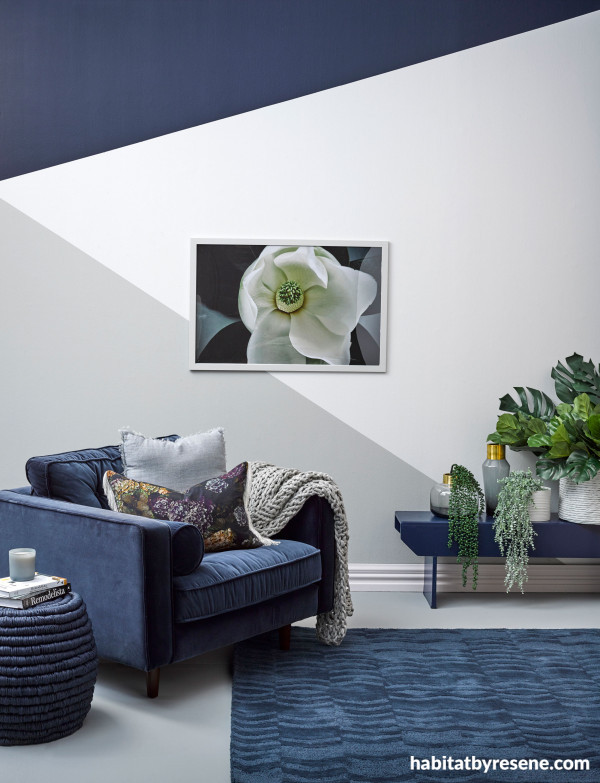 Colour inside the lines with this clever interior wall in Resene Indian Ink, Resene Athens Grey and Resene Atmosphere. Finish the look with a matching rope side table in Resene Indian Ink, a bench in Resene Blue Night and a lighter floor in Resene Stack. Project by Emily Somerville-Ryan. Image by Melanie Jenkins.
'Drop' your ceiling down and give your living space an intimate feel with this modern painting hack. A dark colour on the upper third of your wall will give the illusion of a lower ceiling, perfect for creating a cosy atmosphere in older villas with high ceilings. To create a charming colour palette that will capture those winter vibes while still adding a sense of warmth and depth to the room, choose a dark, rich primary colour such as Resene Indian Ink or Resene Merlot as your feature accent. To ensure the colour shines, keep all other aspects of the room neutral with surrounding colours in whites or greys, such as Resene Athens Grey. A masked triangle on the wall gives this living room a modern atmosphere, but if you're after a softer look, try a half circle in deep Resene Korma with surrounding walls in Resene Quarter Solitaire.
A stitch in thyme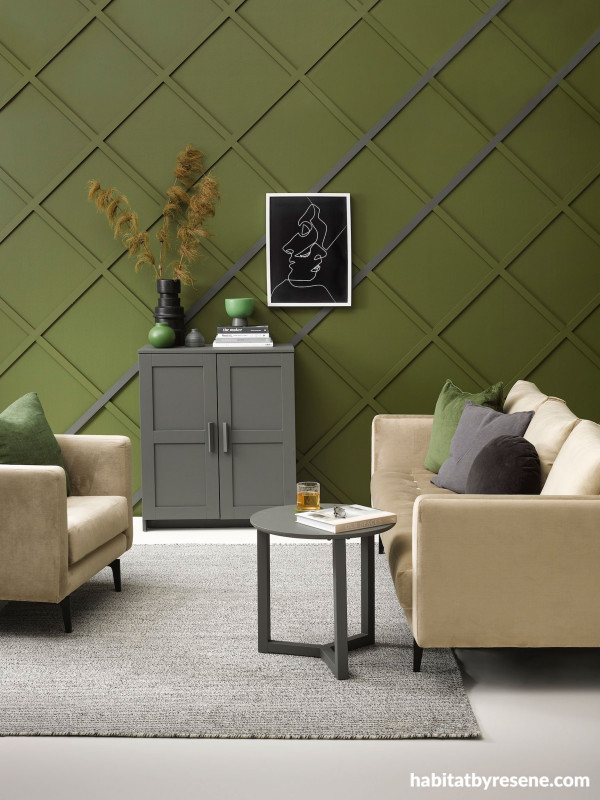 Bold and moody, this living room wall comes to life in Resene Waiouru with accent battens in Resene Gravel. The floor is in Resene Quarter Spanish White with the coffee table and cabinet in Resene Gravel. The tall vase is in Resene Black with smaller vases in Resene Dingley. Project by Vanessa Nouwens. Image by Melanie Jenkins.
Weave your magic in the living room with flaxen, thyme greens and a stylish batten pattern. If cosy is your aim, then Waiouru is the name. Resene Waiouru is an earthy green; the perfect hue to create an illusion of rich moss covered walls. The deep green hue creates a serene space and the battens give the appearance of depth, helping the wall recess into the background. A few accent battens and décor in Resene Gravel play on the martial-esque tone of Resene Waiouru, giving the entire room an alpine feel. Be mindful that this look can appear colder in some spaces, so keep it cosy with a large rug and furniture in warmer creams and yellows.
Breaking plaid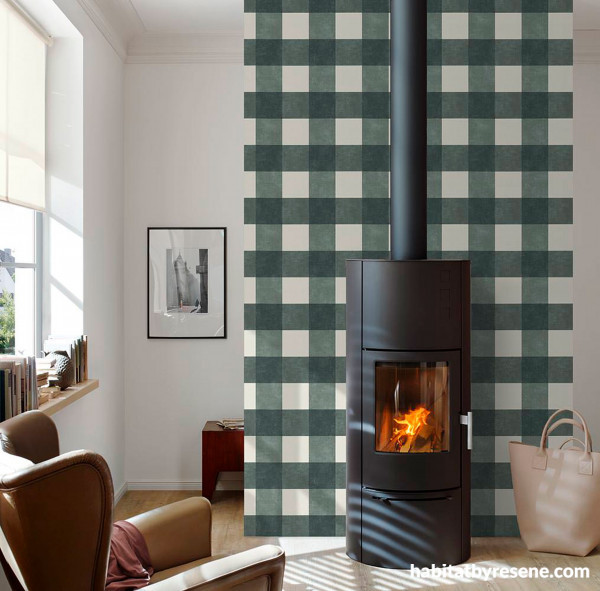 Create a cosy cabin atmosphere in your home with a feature wall in Resene Wallpaper Collection 36715-4. Complement it with surrounding walls in Resene Half Merino and a floor in Resene Bison Hide.
Traditional and timeless, plaid is a snug addition to your winter living room. The lines in this plaid Resene Wallpaper Collection 36715-4 add a sense of space to the room, drawing the eye across and up. Use Resene Wallpaper Collection 36715-4 on a wall with a single large piece of furniture such as a leather couch or fireplace to highlight the décor and avoid the room looking cluttered. Plaid can work in any home, from a vintage cottage to a modern apartment, just jazz up your décor and accompanying colours to create harmony and match the plaid wallpaper to your home's character. For a traditional style, use accent colours in warmer whites and browns, such as warm beige green Resene Bison Hide. If you're after a more modern look, pair your plaid with crisp Resene Black White walls and minimalist furniture in Resene Nero.
The golden patio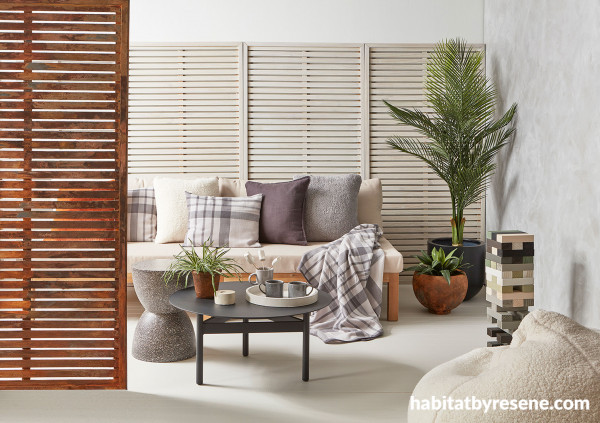 This winter patio is a great addition to any backyard. The back wall is in Resene Triple White Pointer with a side wall in Resene Friar Greystone rag-rolled with Resene Paint Effects medium coloured with Resene Quarter Friar Greystone. The back trellis panels are in Resene Woodsman Whitewash and the flooring is in Resene Triple White Pointer. The table and large planter are in Resene All Black. The smaller planter and front trellis are in Resene FX Faux Rust Effect. Project by Vanessa Nouwens. Image by Wendy Fenwick.
Don't limit your outdoor patio to the summer months. Sit in style all year long by transforming the space into a warming winter nook with cosy cushions, throws and wind breakers. One way to create the illusion of warmth without using bold colour is to use paint effects which create cosy texture. Try painting your wind breakers with Resene FX Faux Rust Effect, a rust effect that will develop as the coating ages and make your patio feel earthy and hot. Creating texture on your walls can break up a stark neutral look, adding interest and creating a softer base for your décor. This wall's marble effect was created using Resene Half Friar Greystone as a base with Resene FX Paint Effects medium coloured with lighter Resene Quarter Friar Greystone applied to the wall using a large brush in a swirling motion, then wiped off with a clean, dry rag to create the marbled effect.
Create your own giant Jenga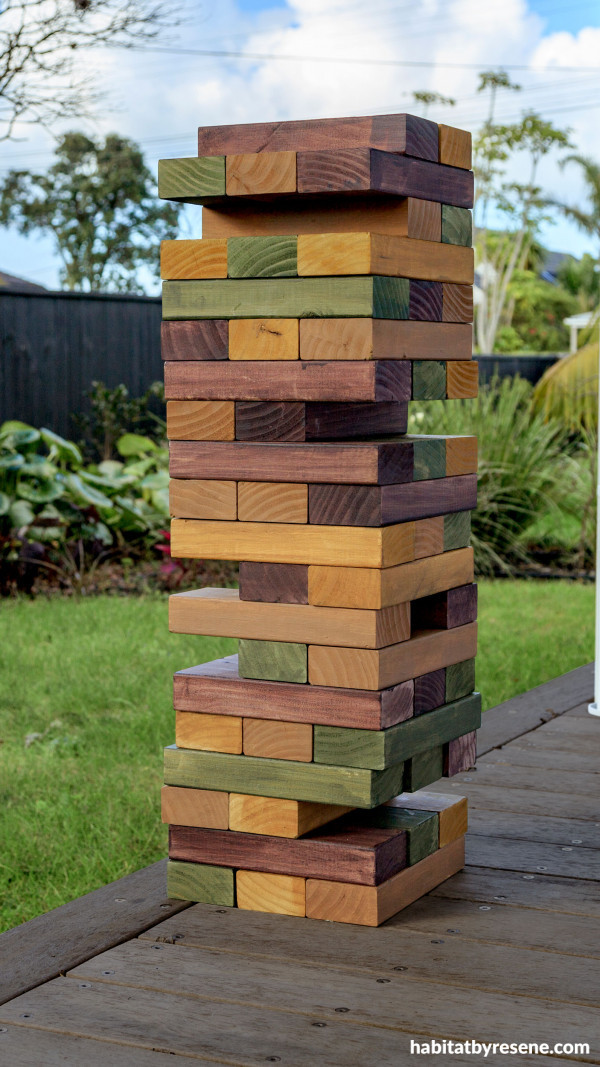 While you're in a creative mood, create a giant Jenga set to keep your family occupied on rainy days. This set is stained in a variety of Resene wood stains for an interesting and polished finish.
You will need:
Directions:

Cut down 60mm x 37.5mm lengths of timber into nine 180mm long pieces so that you end up with 54 identical blocks. Sand down the edges of the blocks and wipe them down.
Paint the blocks with your choice of Resene testpots – we used each wood stain to paint nine blocks to give the game some variation. Since most Resene testpots are made with Resene Lumbersider, your finished blocks will be durable enough to stay outside in all kinds of weather.
Create your own plant stand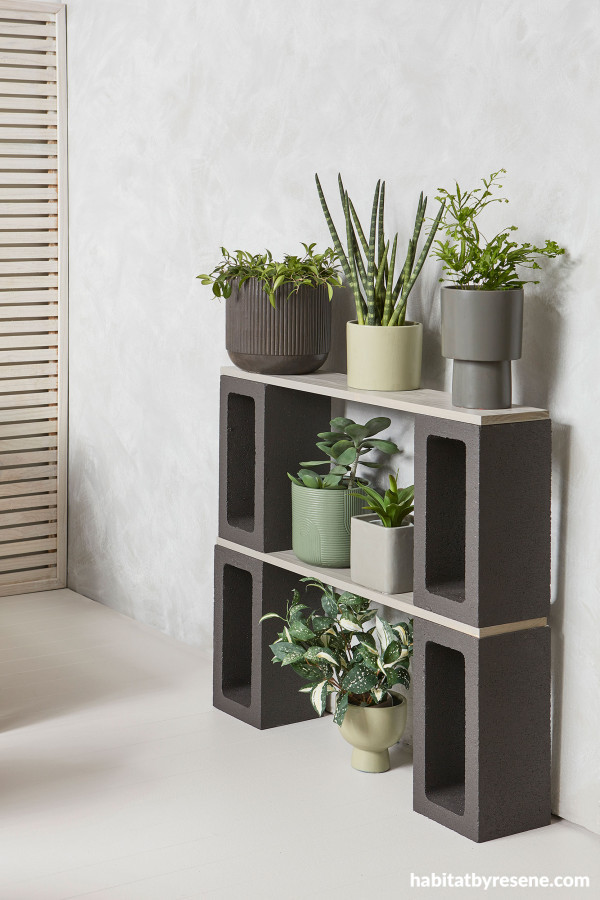 A great addition to any patio, this plant stand is easy to make with cinder blocks and pre-cut timber panels. It also works well as a shelf and bench to hold your hot chocolate or as a shoe rack by the front door to hold those muddy gumboots.
You will need:
4 cinder blocks
2 pieces of treated wood (suitable for outdoors) cut to the same width as your blocks. You can make the length as long as you like.
Resene Quick Dry primer
Resene Lustacryl in your choice of colours – we used Resene Ironsand and Resene Tapa
Paintbrush
Directions:
Step 1: Paint the cinder blocks and wood with at least two coats in the colours of your choice.
Step 2: Place the bottom two cinder blocks on level ground and place the first wood shelf on top.
Step 3: Place the next two cinder blocks on top of the wood and then pop the top shelf on top of those.
Published: 01 Jul 2021
Do you have a home full of wonderful Resene paint and colour? Send us some snaps by emailing [email protected].
Resene Triple White Pointer
the look
If you're stuck on what
colour to use or need colour
advice, try out the Resene
Ask a Colour Expert service.