►
◄
latest
habitat tv
blog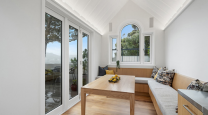 Master Builders' Chief Executive David Kelly shares his tips for building in the challenging climate.

Planning... more
How to create the beach-house vibe with shades of the coast
It's a look that never dates – the washed blues, seafoam greens and subtle shades of white that together create the easy, breezy beach-house style.
The coastal spirit starts with paint. That effortless beachy look is all about the shades of sea and sky, using colours such as Resene Foam, Resene Duck Egg Blue or whipping up some drama with a colour like Resene Indian Ink. Complement the hero colours with the shades of sand and driftwood and create texture through layering with the soft furnishings. Light, bright and whitewashed with a sophisticated yet beachy vibe that comes across as effortless and calming, the fresh, airy palette of white-washed linens, natural textures, ocean inspired blues and freshly painted white timber finishes work beautifully in our homes.
Coastal classics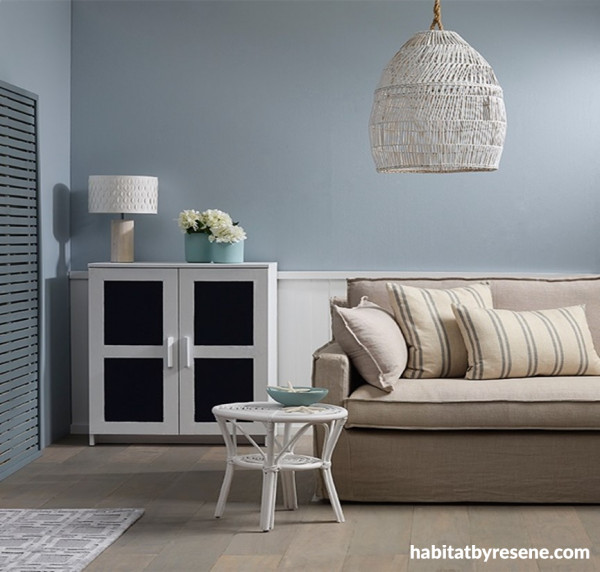 The Hamptons look is inspired by the architecture and decor of holiday homes in the luxury seaside communities that hug the eastern coast of upstate New York. In this room, the walls are in Resene Forecast, tongue-and-groove panelling in Resene Sea Fog, floor in Resene Colorwood Mid Greywash, screen in Resene Regent Grey, side table and lampshade in Resene Quarter Sea Fog, cabinet in Resene Sea Fog with inset panels in Resene Blue Night timber lamp base in Resene Colorwood Whitewash and flower vase in Resene Raindance. Sofa and cushions from Johnston Imports (JI Home), rug from Bed Bath & Beyond. Project by Megan Harrison-Turner, image Bryce Carleton.
Blue and white – she'll be right. The Downunder take on the classic blue and white Hamptons look is more relaxed and family-friendly and down-to-earth than our North American counterparts. Our bright light means that the Antipodean version of Cape Cod is often best implemented with paints with grey or green tones, such as Resene Sea Fog - a grey-infused white and Resene Forecast - a versatile greyish blue that pairs well with whites, greys and denim blues. Always test your paint colour using a Resene testpot before painting and observe at different times of the day. Other coastal blues to try are Resene Longitude, Resene Botticelli and Resene Smokescreen.
Blue skies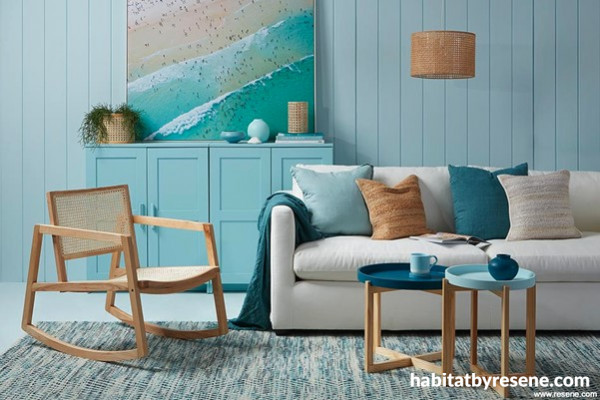 The clear-skies blue of Resene Cut Glass, on the walls and floor of this room, brings to mind glistening sea waters and rippling waves. The cabinet in Resene Kumutoto lends an aqua tone, adding a fun, retro element. The beach look is very much a celebration of the blue palette in all its tones. These nesting tables are in Resene Teal Blue and Resene Foam with other vases and accessories in Resene Teal Blue, Resene Hippie Blue and Resene Wishlist. Sofa, artwork, chair and rug from Freedom, vintage linen cushions from Adairs, Misty forest linen and cushion and throw from Home Republic. Project Vanessa Nouwens, image Bryce Carleton.
The colour blue is a constant in the interiors world – it's hugely adaptable because it's often recessive, meaning it creates space, and is therefore a very easy colour to live with. Pull together the look by taking an understated palette and then layering the tones. A beachy bedroom doesn't have to be over-the-top or even have obvious beach motifs. In fact, the modern take is to simplify the scheme. What really counts is capturing the spirit of the coast with colour: a casual feel, breezy colours, dusty finishes and an overall serene vibe. Check out the top twenty most popular blues here.
Deep blue see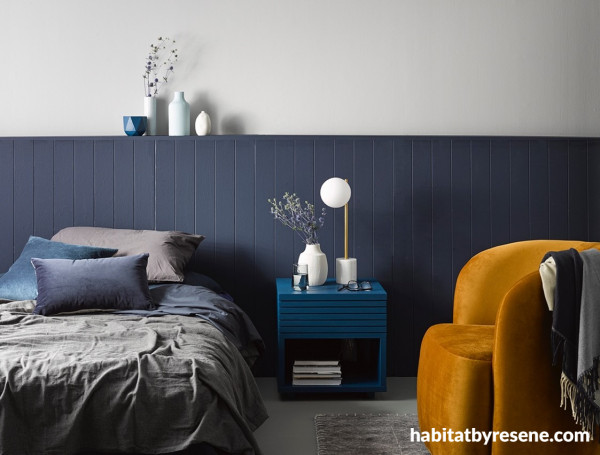 Write a coastal story with Resene Indian Ink on the tongue-and-groove panelling, paired with Resene Quarter Emerge on the upper wall and floor in Resene Half Chicago – a dusty grey – to create a moody palette. The bedside table and angular vase look bold in Resene Wishing Well, the white vases are in Resene Poured Milk, tall blue vase in Resene Meditation and the shorter blue vase is in Resene Remember Me. Pile on charcoal-on-navy-on-charcoal bedding and finish with a soft, low-pile rug in steel blue. Project by Claudia Kozub, image Melanie Jenkins.
While the true coastal look is all about layering subtle tones… breaking the rules can be show-stopping. Deep and royal blues such as Resene Explorer and Resene Indian Ink can create a moody look which anchors the room in a colour than nods to our naval history. Due to this nautical association, blue can have masculine qualities. To make a room less severe and more gender neutral, pair with soft linen and soft off-whites.
Top tip: To bring out the depth of moody colours, consider using Resene SpaceCote Flat instead of a higher sheen finish. The matte finish will help the colour look more muddied and earthier. In higher wear and tear areas, like hallways, it's best to use Resene SpaceCote Low Sheen, which is easier to clean than flatter finishes.
Pale and interesting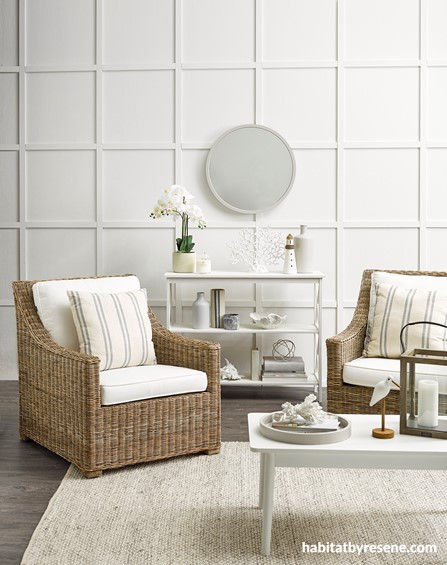 This calming room features layers of white with walls in Resene Black White, console table and coffee table in Resene Merino, mirror and tray in Resene Cloudy and vases and other accessories painted in Resene Cloudy, Resene Silver Chalice and Resene Black White. Stain wooden flooring in Resene Colorwood Bark and finish with Resene Qristal ClearFloor. Armchairs, cushions and lantern from Johnston Imports/Ji Home, rug and tray from Freedom, cushions from The French Villa, seagull and lighthouse decoration from Bed Bath & Beyond and picture frame from Kmart. Project Vanessa Nouwens, image Wendy Fenwick.
A classic look in the coastal playbook is to go for the tones of white-on-white, creating serenity and harmony. Add texture with soft furnishings and furniture in linens and tones of sand and driftwood. Choose your white according to the amount of light in the room. If your home is seaside, avoid the glare of light reflecting off bright sand by opting for a white with a green base, such as Resene Merino, Resene Double Merino, Resene Half Thorndon Cream or Resene Quarter Linen.
Back to the wall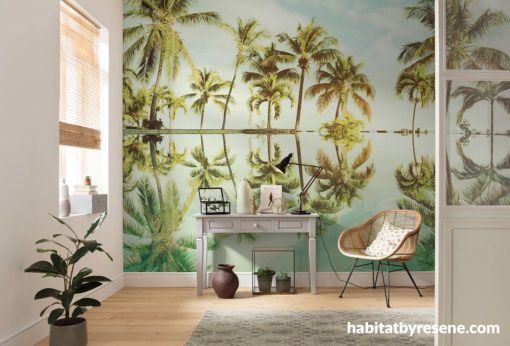 Island-inspired images are a sure-fire link to the beachy vibe such as this Resene Wallpaper Collection P012-VD4 wall mural available from Resene ColorShops. Pair with soft, green-toned whites such as Resene Merino walls and flooring in Resene Colorwood Natural or Resene Colorwood Whitewash.
Wallpaper is enjoying a real renaissance and is a key 2022 trend. It's a great way to accent a wall and create your own endless summer. Scenic mural wallpapers can create an immersive feeling in a space and are ideal for areas where you need to inspire creativity such as offices or rooms where you like to relax such as bathrooms or bedrooms. Mural wallpapers work best in rooms where there is a lot of depth to allow you to take in the art. View the new releases on the Resene website and view the full collection at your Resene ColorShop.
Top tip: Turn your favourite beach into a work of art with the Resene WallPrint service where you can create your own wallpaper from a photo or favourite print. Simply upload a photo, put in the dimensions of your wall and you'll receive numbered wallpaper strips cut to size. Try it out here.
Outdoor attraction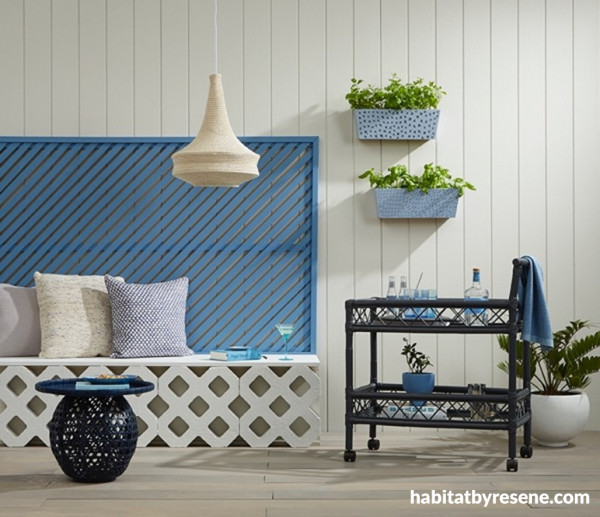 This screen is painted in Resene Kashmir Blue to create a pretty entertaining area. Wall, seat made from breeze blocks and plank are in Resene Triple Merino, decking in Resene Tiri, trolley in Resene Indian Ink, woven tray/table in Resene Indian Ink, planter boxes in Resene Smokescreen with hand-painted dots and crosses in Resene Indian Ink and plant pot in Resene Alabaster. Project by Kate Alexander, image Bryce Carleton.
Outdoors, make the most of the décor nature has to offer by bringing in the textures of sea, sand and driftwood. You can go one step further and create a piece of DIY artwork for your space. Outdoor areas don't need to break the bank, use a little number 8 wire spirit and use what you have on hand. Turn trellis into a screen or breeze blocks into seating to create entertaining zones ready for visiting friends and family. Transform an old trolley into an outdoor bar with a couple of coats of your favourite Resene paint – cheers to that!
Published: 25 Nov 2021
Do you have a home full of wonderful Resene paint and colour? Send us some snaps by emailing [email protected].