►
◄
latest
habitat tv
blog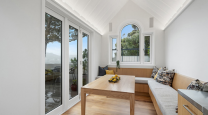 Master Builders' Chief Executive David Kelly shares his tips for building in the challenging climate.

Planning... more
How to create the perfect colourful hobby room or shed for your home
Spending more time at home has allowed us to get more creative, take up new hobbies and rediscover old ones. With the changing landscape of working – and with working from home becoming more popular – it's time to start thinking about how we can best utilise the spaces in our home not only to create office areas, but also to maximise our creative spaces. With just a few Resene paint colours and some out-of-the-box thinking, you can easily turn your spare room into a room with creativity to spare.
Green thumb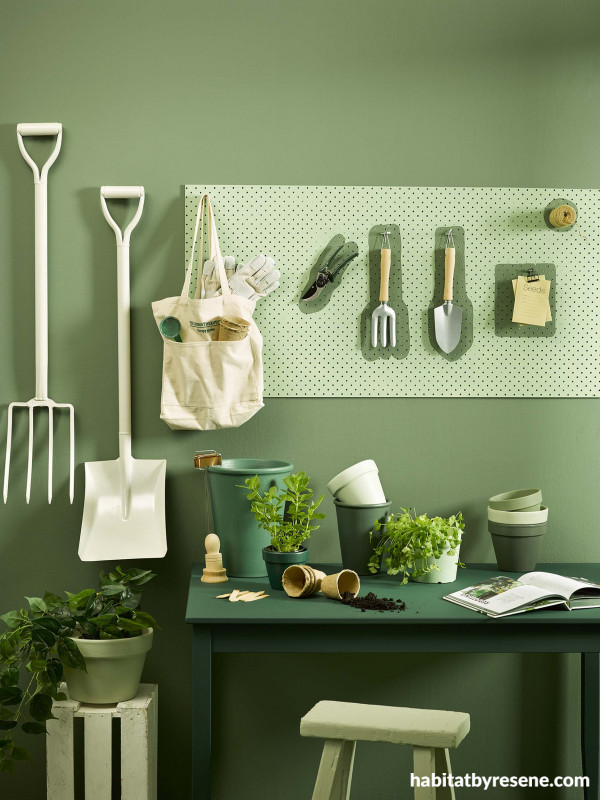 This fabulous green garden shed was created with walls in Resene Rivergum and pegboard in Resene Nourish. The table is in deep Resene Palm Green and the stool is in lighter Resene Bud. Project by Vanessa Nouwens. Image by Melanie Jenkins.
Making your space work for you is key to creating a successful hobby or craft room. If you're a green-fingered plant fanatic, why not try creating a simple gardening area. The best part about this 'garden shed' is that you don't actually need a shed in order to grow your gardening passion. Colour can go a long way to help section off a space and create a dedicated area of work. Rearrange your laundry or section off space in your garage and get the theme going with vibrant green walls in Resene Rivergum. If you don't have a lot of space horizontally, add vertical storage with a desk and drawers or a pegboard.
Go full circle

This bright and cheerful hobby space was created with circles in Resene Dust Storm (lower) and Resene Twine (upper), with walls and floor in Resene Rice Cake. The desk is in Resene Bitter, the chair is in Resene Smokescreen and the large pot is in Resene Tuscany. The DIY arch storage unit is in Resene Twine with boxes painted in Resene Bitter, Resene Dust Storm, Resene Tuscany and Resene Rice Cake. Project by Vanessa Nouwens. Image by Wendy Fenwick.
Choosing colours for your hobby room is one of the most important – and fun – elements of creating a space just for you. Choose colours that will inspire creativity, think happy muted yellows such as Resene Dust Storm or fabulous pale greens such as Resene Bud. Pale greens and blues are known to create a sense of calm and increase focus, while brighter yellows and oranges create a sense of energy that can boost your mood. Use these dynamic colours in interesting ways; paint circles or geometric shapes on your walls to give a sense of movement to the space that will keep your eye moving and your mind working.
Something to dance about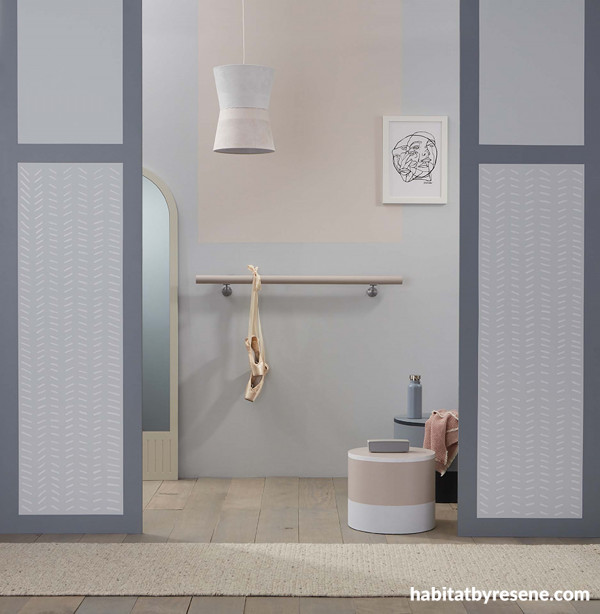 This pastel ballet studio was created with walls in Resene Geyser and colour block in Resene Cest La Vie. The floor is in Resene Colorwood Mid Greywash and the panels are in Resene Geyser with Resene Regent Grey trim and accents in Resene Quarter Iron. Lightshade in Resene Quarter Iron and Resene Cest La Vie. Artwork by Holly Schroder from Endemicworld. Project by Kate Alexander. Image by Bryce Carleton.
If you're striving for work/life balance, then a hobby room could be the perfect place to start. We place so much importance on creating office spaces to increase work productivity, so why not give the same amount of attention to our own passions? Whether you're a dancer, a crafter or just needing a place to explore your crafty side, it's easier than ever to tailor your space to your specific hobby with a splash of Resene paint.
One way to choose colours for your space is to examine the hobby itself. Are there any specific colours related to the hobby, or any emotive colours that make you happy? For example, this ballet studio uses pastel Resene Cest La Vie and Resene Geyser on the walls to create a soft, flowing space with touches of elegance that encourages movement. If your hobby requires equipment or room fixtures, try upcycling things around your home or from second-hand stores to create the items you need.
Square up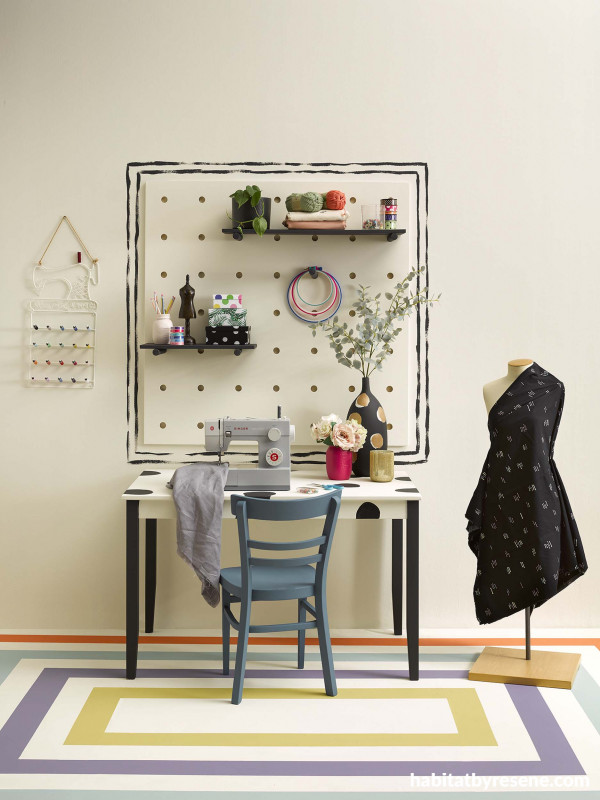 This sewing room uses Resene Half Villa White walls as a blank canvas for the pegboard detailing in Resene Noir. The chair is in Resene Liberty and the floor is in Resene Half Villa White with stripes in Resene Thunder Road, Resene Jailbreak, Resene Memory Lane, Resene Unwind and Resene Rococo. Project by Annick Larkin. Image by Melanie Jenkins.
Let your imagination – and your paintbrush – run wild with this vibrant craft room idea. Colour outside the lines and create unique floor patterns that are sure to inspire. Painting contrasting colours beside one another, such as pale purple Resene Memory Lane and gold-green Resene Rococo, will make each colour appear brighter. Use lighter, paler versions of your favourite colours to ensure that the colours do not distract you from your work but instead encourage calm, clear thoughts. If you're thinking of creating an artistic floor such as this, be sure to keep your surrounding walls relatively simple in a warm off white such as Resene Half Villa white. This will give your eye a place to rest and will stop the space from appearing too busy.
Big ideas, small space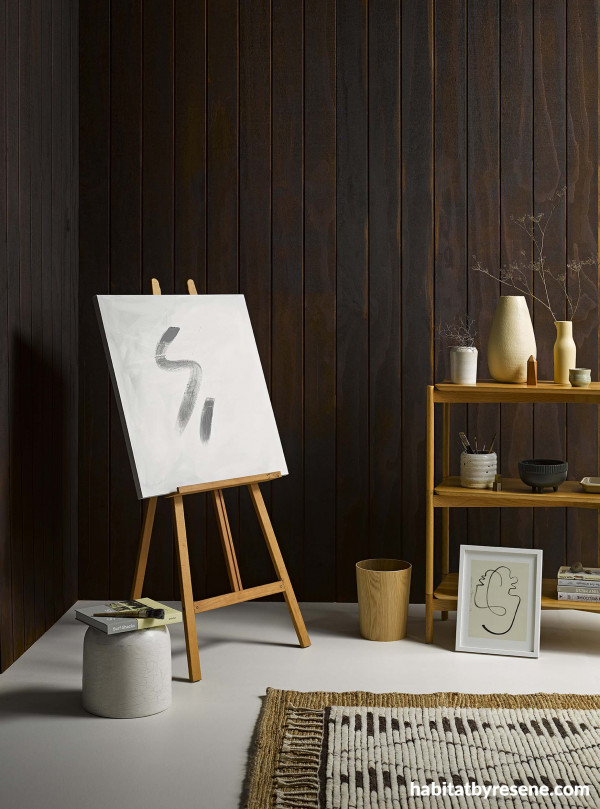 This zen-like painting space has walls stained in Resene Colorwood Ironbark and floor in Resene Quarter Spanish White. The tall vase is in Resene Canterbury Clay, the jug vase is in Resene Putty and the footed bowl is in Resene Quarter Bokara Grey. Project by Gem Adams. Image by Melanie Jenkins.
This creative corner will have you thinking big in a small space. Not everyone is lucky enough to have an entire room to work with, but that doesn't mean your hobbies need to be hidden away in a cupboard or drawer. Reclaim unused space in your living room or office and create a minimalist crafter's corner with some simple furniture and décor. Try upcycling an easel with Resene paint to match your room's existing colour palette or paint a section of the wall to separate the area. This craft corner has a simple setup with décor that complements the rich walls stained in Resene Colorwood Ironbark and clearly earmarks the area as a creative space but can easily be moved or packed away.
Now is the perfect time to fully embrace your hobby and maximise your leisure time. Resene's wide range of paints, colours and wood stains will help you create everything from a full-blown studio to multifunctional spaces and crafty nooks.
Published: 09 Sep 2021
Do you have a home full of wonderful Resene paint and colour? Send us some snaps by emailing [email protected].
Resene Quarter Spanish White
Resene Quarter Bokara Grey
the look
If you're stuck on what
colour to use or need colour
advice, try out the Resene
Ask a Colour Expert service.