►
◄
latest
habitat tv
blog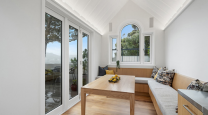 Master Builders' Chief Executive David Kelly shares his tips for building in the challenging climate.

Planning... more
How to get the luxe look on a budget: Elegant Resene wallpapers and paint colours to try
Three words come to mind when we think of the luxe look: stylish, sophisticated, expensive. But living in style doesn't have to break the bank. With some nifty hacks and the help of Resene's elegant range of wallpaper and paint, you can create a space fit for royalty with just a few strokes of the paintbrush.
The luxe look is often defined by opulent furniture, gleaming accessories and ornate detailing, but with wellbeing now at the heart of new interior design trends the promotion of a positive atmosphere has been combined with this fabulous excess. While some luxe looks are big, bold and refreshing, others are chic and simple. It all comes down to the space you are working with and the personality you want to imbue in your space.
The basics of a luxe space include bold walls, striking colour blocks and low hanging lighting fixtures. Throw some crushed velvet into the mix and you'll have an elegant space in no time. The luxe look can include aspects of Art Deco design and also classic English designs such as Jacobian wall panelling or damask wallpaper.
We share a few tricks on how to create champagne quality interiors on a beer budget.
Roll with it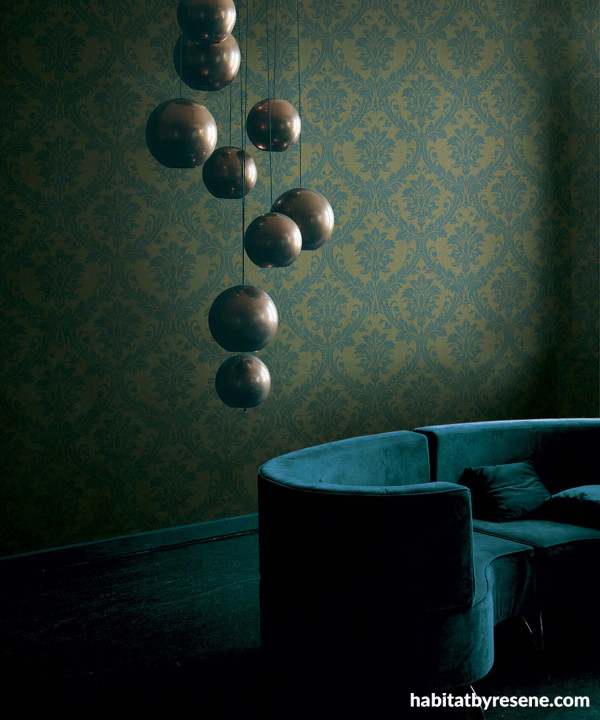 This luxurious and muted look is created with Resene Wallpaper Collection 24110 on the walls, paired with accents of gold and emerald.
Nothing says luxury like traditional style. While chintz and large floral patterns are wonderful for creating light, joyful spaces, a deep damask pattern is perfect for achieving that established luxe look. The Resene Wallpaper Collection is the perfect solution for designing a sleek space when you're on a budget. Resene Wallpaper Collection 24110's intricate emerald detailing is complemented by lighter tones of grey green and will instantly create a bold colour palette for your space. Pair with wooden flooring stained in Resene Colorwood Emerald Green and trim in Resene Deep Teal to continue that iconic deep green theme throughout.
Ombre occasion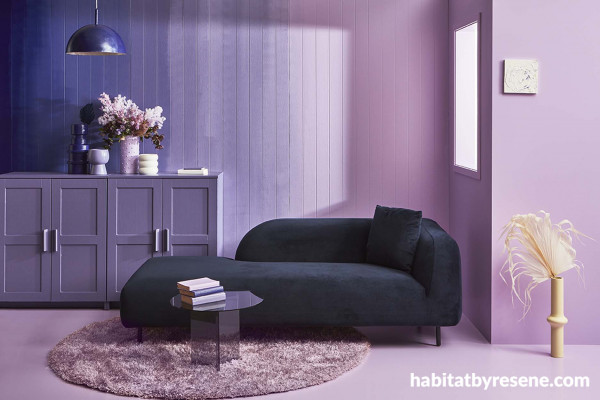 A stylish ombre wall effect can incorporate a multitude of classy colours. This ombre wall is in Resene Paua, Resene Covert and Resene Wonderland with floor in Resene Wonderland, cabinets in Resene Covert and tall vase in Resene Lemon Twist. Project by Amber Armitage. Image by Wendy Fenwick.
Who said sophistication can't be colourful? Create a visual statement with an ombre feature wall that instantly attracts the eye. Its unique design allows you to incorporate multiple colours in the space, seamlessly blending them together. This feature wall puts a modern twist on deep royal purple with an ombre wall in Resene Paua, Resene Covert and Resene Wonderland. Begin your luxe ombre design with a dark colour to ground the space such as Resene Paua, an electric violet blue, then simply use Resene FX Paint Effects medium mixed with your desired colours to continue the design. Bring texture into the room with multiple rugs or painted vases for a striking addition to any home.
In a mood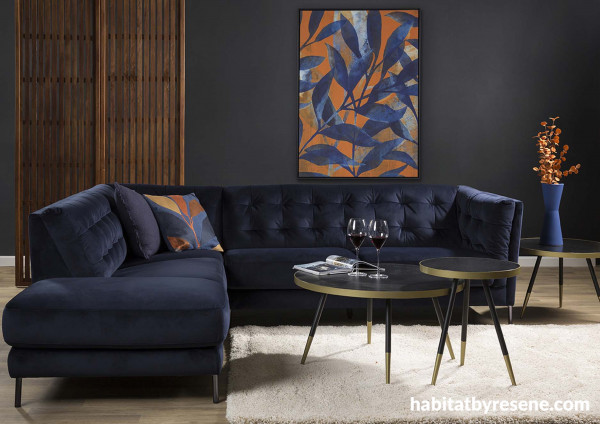 Atmospheric and moody, the walls of this living area are in deep Resene Double Foundry. Furniture and accessories from Nood. Project and image courtesy of Nood.
Space perception is often a key aspect of any interior design and the luxe look is no exception. While most colour palettes encourage the use of lighter colours to make the space look bigger, taking a chance and going dark can be just as rewarding. Try embracing charcoal colours, such as Resene Double Foundry, to create an atmospheric space with a great sense of depth. Your walls will melt into each other, effectively providing you with an intimate space where comfort is top priority. While darker colours will add a touch of richness to your space, use solid black sparingly as it can flatten an area and have a dulling effect. Bring in a pop of contrasting colour, such as décor in Resene Outrageous, to really give your room the luxe treatment.
Go for gold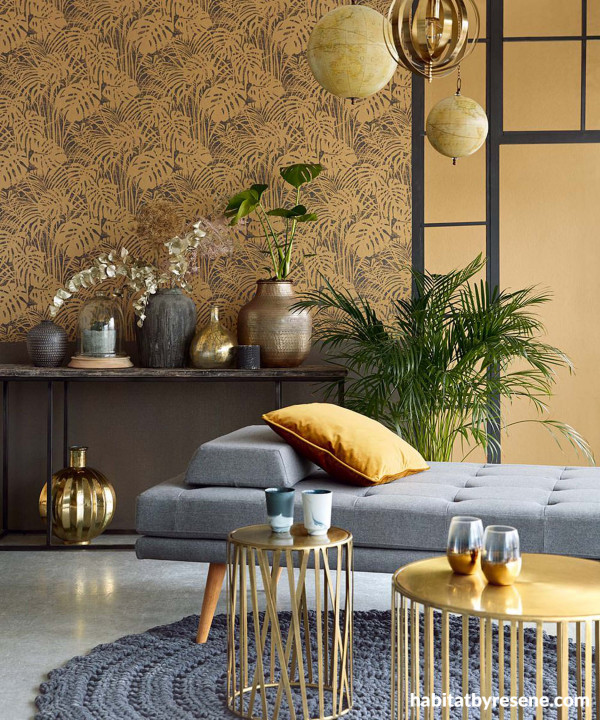 A radiant and elegant atmosphere is created in this sitting room with Resene Wallpaper Collection E378010 on the wall. Pair your feature wall with surrounding walls in Resene Putty and painted vases in Resene FX Metallic Gold Dust.
While a touch of gold can go a long way, more is more when it comes to the luxe look. Take our number one luxe look hack – using bold Resene wallpaper – to a whole new level with touches of gold in your wallpaper, décor and furniture. Gold is the colour of opulence and richness, and with a sumptuous warm undertone it is the perfect way to brighten a space. Use bold wallpaper designs such as Resene Wallpaper Collection E378010 that will not only introduce gold into the room but will also give the space a sense of texture. Gold décor doesn't have to be expensive, try upcycling vases, jars and small metal coffee tables with Resene FX Metallic Gold Dust for an easy solution that's equally as lavish.
Snuggle up in red


Red on red has never looked better in this luxe bedroom with walls in Resene Pohutukawa, circle feature in Resene Dust Storm and floors in Resene Double Rice Cake. The bedside table is in Resene Sakura with vase in Resene Pohutukawa. Project by Vanessa Nouwens. Image by Melanie Jenkins.
Vivid and relaxing are two words not often seen in the same sentence when it comes to describing a bedroom. Yet here they are, working in harmony to describe this luxe bedroom in Resene Pohutukawa and Resene Dust Storm. A sure-fire way to achieve a striking and sophisticated look is to be bold with colour. If you're not sure where to begin, try selecting a single bold colour and layering different strengths of that colour in the space. For example, a rich red base of Resene Pohutukawa is the perfect springboard for a colour palette that layers gradually lightening colours, such as Resene Dust Storm and Resene Sakura. Creating a circle design in lieu of a headboard is another great way to make a room with limited space interesting and create a sense of refined movement.
Published: 21 Oct 2021
Do you have a home full of wonderful Resene paint and colour? Send us some snaps by emailing [email protected].
the look
If you're stuck on what
colour to use or need colour
advice, try out the Resene
Ask a Colour Expert service.