►
◄
latest
habitat tv
blog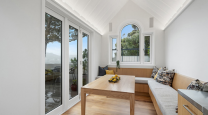 Master Builders' Chief Executive David Kelly shares his tips for building in the challenging climate.

Planning... more
How to instantly refresh your home with yellow
Tart yet radiant, yellow is the secret to your home's day-long golden hour. While it's used most frequently as an accent colour to bring an acidic punch or a certain kind of mellowness, the right shade of yellow can transform any space into a place of radiance.
Whether you're looking to incorporate rich mustard, glowing butter-yellow or decadent saffron, these six rooms will help inspire your next project – and give you a taste of that endless sunshine season.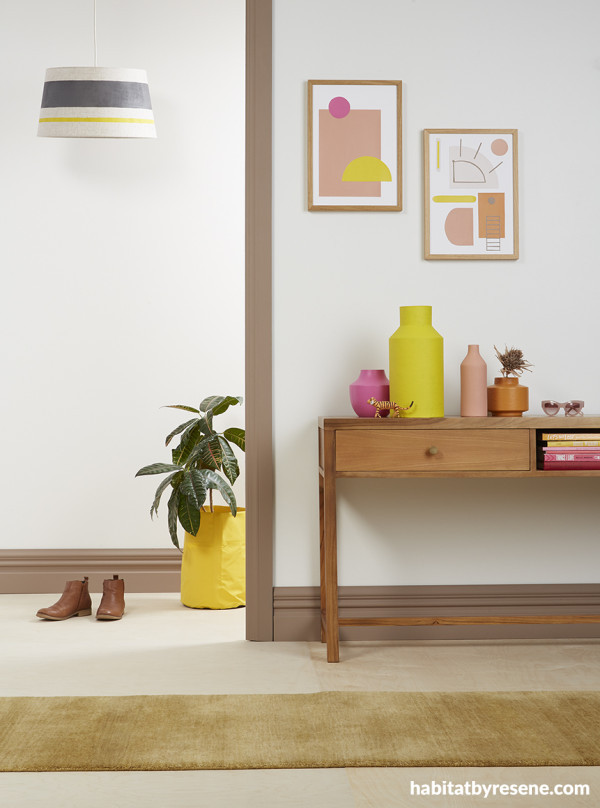 Resene Rice Cake is a sharp, clean yellow-white that is the perfect canvas on which other colours can play. To complete the look, bring in a large vase in Resene Hive, other vases in Resene Twisted Sister and Resene Smitten, a DIY artwork in Resene Tablelands, Resene Smitten, Resene Ethereal, Resene Twisted Sister, Resene Hive and Resene Just Dance, and a lampshade in Resene Quarter Bokara Grey and Resene Hive. The ply floor is finished in Resene Aquaclear and the trims are in Resene Tablelands. The console and shade are from Freedom Furniture, and the knot runner is from the Ivy House.
Embracing yellow's most vivid iteration, like Resene Hive, can feel risky. It's so intense, so vibrant, that it can be difficult to know just how to use it without overpowering a room. Often, for bright yellow, less really is more. Try painting vases for a brilliant pop, then include the same shade in homemade abstract paintings to hang on a wall in the same space. You could also try bringing in other, similarly electric colours, such as Resene Smitten or Resene Twisted Sister, for a coordinated and harmonious ode to colour at its fiercest.
For larger areas, look for softer colours like yellow-white Resene Rice Cake, dusty brown Resene Tablelands or light pink Resene Ethereal. These warm neutrals will anchor your room while making it feel nice and cosy.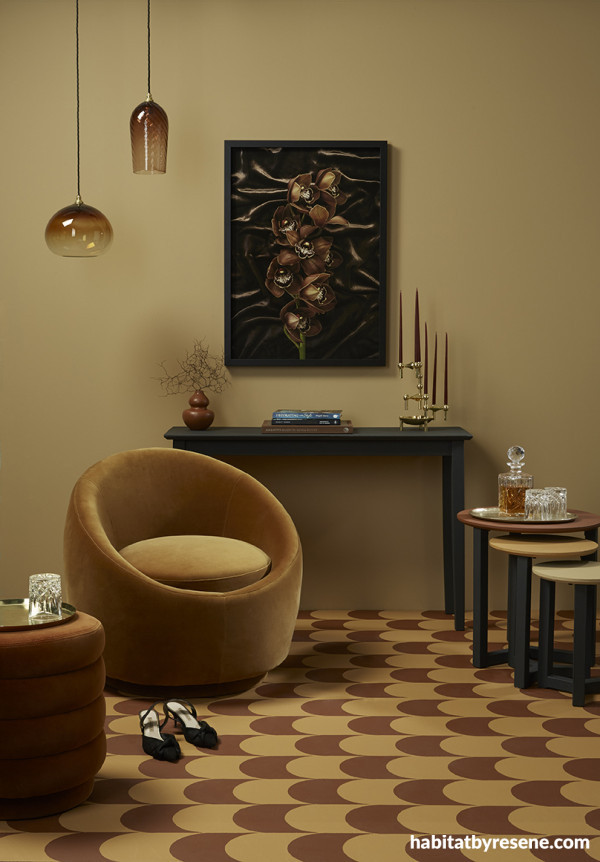 This wall is in Resene Gold Coast and the floor is in Resene Pendragon and Resene Hairy Heath. The hall table is in Resene Noir and the nesting tables are in Resene Hairy Heath (large), Resene Pendragon (medium) and Resene Gold Coast (small), with legs in Resene Noir. Furniture and accessories include a chair and ottoman from Soren Liv, candelabra and candles from Good Form, Orchids artwork by Helen Bankers and lamps from Monmouth Glass Studio.
Mustard has long been a reigning favourite amongst interior designers, in part because it's gentle enough to fit into a varied colour scheme and in part because it's still sunny enough to be able to highlight key features and finishes.
In this room, we've complemented the pale ochre wall in Resene Gold Coast with a scalloped floor stencilled in ochre-meets-beige Resene Pendragon and red-brown Resene Hairy Heath. The depth of the side chair's mustard colour holds its own against this beautiful combination, accentuating the luxuriousness of the velvety upholstery.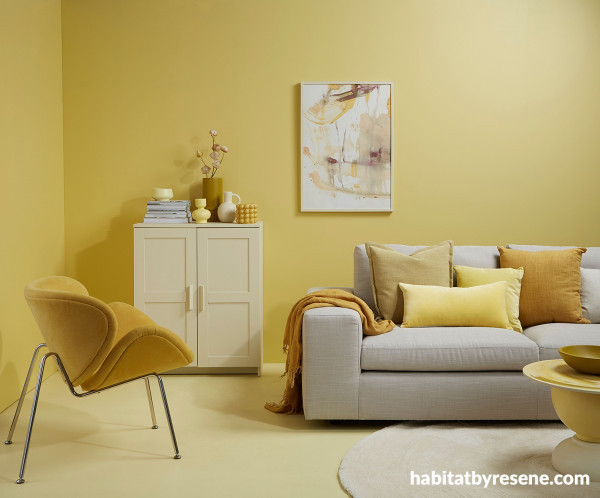 Walls in Resene Chenin are paired with the floor in Resene Mellow Yellow. The artwork frame is in Resene Blank Canvas and the two-door cabinet is in Resene Double Spanish White. The sofa is from Freedom Furniture and the side chair is from Nood.
Aptly named Resene Mellow Yellow, the buttery shade of this room's floor is a great example of how a mid-tone yellow can infuse a room with a revitalised spirit. Paired with equally buttery Resene Chenin, it's a look that sets a stunning backdrop to a collection of similarly toned furnishings.
For those wanting to break up a uniformly yellow look, try adding a splash of fuchsia Resene Lipstick. Or, for a cooler note, bring in light blues like Resene Duck Egg Blue, Resene Opal or Resene Tranquil with steel greys and dark teals.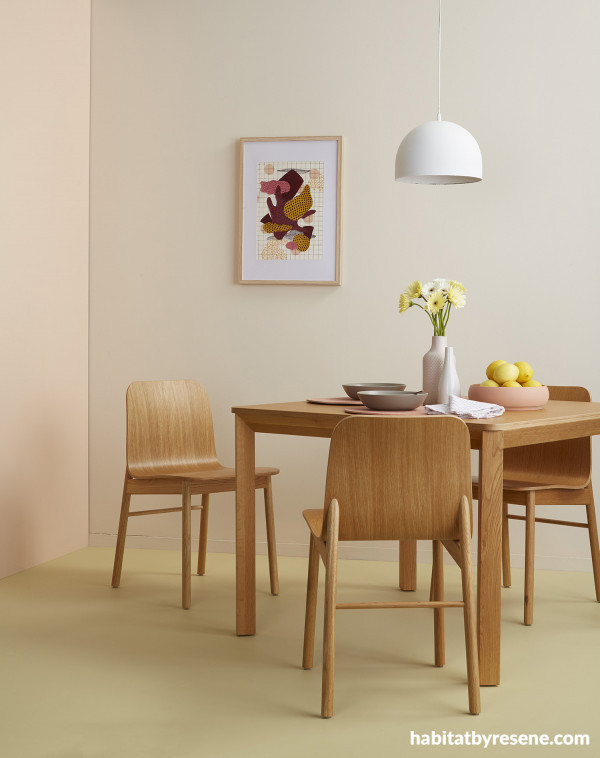 A yellow floor in Resene Yuma works seamlessly with a back wall in Resene Despacito and a left wall in Resene Soulful.Pendant lamp in Resene Alabaster, bowl with lemons in Resene Just Dance, tall vase with flowers in Resene Ethereal and skinny vase in Resene Alabaster. Artwork created using testpots of Resene Cleopatra, Resene Smoulder, Resene Love Me Do, Resene BFF and Resene Soulful. The table and chairs are from Città and the picture frame and tea towel are from Kmart.
Muted and subtle, pastels can seem just shy of an all-white palette. For this gorgeous dining room, we used a delicate trio of Resene Yuma, Resene Despacito and Resene Soulful, which share beige undertones. The layers of sweet pastels intensify one another without making the room feel washed in a singular colour.
When it comes to decorating, consider filling your space with furniture, throws, pillows and other accessories in golds, wine and pink reds, and coral and apricot oranges reminiscent of Resene Cleopatra, Resene Smoulder, Resene Love Me Do, Resene BFF and Resene Soulful for a warm, rounded look.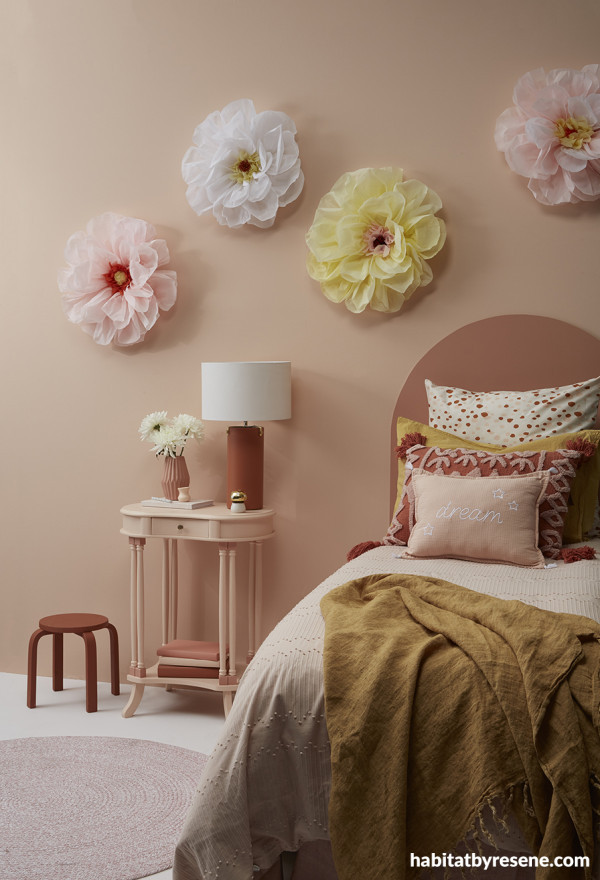 Wall in Resene Sorbet and floor in Resene Triple Blanc. To match the room's warm tones, we've included a bedside table in Resene Soulful with details in Resene Just Dance, a headboard in Resene Just Dance, a lamp in Resene Santa Fe, a stool in Resene Moccasin and a vase with flowers in Resene Just Dance. The quilt set, euro cushion, line throw, tufted cushion and dream stars are all from Adairs. The rug is from Kmart.
Green-based ochres like Resene Bullwhip are a great way to lend a grounded feel to any room, from a kid's bedroom to a living space. Employ crisp whites to keep things light and introduce pinks and terracotta in the spirit of Resene Sorbet and Resene Moccasin to really amp up that sense of freshness. Full of inherently warm tones, your space is also guaranteed to be cosy.
styling Kate Alexander, Laura Lynn Johnston, Vanessa Nouwens and Melle Van Sambeek
images Bryce Carleton and Melanie Jenkins
Published: 28 Oct 2020
Do you have a home full of wonderful Resene paint and colour? Send us some snaps by emailing [email protected].