►
◄
latest
habitat tv
blog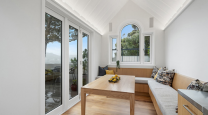 Master Builders' Chief Executive David Kelly shares his tips for building in the challenging climate.

Planning... more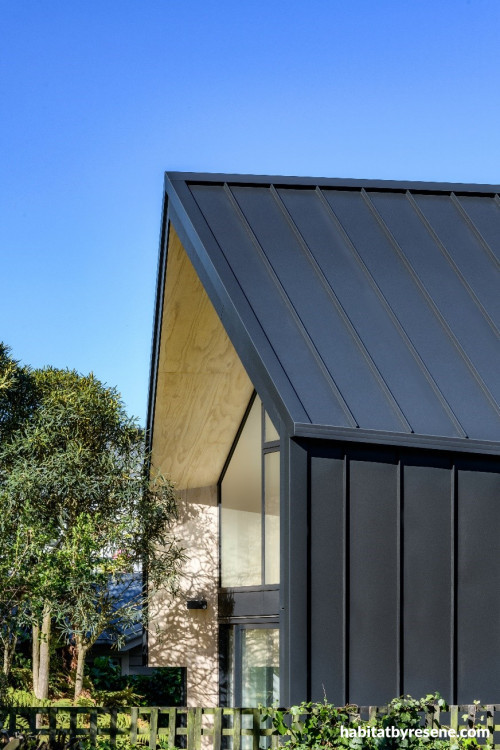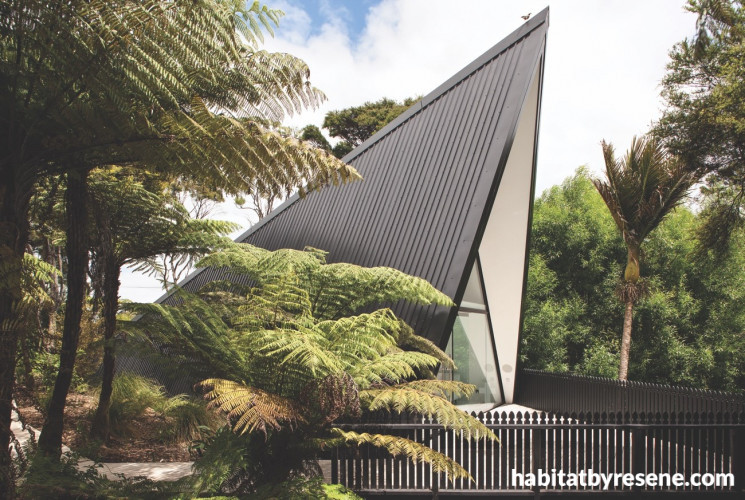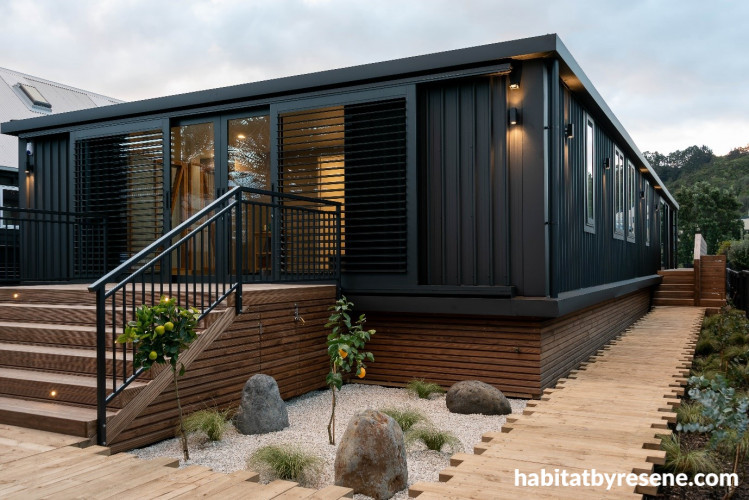 How to pick the right colour for your new roof
How to pick the right colour for your new roof
If you're living under a quality, well-constructed roof, chances are you don't give it much thought day-to-day. It's only when you're taking on a new build, an extensive renovation or when replacing your existing roof that you stop to consider the one thing that really protects your home from the elements.
There's a lot to think about when choosing a new roof, and although the materials and profile play an important role in creating the look of a roof, the first thing people usually notice is the colour. Tobe confident you're making the right colour choice, consider these tips from the team at COLORSTEEL®.
Find inspiration from your surroundings
If you don't know where to start, look at your surroundings. Do you live amongst houses from a similar era? Your neighbourhood is a great place to generate ideas. Heritage homes, villas, bungalows and art deco houses lend themselves toward specific colour palettes, such as whites, greys, blues and greens. It's best not to use the exact same colours as your neighbours but it'll help you develop a sense of what you do and don't like.
The environment can also inform your colour choice when taking on a new build. Natural colours will help you blend seamlessly with the landscape, while a brighter colour will announce your arrival. In some situations, neutral colours can be the most striking. They blend in well with the street and landscape, avoiding visual pollution and creating an inviting and welcoming effect.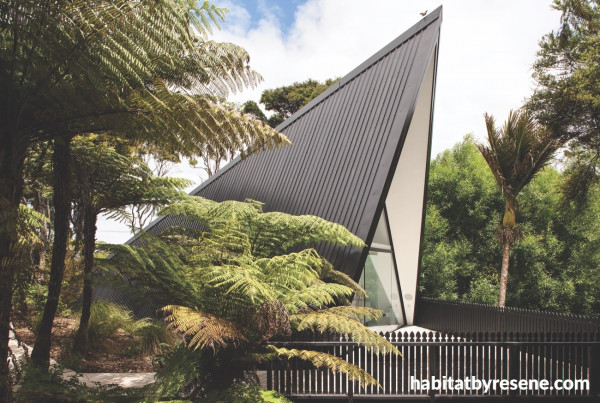 Chris Tate's Waiheke house, affectionately known as 'The Tent House' is clad in striking COLORSTEEL® Ebony. With its prominent white interior, it looks distinctive yet completely at home in the stunning verdant green landscape that surrounds it. Popular Resene whites for exteriors include Resene Black White and Resene Alabaster.
If you're replacing an old roof, and not updating the rest of your house, it's often best to work with the colour scheme of your existing exterior. Go with something that will pair well with the colours on your trims, fascia and cladding.
It's hard to go wrong with the rule of three
A good rule of thumb for picking colours is to pick three colours to coat, outline and accent a building. Build your exterior colour scheme around a main colour, an accent colour and a trim colour.
The main colour of your home could be the colour of your cladding or your roof. The accent colour is used on doors, joinery and shutters. The accent can be bold and eye-catching, such as a red front door in Resene Poppy. The trim colour is used for features such as windows, door surrounds, guttering and downpipes. Ideally, the trim colour should contrast with the main colour. A dark trim in a colour such as Resene Bunting will look stunning against a lighterCOLORSTEEL® shades such as SnowStone Matte® orDesert Sand®.
Consider these classic COLORSTEEL® and Resene pairings:
COLORSTEEL® Sandstone Grey is inspired by the colour of the Moeraki Boulders in the South Island's Waitaki region. This strong natural colour is extremely versatile and will work harmoniously with native landscapes and suburban gardens as well as architectural builds.
Use COLORSTEEL® Sandstone Grey with a white Resene Double Black White, shades of grey such as Resene Inside Back and Resene Half Copyrite or Resene Del Toro, a punchy red that nods to native rātā flowers.

COLORSTEEL FlaxPod®, one of 2020's rising stars, presents a deep,rich black with a touch of red-brown. Described as strong and solid,FlaxPod® is a colour that naturally belongs in the New Zealand environment. COLORSTEELFlaxPod® is available in the standard gloss finish or in the new COLORSTEEL® Matte range.
To create a sophisticated look, try the earthy FlaxPod® with Resene Archive Grey, Resene Quill Grey, Resene Awash and Resene Climate.

COLORSTEEL® Desert Sandis a natural shade with a warm red cast. It works well as a conduit between dark and light colours and as a backdrop to splashes of colour.
Use COLORSTEEL® Desert Sand with coffee and hot chocolate hues such asResene Milk Chocolate and milky shades such as Resene Spanish White and Resene Quarter Spanish White. COLORSTEEL® Desert Sand paired with the muddy green shade Resene Mangrove is a sophisticated earthy combination.

COLORSTEEL® New Denim Blue is a classic colour which is both stylish and timeless. Thiscomforting charcoal blue works well on both heritage and modern homes.
Pair COLORSTEEL® New Denim Blue with neutrals such as Resene Half Gin Fizz, earthy browns such as Resene Scoria or Resene Lichen or coastal blues including Resene Half Kumutoto.

Matte or Gloss?
There are more than 20 high quality COLORSTEEL® hues available in the standard gloss finish. With the introduction of the new and innovative COLORSTEEL® Matte range, there are now also three matte shades to choose from. The matte finish uses microwrinkle technology to create a textured finish that evenly diffuses light, adding richness and depth of colour to your roof. It's an architectural favourite because of its contemporary feel. Designed for roof & wall cladding, fascia and rainwater applications, and even garage doors, COLORSTEEL® Matte will elevate your exteriors and help create a sleek, modern look.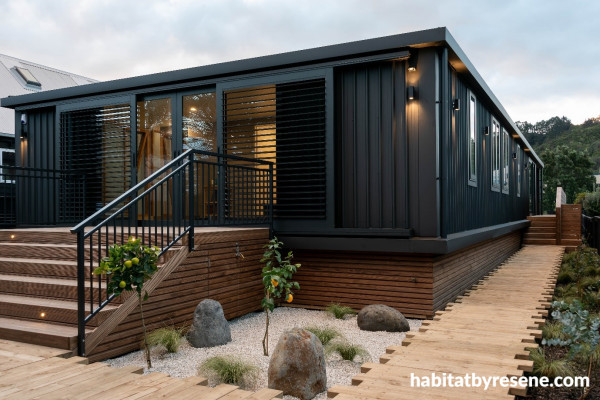 Rugby legend Sir John Kirwan's Waihi bach uses COLORSTEEL® FlaxPod Matte. Pair COLORSTEEL FlaxPod® Matte with Resene Decks and Driveways timber finishes such as Resene Piha Sand and Resene Baked Earth.
Road test your shortlist
Brochures are helpful to discover which colours are available and to gauge where your colour preferences lie but it's important to experience the colour in real life when choosing a permanent colour for your home. So when you have an idea of the colours you like, be sure to request a steel sample from the COLORSTEEL® website to experience the true colour.
Whichever roof colour you settle on, you will have peace of mind knowing COLORSTEEL® is made with a durable paint system which is regularly tested to guarantee compliance with the highest standards.
COLORSTEEL® protects the places that New Zealander's live, work and play. For more information and inspiration, visit www.colorsteel.co.nz


Published: 03 Nov 2020
Do you have a home full of wonderful Resene paint and colour? Send us some snaps by emailing [email protected].
the look
If you're stuck on what
colour to use or need colour
advice, try out the Resene
Ask a Colour Expert service.
the look
If you're stuck on what
colour to use or need colour
advice, try out the Resene
Ask a Colour Expert service.