►
◄
latest
habitat tv
blog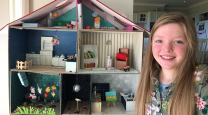 How to use your art as inspiration when choosing a colour scheme
It's not uncommon for homeowners to finally settle on a wall colour only to be stumped on what to hang on the walls afterwards. There's an easy solution to this, says stylist Kate Alexander of Places & Graces: start with the art.
"I can't even begin to count the number of clients who come to me asking me to pick artwork for their already designed space," she says. "While it can be done, it's much more of a struggle both in terms of finding something that will not only be the right colour, size, vibe and subject for the space, but it also needs to resonate with the owner. When I'm beginning a new design, I always start with the art instead."
Not only is art integral to a decorating scheme, it's also highly personal – and often an investment. Therefore, it makes sense that it should play a key role in deciding the composition and colour palette for the room it'll hang in.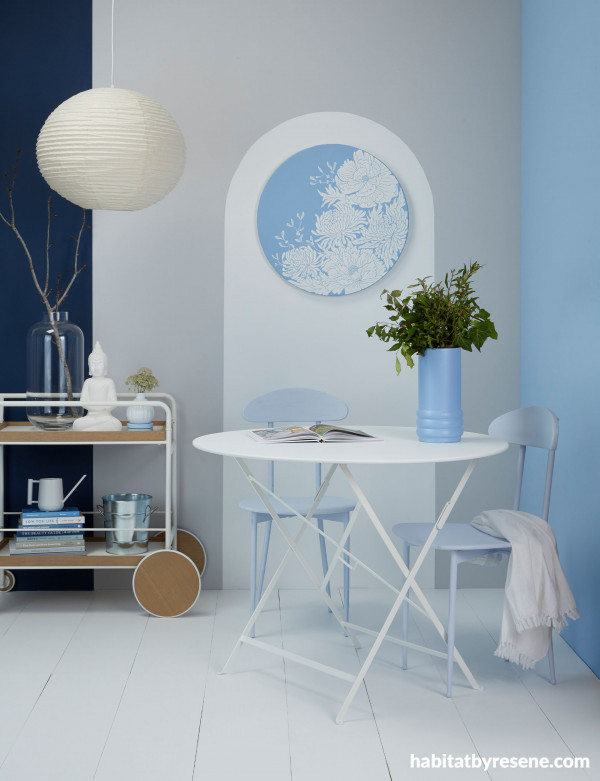 Artist Hannah Jensen's unique carved painting titled 'Chrysanthemum and Peonies' is created with 34 coats of Resene Alabaster topped with a layer of Resene Polo Blue. It was the perfect starting point for the colour palette in this calming conservatory. Instead of sticking to those two colours exclusively, a tonal palette of blues has been employed including, Resene Time Out on the vase, Resene Link Water on the chairs, Resene Bunting on the far-left wall, Resene Flotsam on the main wall and Resene Frozen on the coasters. The arch and floor are painted in Resene Alabaster. The result is a room that matches (in a literal sense, with the right wall in Resene Polo Blue and the arch and floor in Resene Alabaster) but doesn't convey the feeling of being overly 'matchy-matchy'. Table from Jardin, trolley from BoConcept.
How to choose artwork
Finding the right piece for your home can be a daunting task but artist Jen Sievers has some sage advice. "I think buying art can be scary for people. Often buyers aren't confident choosing which art would work in their home. I believe it's important to feel a connection to the art. If something stops you in your tracks or makes you smile, or stirs some sort of positive emotion, it's probably right for you."

Toasty golds and burnt bronzes in this orchid artwork by Helen Bankers inspired a rich tonal colour palette in this space. The wall in Resene Gold Coast has been pulled out from the flowers' highlights and used as the main colour in the room. It's teamed with Resene Pendragon and Resene Hairy Heath on the floor and Resene Hairy Heath, Resene Pendragon and Resene Gold Coast on the nesting tables with legs in Resene Noir. The result is an inviting and cosy 70s-inspired aesthetic that melds mellow mustards, bitter oranges and spicy browns for a lounge you'll want to linger in. Chair and ottoman from Soren Liv, pendant lights from Monmouth Glass Studio and candle holders from Wooden Horse Homewares.
For artist Alice Berry, original artwork is the thing to look out for. "You'll never find the same thing anywhere else. As artists, we put a lot of energy into our work and the final piece has a magic about it that you can't get from mass produced art. To be able to feel the paint, see the shadows and the textures that exist at different times of day. It's incomparable."
But with that being said, Alice also believes that there's nothing wrong with mixing it up.
"In my home, I have a mix of commercial/mass produced prints I love along with original pieces from some of my favourite artists. The originals always bring me joy, and each time I look at them, I notice something new – even within my own works!"
If you have more than one piece of art in a space, Kate suggests mixing up their scales to create contrast between the works, especially if they share the same colour scheme.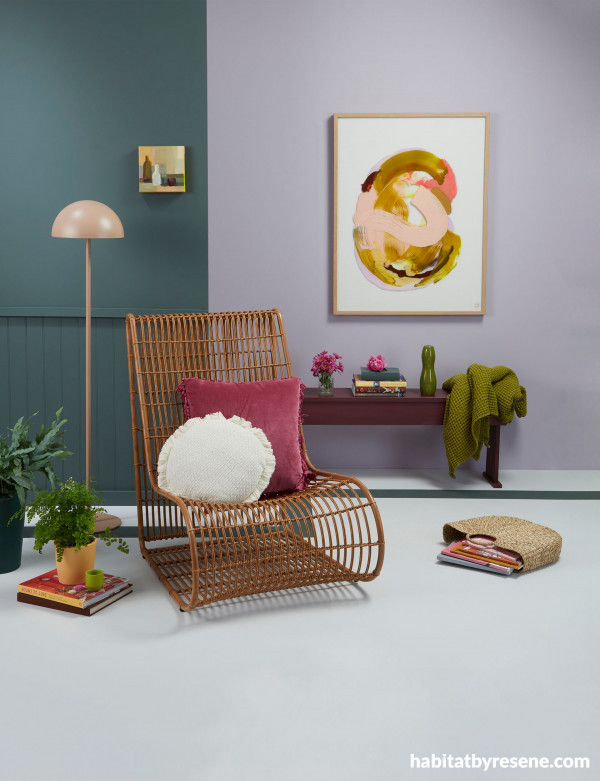 This relaxed reading nook with its grown-up English country vibe shows how far your choice of hues can go in creating interest in a room. Restful, receding colours were used for the backdrop, with the main wall in Resene Lola and the return wall with tongue-and-groove panelling in Resene Jurassic. These serene shades have been punctuated by pops of bright fluoro including the plant pot in Resene Porsche and the small vase in Resene Citron, injecting an element of cheerfulness in a small yet peaceful way. These highlights play off the colours within the two original artworks, which were also created using Resene paints; 'White Bottle' by Georgina Hoby Scutt (left) and 'Begin Again' by Jen Sievers (right), both from endemicworld. Other colours picked up in the artworks include Resene Cab Sav on the bench and accessories such as the tall lamp from Citta in hue akin to Resene Coyote. The floor in Resene Concrete creates a soft balance for all the colours to sit on and the stripe in Resene Jurassic adds a playful touch.
"The two paintings in this reading nook are also similar in their brushstrokes and how their layers were formed, so even though they are of different styles, they still carry a sense of continuity between them. The swirls of the paintings are picked up in the shape of the chair, too. Although it's a large piece of furniture, its permeable structure ensures that it doesn't dominate the space," explains Kate.
In the same manner, a long bench in Resene Cab Sav does the work of a shelf. It offers plenty of space to hold books and decorative accessories, but it keeps sight lines lower to the ground to leave more visual space for the artwork.
Take a DIY approach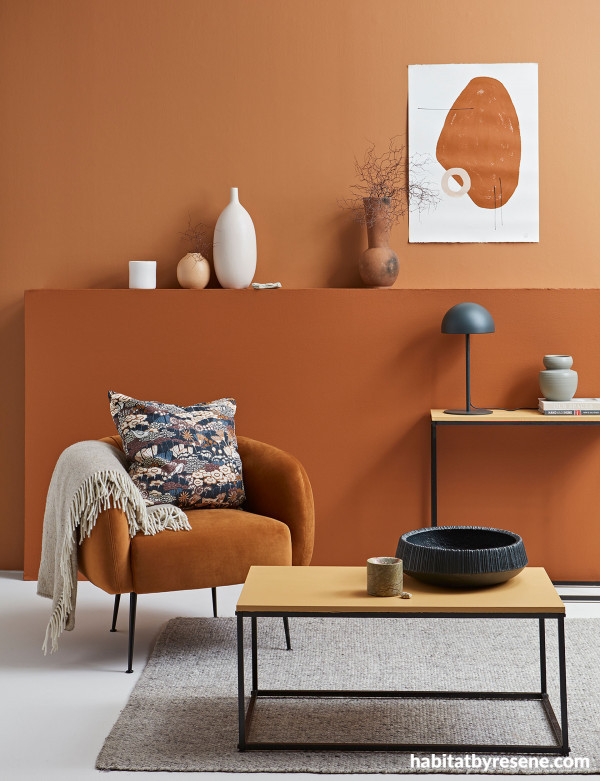 With only two colours featuring in this DIY artwork, it would've been an easy choice to use the lighter hue of Resene Gold Coast at as the main feature shade in this room's colour palette. Instead, the bolder hue of Resene Korma was taken onto the lower half of the room – and the result is a show-stopping, dynamic space. The back wall in Resene Dark Buff and the shelf in Resene Korma create a spicy mix for the wall which is balanced out with the floor in Resene Eighth Drought. The coffee table and console in Resene Twine, the vases in Resene Alpaca and Resene Gold Coast and the jug vase in Resene Raptor all add softer elements to the room, playing off the contrast in the artwork. The large bowl in Resene Cod Grey and the Citta lamp in a similar hue offer a much-needed pop of dark contrast. Armchair from Me & My Trend, throw from Paper Plane, cushion and rug from Citta.
Whether you've already settled on your scheme or have yet to start, another sure-fire way to ensure that your artwork will match your interior scheme is to paint it yourself. Pick up some Resene testpots from your local ColorShop in colours that you love and let yourself get stuck in.
Either opt for an abstract pattern, or take a leaf out of artist Greer Clayton's paint palette and try these modern art DIYs in the colours of your choice.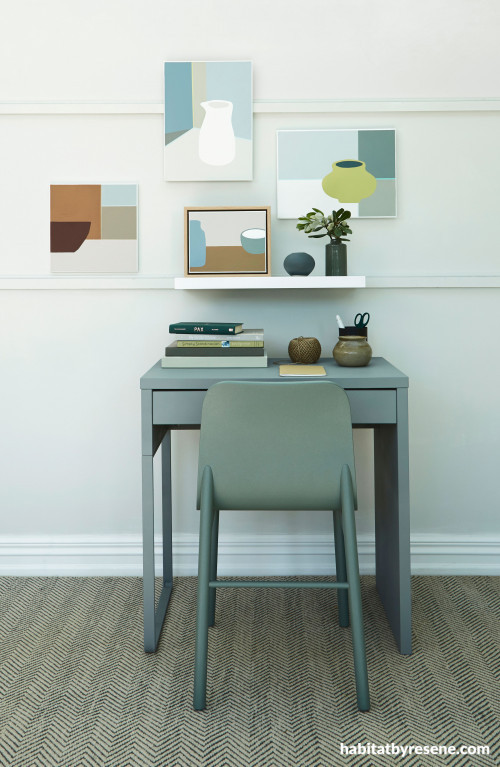 Channel your inner artist and give this DIY modern art project a go using Resene testpots in Resene Half Dusted Blue, Resene Bubble N Squeak, Resene Triple Sea Fog, Resene Double Pravda, and Resene Alabaster.
Matching colours
Once you've found one or more works that resonate with you and you know where you're going to hang them, choosing colours for the space is the next task. The free online Resene Colour Palette Generator is an especially useful tool that can take the guesswork out of creating a colour scheme that will complement the hues in your art. Simply upload an image of the artwork and the tool will create a customised Resene palette based on the most common colourways that occur in the image. It will also tell you what proportion of the palette they are to help give you an idea of the colour balance, which can be especially helpful when you're trying to translate that information into your new interior colour palette.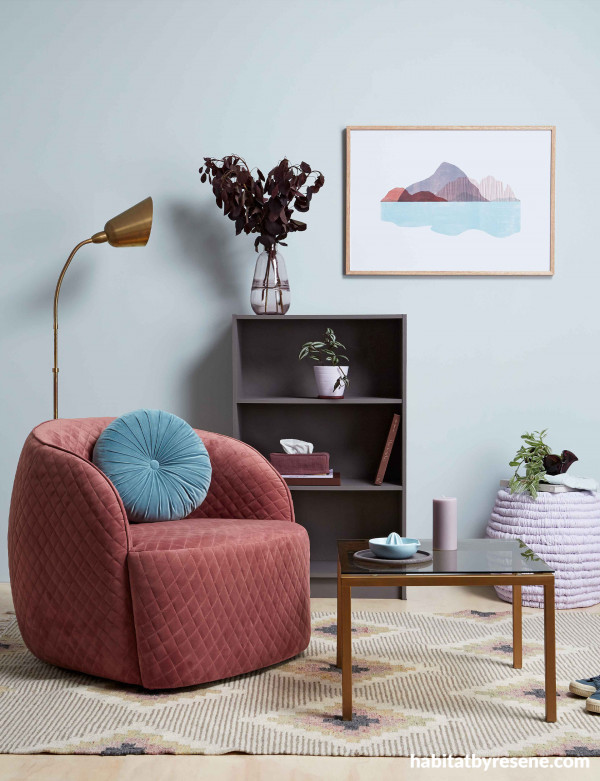 'Three Islands II' fine art print by Sarah Parkinson from Endemic World provides the perfect calming colour palette for this living room. Resene Half Duck Egg Blue features on the wall with accent colours in Resene Dreamtime (on the woven side table), Resene Rocky Mountain (on the shelf) and Resene Merlot on the chair. The floor in Resene Colorwood Whitewash links back to the frame around the art.
When it comes to original artwork, though, it can be a challenge to photograph it in a way that will result in a truly perfect colour match. If an absolute match is the look you're going for, there is one way you can be absolutely sure you'll get it: buy work from one of the hundreds of artists across New Zealand and Australia that use Resene paints to create their masterpieces.
"Choosing the right colours for your home is such a personal journey," says artist Hannah Jensen. "A home is a safe place for you to relax, unwind and hold joy-filled memories – and how you express that is the fun side of decorating. Hanging original artwork is such a special addition to your sanctuary and finding a piece that evokes emotion within is always a great way to choose a work."
The great thing about starting with a piece of art is that it gives you an instant colour palette. Within that colour palette it's up to you to decide what hue will be your dominant colour and which shades will be your accents.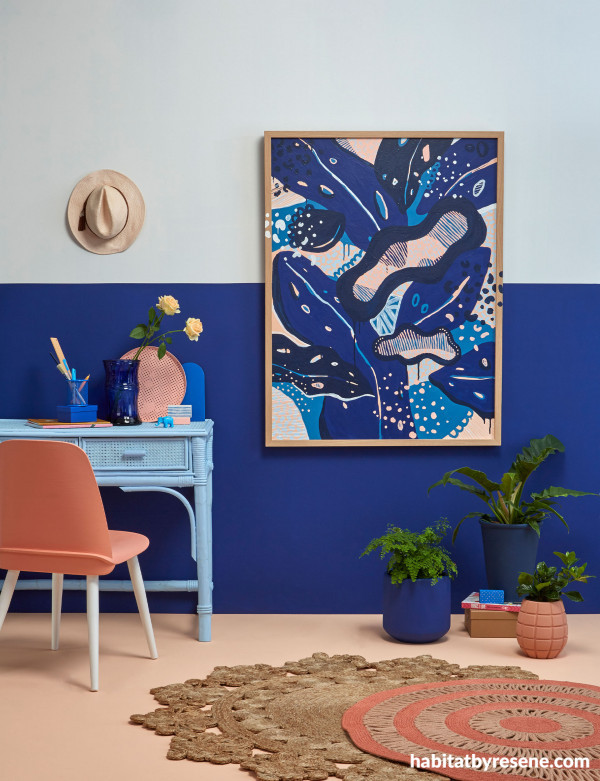 'Calm of the Sea/Laolao' by Alice Berry was used to inspire the interior scheme of this home office space – which was created using Resene testpots. Upper wall in Resene Triple Alabaster, lower wall in Resene Aviator, floor in Resene Romantic, desk in Resene Sail, chair in Resene New York Pink with legs in Resene Triple Alabaster, painted jute rug in Resene New York Pink, plant pots in Resene Aviator, Resene Bunting and Resene New York Pink, tray in Resene Cornflower, small cardboard boxes in Resene Torea Bay, Resene Cornflower and Resene Aviator and pencil cup and metal arch (on desk) in Resene Torea Bay. Large rug from The Ivy House, small rug from Spotlight, painting from endemicworld.
This home office space featuring original artwork Calm of the Sea/Laolao by Alice Berry is a perfect example. In this case, repetition in both colour and shape is the key element to creating a cohesive look. The 'horizon line' that divides the wall, the rectilinear shape of the desk painted Resene Sail and the picture frame have been balanced with rounder shapes, such as the tray in Resene Cornflower, the curve of the Resene New York Pink chair and the concentric circles of the woven rug, which are also painted Resene New York Pink. These details, too, play off the dots and shapes within the painting itself. By painting the lower portion of the wall in the same mid-value colour from the artwork – in this case, Resene Aviator – it grounds the artwork more than had it been displayed just on a wall painted from top to bottom in Resene Triple Alabaster, which was used for the top section of the wall.
On the floor is lighter Resene Romantic, which visually reads as a lighter version of Resene New York Pink.
"Though it isn't a colour directly used in the artwork," says Kate, "it feels enough the same that it still works with the palette while also acting as a point of difference from the rest of the scheme." To finish the look, Kate painted smaller accessories and accents in Resene Aviator, Resene Cornflower, Resene Torea Bay and Resene Sail. And it's this attention to detail that really solidifies the cohesiveness of the room's design.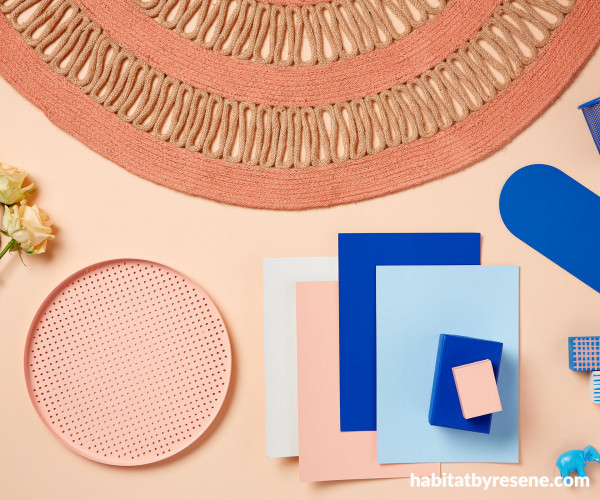 A mood board inspired by Alice Berry's original painting, Calm of the Sea/Laolao, which was created exclusively with Resene paints, helps to visualise how the colour palette will work together in the space. Background in Resene Romantic with A4 drawdown paint swatches in (from left to right) Resene Triple Alabaster, Resene Cornflower, Resene Torea Bay and Resene Sail, tray in Resene Cornflower, rug in Resene New York Pink and boxes in Resene Torea Bay, Resene Cornflower and Resene Triple Alabaster.
images Bryce Carleton, Wendy Fenwick
styling Gem Adams, Kate Alexander, Greer Clayton, Melle Van Sambeek
featured artists Alice Berry, Hannah Jensen, Georgina Hoby Scutt, Jen Sievers
Published: 22 Jul 2020
Do you have a home full of wonderful Resene paint and colour? Send us some snaps by emailing [email protected].