►
◄
latest
habitat tv
blog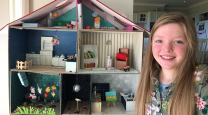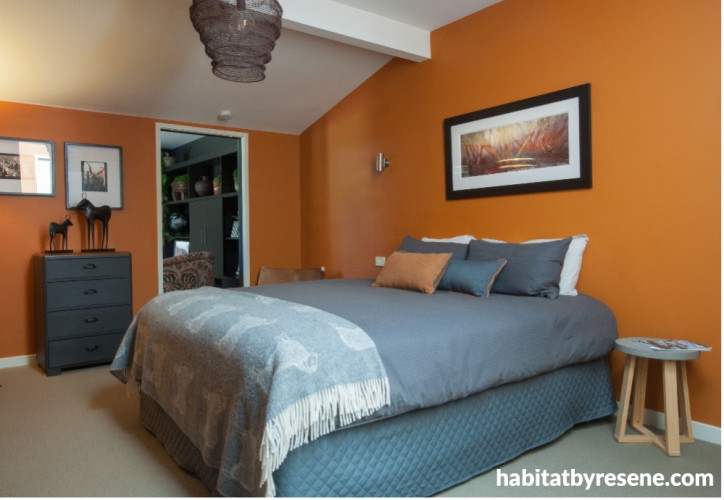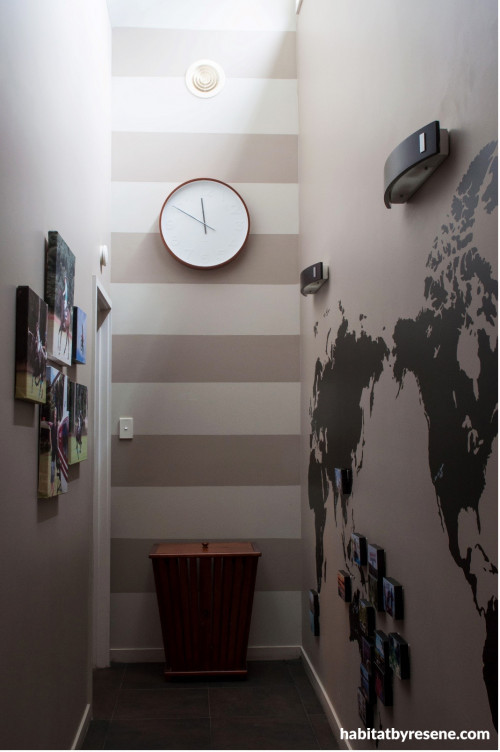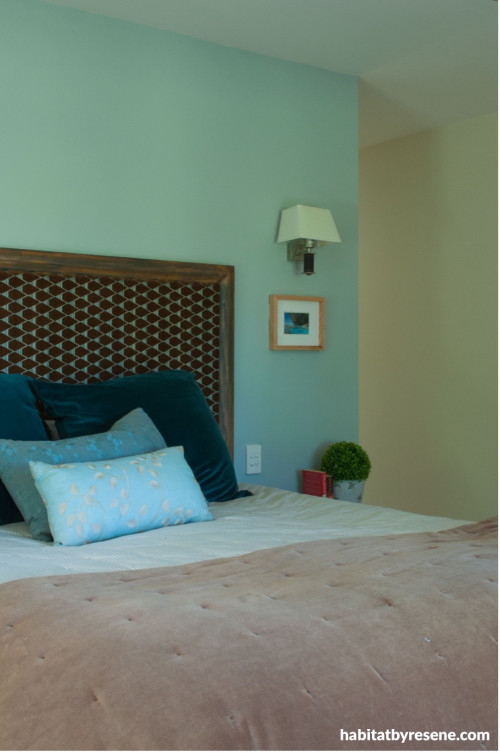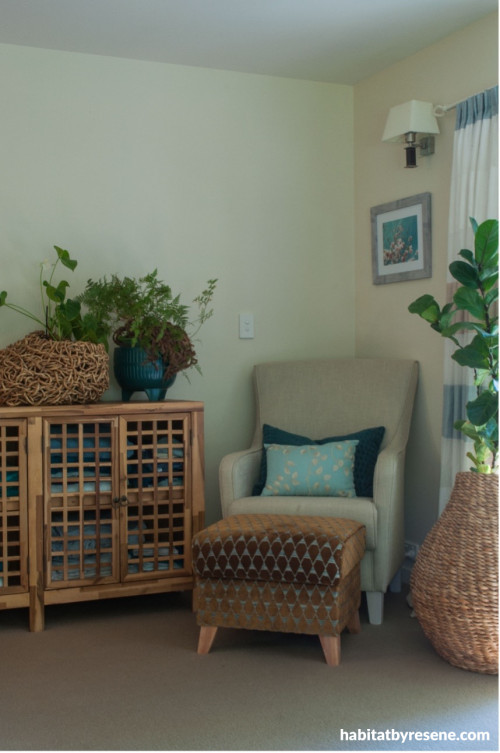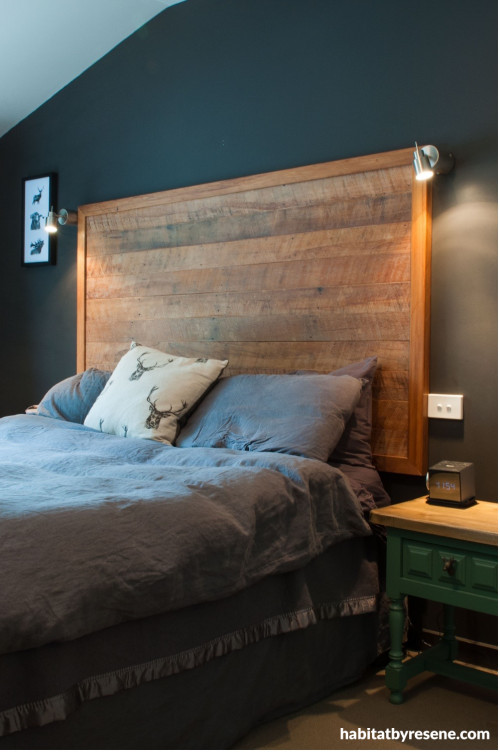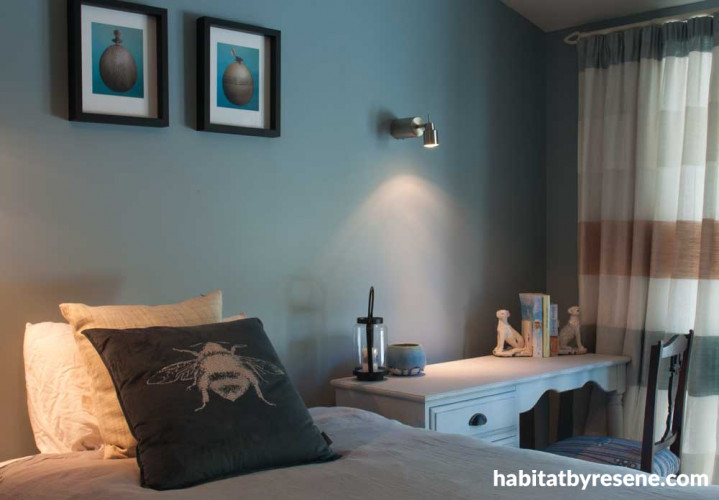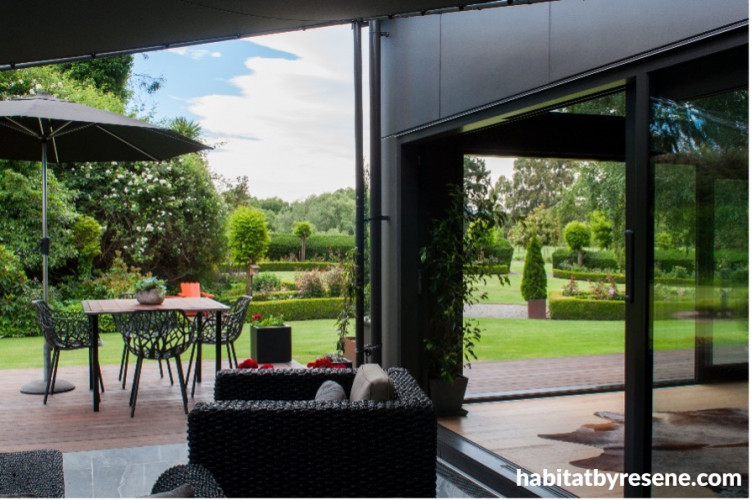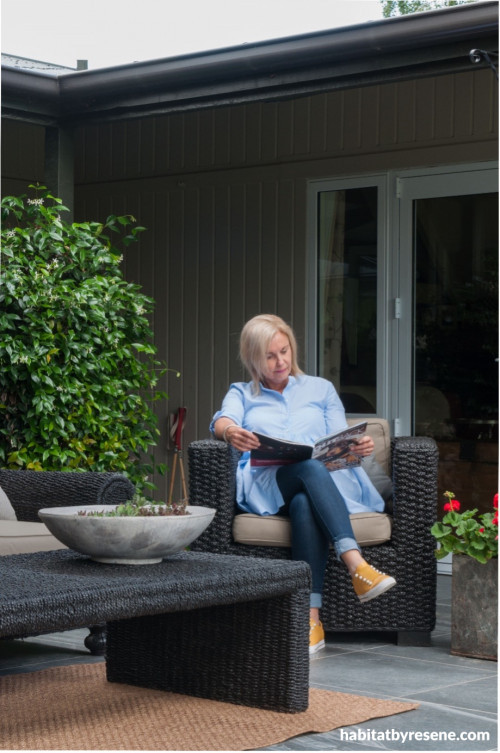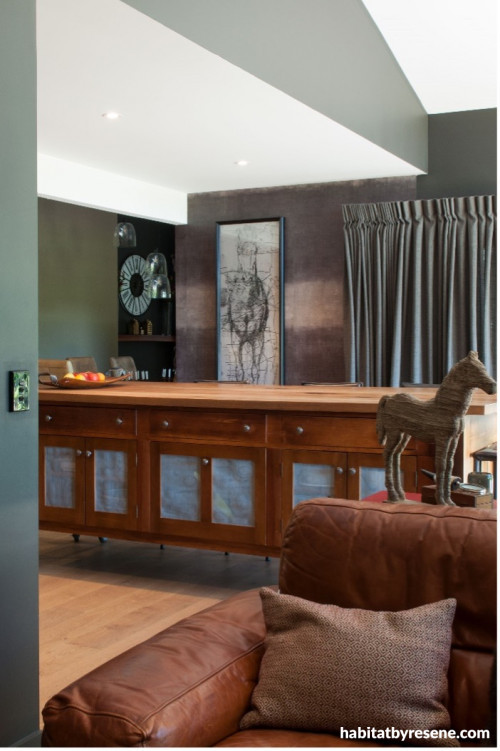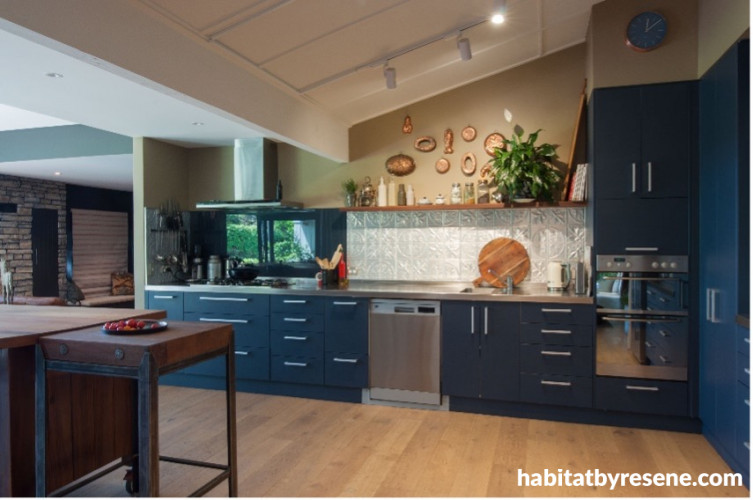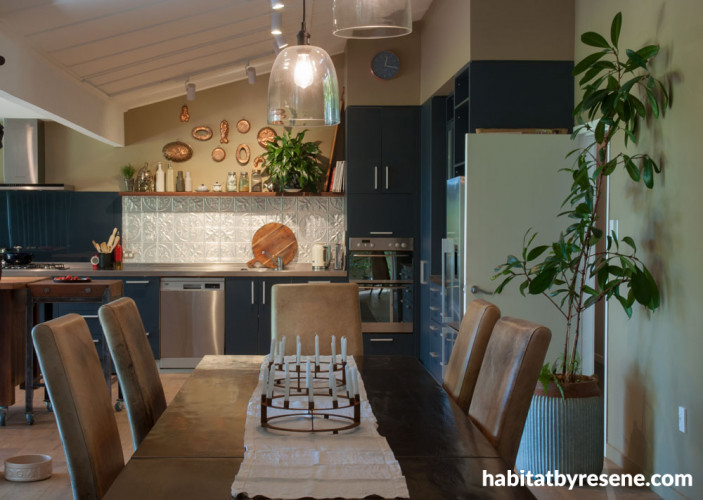 Holiday at home: A Hurunui home inspired by international travel
Meg and Tom have painted memories into the walls of their home. Well, Meg did all the painting, but Tom, who has been busy on their Hurunui cattle and sheep farm, admires her handiwork. In her hallway, Meg has painted a feature wall with stripes of Resene Tea and Resene Half Oilskin. On the side she's placed a world map on which she's placed photos of her family's travels.
"It all started when I got the map and noticed that some of the Pacific Islands were missing from the map. So, we stuck up photos of our holidays in Vanuatu and other islands we'd visited," says Meg who is a rural business manager.
"When my son Dan travelled to Africa, we stuck a photo of him up there. The map has been a lovely way for our family to feel connected, and a nice talking point when guests come around."
The holiday theme continues in the master bedroom which is painted with Resene Spanish White with a feature wall of Resene Hermitage. The breezy paint colours are paired with tropical-inspired rattan furniture including a linen cabinet which reveals peeks of green and blue towels through the lattice.
"I like to feel like I'm on holiday in my bedroom. With Resene Hermitage on the walls, the brown headboard and the rattan, it feels like we're in the tropics."
Although both her sons no longer live at home, their bedrooms are always ready for when they come home to visit. Dan's room is painted in Resene Moroccan Spice, a colour that reminds Meg, who was born in Sydney, of the desert and her Australian homeland.
"This room was inspired by a collection of overseas photos. Dan had just come back from Africa and had some amazing shots. I also had a photo of my native Australia, which was predominantly orange. A friend who was a wildlife photographer in Zimbabwe sent me some photos as well. When my Australian friends come to stay, they say this room reminds them of home."
Her other son, Tim also has a bedroom ready and waiting, which has a feature wall painted in Resene Ironsand, a colour that also features in the family room/"snug" area and extends onto the house's exterior. The dark Resene Ironsand walls in the snug frame the view of the formal garden Meg has grown for the past 30 years. Like her home, the garden has been developed on a budget going from an empty paddock into a beautiful garden of roses and carefully pruned shrubs.
Meg is an avid DIYer who is a dab hand with the secateurs and chainsaw as well as a paintbrush – she's has done most of the painting of her home herself. This includes parts of the exterior which she painted in Resene Ironsand and Resene Napa. There are more colourful choices in the interior including Resene Powder Blue from the Karen Walker Paints collection in a guest bedroom and Resene Double Colins Wicket in the dining room which pairs well with the blue kitchen cabinets which are 20 years old.
"Tom didn't want a white kitchen even back then when white kitchens were the rage; this family loves colour."
"When it comes to colour I say trust your instincts and don't be afraid to be a bit brave."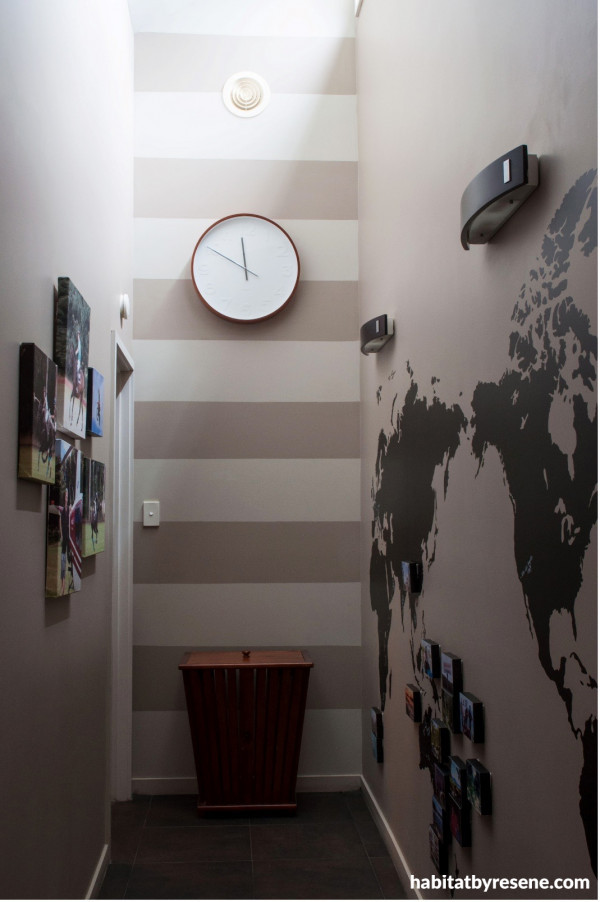 Meg hand-painted the Resene Tea and Resene Half Oilskin stripes in the hallway. On the side walls which are Resene Half Oilskin is a world map which features photos of the family's travels on it. To make a wall like this magnetic, use Resene FX Magnetic Magic as a basecoat before applying your topcoat.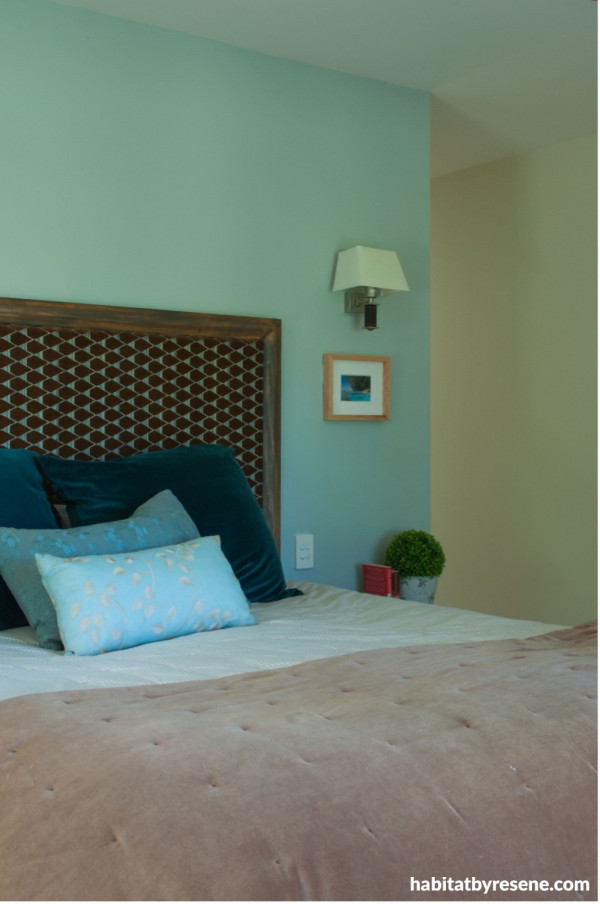 The master bedroom has a tropical theme with a feature wall of breezy blue Resene Hermitage and Resene Spanish White on the other three walls.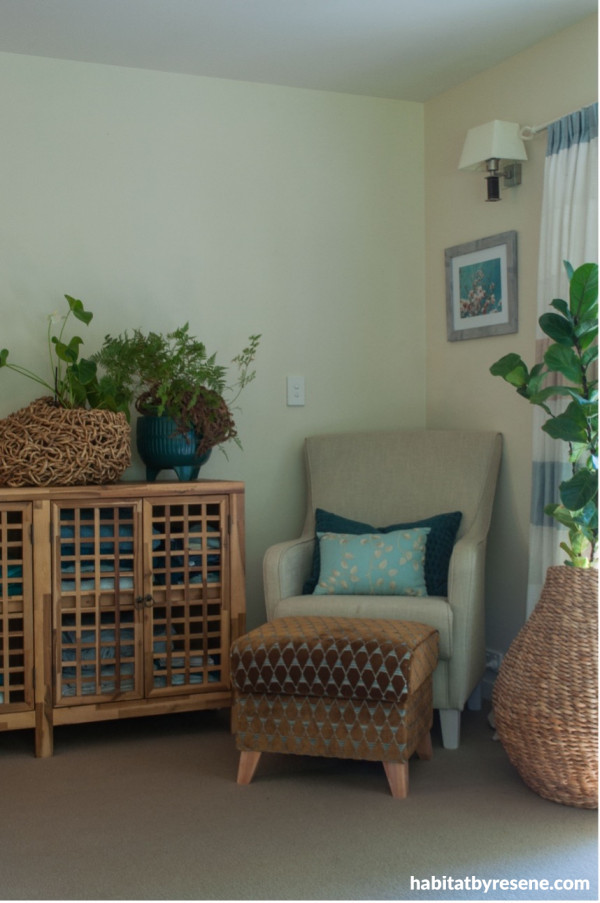 The master bedroom features rattan and cane furniture and lush green plants which, when combined with the Resene Spanish White and Resene Hermitage walls, give the room a resort look.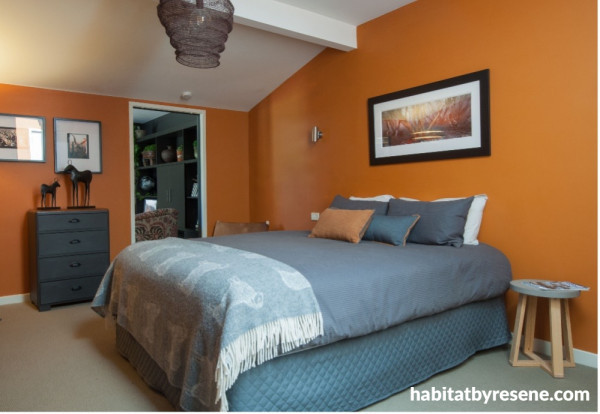 Dan's bedroom is painted in Resene Moroccan Spice to match the photos of Zimbabwe and Australia in the room. The room is adjacent to the snug, which is painted in Resene Ironsand. "I couldn't have a wishy washy colour next to the Resene Ironsand, the colour needed to be bold," says Meg.

Resene Ironsand is painted on one of the walls in Tom and Meg's other son Tim's bedroom. The other walls (not shown) are Resene Half Oilskin.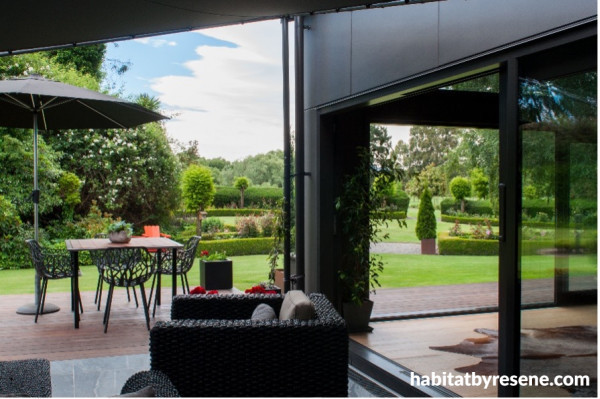 Resene Ironsand features on parts of house exterior as well as the interior of the snug. The dark colour highlights the beautiful view of the formal garden. The kwila deck is painted with Resene Kwila Timber Stain.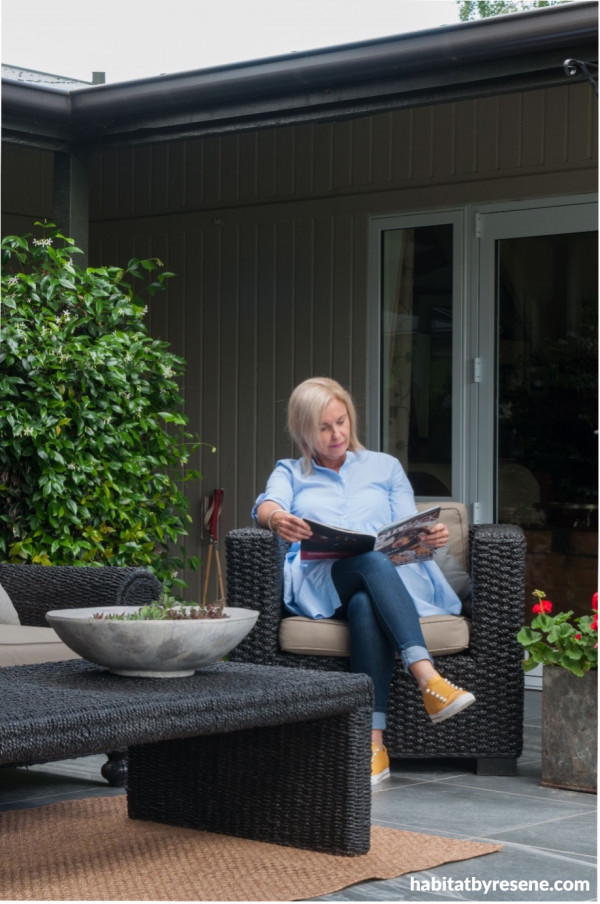 The outdoor seating area features Resene Napa, it's a favourite place for Meg to read and relax.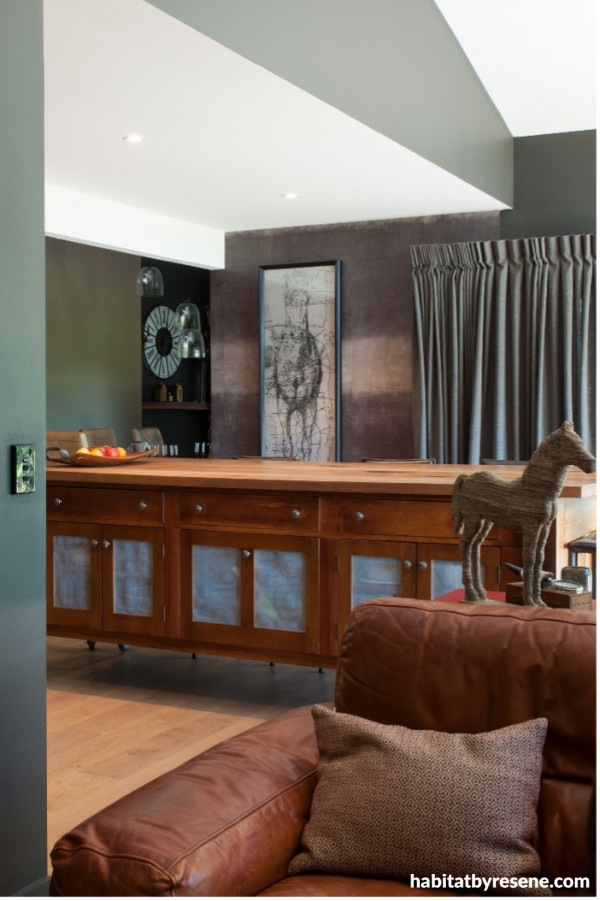 The snug is painted in Resene Ironsand and joins onto the dining room painted in Resene Double Colins Wicket.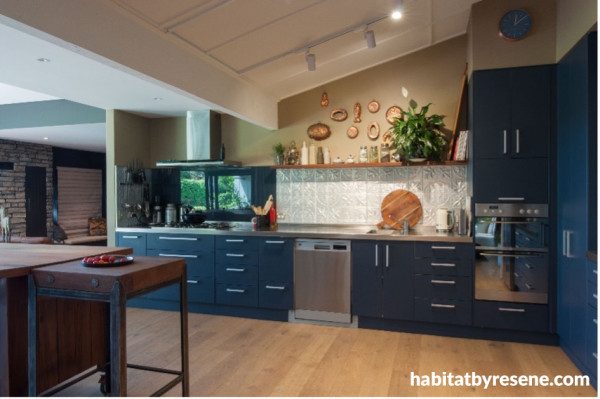 The wall colour of the kitchen is Resene Double Colins Wicket. The kitchen cabinets are 20 years old but are still going strong, for a similar dark blue shade try Resene Dark Knight.
Published: 16 Feb 2021
Do you have a home full of wonderful Resene paint and colour? Send us some snaps by emailing [email protected].
Resene Double Colins Wicket
the look
If you're stuck on what
colour to use or need colour
advice, try out the Resene
Ask a Colour Expert service.