►
◄
latest
habitat tv
blog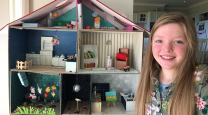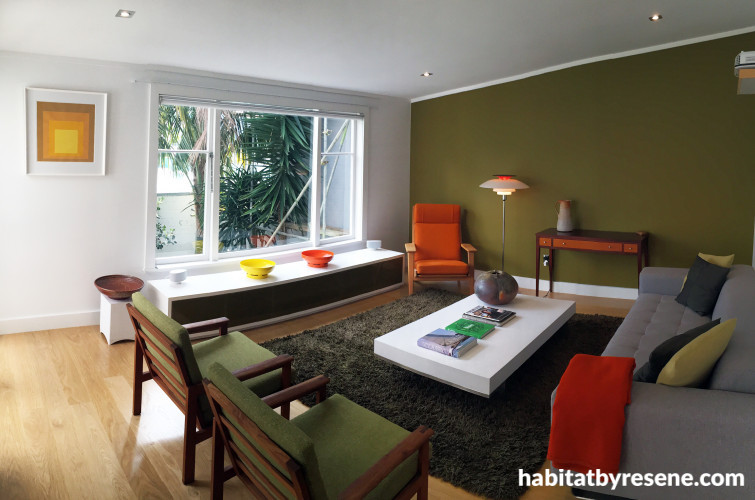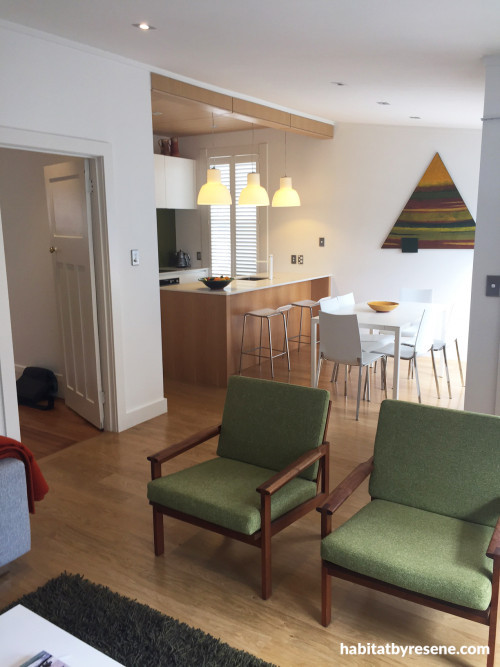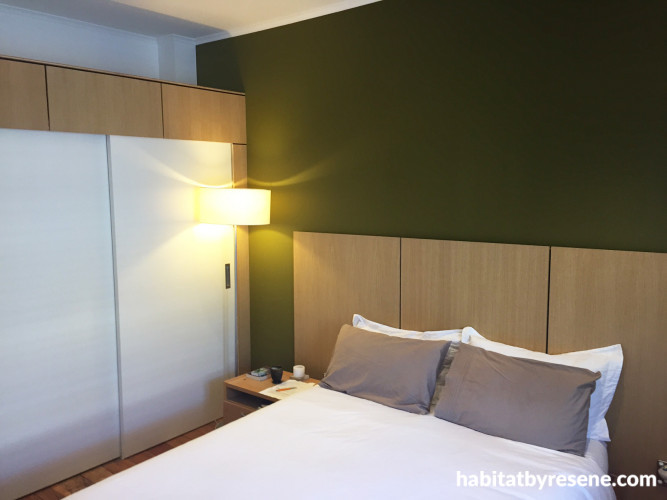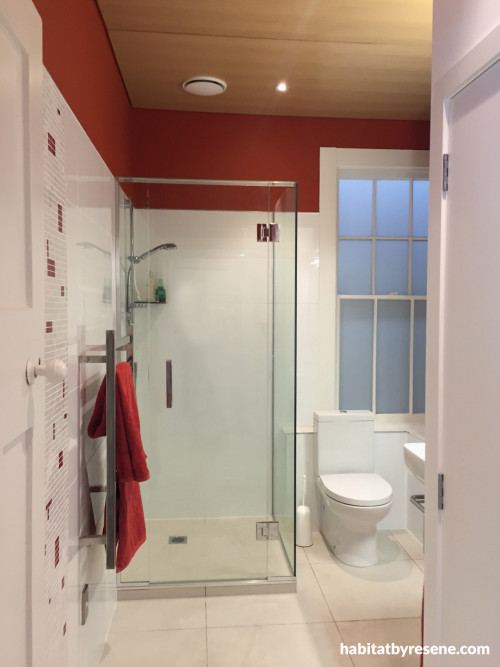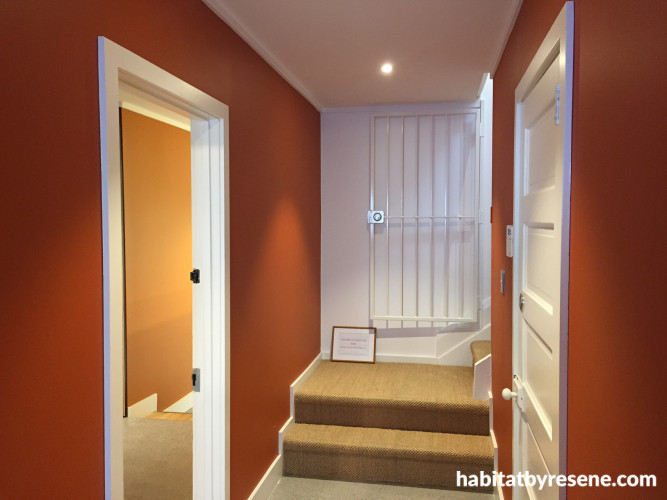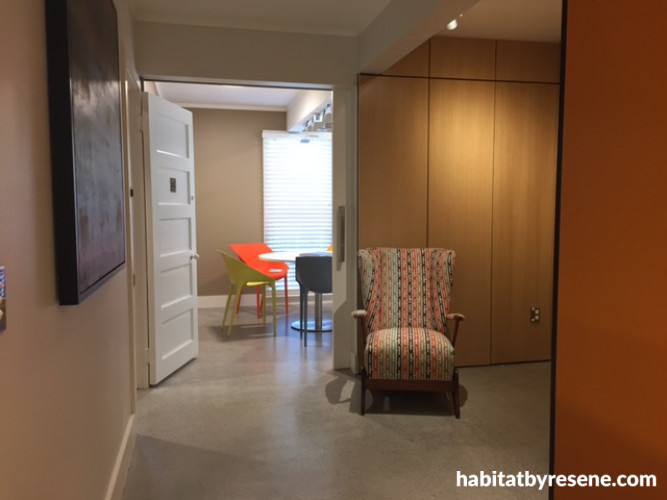 James' retro style for work and play
Mixed fringe-city zoning lets the owner of this small two-storey inner-city villa work from the ground floor, and live upstairs. Interior designer James Peters helped him convert it from a plain building with odd features to a contemporary space with a rich Resene colour palette.
How did you interpret the client's brief?
The client's wishes were for a light, bright space. He's a progressive thinker, and a successful businessman with a contemporary outlook. I sensed he wanted an understated home, not flashy but imaginative without being extreme. Not a bland colourless, safe environment.
I chose feature colours of Resene Fire, a burnt brick orange, Resene Moroccan Spice, a rich bitter brown, and Resene Himalaya, a spicy green-bronze, along with Resene Mongoose, a warm pale brown.
I hope the colours depict his personality and vision in both his personal and business life. He was the perfect client who wanted me to push the boundaries a little, and ultimately trusted my judgement.
I suggested he also invest in some mid-century furniture – both old and new – for his upstairs domain.
Going back some months later to help place some art was a joy as I realised the client was exceptionally happy about what we had achieved together.
Describe the house and the progress of the project.
It's a small two-storey villa close to Auckland CBD where you get mixed zoning. The top storey has a verandah with views of the city lights. Downstairs, his office has a courtyard where staff can lunch or take a break.
Upstairs has a lounge, dinning area, a new kitchen and bathroom, two bedrooms and third small bedroom or office. The stairs leading up from the entrance corridor have an old-fashioned bannister and a bright atrium, which is splendid for art works.
We did the upstairs first, then some weeks later, refurbished the commercial space.
What was the biggest challenge for this project?
The upper floor was a challenge as the rooms had different windows at different heights and it was quite a plain space. I removed windows and awkward structures, and installed a new kitchen.
Luckily I work with a great painter, Peter Witton, and builder who are highly professional and have great input.
Published: 02 Jun 2015
Do you have a home full of wonderful Resene paint and colour? Send us some snaps by emailing [email protected].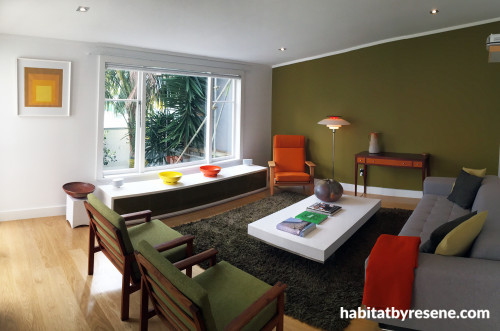 Understated mid-century furniture looks stunning against the spicy green of the Resene Himalaya feature wall. The other walls and ceiling are in Resene Alabaster.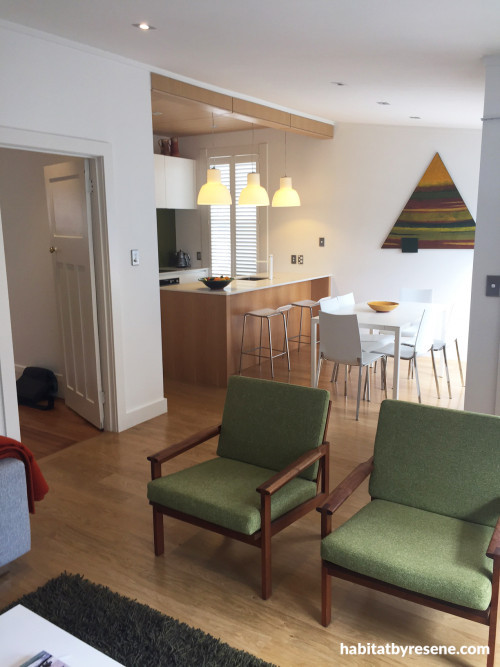 The open-plan living space includes a new kitchen, tucked discreetly to one side and defined by its timber ceiling.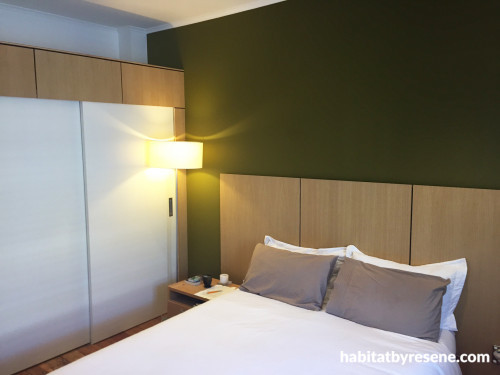 Resene Himalaya is used again as a feature in the main bedroom. Custom-designed pale timber cabinetry and a bedhead add to the contemporary clean-lined feel.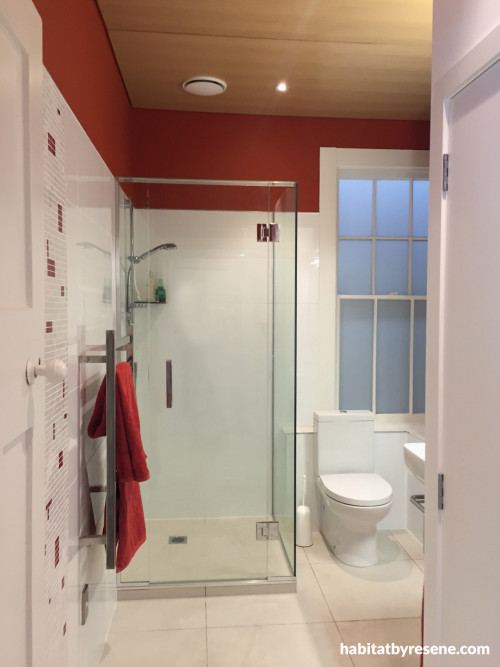 James made use of a villa's typically high ceilings to introduce a bold strip of colour above the bathroom tiles, painted in Resene Fire.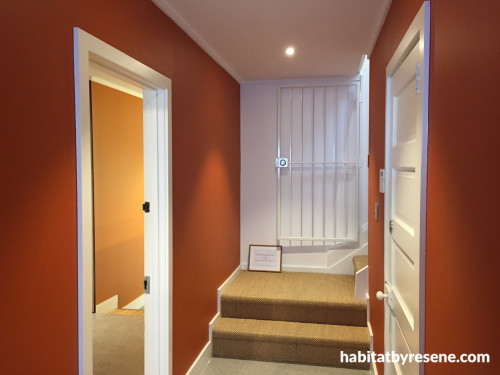 The hallway and stairwell are enveloped in the rich burnt brick orange of Resene Fire. Trims are in Resene Alabaster.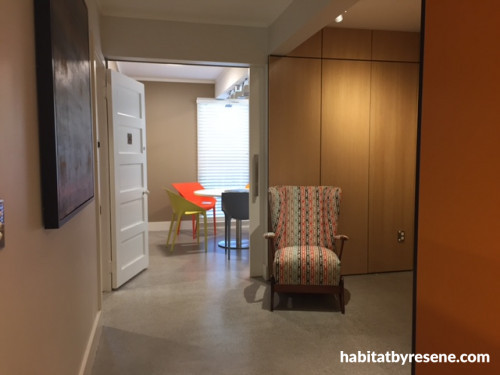 Feature colours are used both in the private and the work spaces in the building. Resene Moroccan Spice is used in the entrance, to the right, with Resene Mongoose in the meeting room.
the look
If you're stuck on what
colour to use or need colour
advice, try out the Resene
Ask a Colour Expert service.