►
◄
latest
habitat tv
blog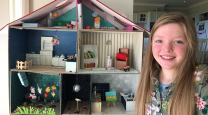 Jen and Dan's blissful master bedroom sets the stage for more colour to come
When Jen first moved to New Zealand from her native Scotland in 2005, she hoped and dreamed of the day that she and her husband would own a house on the Waikanae hill. As clear practitioners of visualisation, the pair would drive up the hill with a bottle of wine, a few glasses and watch in awe of the stunning vistas and sunsets, pretending they lived there.
Fast forward a decade and a bit and their long-held wish became a reality, with the build of their forever home well underway, decorated in a rich palette of Resene paint colours. Positioned neatly between native bush reserve and wild streams, with sea views from the Kaikouras to Mount Taranaki in full view, Jen, Dan and their two sons Arran and Logan are living the Kiwi dream.
Jen says the location is all too perfect for words, so the pressure to make their home equally as memorable was well and truly on. To create harmony with their home's surroundings, Jen took a thoughtful approach – starting with their exterior. In dramatic contrast to the green plants, the entire boundary fence was painted in Resene Bokara Grey. To keep its dark surface from absorbing too much heat from the sun's rays, she opted for the Resene CoolColour formula. For the posts near the entry and fencing as you head up the drive, Resene Kwila Timber Stain was used to enhance the natural cedar tones and protect them from the elements.
Published: 28 Nov 2019
Do you have a home full of wonderful Resene paint and colour? Send us some snaps by emailing [email protected].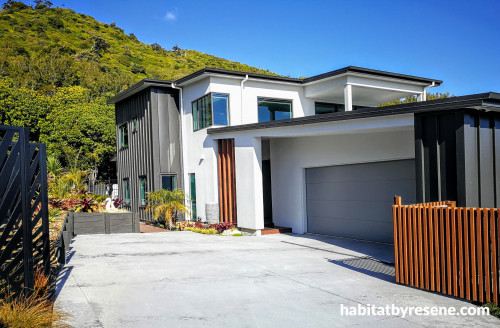 To help warm up the exterior and blend in with the bush behind, Jen selected Resene Kwila Timber Stain for the timber elements. Its inviting presence and gives the contemporary looking home extra curb appeal. The fence is painted Resene Bokara Grey. Get a similar look with cladding in Resene Half Merino and Resene Armadillo, soffits in Resene All Black and a garage door in Resene Tapa.
"For the overall look of the interior we decided we would stick to neutrals on the major surfaces as we have a lot of open plan spaces," says Jen.
The living room, with its unassuming and modern fireplace, is a warm and inviting space that looks out to unparalleled views of Mount Taranaki. The light and lush exterior was made beautifully prominent thanks to Jen's decision to use Resene Trojan. Its green and brown undertones allow it complement the view rather than clamour for attention.
"It also blends both with our joinery and kitchen cabinetry, which are part of the same open plan area."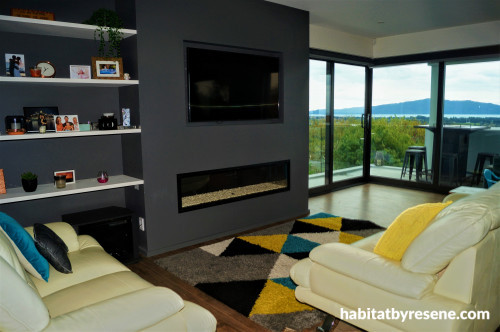 Jen opted for Resene Trojan on the fireplace surround, making the living room feel like a cosy and family-orientated space despite being part of an open plan layout. The ceiling is in Resene Quarter Wan White.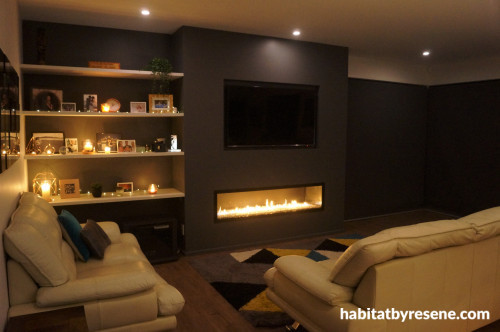 At night, Resene Trojan sets the mood of the space on the fireplace surround and behind the shelves behind the glow of candles and a roaring fire. The wall to the left and the ceiling is in Resene Quarter Wan White.
While Jen has a beautiful sense of style and a skill for choosing colours, she also leaned on Resene's experts to make the process easier. "I always found them so knowledgeable as they know their colours they can go and pick out selections for you in half the time," she shares.
Since light can drastically change the way a colour sits in a room, Jen recommends that anyone deciding on the right shade should make use of Resene testpots are try them out in the room you are planning to use them for. "Paint them on a piece of board and move it around the room in different lights to see if the colour and effect are still what you envisaged."
This strategy is what helped Jen to decide on the ideal feature colour for the kids' rooms – Resene Bellbottom Blue, a chalky mid-toned Norwegian-inspired blue that's composed and practical yet fun enough to frame a space that's meant for play.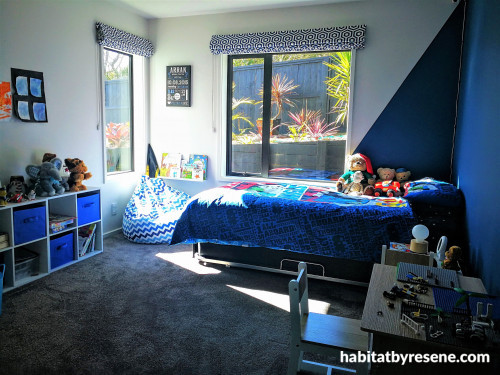 Arran's bedroom is dotted with exciting pops of blue to complement his eye-catching angular painted feature walls in Resene Bellbottom Blue. It's complemented by trims and a ceiling in Resene Milk White.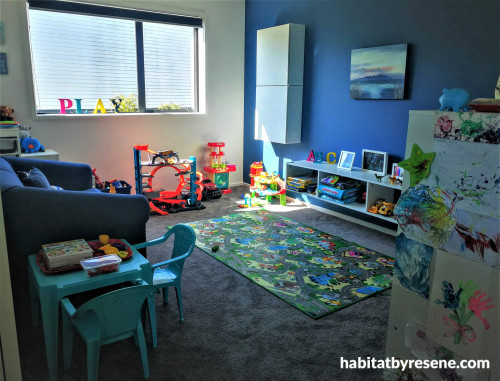 Norwegian-inspired shade Resene Bellbottom Blue sets the tone for playtime in Arran and Logan's play room seen on the accent wall, while surrounding walls and trims have been kept neutral in Resene Milk White.
Designing their master bedroom resulted in a battle between two Resene favourites – the dramatic Resene San Juan or soothing Resene Rolling Stone. Eventually Jen choose the latter to create a more calming effect, pairing it with soft pinks and greys through linens and furnishings. Unfortunately, Dan wasn't quite on board with the blush pink touches at first, but was won over when saw the overall result had become a blissful retreat.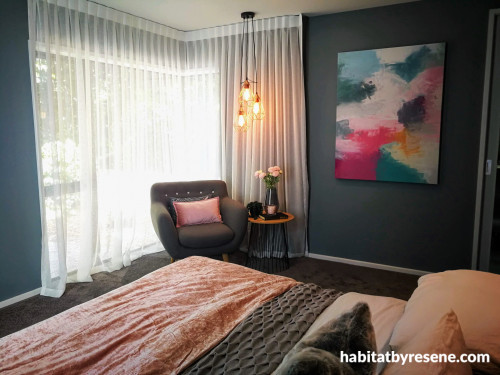 Resene Rolling Stone is the hero of Jen and Dan's master bedroom. "It was also the perfect complementary colour for our bush setting which our bedroom looks out to," says Jen. The ceiling and trims were kept light in Resene Quarter Wan White.
"Resene Rolling Stone has both green and grey to it and is a lovely dreamy combo for our bedroom, as it is soft with some warmth. It also looks different in different lighting, which I love!" Jen says.
The master bedroom is undoubtedly the space Jen and Dan are most proud of, and now that they've have lived in the home for a while, they're looking to go more colourful in the future.
"Going forward we will be adding colour to more rooms."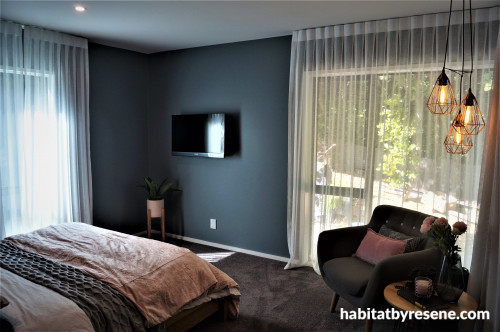 While the house continues to be a work in progress, choosing Resene Rolling Stone for the walls of their master bedroom has convinced Jen and Dan to use more saturated hues in their house going forward. The ceiling and trims are in Resene Quarter Wan White.
images Jen Foster
the look
If you're stuck on what
colour to use or need colour
advice, try out the Resene
Ask a Colour Expert service.