►
◄
latest
habitat tv
blog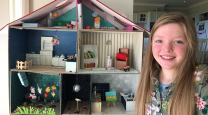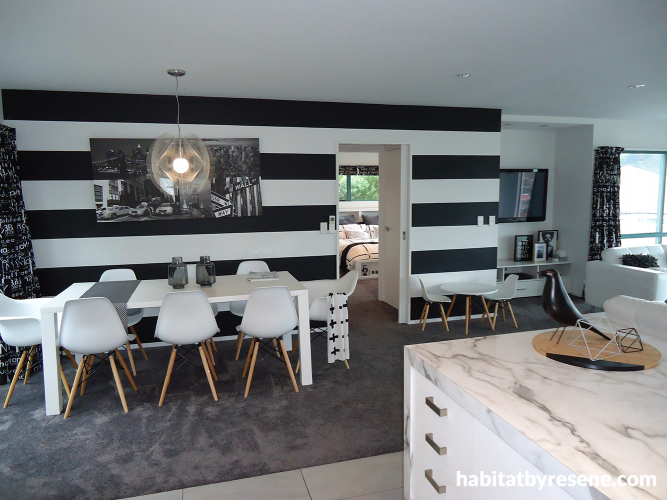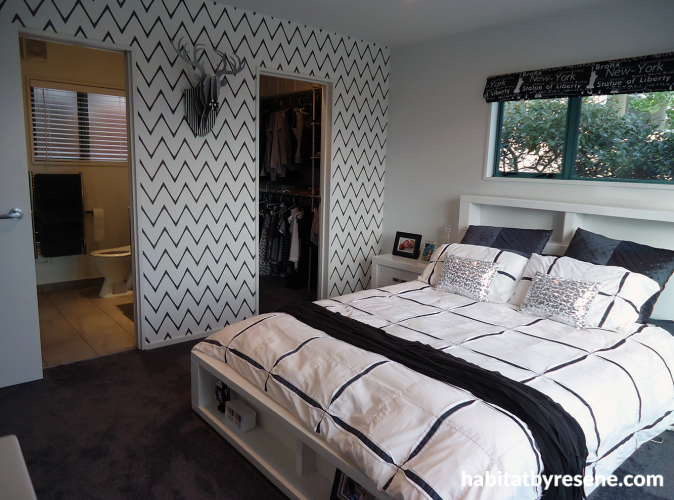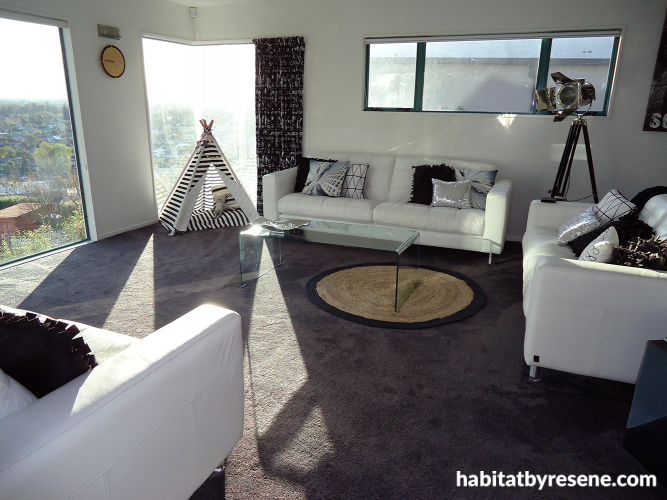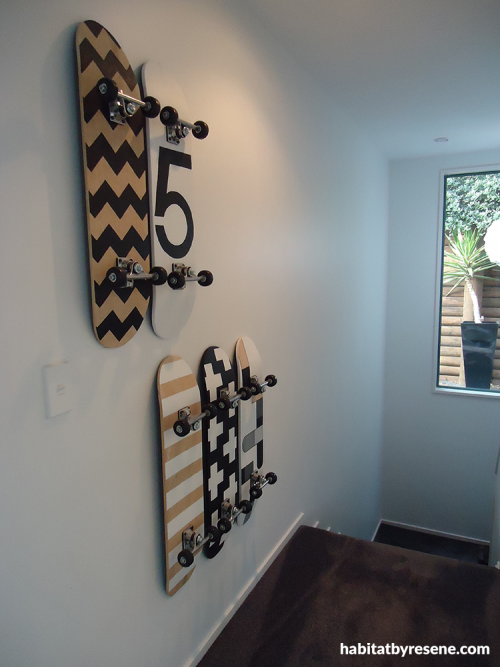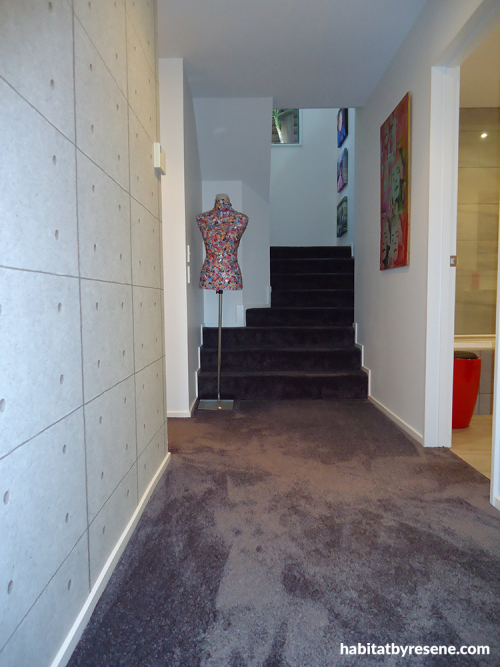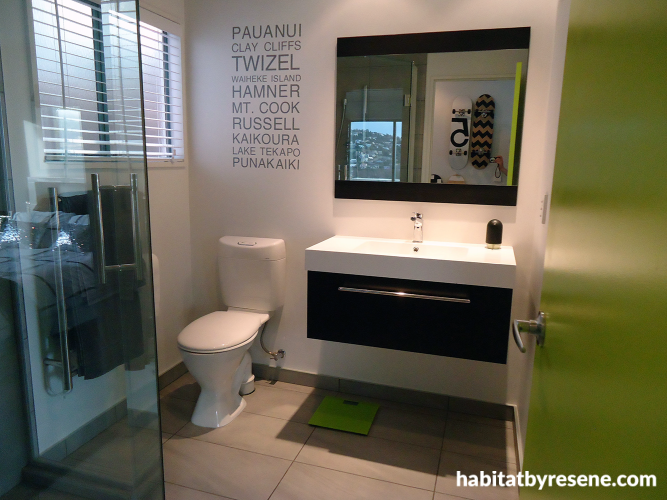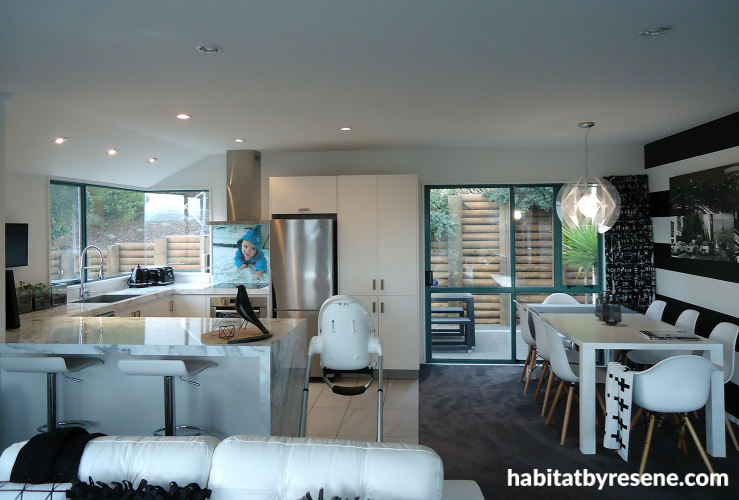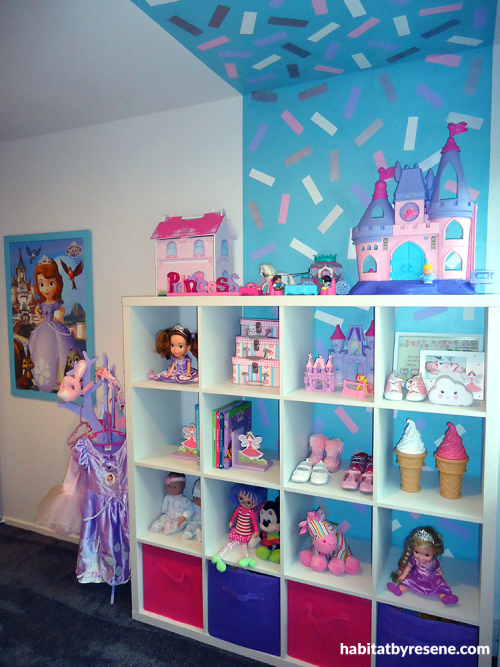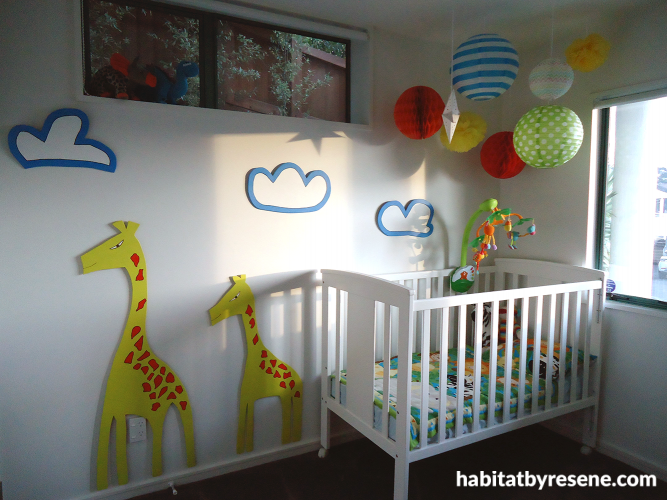 Jessica goes simple and sophisticated
When Jessica Cameron bought an earthquake-damaged home in Christchurch, it couldn't be touched for two years while insurance claims were settled. Haunted by butter yellow walls and a green kitchen, she couldn't wait to redecorate in a crisp fresh scheme of Resene whites and blacks.
Now, it's a restful family home for Jessica and her kids, three-year-old Honor and eight-month-old Brody. Jessica tells us more:
What Resene colours and products have you used, and what inspired those choices?
I painted the interior walls throughout the house in Resene Zylone Low Sheen tinted to Resene Black White. I love the colour – it's so crisp and fresh and after two years of butter yellow walls I was desperate to paint them white.
The kitchen had a green bench top and cabinetry so I used Resene Lustacryl semi-gloss waterborne enamel tinted to Resene Black White to paint the cabinets with Resene Waterborne Smooth Surface Sealer underneath so the paint would stick to the old laminate. Then I replaced the cupboard handles, appliances, and bench top. It was a lot more cost-effective than replacing the whole kitchen and it made a huge impact to the look of the open-plan area.
I added the stripes to the lounge wall last year using Resene SpaceCote Low Sheen in Resene All Black, which helped the TV nook make sense visually – it used to be a study cupboard.
The geometric side table in the lounge is also painted in Resene All Black and has two coats of Resene Pearl Shimmer to make it look diamond-like.
My ideas are always bigger than my budget and to me the house still feels a long way off finished but it's always exciting when a new wall is painted or I buy a new item for the house.
How did you decide on the overall look of the interiors? What was your overall philosophy?
I didn't have a particular look or theme in mind when decorating the house, I just went for items and colours that I loved and I built on from that.
After I sewed the white-on-black New York skyline curtains in the living room, I knew I wanted to stick with a monochrome colour scheme upstairs. The hardest part was seeing past the dated walls, carpet, and cabinetry in its existing colours and buying items to match an interior I had planned to have once the claim was settled. It looked very mismatched for a while.
What part of the house are you most happy with?
I am the happiest with Honor's room. Mainly because she loves it so much. She is into anything girly.
The strip along the walls and ceiling is painted in Resene SpaceCote Low Sheen tinted to Resene Fountain Blue. And the 'cupcake sprinkles' are painted in Resene Ballerina, Resene Black White, Resene Unicorn, and Resene So Cool. I finished with two coats of Resene Pearl Shimmer as Honor loves anything sparkly.
I made a Disney castle out of layers of MDF board which I attached to the wardrobe doors. The room is so tiny that it seemed like a good way to decorate the room without compromising on space. I painted it in Resene Bedazzle, Resene Ballerina, Resene Dancing Girl, Resene Unicorn, Resene Funtasia, Resene So Cool, and Resene Fountain Blue. I matched the colours to some of Honor's favourite toys and her Disney Princess Sofia poster. I also painted the tree coat stand, the name on her bed, and the poster frame to match.
I did a similar thing with MDF giraffes for Brody's room. Those and the tree coat-stand, shadow boxes, and drawer fronts are painted in Resene Wham, Resene Splish Splash, Resene Havoc, and Resene Fizz.
What is your advice for someone trying to achieve a similar look?
Spend your money where it counts. My budget was limited so I spent my money on items I was going to have for a long time like furniture, as well as items that made the biggest difference, like the paint for the walls and cabinetry. I did a lot of the work myself and I made things where I could.
What was the biggest decorating, renovating or building challenge for this project?
Space! The house is a perfect size for the three of us but it was challenging to decorate and furnish. The kids rooms have enough room for a single bed and not a lot else. That's why I used paint and made the MDF castle and giraffes – they made a big difference to the look of the room without compromising on space.
I bought the house shortly after the earthquakes and with the frequent aftershocks, many businesses didn't want to hold stock in Christchurch. I had to wait three months for all of my furniture to be delivered.
Do you have a favourite colour, and if so why is it your favourite?
I love Kermit green, fluoro orange and pink: Resene Kermit, Resene Adrenalin and Resene Smitten. Not that you can tell by looking at the house, although I'm always looking for an excuse to add them in. I love that they stand out, look fresh, and are a bit out of the ordinary.
How did you find working with Resene paint and colours?
I feel like I can't go wrong with Resene, this is the third house I have painted using Resene paints and the finish always looks professional. The paint seems to last when stored too, which is great as I always have some sort of project on the go with my leftover paint.
Published: 16 Jun 2016
Do you have a home full of wonderful Resene paint and colour? Send us some snaps by emailing [email protected].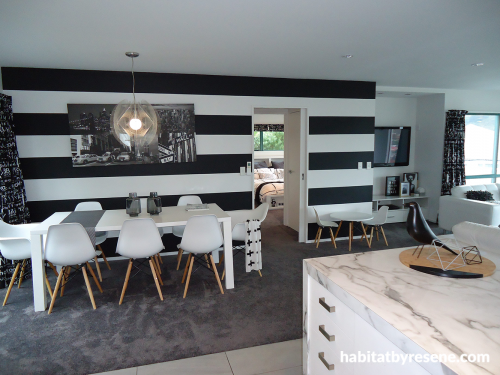 Wide stripes of Resene Black White and Resene All Black create a striking feature wall in the living room.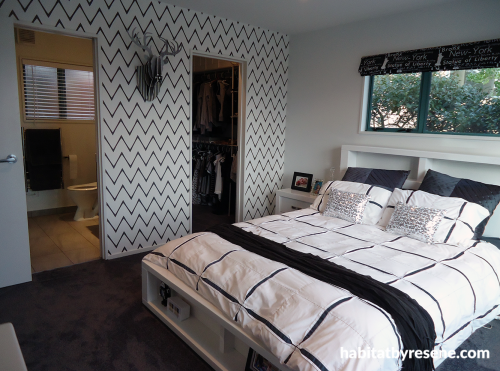 The main bedroom continues the monochromatic theme, with walls in Resene Black White and a feature wall that uses a custom-made wallpaper based on a Holli Zollinger fabric. To create a custom feature wallpaper in your home, you can upload your favourite image to Resene WallPrint.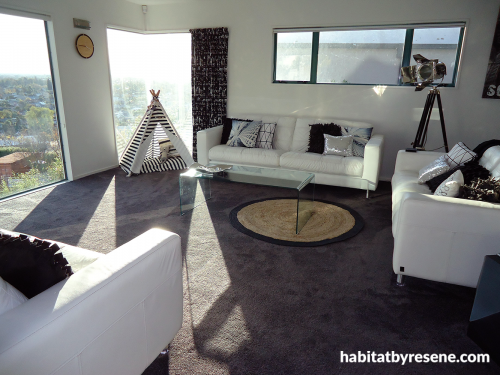 Jessica had added decorative layers to her monochromatic scheme using pattern, texture and shimmer in her curtains and cushions. She chose Resene Black White for the walls to make the room fresh and crisp.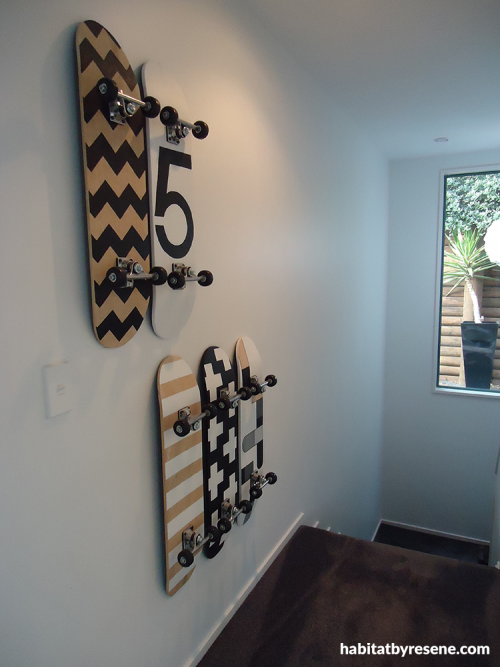 Jessica sanded back some skateboards and used leftover paint along with some Resene Stack testpots to paint them and use them as art in the hallway.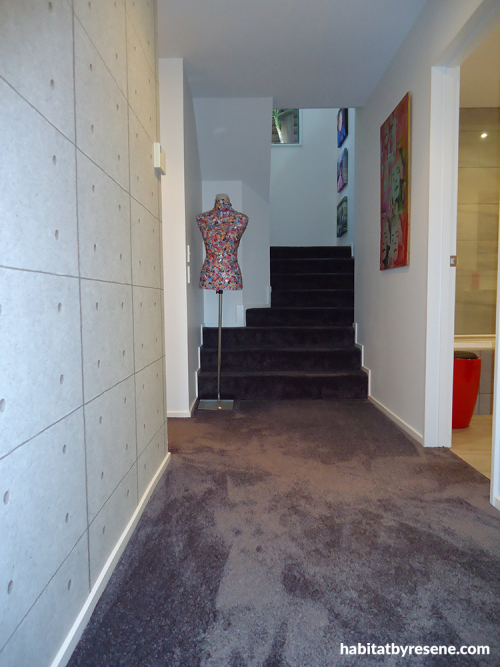 Jessica used Resene wallpaper (Murano 7089-15) in the entrance hall to create a subtle feature wall.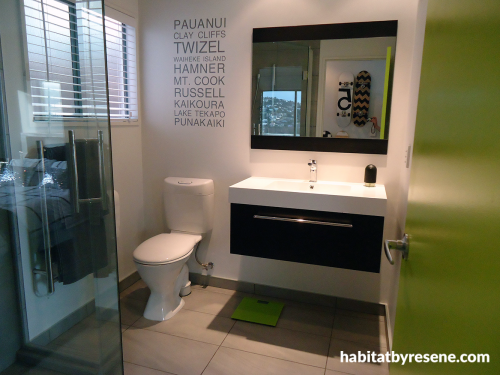 The door in the upstairs bathroom is painted in Resene Neva from the Resene KidzColour range. Jessica wanted to add some colour in the brightest shade she could find to break up the grey.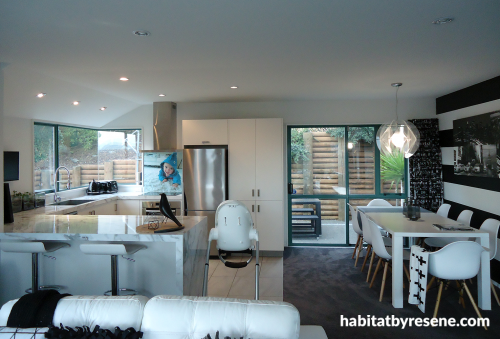 Jessica gave the kitchen a budget update by replacing the bench and handles and painting the existing laminate cupboards in Resene Black White. She used Resene Waterborne Smooth Surface Sealer to prep them first.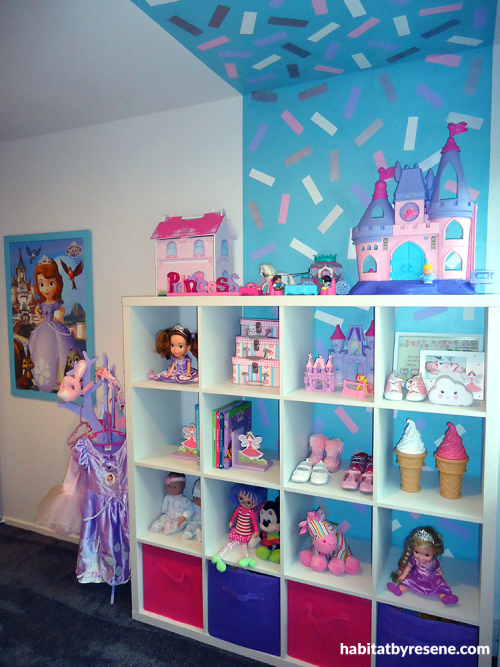 In daughter Honor's room, Jessica painted a strip along the wall in Resene Fountain Blue. She added 'cupcake sprinkles' painted in Resene Ballerina, Resene Black White, Resene Unicorn, and Resene So Cool, finished with two coats of Resene Pearl Shimmer.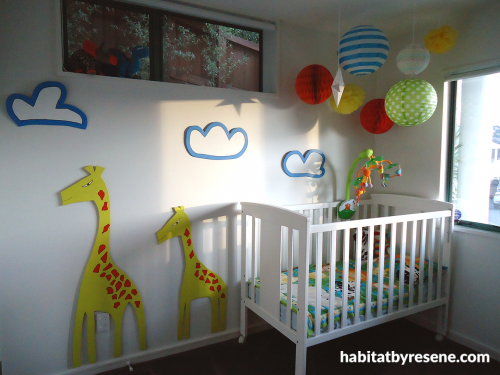 Eight-month-old Brody's room. Jessica painted the MDF giraffes in Resene Havoc and Resene Fizz. The walls are painted in Resene Black White.