►
◄
latest
habitat tv
blog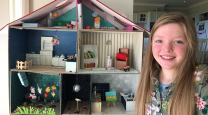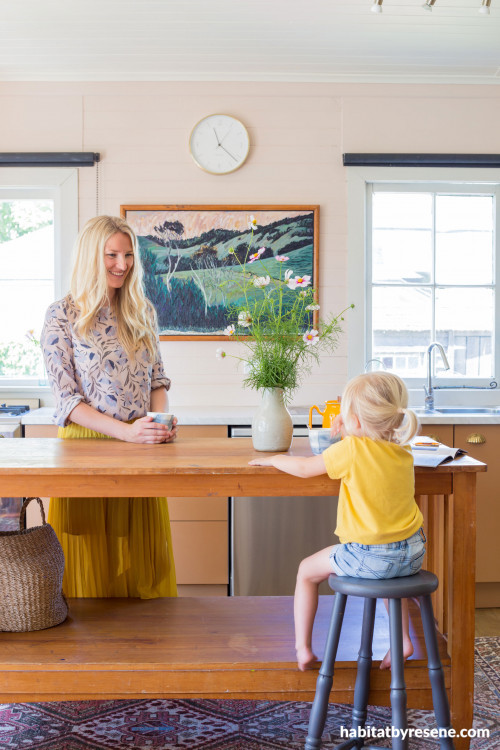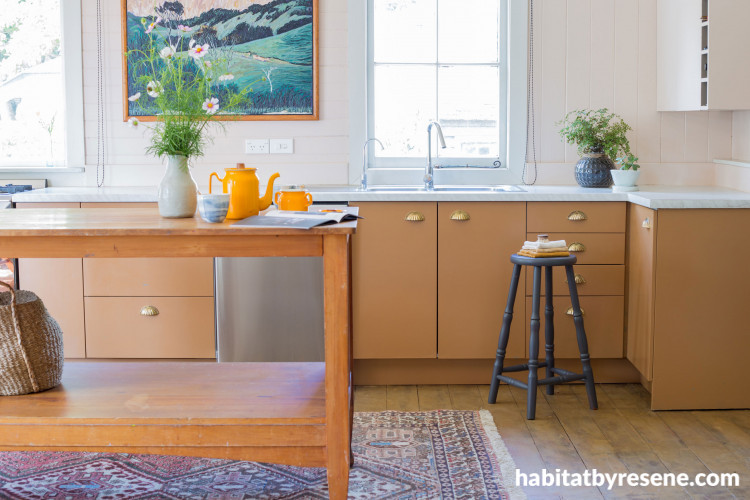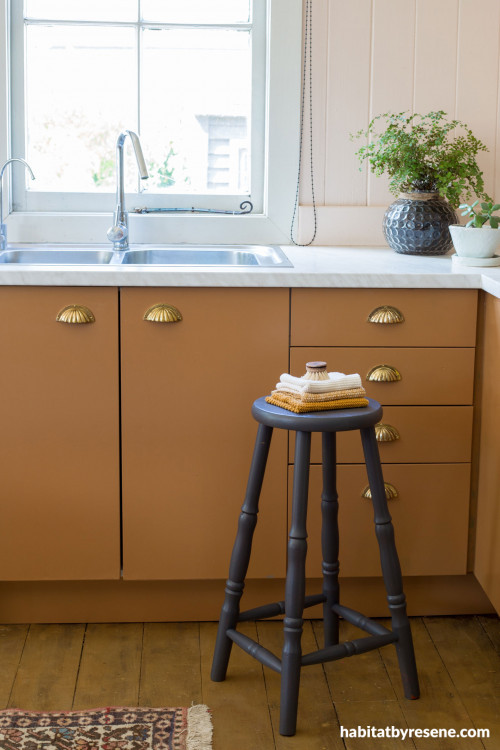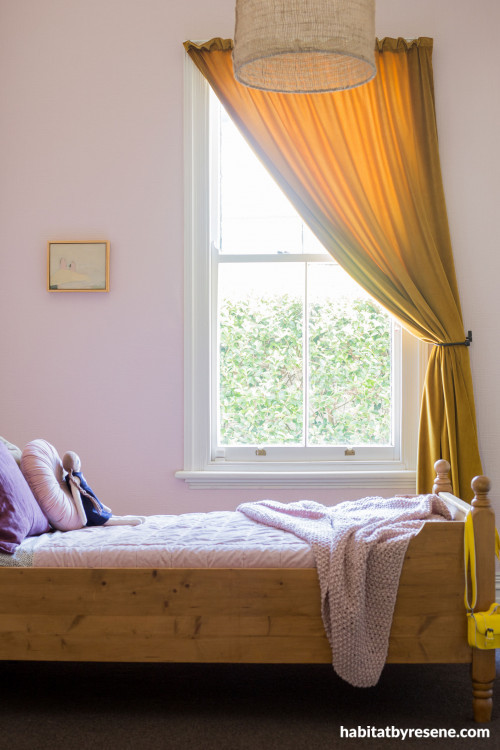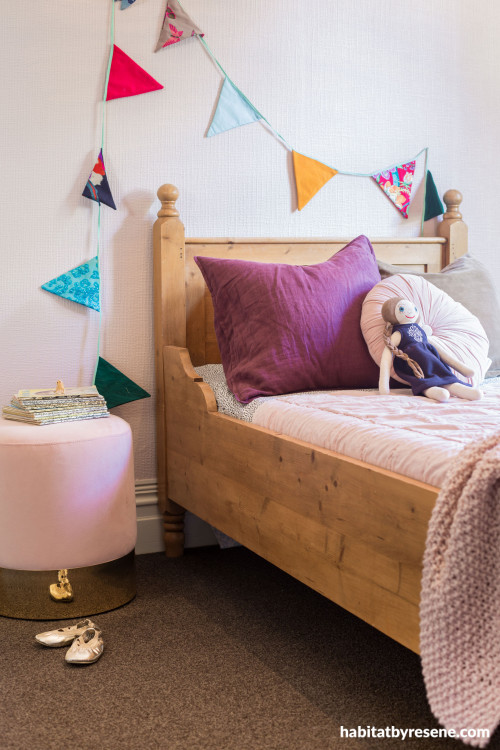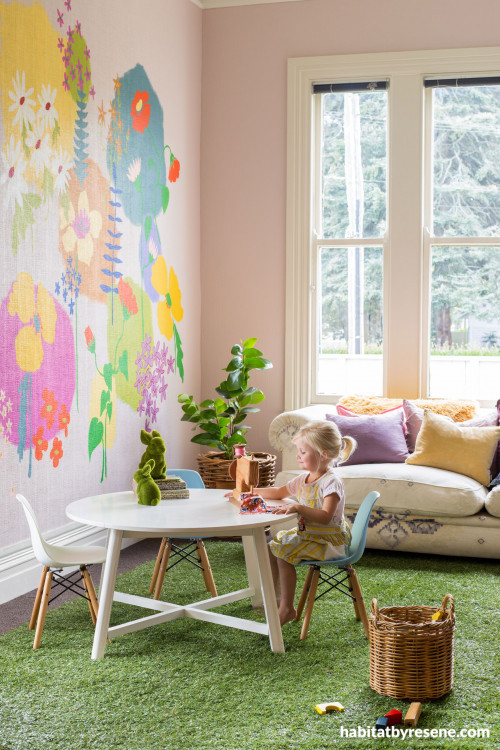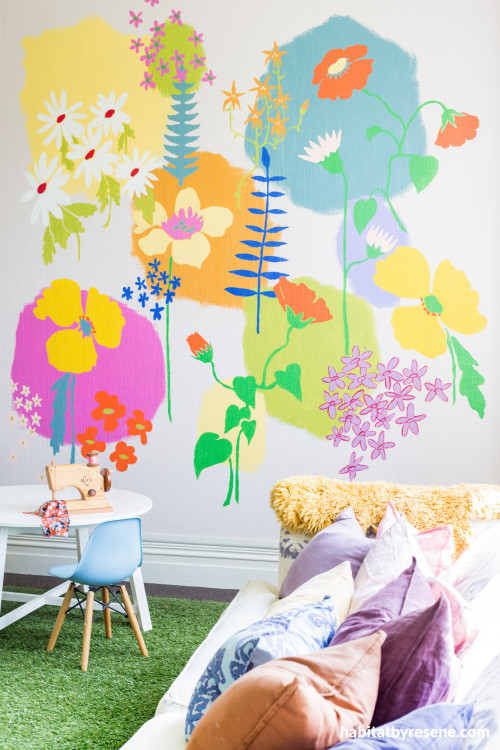 Jo and Jeremy swap beige with beautiful
Out with the beige. This was the mantra of Jo and Jeremy when renovating their Hamilton villa, painting over the beige walls inside their home with modern, hint-of-pink Resene neutrals – from soft blush Resene Just Right in the kitchen, to dusky Resene Blanched Pink in their daughters' playroom.
Using these colours have given their home a fun yet serene lift, painted over anaglypta wallpaper for a classic and textured feel. It looks especially gorgeous in the playroom, where Jo has loving hand-painted a floral mural using bright Resene colours.
She tells us more about the inspiration behind the colour scheme.

How has the reno progressed?
We spent the first few years attacking the usual suspects: wiring, plumbing, insulation and an exterior paint upgrade. It wasn't until recently when the youngest of our three daughters graduated from a cot to a bed and into her own bedroom that it occurred to me it was time to give the interior a fun, yet serene lift, more reflective of our family.
What colours did you use, and what inspired the colour palette?
My daughter Jane wanted pink for her bedroom (naturally!) so I opted for two feature walls of Resene Blanched Pink. It's beautifully soothing for a three-year old's bedroom and contrasts nicely with the warm timber of the antique Baltic pine bed.
In the kitchen/living area, the paint upgrade is more of a temporary solution. The plan eventually is for a remodel, but in the meantime the 90s kitchen cabinetry was painted in Resene Brown Sugar and the walls in a soft blush, Resene Just Right. Stainless steel handles were replaced with antiqued brass handles. I also painted the kitchen stool in Resene Fuscous Grey.
The charcoal-coloured lino floor was ripped up to reveal timber floorboards. Unfortunately the floors are bit of a mish-mash of patches of varnished and unvarnished timber, so to make them uniform I dry-brushed them in Resene Solid Gold. As they wear, the soft, worn-gold metallic will only improve.
The girls' playroom is where I really had a lot of fun – having three daughters means I was able to indulge my feminine side here.
Walls were again painted in Resene Blanched Pink. To get inspiration for the floral mural, I referenced a favourite old floral dress for colours and floral shapes. I hand-painted five background colour patches on the wall and painted the flowers freehand over the top. The girls had lots of fun helping too!
What part of the renovation are you most pleased with?
My favourite transformation is the floral mural in the playroom. Firstly because it turned a beige room into a fun place, but also because it felt so good to paint pictures on the wall.
Do you have a favourite Resene colour?
I love Resene Cream Can – it's a soft buttery yellow. I'm hoping to paint a whole room in it soon.
Any advice for renovators?
Do what pleases you with reckless abandon, and conversely, always, always test colours first with testpots.
Compliments of the Your Home & Garden/Resene Home Colour competition.
Photographs by Holly Marie Russell.
Published: 14 Sep 2017
Do you have a home full of wonderful Resene paint and colour? Send us some snaps by emailing [email protected].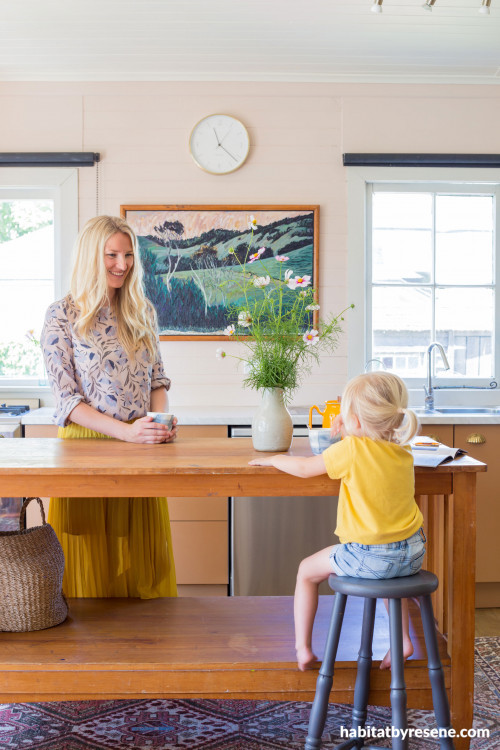 Jo, with her daughter Jane, in the villa's renovated kitchen, painted in Resene Just Right.
The long term plan is to remodel the 90s kitchen. In the meantime Jo and Jeremy have painted over the beige walls with soft blush Resene Just Right, and have updated the cabinets in Resene Brown Sugar.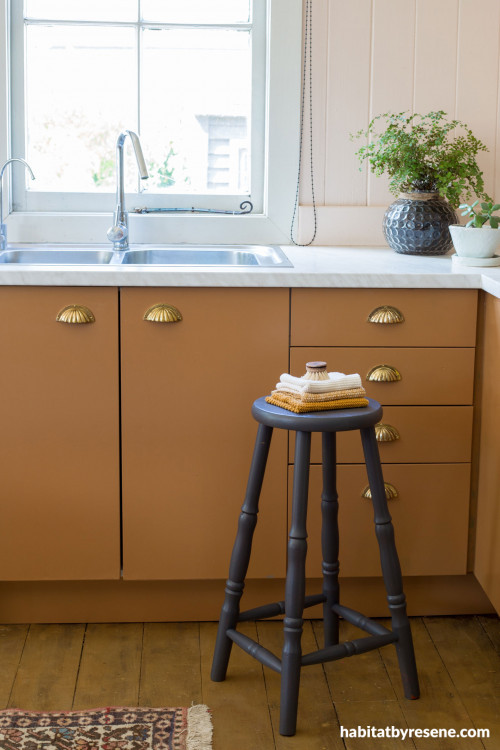 After ripping up the lino floor, Jo dry brushed over the patchy timber flooring with Resene Solid Gold. As it wears, the texture of the soft, worn-gold metallic will get better and better. She also upcycled the stool, painting it in Resene Fuscous Grey.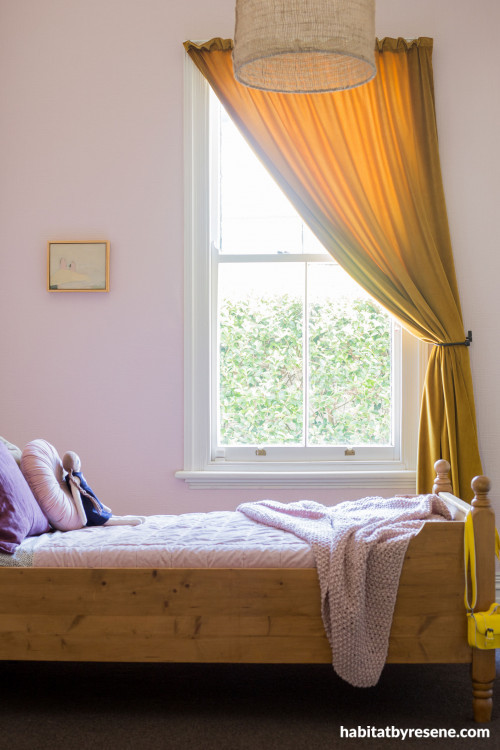 Three-year-old Jane wanted pink for her bedroom, and so Jo chose Resene Blanched Pink, a soothing, dusky pink. This was painted over Resene Wallpaper Collection anaglypta RD336, available from Resene ColorShops.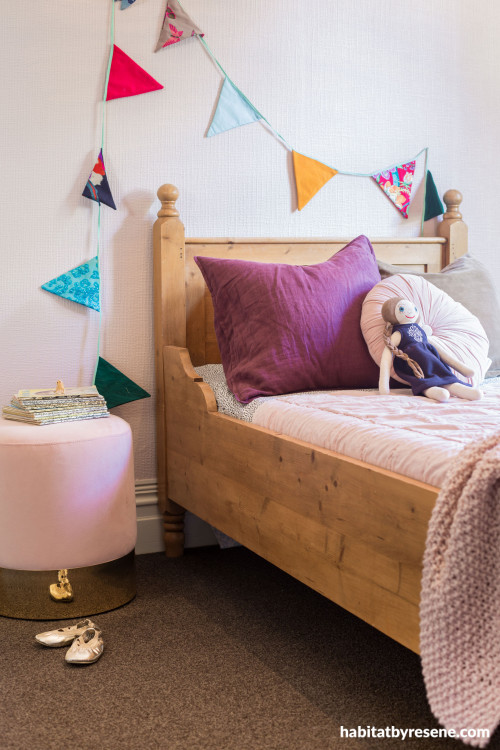 Resene Blanched Pink contrasts nicely with the warm timber of the pine bed in Jane's bedroom. Painting it on top of Resene Wallpaper Collection anaglypta RD336, available from Resene ColorShops, gives it a classic look and fabulous texture.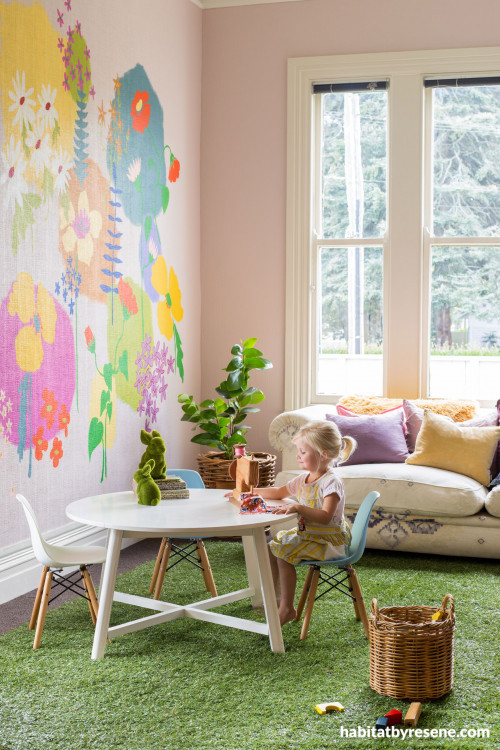 Jo has repeated the look in the girls' playroom, again painting the walls in Resene Blanched Pink over Resene Wallpaper Collection anaglypta RD336, available from Resene ColorShops.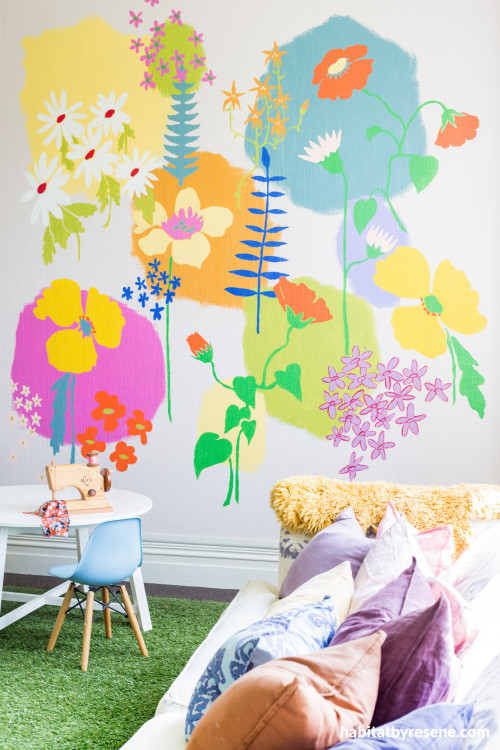 For the floral mural, Jo hand-painted the flowers using testpots in Resene Cream Can, Resene Galliano, Resene Half Smalt Blue, Resene Weathered Orange, Resene Moody Blue, Resene Resolution Blue, Resene Daredevil, Resene Butterfly, Resene Rice Cake, Resene Kermit, Resene Smitten, Resene Cornflower and Resene Citron.