►
◄
latest
habitat tv
blog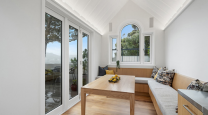 Master Builders' Chief Executive David Kelly shares his tips for building in the challenging climate.

Planning... more
Jo and Mike's family home is a haven of earthy tones
After 14 years in their family home, Jo and Mike felt it was high time for a fresh lick of paint throughout – but the usual neutrals wouldn't do this time. Sharing the house with two boys, Nate and Tom, plus a gregarious Löwchen named Jebby, Jo wanted a livelier look that was indicative of her family's lifestyle and surroundings. A tasteful and earthy Resene colour palette brought her dreams to life.
"I've painted our house myself twice now, once before in Resene Thorndon Cream. I love creams, but was looking for a real change," says Jo. Taking inspiration from the artworks and furnishings that fill her gorgeous family home, Jo thoughtfully went through each room to bring out its best colour components.
The living room, which is a vision in rusty oranges and crisp whites, includes an impressive feature wall in Resene Vesuvius. "It was inspired by the rugs, Turkish plates and furniture," explains Jo. The hue is hugely on trend and is especially fitting for a statement wall, which has since transformed the room into a chic hangout space. Conversely, the TV room follows a moodier aesthetic, and is painted in Resene Gravel – the perfect tone for such a cosy and inviting space. "I love how the dark walls have become 'snugly' while still staying modern," says Jo.
To complement the newly installed shutters and provide a clean, unified look throughout the home, Resene Alabaster has been used throughout on the ceilings and trims. A truer white than the previous wall colour, this go-to neutral has infused the home with a cool and contemporary feel.
Jo's approach to the master bedroom has resulted in a calming space that really draws the eye. Inspired by a piece of art, the mix of Resene Palm Green behind the bed) and Resene Spanish Green on the surrounding walls evokes an ethereal forest vibe, and is given plenty of room to thrive by the soft Resene Alabaster used on the window sills, ceiling and trims.
The decision to highlight colours that are present in the family's furnishings also continues in Jo's son's rooms. To match the modern grey and white duvet cover in Tom's room, Resene Silver Chalice was chosen, adding just enough interest while also allowing the colourful artwork to shine.
Looking at the thoughtful and refreshing colours chosen to bring each room to life, it's understandable that Jo struggles to pick a favourite. However, when pressed, the living room feature wall is a clear stand out. "It really pops a splash of colour and is the first thing you notice when you walk in the front door."
Jo's free and easy attitude to painting is an approach many renovators can benefit from. "It's only paint, right? You can always redo it!"
Published: 19 Feb 2020
Do you have a home full of wonderful Resene paint and colour? Send us some snaps by emailing [email protected].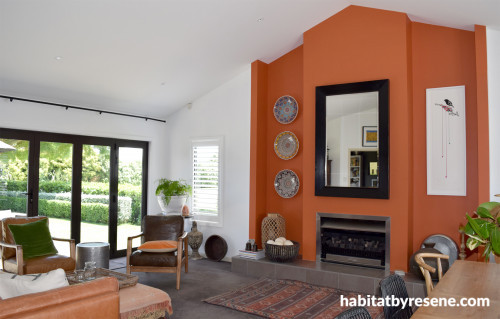 A favourite of Jo's, the living room feature wall is painted in Resene Vesuvius to complement the terracotta-toned furnishings such as the leather sofa and woven rug. Adjacent walls in Resene Half Alabaster and ceiling, architraves and skirting in Resene Alabaster.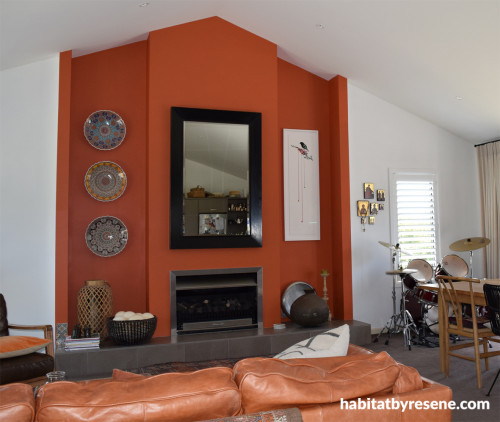 The bold yet classic living room feature wall is painted in Resene Vesuvius, with adjacent walls in Resene Half Alabaster. The ceiling, trims and skirting boards look light and bright in Resene Alabaster.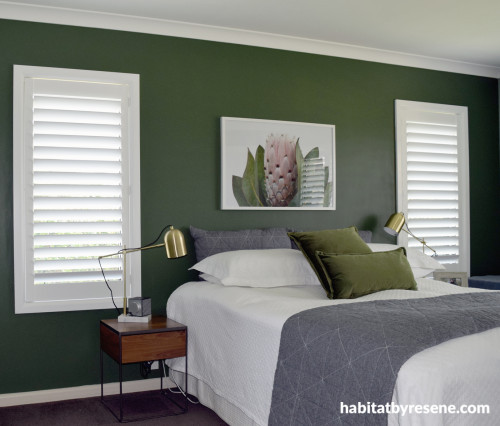 A feature wall in Resene Palm Green makes this master bedroom a truly relaxing and inviting oasis. The surrounding walls (unseen) are in Resene Spanish Green and the trims, skirting and ceiling are in Resene Alabaster.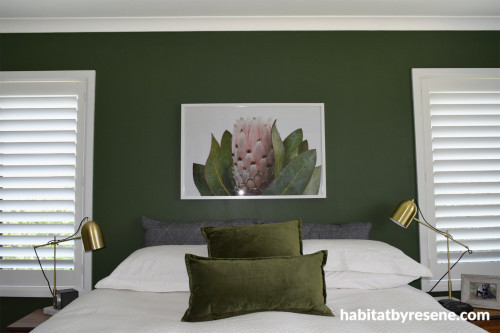 In the master bedroom, the wall behind the bed is painted in Resene Palm Green. Its earthy look has been played up with the velvet green cushions and a protea art print. The trims and ceiling are in Resene Alabaster.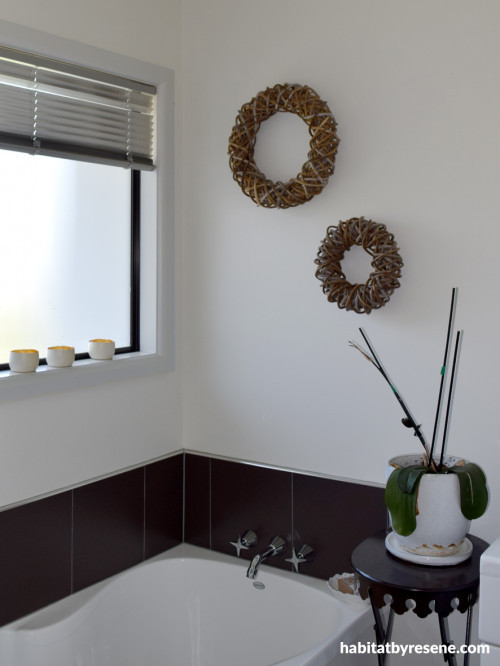 The bathroom walls look fresh in Resene Half Alabaster above the classic dark tile feature. The ceiling and trims are painted in Resene Alabaster.
Jo chose to paint her son's walls in Resene Lemon Grass. It's a great tone for a teenage boy's room but still suitable for a guest room after he leaves the nest. Ceiling and trims in Resene Alabaster complete the toned-down look.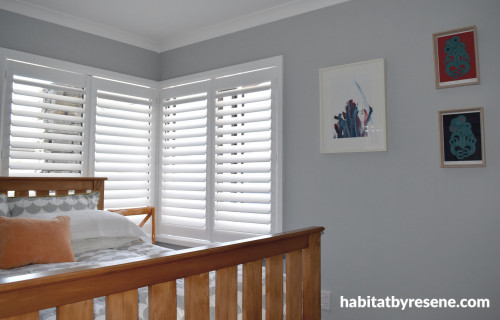 These soothing bedroom walls are painted in Resene Silver Chalice. Ceiling, trims and jambs in Resene Alabaster.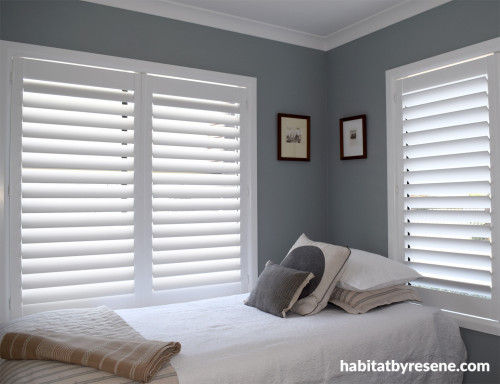 Jo is a big fan of Resene Inside Back, seen here on the walls of this bedroom, and says she wouldn't hesitate to use it more in the future. The ceiling and trims offer crisp contrast in Resene Alabaster.
Resene Gravel on the TV room walls offers a moodier aesthetic ideal for cosy nights on the couch. Ceiling and trims painted in Resene Alabaster. In the background, dining room walls are painted in Resene Half Alabaster with ceiling and trims in Resene Alabaster.
images Jessica Judge
the look
If you're stuck on what
colour to use or need colour
advice, try out the Resene
Ask a Colour Expert service.