►
◄
latest
habitat tv
blog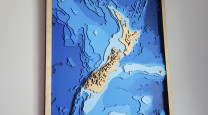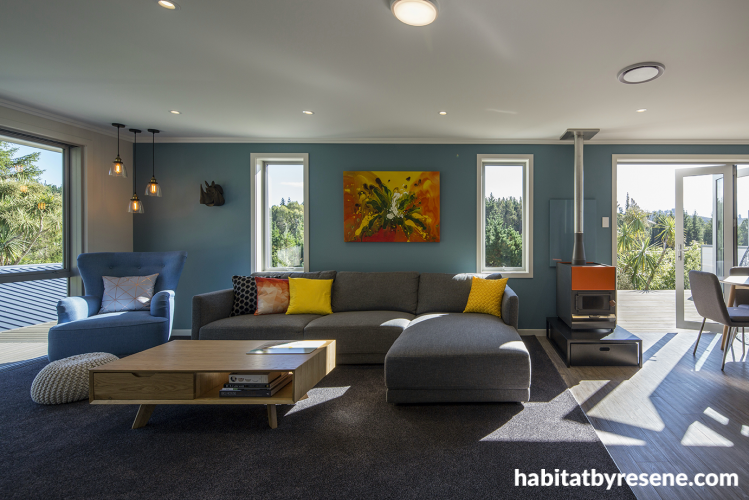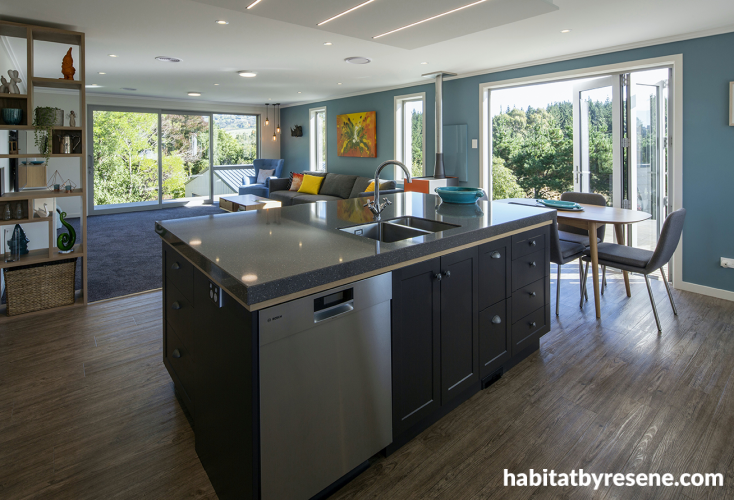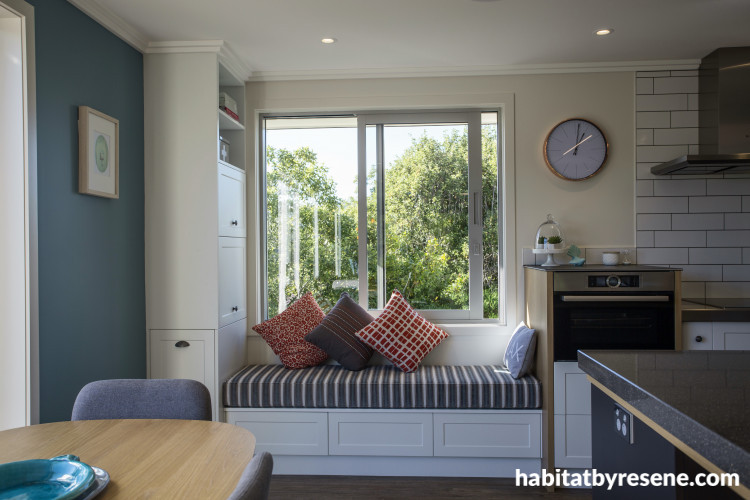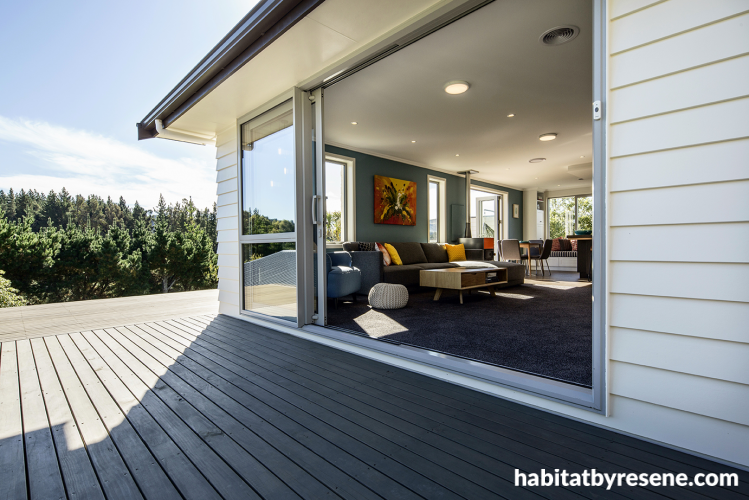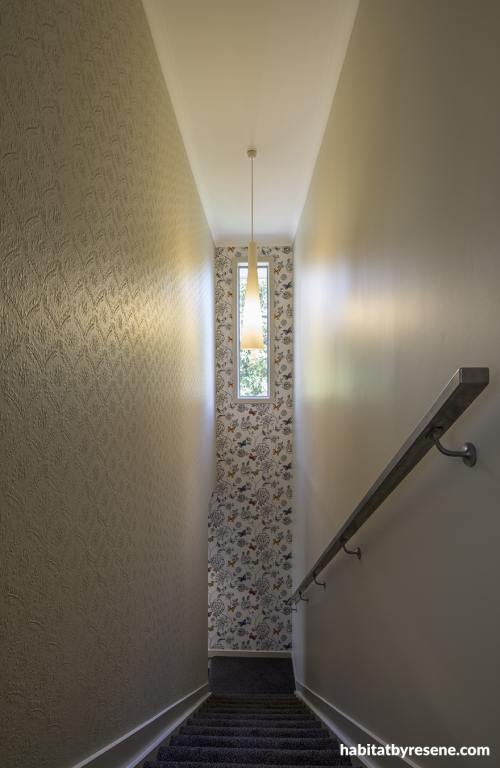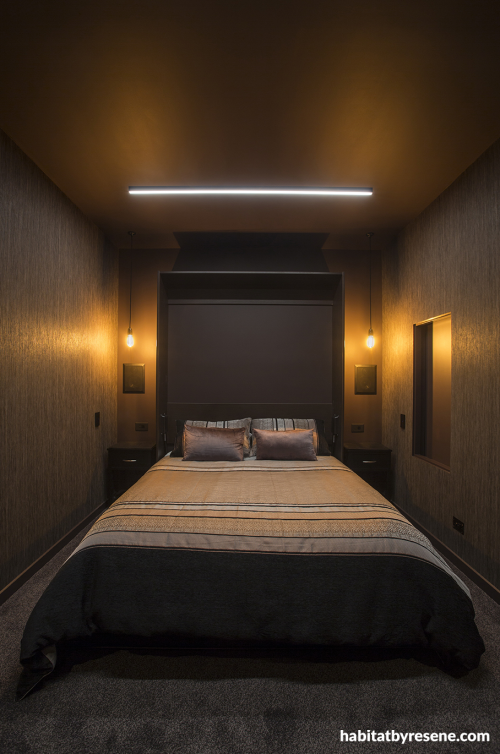 Julie-Ann turns dated into delicious
The basics of Julie-Ann Ross's family home were good. The split-level 1970s home had good bones, a lovely aspect and was well sited but after 17 years of family life, it was definitely in need of a revamp. As a designer, Julie-Ann had the expertise to create a palette of Resene colours and wallpapers that flowed through the house with confidence, but which also had notes of whimsy to reflect her design personality.
Dunedin-based Julie-Ann tells us more:
Tell us more your colour choices.
While I wanted to create a colourful living environment, but I also wanted to be practical so the colour scheme could be easily changed as trends evolved. I wanted it to be lively and quirky without being garish or overpowering.
This entrance also has a quirky design nook with a butterfly wallpaper (Paradise Keilena Butterfly) to add informality and liveliness. It introduces many colours into the room in a constrained way. The painted orange frame, in Resene Hero, adds interest and is a colour that continues thought out the house.
The feature wall in the open-plan living area competes with the strong sunlight and vivid outdoor greenery, so needed to be a strong bold colour to balance the impact. I chose Resene Gothic as it is bright, clean and fresh.
I kept the rest of the walls, storage units and trims neutral in Resene Double Rice Cake.
The Pyroclassic Fire has removable panels that are in Resene Hero (orange) and can be recoated to any colour in the future.
What was wrong with the old house, and how did you fix it?
We didn't need a bigger house, we just needed to be more clever with the space we had – we only made a small extension under an existing soffit. We converted some windows to doors to get better access to the new deck, and we reconfigured the kitchen and dining space to create an entranceway and hall. You used to enter straight into the kitchen, which I hated.
We made the house more energy efficient, upgraded the insulation, replaced the windows to double glazed thermally broken units, and installed a new fire.
Were there any particular challenges?
The hallway and stairwell were challenging spaces. We were keeping the old 1970s wall linings but the afternoon sun made the wall imperfections glaringly obvious. We solved this by using Resene anaglypta wallpaper (RD335) to hide the defects, in a classic floral pattern that echoes the large floral patterns of the 1970s. Then we painted it in Resene Parchment.
We only used it on the affected wall so it didn't look too overbearing, but it's a double height wall so adds great interest.
Making the original three separate living areas into a combined cohesive space and working with the existing window and doors openings was also challenging.
You seem to have embraced the idea of multi-use spaces?
Yes, the media room is also a guest room with a pull-down bed, and was treated very differently from the rest of the house.
I chose dark colours to create a cosy, intimate space with a cocooning effect.
The front and rear walls, and the ceiling, were painted in Resene Coffee Bean, and on the side walls I used a vertical thin-striped wallpaper in beige, brown and taupe tones (Camargue 48617, which is now discontinued. Try Intenz 49120 from Resene ColorShops as an alternative).
These subtle colourways blended with the vertical grain on the dark wood paneling behind the TV and on the pull-down bed. Edison lamps wash the surfaces with a subtle warm glow so that the overall effect is rich and comfortable.
See more of Julie-Ann's work at Design Arc.
Published: 25 Nov 2016
Do you have a home full of wonderful Resene paint and colour? Send us some snaps by emailing [email protected].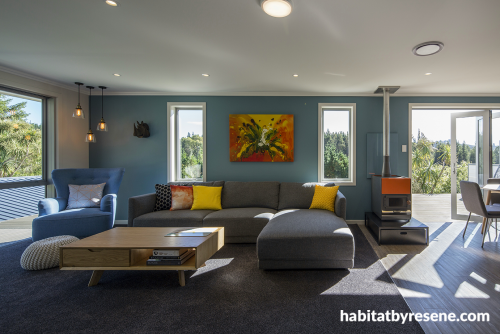 The strength of Resene Gothic balances the strong sunlight and view of vivid greenery outside on a feature wall in the new living space.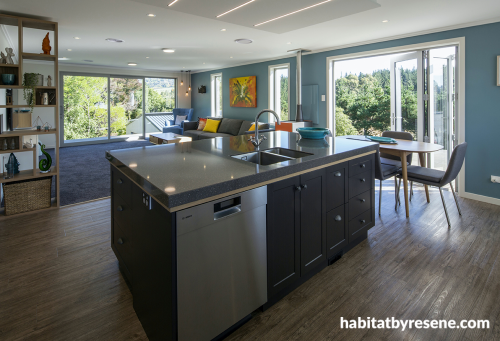 The kitchen and living area are now one cohesive space. The feature wall is Resene Gothic while other walls are in Resene Double Rice Cake, and the ceiling is in Resene Eighth Rice Cake.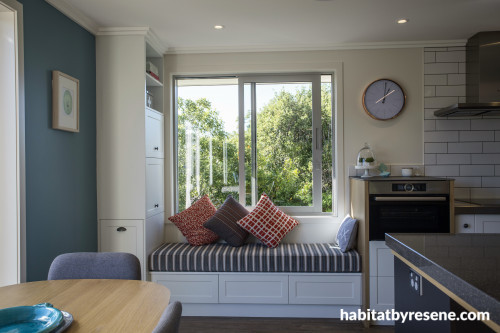 Julie-Ann designed built-in storage to surround the welcoming window seat next to the kitchen.

A quirky feature of the entranceway is this nook, framed in Resene Hero and wallpapered with Paradise Keilena Butterfly wallpaper.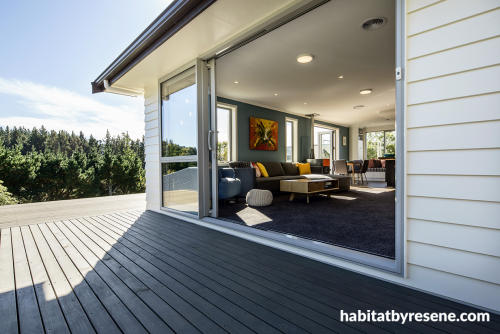 The living area has now been opened out to the deck. The weatherboards are painted in Resene Alabaster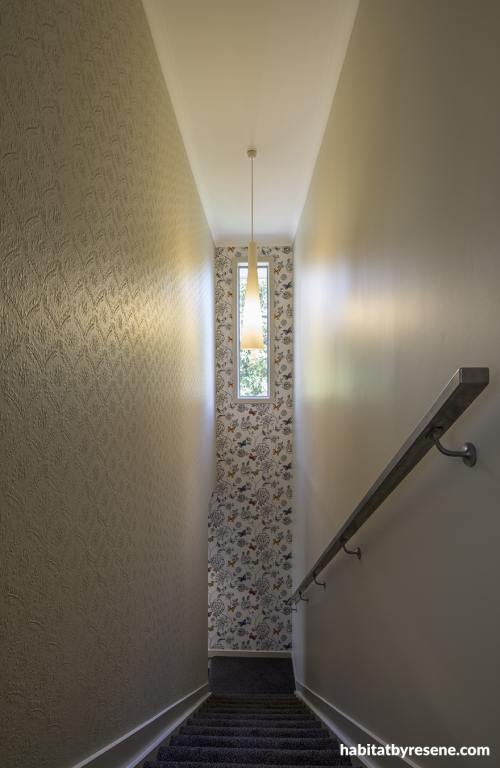 Resene anaglypta wallpaper was used to hide imperfection in the original wall linings, then painted in Resene Parchment. The wallpaper at the end is Paradise Keilena Butterfly wallpaper.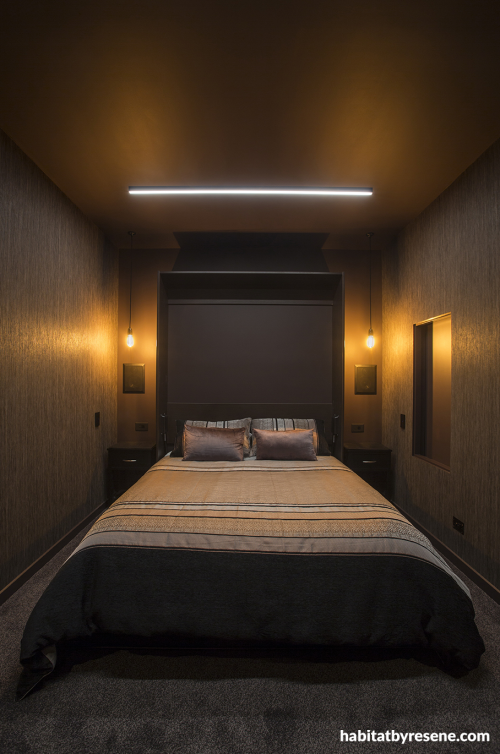 This cosy multi-use space is a media room with a pull-down bed for guests. It's painted in Resene Coffee Bean with Camargue 48617 wallpaper (which is now discontinued; try Intenz 49120 from Resene ColorShops as an alternative). Julie-Ann used Resene SpaceCote Low Sheen for its durability and toughness; very practical for a small space painted in a dark colour.














the look
If you're stuck on what
colour to use or need colour
advice, try out the Resene
Ask a Colour Expert service.