►
◄
latest
habitat tv
blog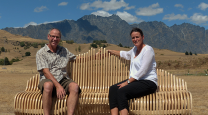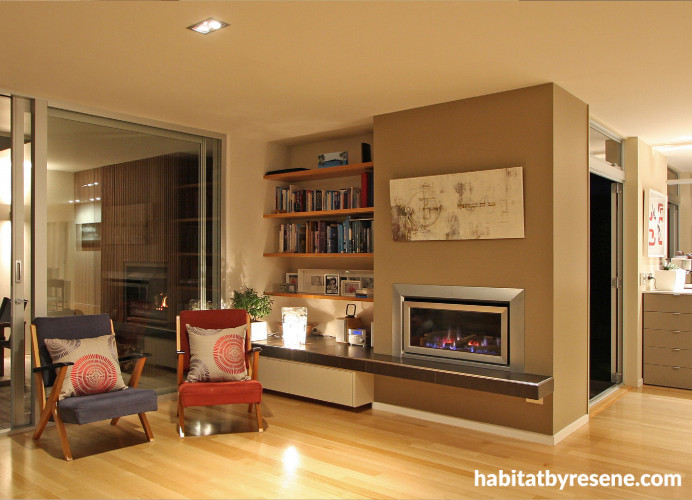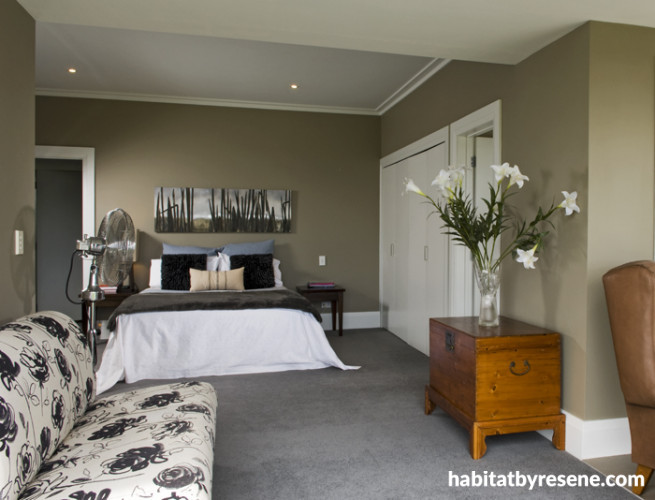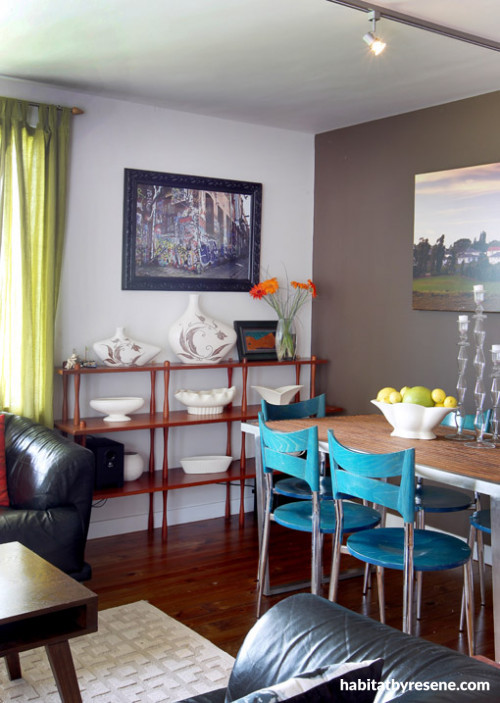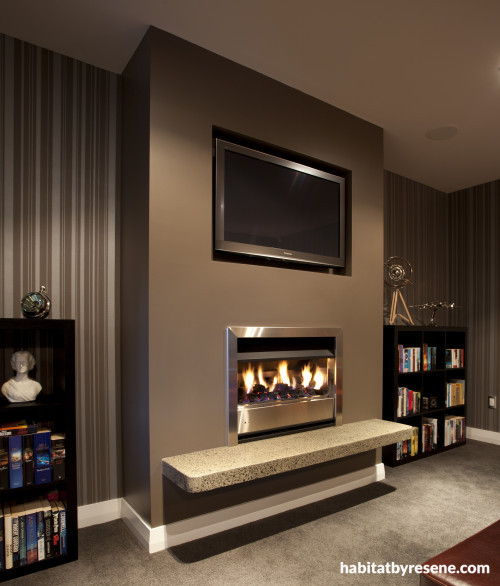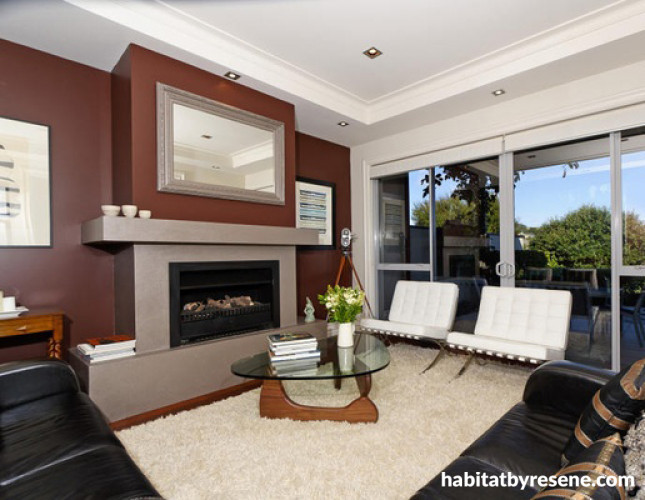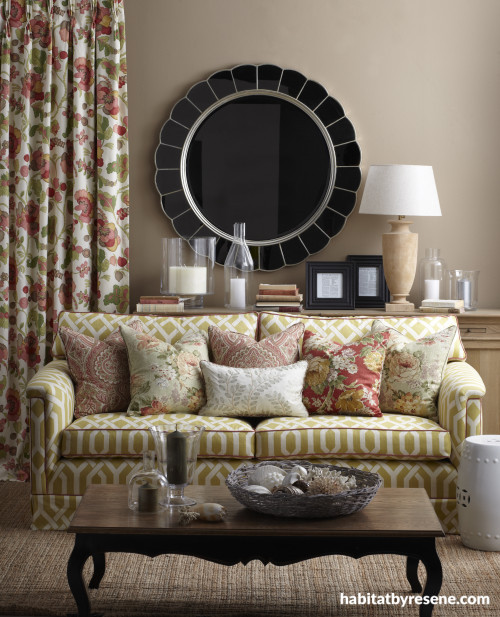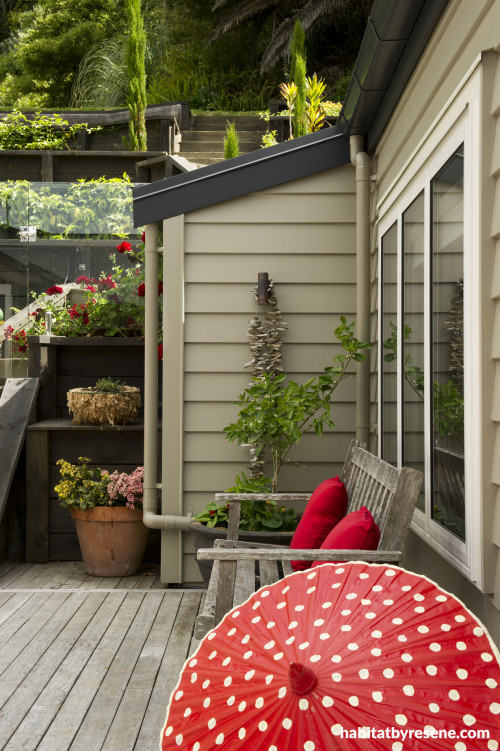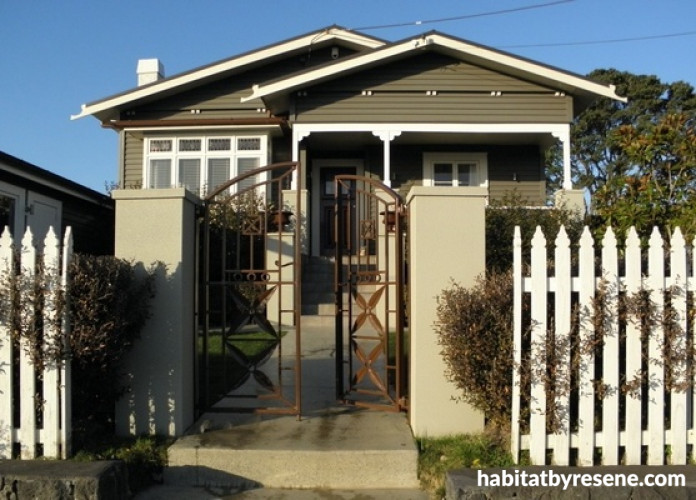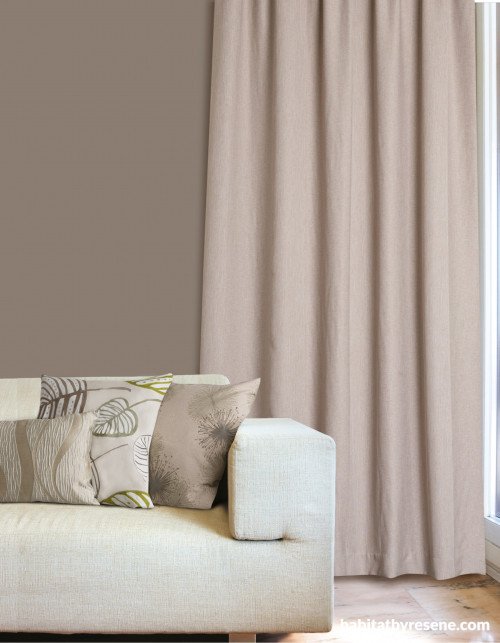 Give yourself a coffee hit
Published: 04 Jul 2013
Do you have a home full of wonderful Resene paint and colour? Send us some snaps by emailing [email protected].
Or tuck into chocolate, nut, cinnamon - yum
Before you groan and click on to the next email or web page, give brown another chance. Brown's had a bit of a bad rap in recent years and for some of us the word conjures up images of dowdy old-fashioned rooms decked out in shades of mustard and gooey brown. In fact, my childhood sofa was mustard brocade upholstery with mid-brown vinyl-covered arms – hmmm! I'm sure it was very on-trend at the time.
Given a pinch of grey or a twist of gold, brown can be a wonderful colour to paint your walls. In fact, let's not call brown, brown. Try these descriptive tags and brown turns from yuck to yum: Cocoa, chocolate, coffee, fudge, cinnamon, sepia, nut, russet, rust and mahogany.
Toasty and warm
In fact, brown-based neutral colours have been hugely popular in recent years, albeit discussed as toasty neutrals and nutty greys like Resene Drought and Resene Oilskin. Look closely, and you'll see that colours like this have quite a bit of brown in them. They are complex and hugely useful colours that often take on slightly different moods depending on the room, its orientation and the colours they are put alongside.
Many an interior scheme has been built on tonal colour schemes, using the varying strengths of one of the gorgeous pale neutral browns off the Resene Whites & Neutrals collection. Resene Tea (described as a complex river boulder beige) still tops the Top 20 list of most popular Resene colours. These sorts of 'greige' (grey beige) colours are hugely versatile and useful in interiors. They give a wonderful unobtrusive warmth that anchors your colour scheme.
And, of course, one of our most-loved decorating material – timber – is brown so it's a colour we are used to seeing not only in our homes but in nature.
Tip: the Resene White's & Neutrals collection is the perfect place to start your love affair with browns – from light to dark. But also check out the huge array of brown on the Multi-finish range (cards 43 to 47) at your local Resene ColorShop.
Brown is generally thought of as a masculine colour that promotes feelings of strength and stability. It's comfortable, warm, approachable and reassuring – the perfect colour for interiors during winter.
Add yellow for amber tones and tawny browns, like Resene Korma, or add black for dense rustic browns, like Resene Sidewinder.
Tobacco browns or paper bag browns, like Resene Sandal, work well with traditional interiors, especially for more intimate spaces like bedrooms and studies. Add a squeeze of orange for rust-browns that have more warmth and zing.
Some combinations to try:
· Mid or dark brown and grey – an on-trend colour scheme
· Brown and ice-blue or dusky teal
· Tonal colour schemes based on varying strengths of the same brown
· Tawny brown and green, two of the most prevalent colours in nature
· Brown and mustard or orange for a retro feel
· Mid brown with creamy vanilla white
What's your favourite brown combo? Make a comment below and let us know.
pictures
Tushka Glintmeyer of Space Architecture Studio won a Resene Total Colour Residential Interior Award for this scheme using varying strengths of Resene Drought. See www.spacearchitecture.co.nz.
That special blend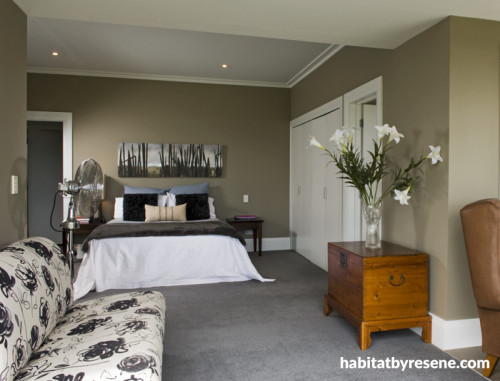 A special blend of Resene Sisal and Resene Grey Olive was used in this bedroom, designed by Leonie von Sturmer.
pictures
Photograph by Mark Heaslip
Retro good looks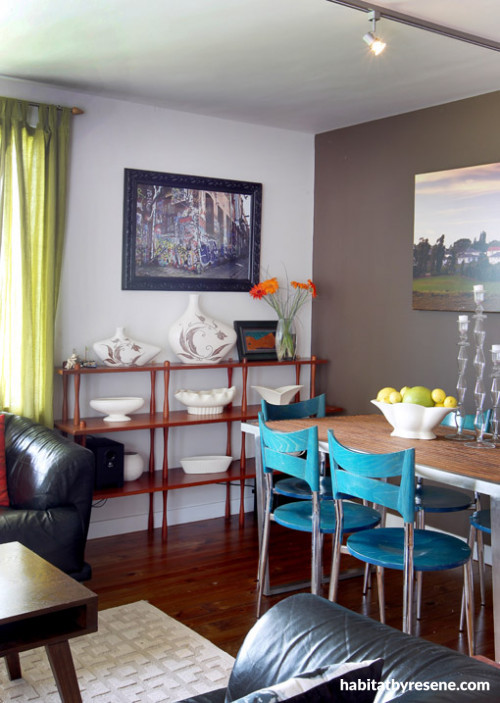 A retro twist is given to this living room where turquoise and lime accents are set against a feature wall in Resene Rocky Road. The other walls are Resene Milk White.
pictures
Photograph by Frances Oliver
Warmth from fire... and colour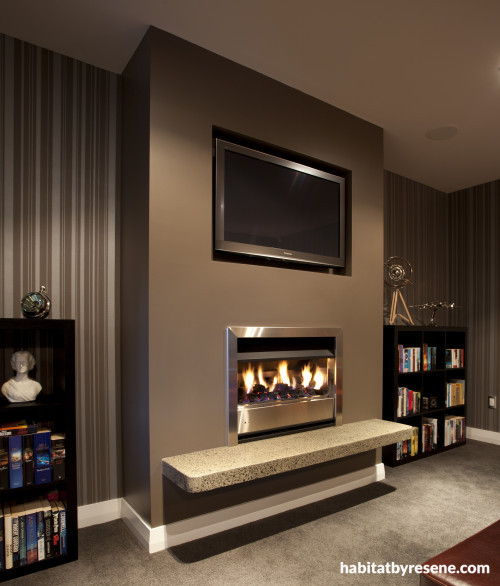 A fireplace in rich Resene Oilskin is flanked by Schoner Wohnen 2 1515-37 wallpaper, also available at Resene. The interior was designed by Yellowfox.
Rich and fudge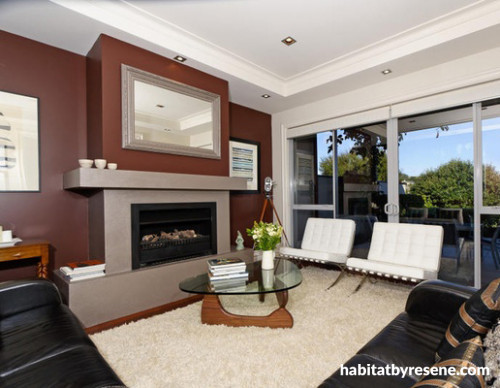 A rich chocolate of Resene Fudge gives instant personality and glamour to this living room. It's part of a full house previously featured in Habitat of the Week.
Dusky elegance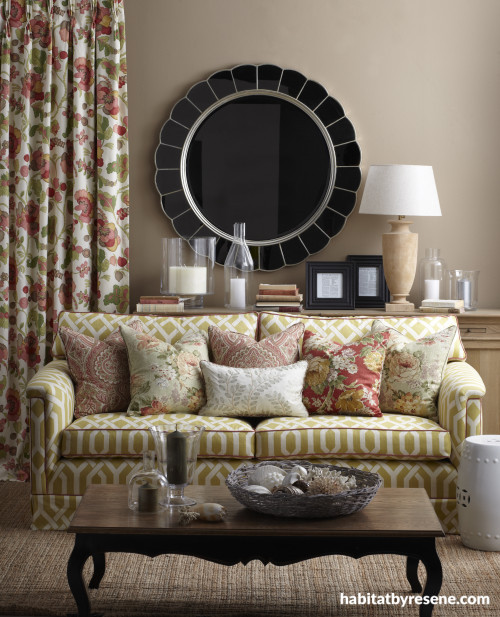 Stylishly layer your living space with fabric from Warwick Fabric's Essence's collection with its range of floral prints, graceful embroidery, vibrant stripes and matching plains. And get the look with walls painted in Resene Quarter Craigieburn.
And on the outside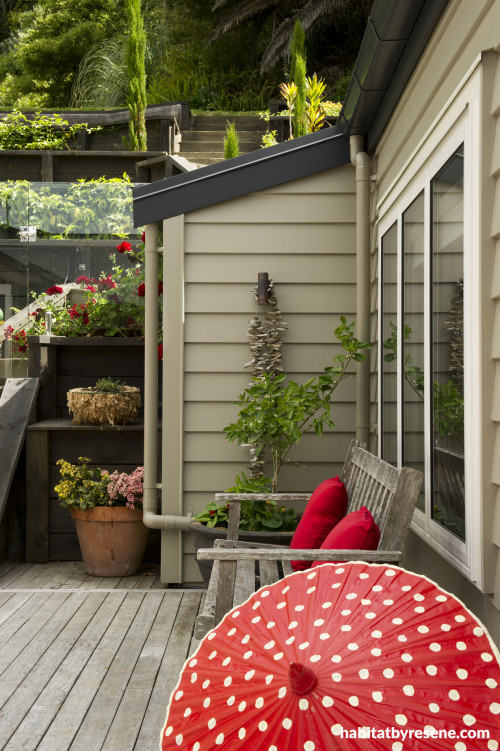 Brown-based neutrals have been popular on exteriors. Here, weatherboards in Resene Double Napa look superb with the owner's red accents.
Or go darker for more drama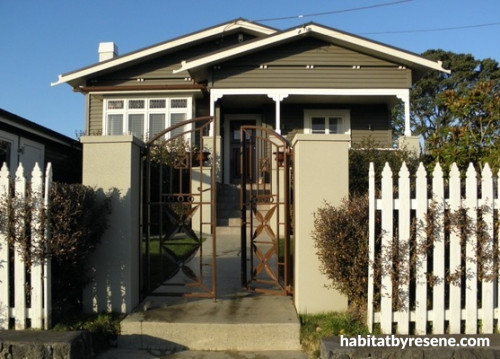 Or you could go for a darker, dusky brown like Resene Masala used on this bungalow. The trims are Resene Quarter Thorndon Cream and the colours were chosen by Lizzie K & Co.
A restful combination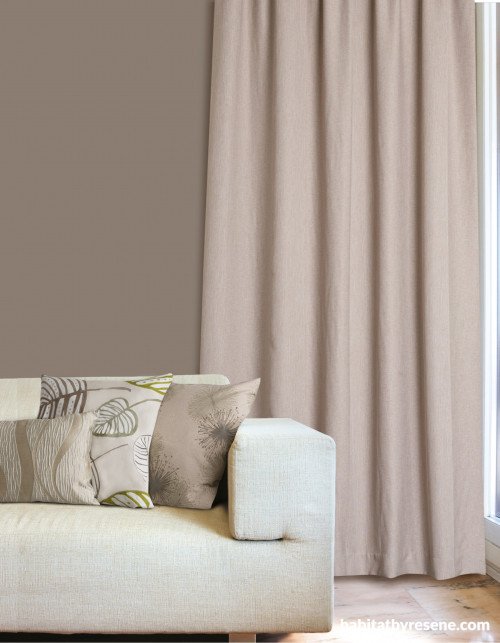 Walls in Resene Stonehenge are one of the suggestions to use with Resene Curtain Collection Haven in colour Naturalle.
the look
If you're stuck on what
colour to use or need colour
advice, try out the Resene
Ask a Colour Expert service.