►
◄
latest
habitat tv
blog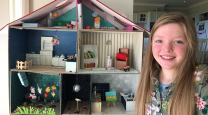 Keep calm and paint it Duck Egg Blue: Six chic updates
There's no need to feel blue when it comes to repainting your home. Marie Antoinette didn't when she covered her private boudoir in Versailles with the colour duck egg blue. Nearly 300 years later, Resene Duck Egg Blue is flying off the shelves as homeowners deck out their nests in this peaceful colour. Available in a range of strengths, Resene Duck Egg Blue is a pale, crystalline shell blue that is sure to create a sense of calm in any room of the house. Similar to the properties of a neutral, Resene Duck Egg Blue looks great with a variety of different furniture tastes. It can bring to life overly dark rooms and is a one paint colour fits all when it comes to creating calm spaces.
An egg-cellent wall colour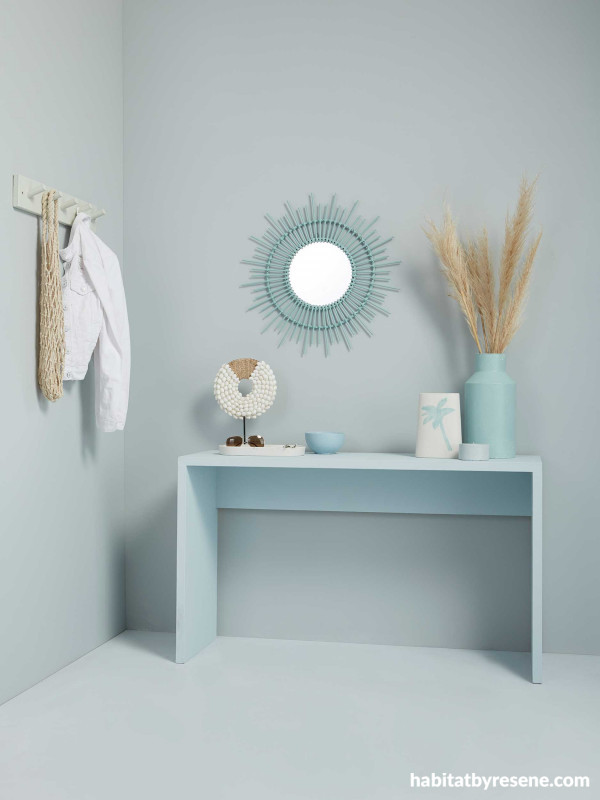 This beachy entranceway uses Resene Duck Egg Blue for the wall, with the floor in a lighter shade of Resene Quarter Duck Egg Blue. The hall table continues the blue theme and is painted in Resene Slipstream. The mirror and vase are painted in cool Resene Raindance and the hook rack is in neutral Resene Truffle. Accessories are stylist's own. Project by Vanessa Nouwens, image by Bryce Carleton.
Create a warm and inviting entranceway that is sure to blow your guests away. Use Resene Duck Egg Blue in different strengths to create a contemporary look that can be dressed up to create an elegant welcome or down to give your home a beachy getaway feel. Continuing your paint colour onto your floor will give the space an all-encompassing feeling of calm. Use a lighter shade of Resene Duck Egg Blue, such as Resene Quarter Duck Egg Blue, to make your floor appear light and breezy. Pair it with a slightly darker shade, such as the classic Resene Duck Egg Blue, for the walls. This will create a subtle contrast and will be the perfect finish to a space that is decorated with other pale blues and neutrals.
Fowl play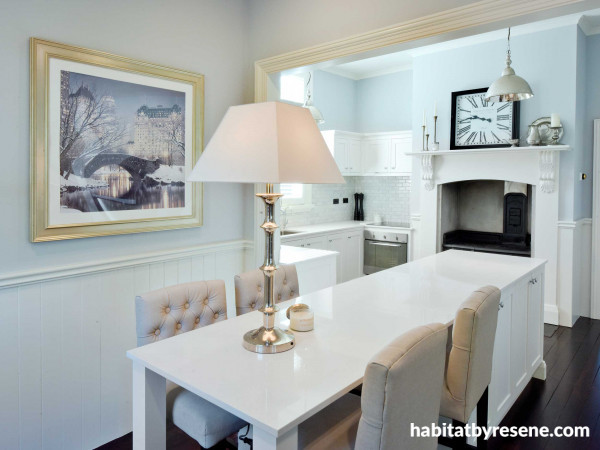 Interior designer Michael Mansvelt transformed this character villa using Resene Quarter Duck Egg Blue for the walls, with the trims and ceiling in Resene Albescent White. The bright, cool tones of Resene Quarter Duck Egg Blue helped the owner's modern and classic décor to blend perfectly together in the space. Image by Pip Guthrie.
Nervous about updating your older home or villa? Rest assured, duck egg blue is a colour that won't ruffle any feathers in your character home. This villa is the perfect example of how to create a timeless look using an on-trend colour palette. Resene Quarter Duck Egg Blue is a delicate grey with just a hint of blue which makes it a great companion to smooth white accents and ceilings. Try a two-toned wall in your living space using Resene Quarter Duck Egg Blue and Resene Albescent White. The warmer, creamy tones of Resene Albescent White will stop the space from feeling too cold. Deep wooden tones ground Resene Duck Egg Blue. Try a natural wood stain, such as Resene Jarrah, from the Resene Colorwood range for your floorboards.
Duck a l'Orange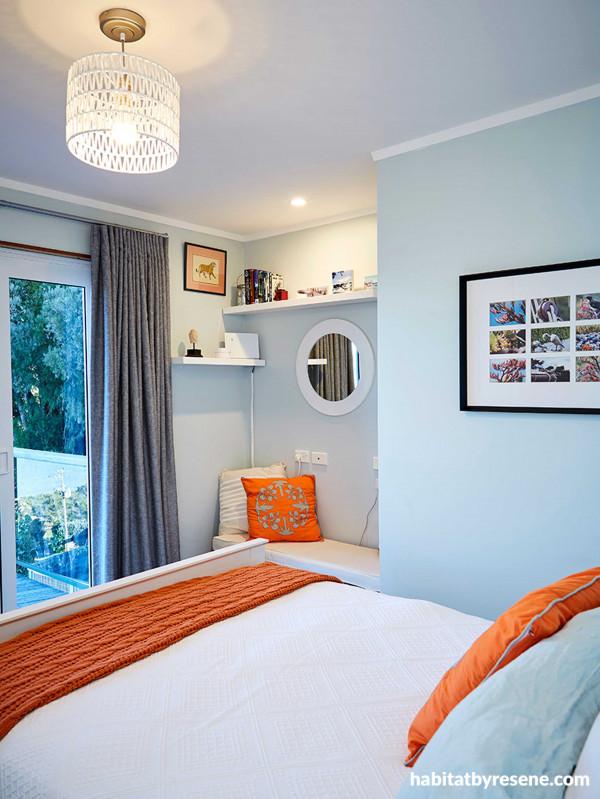 Homeowners Tim and Angela renovated their home into a dream holiday bach with soft coastal blues. This cute and colourful bedroom uses Resene Half Duck Egg Blue for the walls and Resene Eighth Pearl Lusta on the trim and ceiling.
Pretty in blue, Resene Half Duck Egg Blue makes a fabulous companion for your bedroom décor. The colour's soothing tone immediately brings a sense of calm to a room, giving you the space to rest and rejuvenate. However, just because you're using a calm colour doesn't mean your bedroom needs to be timid. Bring vibrant pops of colour into the space using cushions, bedspreads and décor that add contrast to the room. Painting the walls in Resene Half Duck Egg Blue gives you a strong foundation with the freedom to mix and match your décor as the seasons change. Try adding some muted mustard pillows or painting a vase in Resene Woodland to colour your room during the autumn months.
It's all about the bass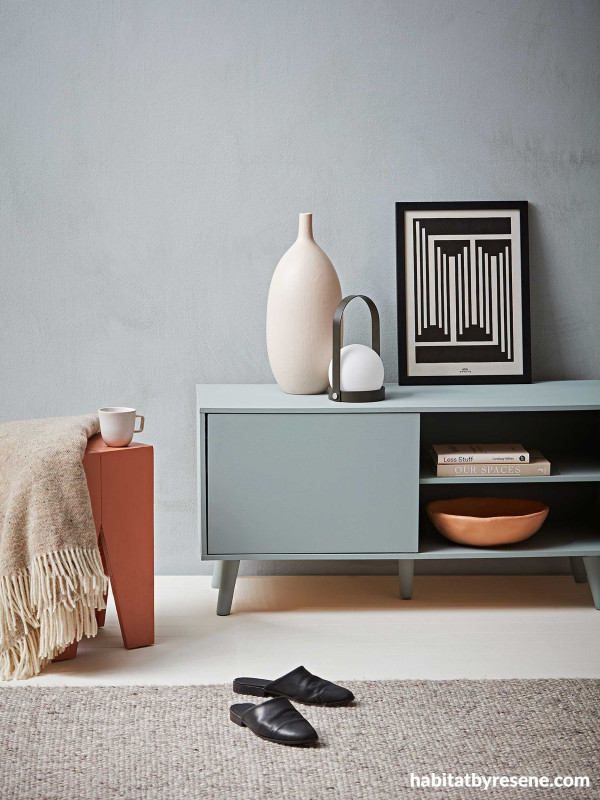 Get creative with your walls by adding simple but effective paint effects to them. This wall is in Resene Duck Egg Blue with Resene FX Paint Effects medium coloured with Resene Rolling Stone. The grooved floor provides a clean finish and is painted in Resene Half Villa White. The sideboard is painted in a complementary hue in Resene Inside Back. The large bowl is in Resene Moccaccino and the peg stool adds an 80s vibe with Resene Sante Fe. Rug from Contempa, artwork from Father Rabbit, throw from Citta. All other accessories are stylist's own. Project by Gem Adams, image by Wendy Fenwick.
Your living room wall doesn't always need to be a blank canvas to hang your artwork. Make the wall itself a talking point with Resene FX Paint Effects medium. These paint effects are tintable acrylic mediums that are excellent for disguising less than perfect surfaces and can help you create ambience in your living space. Start with a basecoat of Resene Duck Egg Blue, then use Resene FX Paint Effects medium coloured with a darker colour, such as Resene Rolling Stone, to apply another coat. There are a range of application techniques that can provide different results here. Using Resene Duck Egg Blue as a base colour means that the cool and quiet tones will be revealed through the paint effect and subtly brighten your wall.
Incorporating a mix of decorative styles from different eras is the perfect way to keep your room relevant and to keep your Resene Duck Egg Blue wall looking fresh and fabulous. If you're on a budget, decorate your space using vintage finds from local markets or hand-me-downs. Solid wood furniture painted with muted 80s colours, such as Resene Sante Fe or Resene Inside Back, will look great against the crisp wall and can be easily repainted as your style evolves. Pair this with a Scandi-style throw and an upcycled vase and you have yourself a serene spot perfect for those cool winter nights.
Take a quack at the tonal trend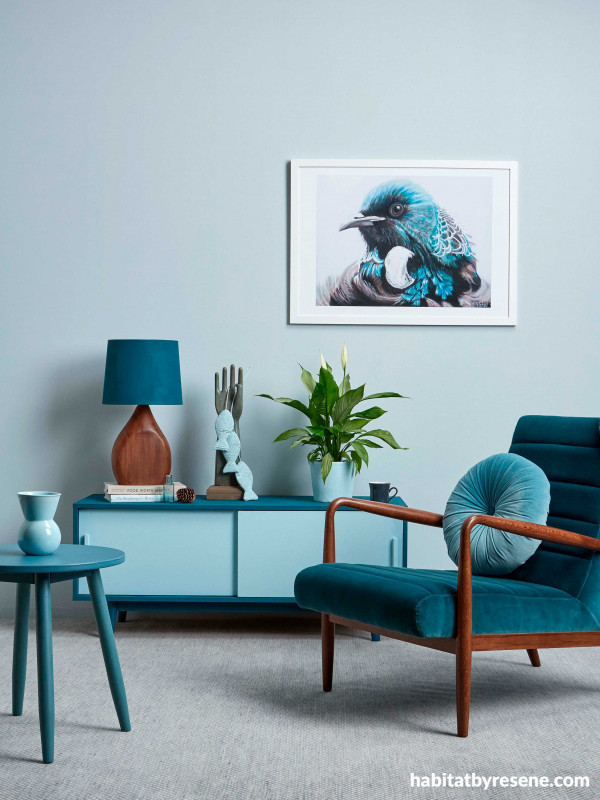 The soothing hue of Resene Duck Egg Blue colours the wall and works well with the floor finished in Resene Colorwood Whitewash. The outer frame of the sideboard is painted in Resene Fast Forward and the doors of the sideboard are in Resene Mystery, creating a striking two-toned piece. The three-legged side table is painted in Resene Artemis, with the lampshade in darker Resene Fast Forward. Armchair from Freedom Furniture, Gidon Bing Bulb Vase from Mr Bigglesworthy. Aubrey Tui artwork by Margaret Petchell from endemicworld. Project by Kate Alexander, image by Bryce Carleton.
Trying a tonal blue look? It's one of the easiest ways to get your decorating ducks in a row. Using different shades of blue can really enhance a space, deepening the atmosphere and creating a truly relaxed room. Resene Half Duck Egg Blue has subtle hints of neutral grey which makes it a refined choice for a living room wall and ideal for layering colours. Deepening the blues through furniture painted in darker hues, such as Resene Fast Forward, grounds the room. Be sure to bring in some natural accessories and décor, such as wooden chairs or lamps. This will bring warmth to the room and help to balance the cooler tones. Wall art is also a great way of keeping the blues going and introducing bright white tones in the picture frame can lighten the room.
A bolt out of the blue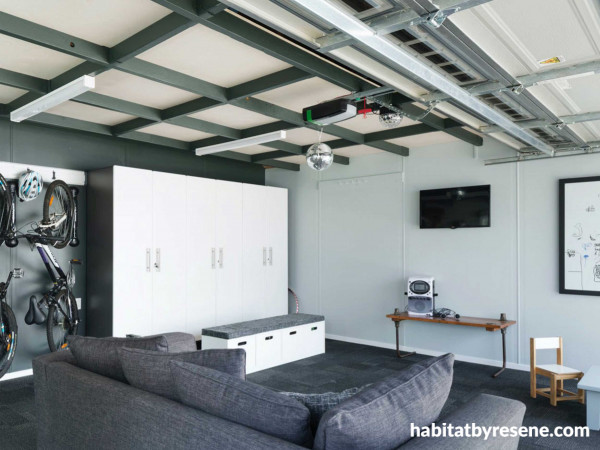 Owners of Pimp My Garage, Tod Crosby and Jeremy Davi, transformed this garage into an adventure haven with Resene Duck Egg Blue on the right wall and Resene Woodsmoke on the left wall and ceiling beams. The architraves and hook rack brighten the garage and are painted in Resene Alabaster, while the ceiling is finished in Resene Colorwood Whitewash. The walls are all painted in Resene SpaceCote Low Sheen, providing a durable finish that can be easily cleaned.
All too often our garage spaces turn into haphazard and cluttered storage spaces. Make the most of that extra space and calm the chaos with the help of Resene Duck Egg Blue. Marie Kondo your garage and then transform it into an enjoyable and useful area by painting the walls Resene Duck Egg Blue. For areas that store your leisure equipment, use darker colours such as Resene Woodsmoke to help mask the appearance of dirt. The garage is one of the most versatile spaces on your property and being creative with the space allows you to convert it from a glorified storage unit into a rumpus room or second lounge.
Resene Duck Egg Blue creates a colourful yet clean atmosphere. Your walls will not only be renewed with colour but can also be transformed with the type of paint you use. Paint your wall with a basecoat of Resene FX Magnetic Magic, topped with a coat of Resene Duck Egg Blue. This creates a magnetic wall that is perfect for storing all those small, hard to find nuts and bolts. Drafting grand plans for your next renovation project? Skip the paper and put pen to wall using Resene FX Write-on Wall Paint. Paint a basecoat of Resene Duck Egg Blue and top with Resene FX Write-on Wall Paint for a whiteboard that blends into your wall.
From garage redesigns to classic coastal interiors inspired by the Hamptons, Resene Duck Egg Blue is one of the most versatile colours. This paint's subtle undertones make it easy to introduce a touch of colour, making it the perfect choice for your next project. So get quacking.
Published: 14 Apr 2021
Do you have a home full of wonderful Resene paint and colour? Send us some snaps by emailing [email protected].