►
◄
latest
habitat tv
blog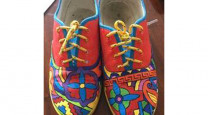 Kirsten and Julien's small home has style to spare
06 Nov 2019
Perched on the upper slopes of Mt Pleasant Hill in Christchurch is a petite two bedroom home with sweeping views to the alps, Kaikoura mountain ranges and Pegasus Bay. As quiet and restful as you'd imagine, it's coloured with a simple minimalist palette of Resene paints and timber stains.
"It's a 'mini home' designed to hunker down into the hillside and wrap itself around the views with privacy from the busy road and houses above," says Aaron Jones, Director of Urbanfunction. Aaron designed the home for his sister Kirsten and her partner Julien, who's French.
"Hence why we named the project Petite Maison, which means 'small home' en Francais."
"While the site itself had a number of challenges due to low height restrictions, land slip issues and easements, the building was designed to be able to be pivoted into the best alignment with views and maximum solar gain," says Aaron. "It's a small footprint, so we tweaked it a number of times to find the right alignment."
"We knew we wanted a small house that was reminiscent of a DOC hut overlooking the sea, says Kirsten. "Aaron designed the exact style of house we wanted, and we were so happy with it that we didn't end up changing any of the completed concept."
To Kirsten, the biggest challenge was finding the right mix of colours and making them functional within the small space. "We researched for hours so we knew what was on offer and what would work well with our ideas. You will know when you find the right colours because it just fits."
To help the house blend into its natural surroundings, the exterior is a wood-fired charred larch timber and protected from the elements with WoodX clear sealer. "Natural larch was also clear finished in WoodX where any niches or recesses in the building occur, creating a natural contrast against the darkness of the burnt timber," explains Aaron.
The interior, however, needed to be bright and light. Resene Half White Pointer, a softly greyed white, was used for the walls throughout most of the main living spaces complemented with a strandboard timber ceiling finished in Resene Aquaclear clear urethane.
Aaron says they aimed to visually compress the spaces by adding in timber above and below to encourage the focus outward, onto the views. The result is elegant, understated and unpretentious.
Kirsten is a sports massage and rehabilitation specialist, so the spare room had to be a multipurpose space with a calming environment, doing duty as a separate lounge and bedroom with enough space for a massage table where she can treat clients. These walls, too, are painted in Resene Half White Pointer for continuity with the rest of the living spaces.
"It's a beautiful warm white tone which complements the large amount of natural light that streams into the house," says Kirsten.
By total contrast, Resene Double Foundry was used on the walls and ceiling of the bathroom to create a cocooning feeling. The result is an elegant spa-like space, where the dark colour is balanced by a floor-to-ceiling window with a private view.
Kirsten says that she and Julien love the bathroom. "It's our favourite room. We had found similar concepts on Pinterest and developed our own spin. It's dark, comfortable and eye-catching. We went with quality copper fixtures to complement the dark space and used different tones of black for the vanity and tiles, which give the room even more depth and warmth."
Resene Double Foundry has become the couple's favourite colour. "It's rich, deep and dark without being oppressive, and with the copper fixtures it gives a sense of luxury to our bathroom." The ended up using it again in the home office.
To others looking to attempt a similar project, Kirsten recommends staying true to what you love and sticking with the plan.
"We are not interior designers and didn't know what we were doing," she says, "but we stayed true to what we liked and it turned out better than we expected."
"It all just works really nicely," says Aaron. "It's compact at 80m2, but with raking high ceilings, there is plenty of volume. With arranging the dining into the kitchen and getting clever with study nook and storage space the home feels a lot larger than it is."
Do you have a home full of wonderful Resene paint and colour? Send us some snaps by emailing [email protected].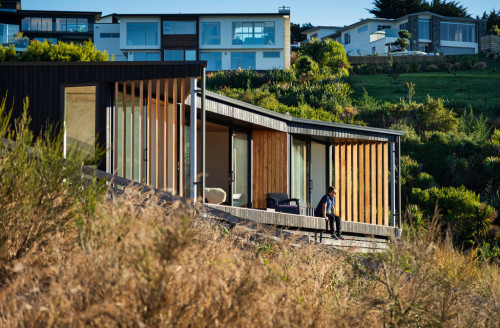 What's come to be known as 'Petite Maison' is nestled into the upper slopes of Mt Pleasant Hill in Christchurch. A mix of cladding in wood-fired charred larch and natural larch finished with Wood-X sets it apart from other homes on the hill.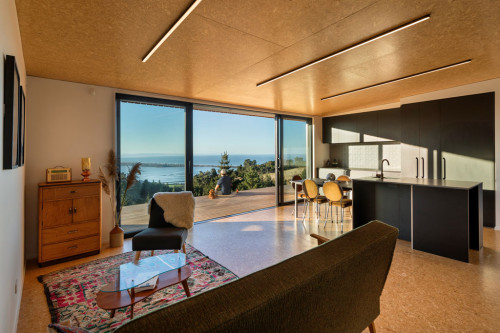 Stunning views of Pegasus Bay, seen from the main living space, are framed by walls in Resene Half White Pointer and a strandboard timber ceiling finished in Resene ?Aquaclear waterborne urethane.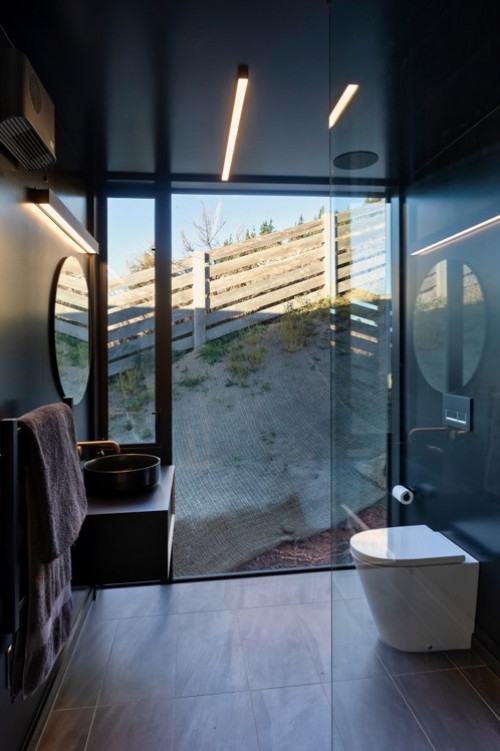 The bathroom, with walls and ceiling in Resene Double Foundry, have become Kirsten and Julien's favourite room in the home.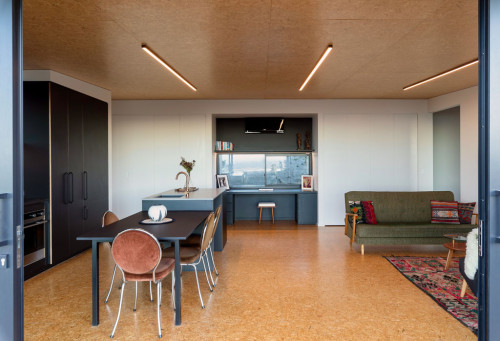 Since the build, Resene Double Foundry has become the couple's favourite colour. It was used both for the bathroom as well as for the compact home office at the rear of the home. The rest of the walls are painted Resene Half White Pointer and the strandboard timber ceiling is finished with Resene Aquaclear.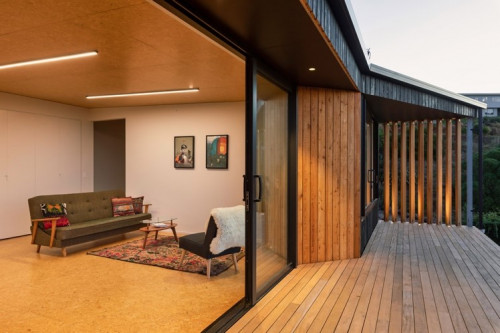 The seamless transition between inside and out makes this small home a standout. The walls are in Resene Half White Pointer ?and Wood-X was used on the natural larch on the exterior of the home.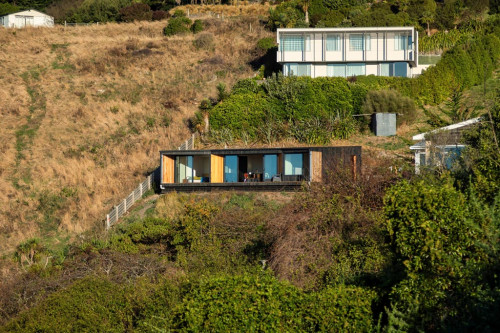 Petite Maison, a 'mini home' designed to hunker down into the hillside, needed not to be large to be a beautiful point of difference among the other homes in the area. Thoughtful, elegant design and a mix of charred and natural larch clear finished with Wood-X was just the ticket.
architecture and images Aaron Jones, Urbanfunction
Resene Half White Pointer
the look
If you're stuck on what
colour to use or need colour
advice, try out the Resene
Ask a Colour Expert service.