►
◄
latest
habitat tv
blog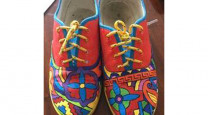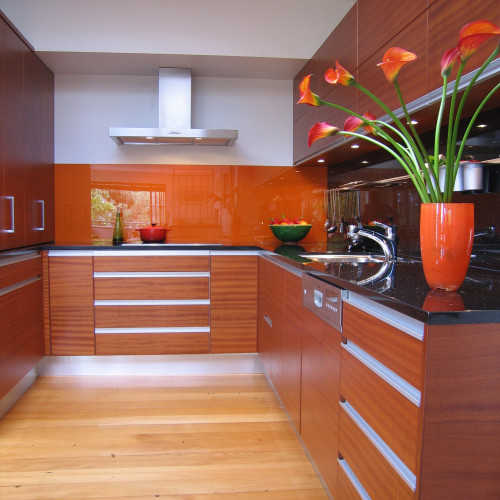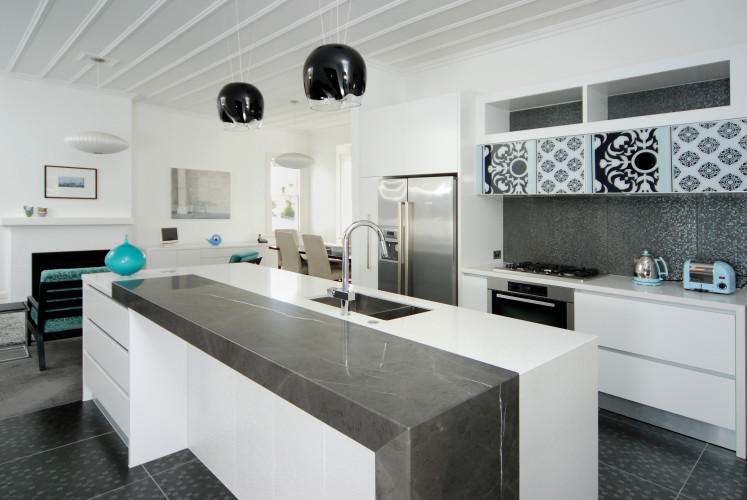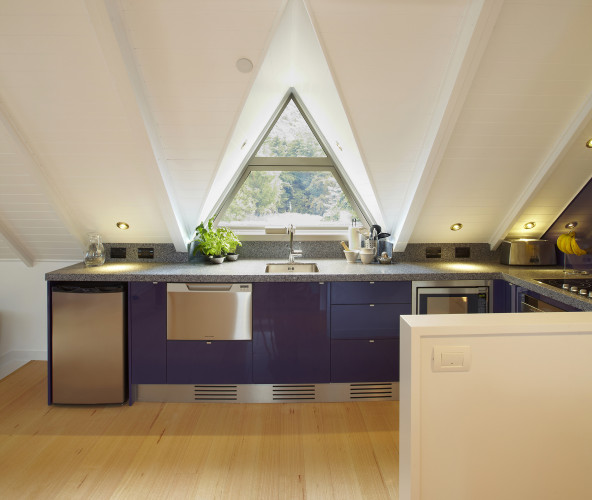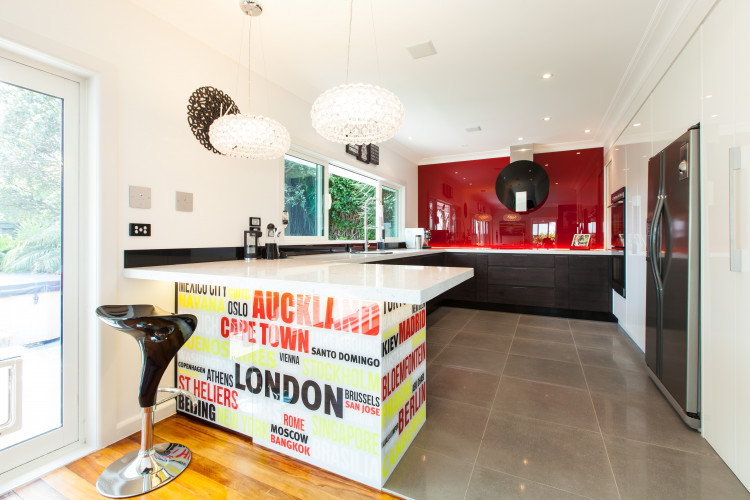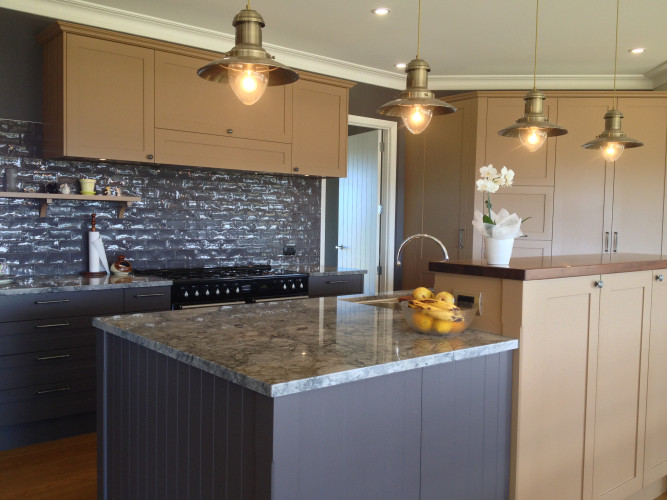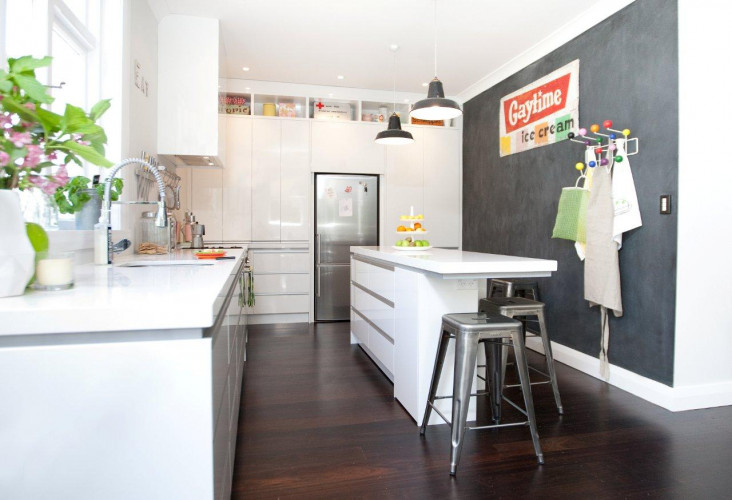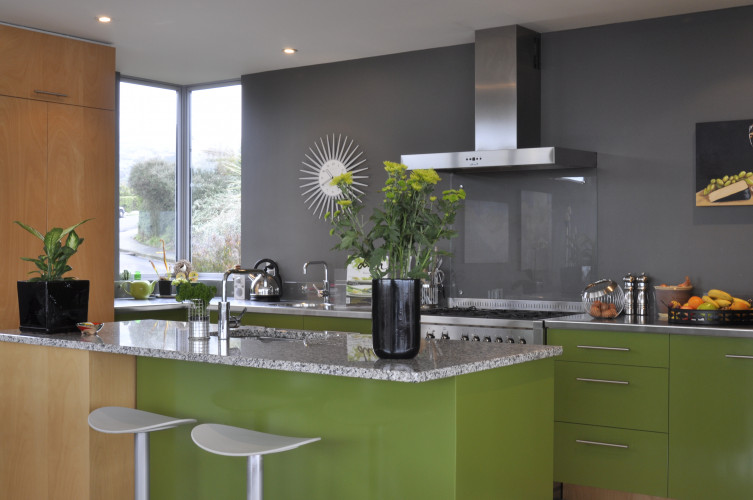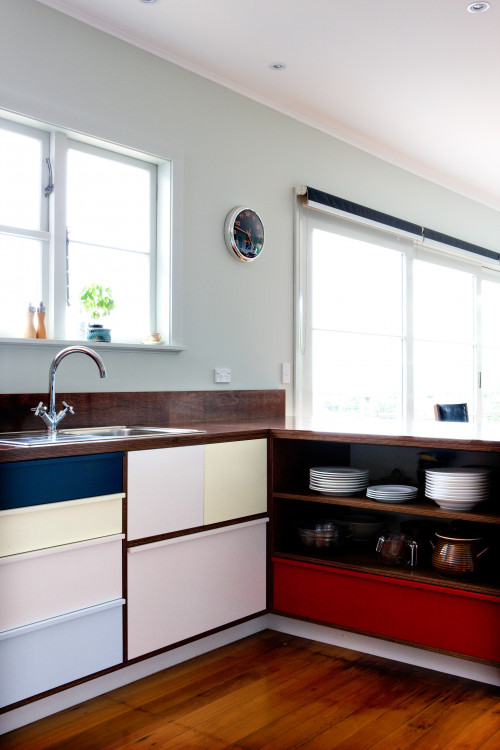 Kitchens get up-close and personal
23 May 2013
Do you have a home full of wonderful Resene paint and colour? Send us some snaps by emailing [email protected].
Use Resene colour to make a difference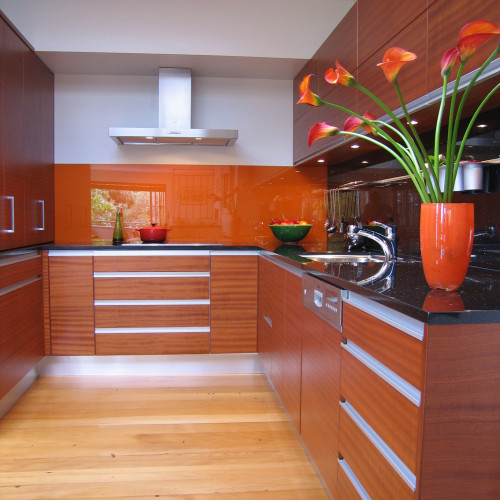 In recent times it's been a very brave soul indeed who decided not to use white or off-white cabinetry in their kitchen. For those of us of a certain age, the memory of cobalt blue and forest green kitchens is enough to make us play it safe. Then there were the pale grey and pink kitchens of the 1980s. Ouch!
Never say never, however. Most interior fashions have their opposite trend arrive in full force. We've swung from stark minimalist interiors to vintage-style, character homes so why not ditch the white cabinets?
Certainly, here at Habitat of the Week and Resene, we've seen some creative, stunning and downright unexpected use of strong colour in kitchens – check out the one pictured in this feature with purple (Resene Wicked) cabinets. Then there's this strong retro-style kitchen by kitchen architect Toni Roberts which features Resene Clockwork Orange on the far wall as an extended splashback, contrasting with black granite on the wall to the right.
Ramping up the character and colour
We are spending more time in our kitchens, thanks to inspiration from all those TV cooking shows, tightening eating-out budgets and the desire to provide good, fresh, home-cooked food to our families. So a kitchen should reflect us and be tailor-made to our needs – you might need a baking station, a place to plug in the ipad, a spot for kids to do homework. The same goes for the look – make it your own… with colour.
We want kitchens that are warm, inviting and unique - a kitchen that doesn't look like the one next door or the one in the showhome around the corner. One of the most effective ways of doing that is with colour.
Let the style of the house and your own personality guide the look of the kitchen. Be adventurous with colour and don't feel constrained by the spectre of resale (something we get a bit too hooked up on). Playing it safe might mean ending up with something bland and boring.
Red and green are great colours for kitchens and have made many an appearance of late – red is supposed to stimulate the appetite and green such a fresh, wholesome colour.
Some other key colour trends in kitchens
· Grey and brown: using timber, natural materials and texture for a moody, almost masculine look.
· Egg-shell blue, off-white and silver: colours that go beautifully with the vintage look be it French, English cottage or colonial heritage.
· Black and white: a great colour combo for more sophisticated urban looks, this is a progression for those who do still love minimalism.
· Splashes of jewel tones, pared with white or black: using glossy textures and jewel-like mosaics. A rich and fun look.
· A progression from bright shiny stainless steel to more burnished and brushed versions, even bronzes and brass.
Top tip: Don't let your carefully created colour scheme be ruined by not using the right paint. You only get authentic Resene colours when you use Resene tinters in Resene paint bases. The tinters themselves are highly complex and can't be replicated. So make sure your painter, cabinet-maker and glass splashback manufacturer only use Resene paints for your Resene colours.
pictures
Kitchen by kitchen architect Toni Roberts.
Whimsical wow-factor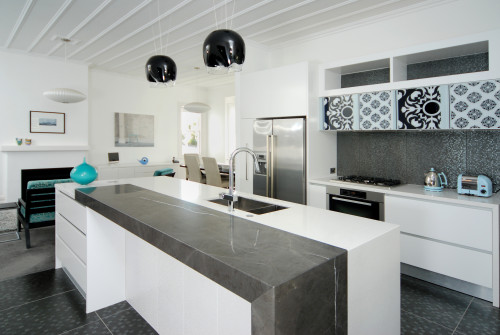 The overhead cupboards add a whimsical and very individual look to this kitchen designed by Designworx. The patterns were stencilled on to back of glass, using an artwork and the turquoise tones of Resene Ziggurat as inspiration. The walls are in Resene Black White.
A purple kitchen?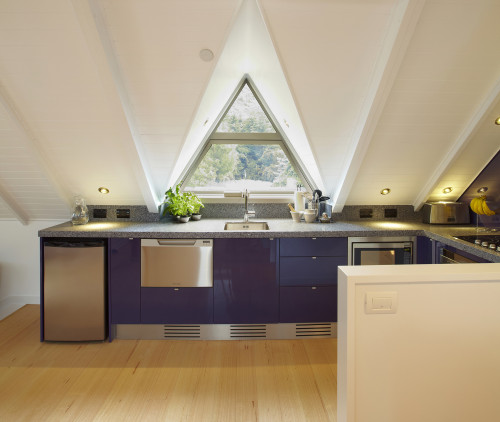 Who would have thought of a purple kitchen? These adventurous homeowners let designer Sian Gillanders guide them to Resene Wicked cabinets, offset by Resene Half Alabaster walls. The colour was actually inspired by a favourite artwork of the owners.
Places of the heart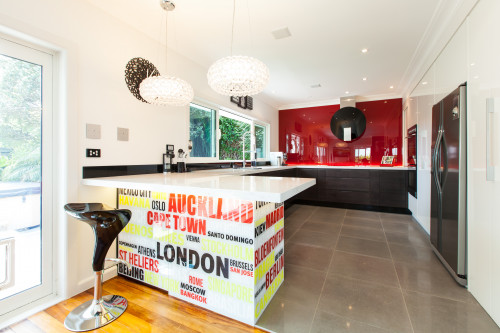 This kitchen is extremely personal – and fun - thanks to the place names that are laser printed onto the glass on the front of the kitchen return, and which have special significance for the family. The kitchen was designed by Maggie Gardner of Kitchens by Design in Auckland, using Resene Half Merino cabinets with a Resene Jalapeno splashback.
Brown and grey - a new trend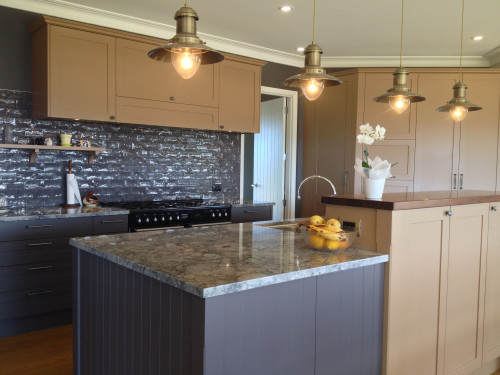 Very on-trend, this brown and charcoal kitchen is designed by kitchen architect Toni Roberts. The brown cabinets are Resene Moscow Mule while the other colour was specially formulated by Resene to match the glossy handmade tiles on the splashback.
Chalk it up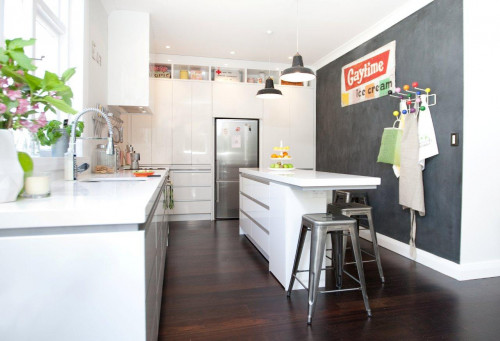 A very practical yet fun solution to one wall of this kitchen, designed by Rochelle Jackson of Kitchen Elements, was to use Resene Blackboard Paint.
Saturated colour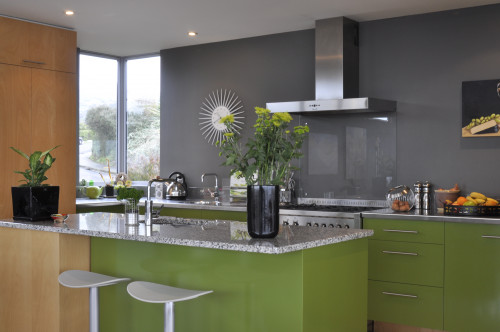 A fresh true green and charcoal look stunning together, in a house with interiors designed by Wendy Campbell. The green is Resene Pacifika with Resene Aluminium from the Resene Metallics and Special Effects range on the back wall. The ceiling is Resene Merino.
Art Deco inspired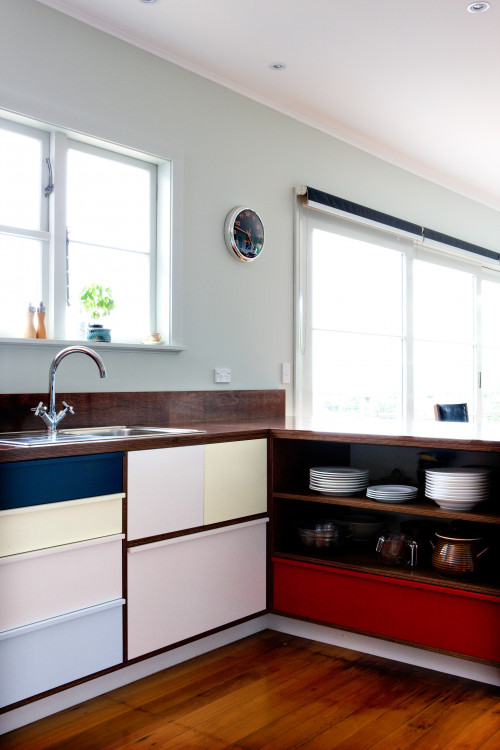 This Art Deco inspired kitchen used different colours for different cabinets in a Mondrian-style effect. The colours are Resene Soapstone, Resene Moonbeam, Resene Pattens Blue, Resene Blue Night and Resene Jalapeno. It was designed by homeowners Amanda Hereaka and Simon Bowden, and architect Hayley Whitehead from N & Co.