►
◄
latest
habitat tv
blog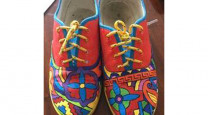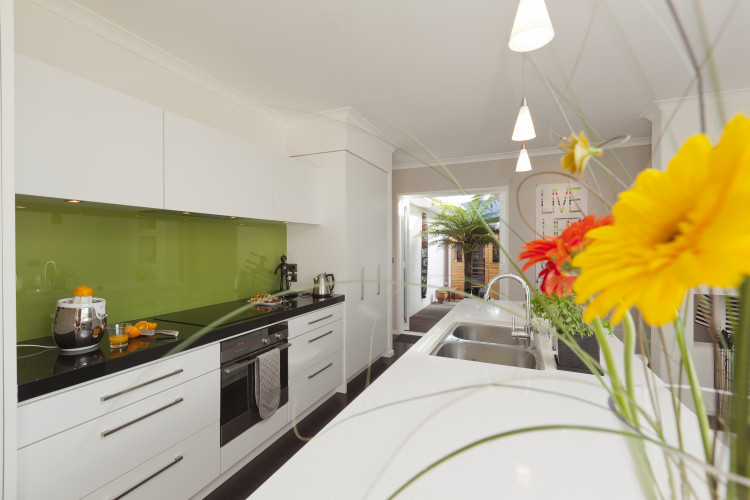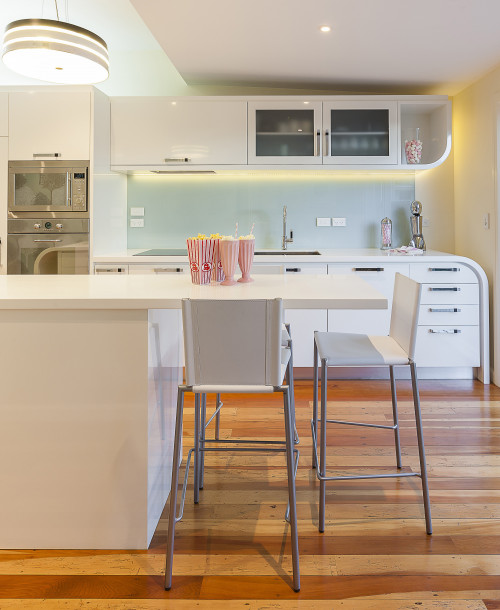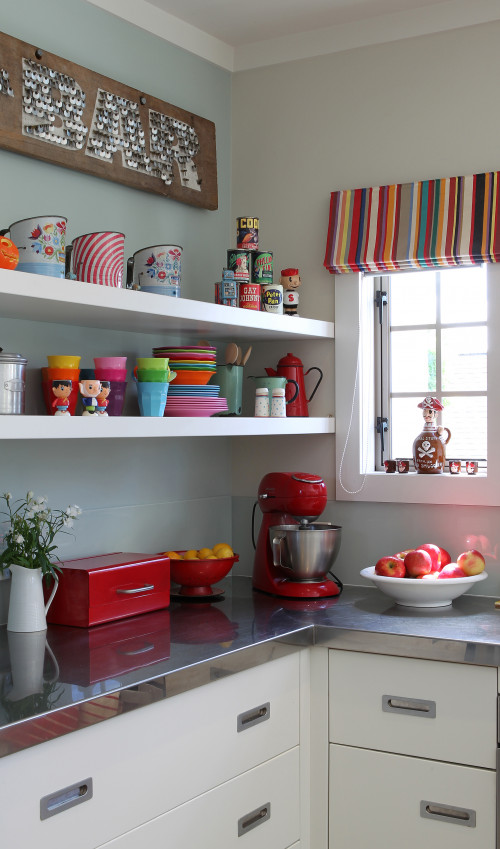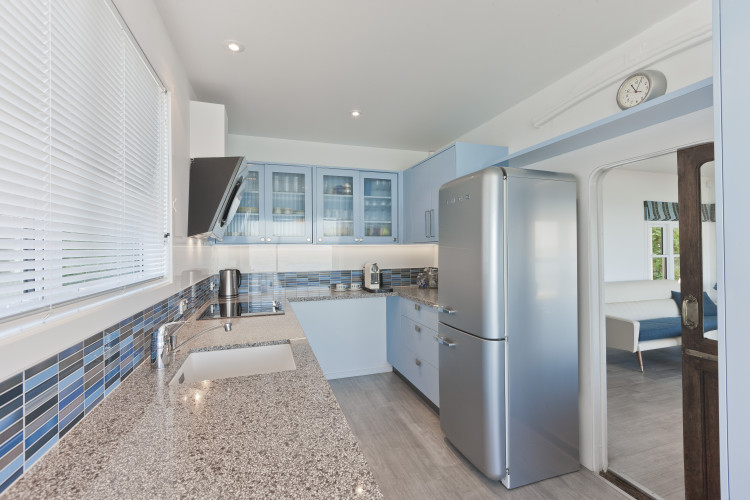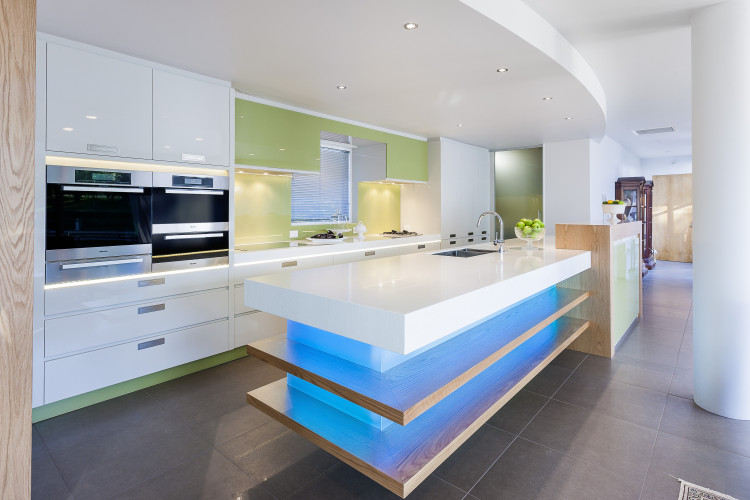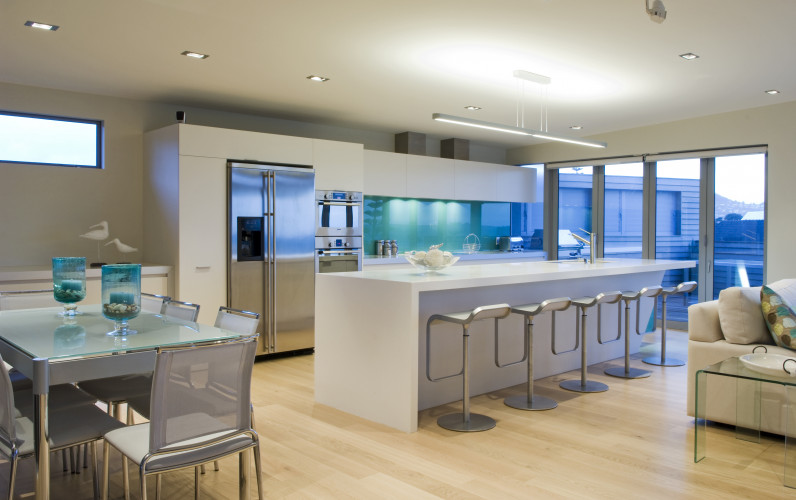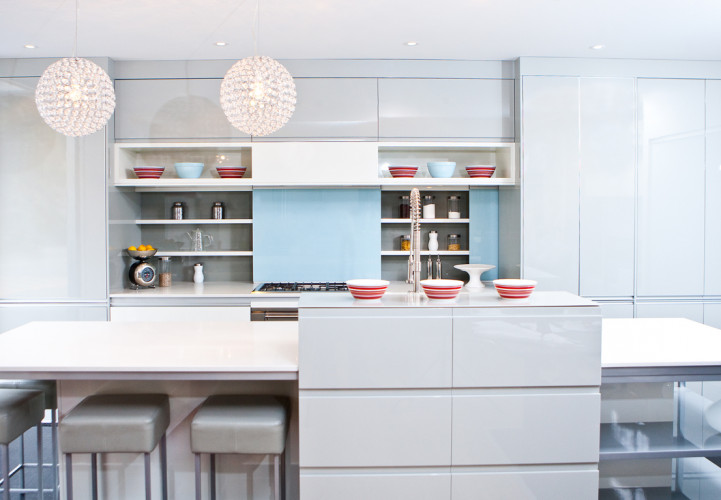 Kitchens get fresh for spring
29 Aug 2013
Do you have a home full of wonderful Resene paint and colour? Send us some snaps by emailing [email protected].
Grassy greens, soft blues and ice whites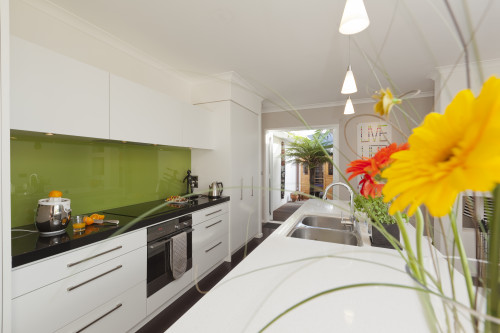 A change of season may not be a good enough reason to influence your style decisions, especially when it comes to an expensive item like a new kitchen. But kitchens that have a zesty, spring-fresh look will be perennially popular. They look bright and light, and easily blend with many interior styles - just like the kitchen above which has a splashback in Resene Wasabi.
So now that spring is just around the corner, let's have a look at some sparkling kitchens that make great use of those two spring and summery colours – blue and green, set against white or off-white cabinetry. For colour inspiration, check out the Resene Whites & Neutrals collection paired with colours from The Range fashion colours like Resene Breathless (a cool lilac blue), Resene Reservoir (a pastel aqua green) or Resene Spring Fever (a sharp sulphur yellow).
Green has been through a period of adoration from homeowners, particularly as an accent colour in kitchens. We've seen icy blues come through more recently and the crossover blue-greens, those seafoam colours, continue to be hugely popular.
Some reasons to stay white
White cabinets are style-neutral so can be adapted to many looks by changing out accessories and detailing - the handles, door profile, benchtop etc. In Resene terms, 'white' is not really white. With the Resene The Range Whites & Neutrals, there are many many types of 'white', which can lend extra depth and style to your kitchen.
There are many ways of introducing stronger colour in most parts of the kitchen:
* On the walls of the kitchen, which then acts as a frame for white or cream cabinets.
*On a bank of high cupboards – use a warm neutral on low cabinets and a darker tone on higher cabinets.
*On a suspended, integrated rangehood.
* On the underneath of an island bench.
* Inside a cupboard or on pantry walls – so colour is revealed when you open the doors.
* On a back-painted glass splashback. Bright colours used this way are becoming less popular. Either richer, deeper tones or gelato shades are taking their place.
Here to help
Kitchen surfaces take a lot of punishment and we need them to meet high hygiene standards. Aside from ultra-tough Resene ArmourCat for cabinets, Resene Imperite for glass splashbacks and Resene Qristal ClearFloor for timber floors, Resene has other products to help keep your kitchen in top shape:
* Resene Kitchen & Bathroom combines anti-bacterial silver protection and MoulDefender mould inhibitor, perfect for minimising unwanted nasties in kitchens, bathrooms and laundries.
* Resene Fly Deterrent discourages flies from landing on the painted surface and reduces the appearance of unwanted fly spots.
* Resene ClinicalCote is a low-odour, washable, waterborne paint finish formulated with anti-microbial silver for use on walls that need extra sanitising protection.
pictures
Photograph by Chris Parker; design by Lian Bruce
Curva-licious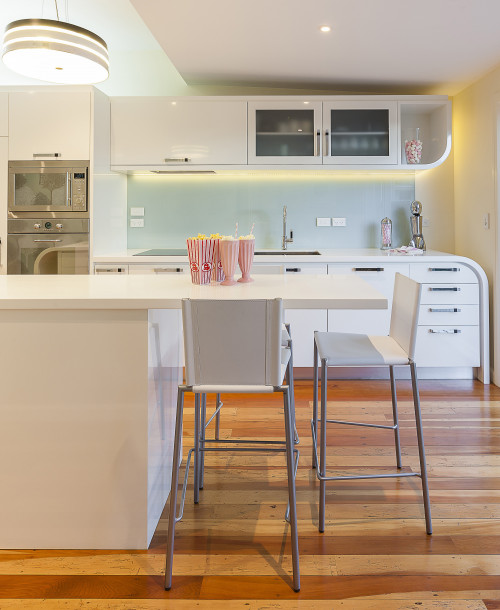 This very cool curvy kitchen is designed by Mal Corboy with cabinets in Resene Black White and a splashback in Resene Altitude.
pictures
Photograph by Kallan McLeod
Vintage on display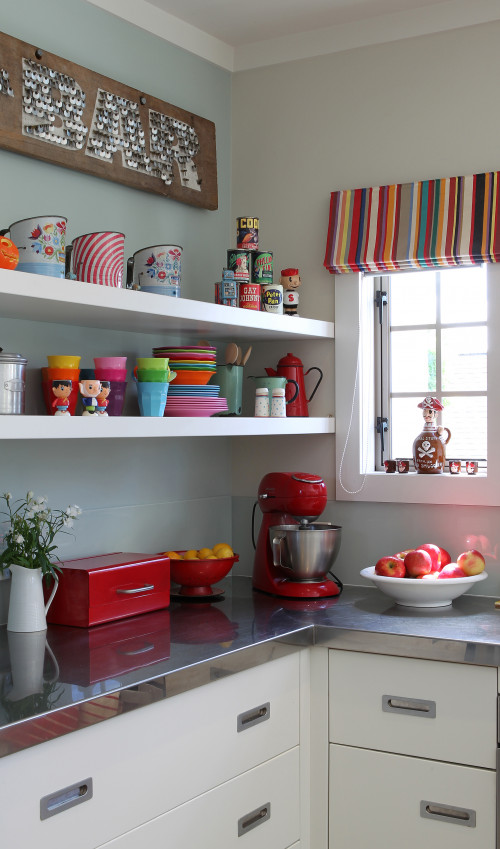 A quirky vintage feel is given to this kitchen with lots of display space for colourful accessories, set against walls in Resene Periglacial Blue.
Refurbished tram style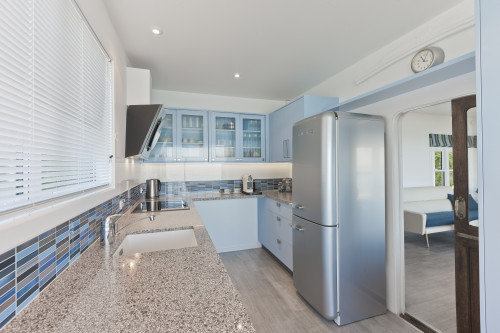 Lynn Plom of Elite Kitchens and Cabinets designed this amazing retro kitchen for her bach – which is an old refurbished tram that sits near the waterfront on the Coromandel Peninsula. The cabinets are finished in Resene Comfort Zone while the walls are in Resene Alabaster.
pictures
Photograph by Kallan McLeod
With a flourish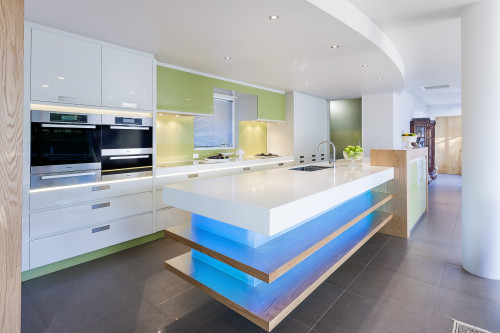 A sparkle of Resene Flourish is used on the splashback of this kitchen designed by Mal Corboy. Metallic flecks in the glass and sparkling LED lighting heighten the fresh effect. The cabinetry is in Resene Quarter Thorndon Cream.
pictures
Photograph by Kallan McLeod
Turquoise treat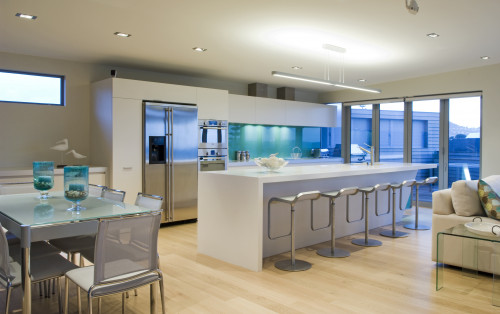 In this kitchen designed by Celia Visser, Resene Fountain Blue is used as a fresh summery accent colour; it's a shade that's been used throughout the living area.
Clever cut-away
A closer view of Celia's kitchen where a crafty cut-away on the island bench adds drama and character. The cabinetry is in Resene Eighth Thorndon Cream and splashback in Resene Fountain Blue.
Cutely retro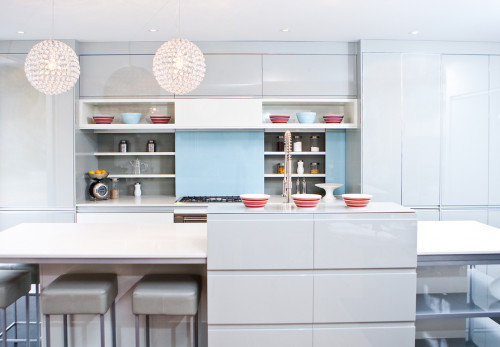 Rochelle Jackson of Wellington-based Kitchen Elements designed this cute retro-style kitchen with its pops of red and icy blue. The splashback is Resene Escape, the cabinets are Resene Quarter Tapa and Resene Sea Fog.
the look
If you're stuck on what
colour to use or need colour
advice, try out the Resene
Ask a Colour Expert service.
the look
If you're stuck on what
colour to use or need colour
advice, try out the Resene
Ask a Colour Expert service.