►
◄
latest
habitat tv
blog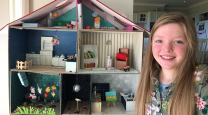 Know your whites: 13 whites and neutrals to consider (and how to pick one for your home)
When it comes to repainting your home, chances are your colour palette will include some off-whites – whether that's just for the trims and joinery or tip to toe. But how do you choose the right one? We're here to help with these fabulous white and neutral options to help you choose the right white for your home.
Whites and off-whites are influenced by other elements in the room and different areas of a space reflect light differently. For example, white paint under the window will look darker than it would be on the opposite wall. If your room is decked out in blue furniture, your white wall will take on those cool hues.
The first thing to decide when choosing a white is if you want your space to feel warmer or cooler. Cool whites work best with contemporary interiors that have lots of windows, whereas warm whites are best for older homes with smaller windows or limited light. Warmer whites are also better at hiding imperfections on walls.
If you're feeling overwhelmed by the vast array of whites, try taking the neutral ground. Soft mid-toned neutrals are the most popular wall colours, after white. Resene's range of neutrals are inspired by the natural environment and are well known for their versatility and calming ability.
Resene Spanish White and Resene Half Spanish White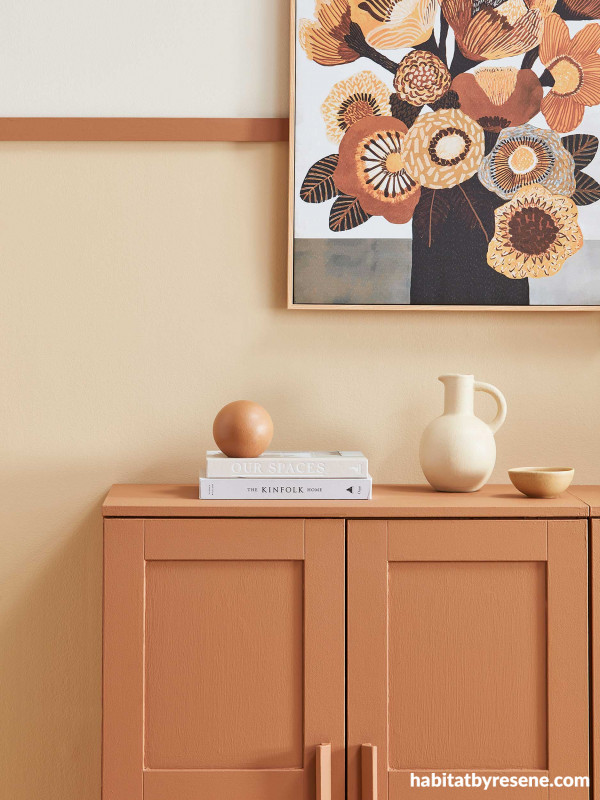 Resene Spanish White on the top half of this wall is paired with Resene Canterbury Clay on the lower half and Resene Brown Sugar on the dado batten to create a natural Tuscan inspired colour palette. The cabinet and the brown circular ornament are Resene Brown Sugar, the jug is Resene Bone and the small dish is Resene Calico. Artwork is Harvest Bunch by Kirsten Katz. Project by Vanessa Nouwens. Image by Wendy Fenwick.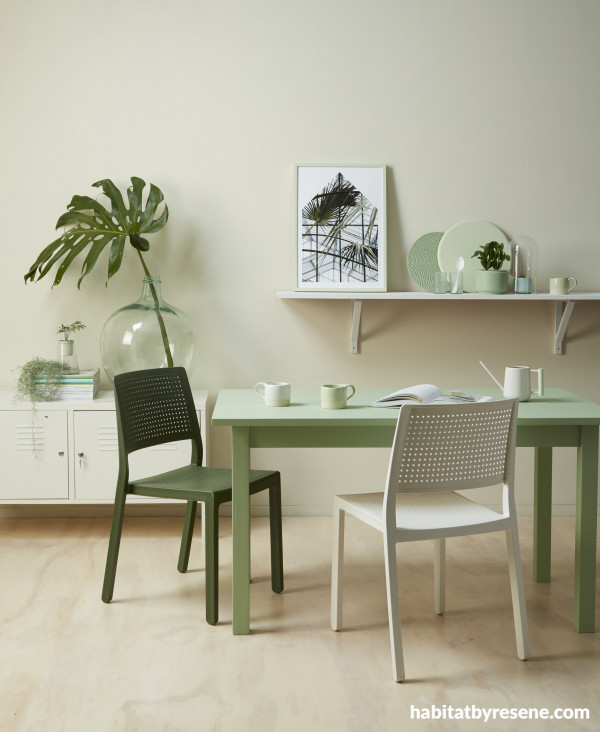 Resene Half Spanish White is the perfect white to complement a Resene Colorwood Whitewash floor. Tonal greens soften the look with Resene Nourish on the table, round pot and placemat (on the shelf), Resene Aura on the picture frame and Resene Kandinsky on the board on the shelf. The shelf is Resene Poured Milk. Project by Kate Alexander. Image by Bryce Carleton.
What it looks like: Resene Spanish White is a classic white with a yellow base. It is a neutral that will be influenced by surrounding colours and light making it very versatile.
Where to use it: Resene Spanish White looks great in heritage homes where a bright white would be too stark. It looks great paired with classic décor or beachy, wicker furniture.
Best friend colour: Pair Resene Spanish White with red-based or warmer paints, such as Resene Vintage; a Victorian rose colour that blends red oxide and pastel pink or Resene Brown Sugar a sweet, homely brown. Or try leafy greens such as Resene Nourish for botanical freshness.
Resene Black White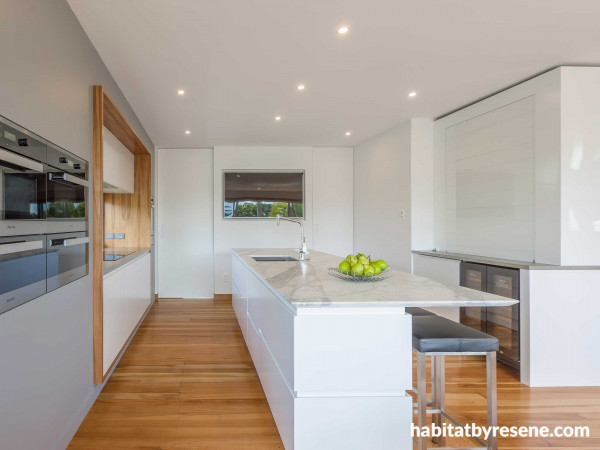 Homeowner Cameron of Oamaru gave his kitchen a crisp finish with a Resene Half Gauntlet feature wall and a lick of Resene Black White on the surrounding walls, cabinets and ceiling.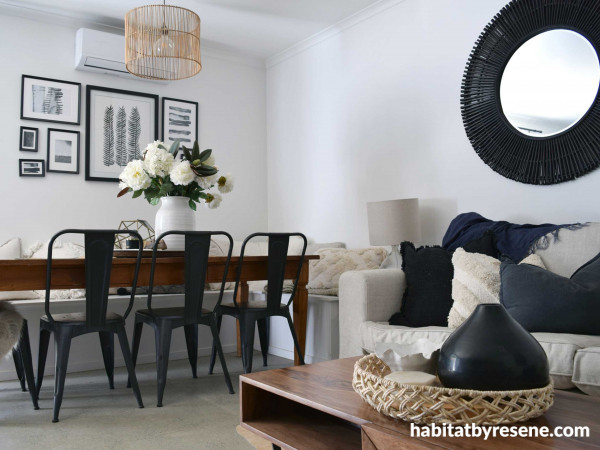 The owners of this Waikato home used Resene Black White on walls and ceilings throughout this home to maximise the sense of space. Impact and interest are added with bold contrasting furnishings.
What it looks like: Resene Black White is chalky and soft. With a cool, grey base, Resene Black White is a favourite for those going for a minimalist aesthetic and is Resene's top-selling paint colour.
Where to use it: Use Resene Black White in areas where you want a crisp finish or where cleanliness is important. It looks great in kitchens and bathrooms, or as a trim in modern homes. Resene Black White works well with minimalist furniture or Scandi-style designs.
Best friend colour: Pair Resene Black White with warmer colours to ensure your room doesn't look too clinical. Pairing it with wood works well, or try warmer greys such as Resene Double Truffle, a delicate mix of white, taupe and oyster. For a monochrome look pair Resene Black White with a true black such as Resene All Black or Resene Ironsand on an exterior.
Resene Merino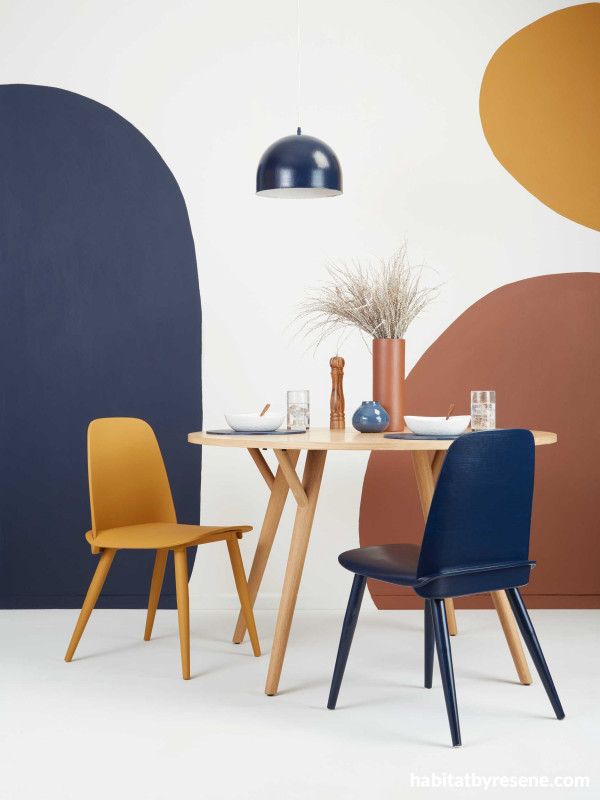 Resene Merino is the perfect base for a colourful feature wall. This feature wall uses Resene Indian Ink, Resene Desperado and Resene Swiss Caramel to create a fun and contemporary palette. Project by Vanessa Nouwens. Image by Bryce Carleton.
What it looks like: Resene Merino is a softened white. It is slightly off-white with a green oxide undertone, making it incredible versatile and light.
Where to use it: Resene Merino is good for taking the visual heat out of north-facing rooms. Cool whites such as Resene Merino are best suited to more contemporary interiors where they can off-set the warm light from the larger windows.
Best friend colour: Pair Resene Merino with blue-toned greys such as Resene Gull Grey; a simple pastel grey tone.
Resene Alabaster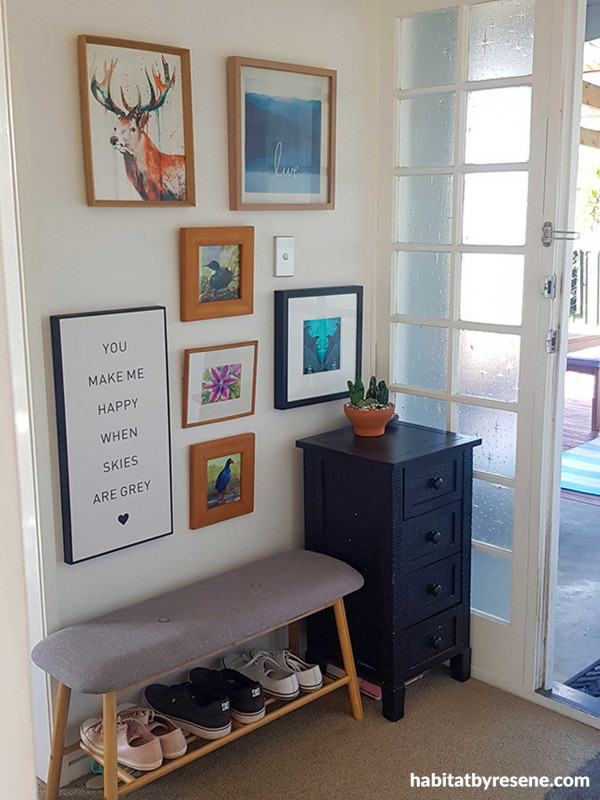 Homeowners Kirsty and Tory achieved a calm and clean atmosphere in their entryway by painting the walls in Resene Alabaster.
What it looks like: Resene Alabaster is a timeless favourite and one of Resene's most popular colours. It is a near white with a lightly blackened edge to it.
Where to use it: Resene Alabaster works well as a support colour and is great for trims or ceilings. Use it on walls where you have several different elements going on, such as walls covered in photographs, paintings or lamps. No matter their colour, Resene Alabaster will ensure that your artwork and photographs work cohesively on the wall.
Best friend colour: Resene Alabaster goes with just about any other paint colour. From cheerful Resene Buttercup to moody and brooding Resene Indian Ink, you're sure to create a great palette with Resene Alabaster.
Resene Rice Cake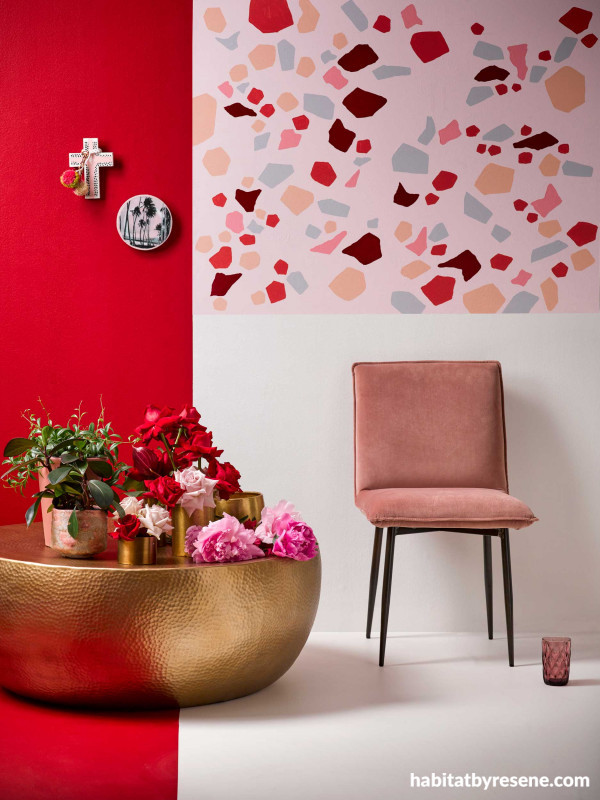 Resene Rice Cake is the base for this bright and modern space with a fun wall pattern featuring Resene Burnt Crimson, Resene Negroni and Resene Longitude. The side wall is in Resene Red Berry. Project by Amber Armitage.
What it looks like: Resene Rice Cake is a green-edged white. It is sharp and clean, providing a compelling springboard for bright colours.
Where to use it: Because green is made up of cool blue and warm yellow, Resene Rice Cake's green-edged white hue can morph with the changes in light quality. It can appear warm one minute and cool the next. Because of this, Resene Rice Cake can work well in south-facing living areas or in bedrooms when paired with warmer coloured décor.
Best friend colour: Resene Rice Cake naturally goes well with greens, so increase your number of houseplants or pair it with Resene Caper; an herbal green with considerable depth.
Resene Quarter Tea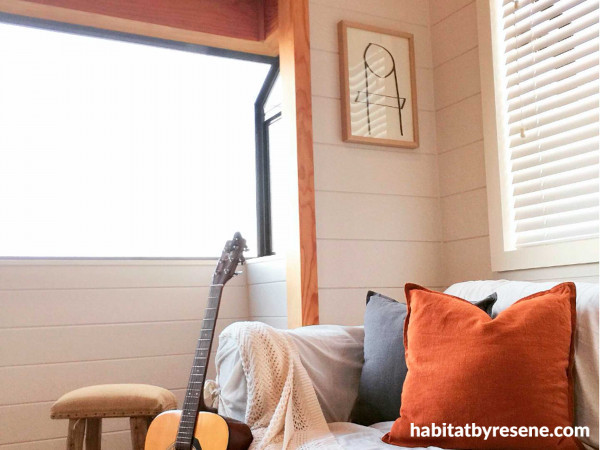 Homeowner Nathalie's family room in her Lockwood was transformed into a cosy haven using Resene Quarter Tea for the walls. The timber panelling around the window was sanded back and finished with Resene Aquaclear.
What it looks like: Resene Quarter Tea is a complex beige with hints of grey and green.
Where to use it: Resene Quarter Tea is Resene's 11th most popular paint colour and various strengths of this colour have been in the Resene top 10 for more than a decade. It is ideal in rooms where a pure white would be too harsh, or spaces where you want to establish a sense of calm, such as a library.
Best friend colour: Resene Tea goes well with dark oxide greens or a muted aqua, such as Resene Cascade.
Resene Napa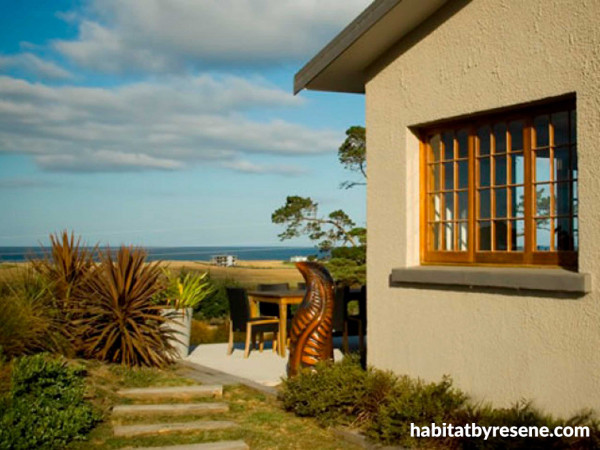 Homeowners John and Anne embraced their beachside paradise and painted the exterior of Hiwi Cottage a sandy Resene Napa, with Resene Triple Napa on the windowsills.
What it looks like: Resene Napa is a biscuit brown, warm, earthy and reminiscent of snuggling up with some tea and toast.
Where to use it: As a smoky grey beige neutral, Resene Napa works best as an exterior colour. It is sandy and earthy, the perfect combination to blend your home into a serene coastal or rugged mountain environment.
Best friend colour: Resene Napa is best friends with colours with a green edge or deeper grey browns such as Resene Masala.
Resene Pavlova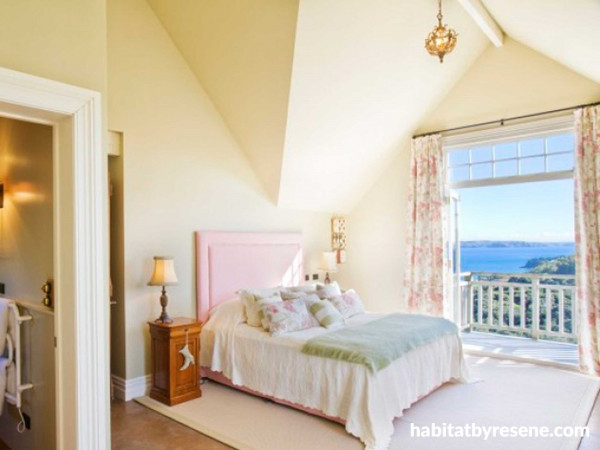 Homeowners David and Dee blended English colonial with Mediterranean when they repainted their home with a rustic colour scheme. They painted the guest bedroom in creamy Resene Pavlova.
What it looks like: A quintessential Kiwi colour, Resene Pavlova is a strong neutral cream with a hint of green.
Where to use it: Resene Pavlova exudes warmth and is best used in south-facing bedrooms or studies.
Best friend colour: Pair Resene Pavlova with deep creams and dusky ochre tones. Highlight its warmer hues with rich reds or oranges, such as Resene Vixen; a deep burnt orange red.
Resene Quarter Stack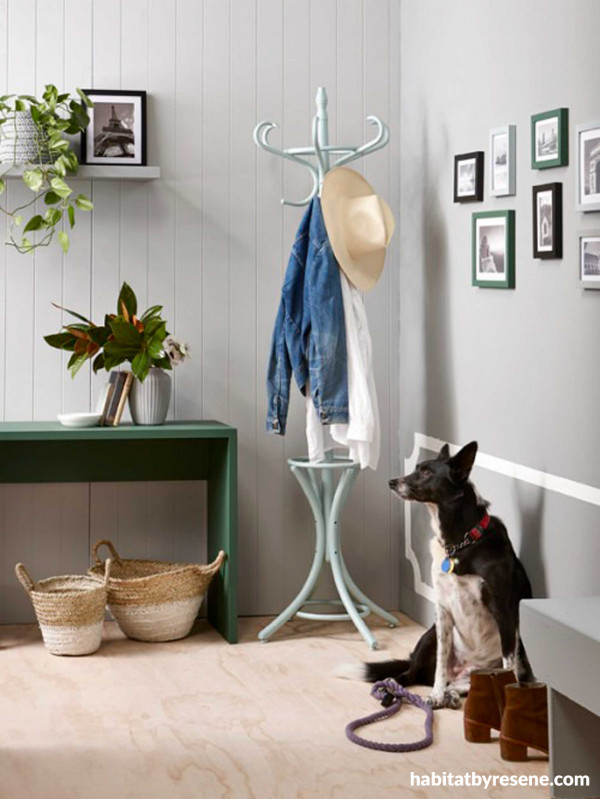 This hallway was transformed using Resene Quarter Stack on the walls and Resene Colorwood Whitewash on the floors. Project by Gem Adams.
What it looks like: Resene Quarter Stack is a pale mortar grey touched with white. It is versatile and lighter in tone than its military grey namesake, Resene Stack.
Where to use it: Use Resene Quarter Stack in areas where you want a crisp, clean and urban atmosphere. It is a cooler colour, so is best used in modern bathrooms or as a feature wall in a minimalist kitchen.
Best friend colour: Resene Quarter Stack can be lightened by using a crisp white, such as Resene Black White, on the trim or ceiling of a room.
Resene Biscotti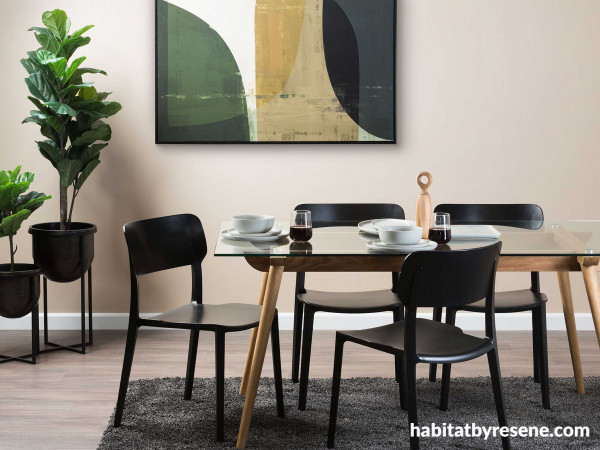 Resene Biscotti is the perfect example of how an elegant beige can add interest and character to a room. It works harmoniously with the black chairs and the colourful abstract artwork. Image courtesy of Nood.
What it looks like: Resene Biscotti is an elegant biscuit beige, silky soft with just a hint of cameo.
Where to use it: Use Resene Biscotti in south facing rooms that don't get much light. Its subtle beige tone will offset the bluer hues of shadows and make the room feel cosier.
Best friend colour: Warm up your space even further by pairing Resene Biscotti with sunbaked Resene Wild West for a summery afternoon feel.
Resene Sea Fog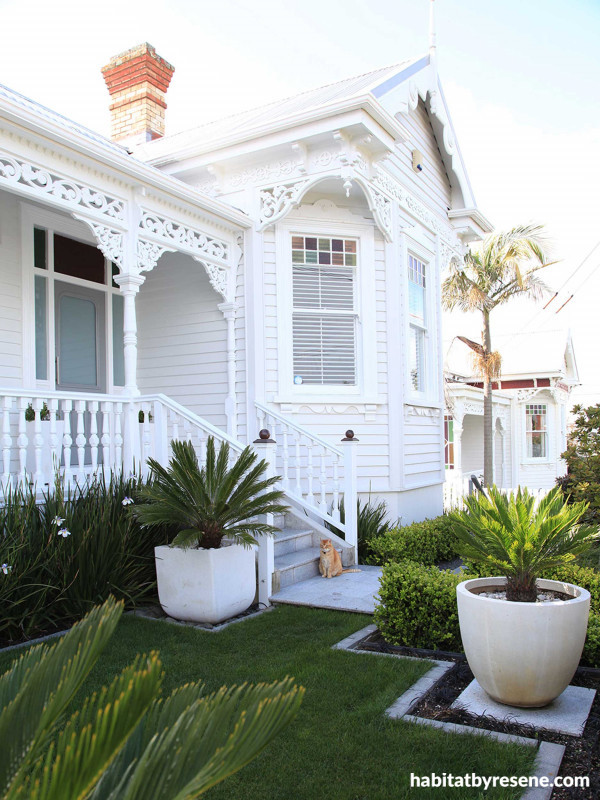 Garry from Ardmore Architects chose an elegant colour scheme for his own villa. He used Resene Sea Fog on the weatherboards and Resene White for the trim.
What it looks like: Resene Sea Fog is a grey-edged white that is extremely versatile.
Where to use it: Resene Sea Fog is perfect for interior or exterior use. When painting an exterior, it's best to steer clear of bright whites. Resene Sea Fog's hint of grey means it works well in both urban and more natural environments.
Best friend colour: Resene Sea Fog is best used with muted rather than bright colours. One of its best friends is Resene Delta; a warm ochre-tinted grey.
Resene Pearl Lusta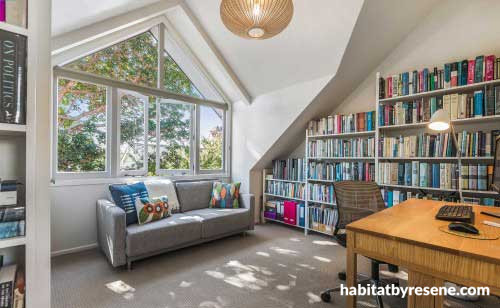 Kate Alexander of Places & Graces chose Resene Pearl Lusta for the walls and ceilings of this home office in this Devonport home. The warm white highlights the architectural ceilings and diffuses some of the reflected green from the outside tree, keeping the room warm and bright.
What it looks like: Resene Pearl Lusta is a classic yellow cream which is cleaner than Resene Spanish White.
Where to use it: This warm white is great for south-facing rooms and works well in older homes with lots of character details.
Best friend colour:Resene Pearl Lusta looks lovely with warm shades such as reds, burgundies and red browns such as Resene Cab Sav, Resene Prairie Sand and Resene Burnt Crimson. Resene Pearl Lusta is also great paired with muted green blues such as Resene Duck Egg Blue and Resene Dusted Blue.
Published: 05 May 2021
Do you have a home full of wonderful Resene paint and colour? Send us some snaps by emailing [email protected].
the look
If you're stuck on what
colour to use or need colour
advice, try out the Resene
Ask a Colour Expert service.