►
◄
latest
habitat tv
blog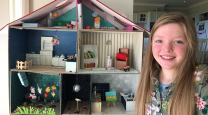 Laura and Jarred bring a colour boost to this beautiful Californian bungalow
With gorgeous colonial features, a rambling backyard and plenty of interior space on offer, it's no wonder Laura and Jarred Hedwig fell in love with this 1920s Californian-style bungalow when looking for a first home. Six years on, and it's been updated with beautiful Resene colours inside and out, giving it a contemporary presence while still maintaining its heritage charm.
When the couple purchased the property in 2014, it was in a bit of a state, having had no maintenance done in quite some time. Despite this, Laura and Jarred could see its potential – and with Laura being the lead interior architectural designer for RM Designs in Christchurch, they had her expertise to see through their vision through.
As part of the reno, the couple had a wall removed to open up the space between the kitchen and lounge, which was previously separated by the hallway. They made the lounge into their master bedroom and turned one of the other bedrooms into a sitting area. They ended up completely gutting the kitchen and starting from scratch, painting it in a neutral Resene Black White, which they also carried through to the open living and dining areas. They brought in the colour instead with a stained dressed timber feature (used as a kitchen island) and re-stained wooden doors in Resene Colorwood Deep Oak. Not only do the stained timber additions create texture and warmth, the colours also work well with the reclaimed brick fire surround in the living room. The neutral scheme carries on into the entryway, with panelling painted in Resene Orchid White and walls in Resene Foggy Grey. These in turn lighten up the space, while still keeping it inviting and warm. It also beautifully demonstrates the interest and layers that can be created by introducing multiple neutrals throughout a home over a 'one-colours-fits-all' approach.
It's when you reach the bedrooms that you can see where the couple had the most fun with richer hues. Laura and Jarred have two kids under five, and for their bedrooms they used sweet and happy colours. Resene Melting Moment features in four-year-old Millie's bedroom, a light golden yellow that pulls in the sunshine. In two-year-old Rupert's room, which looks immediately out to the lush garden, walls are painted in serene blue-green Resene Sorrento.
Perhaps the most beautiful use of colour in the bungalow can be found in the master bedroom, with walls painted in Resene Arthouse. The deep berry shade is offset by panelling painted in Resene Quarter Rice Cake, upcycled drawers stained in Resene Colorwood Deep Oak and a reupholstered window squab in a chartreuse velvet. It's these and other details, where clear effort has been put into renewing and refurbishing over purchasing new, that make the home feel truly authentic.
The bungalow's exterior was also given a pristine makeover. It now sits pretty with weatherboards painted in fresh Resene Green Spring and trims in Resene Orchid White. The kitchen and new sitting area have French doors that lead out to the deck, finished in Resene Lumbersider in Resene Triple Friar Grey. Beyond that is the garden, which means Laura and Jarred could be in the kitchen cooking and baking while still keeping an eye on the kids while they played outside.
Laura's advice for bringing new life to a bungalow like this one is to always keep in mind the heritage aspects of the architecture and be sympathetic to them. "An ultra-modern looking interior can beat odds with a heritage style home and not feel cohesive," she says. Keeping the balance of contemporary additions and celebrating the heritage features of the home are a key part of the renovation's success, one that is infused with loving attention to detail.
Laura and Jarred have since sold the home to another couple, who are planning to start their own family there. While Laura says she is up against a sea of brown walls in her current home, she has already repainted Millie's room in her new favourite colour, Resene Vintage. "It's a beautiful dusky rose pink that is very sophisticated and can continue to work as she grows up," she says. "Even Jarred said that it was great for a pink!"
Published: 06 May 2020
Do you have a home full of wonderful Resene paint and colour? Send us some snaps by emailing [email protected].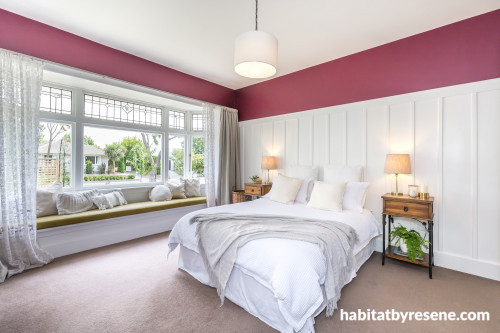 This 1920s California bungalow was updated with fresh contemporary colours, while allowing for its heritage features to shine. The master bedroom is the most colourful in the home, painted in red berry Resene Arthouse along the walls, with lower panelling painted in Resene Quarter Rice Cake. The ceiling is in Resene Quarter Bianca for added levity.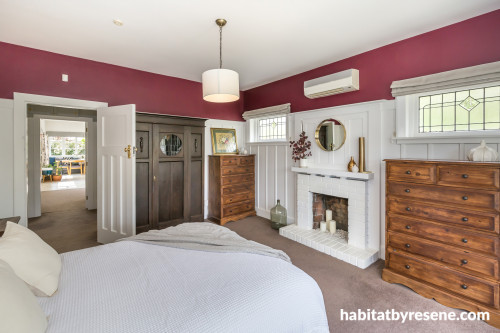 The colours throughout the home honour the balance of contemporary and heritage charm that Laura was aiming for. With modern Resene Arthouse on the walls of the master bedroom and Resene Quarter Rice Cake on the panelling, doors and fireplace surround, an old-world look has been brought in with dressers stained in Resene Deep Oak from the Resene Colorwood range. The ceiling is in Resene Quarter Bianca.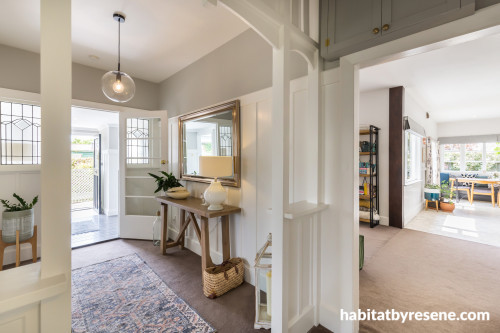 The entryway is a fresh and inviting introduction to the home. The panelling is painted Resene Quarter Rice Cake and is paired with upper walls in Resene Foggy Grey, giving it a warm, welcoming and modern look. Ceiling in Resene Quarter Bianca.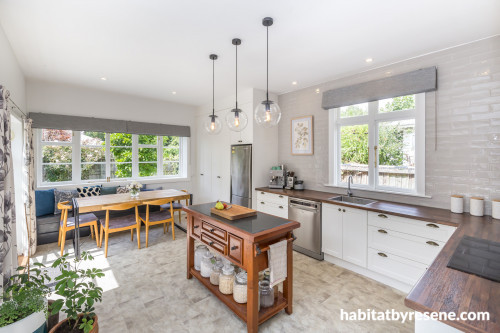 As part of the reno, the kitchen was completely gutted and turned into an open plan living, dining and kitchen area, with walls painted in Resene Black White and a ceiling in Resene Quarter Bianca.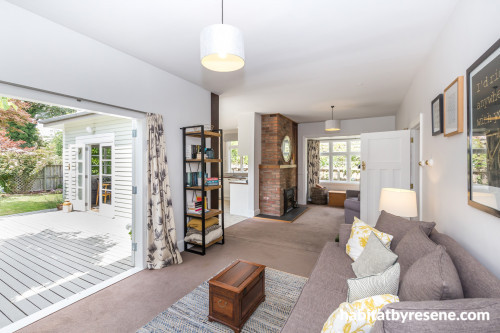 The kitchen opens into the living room, which shares an outlook onto the deck painted in Resene Triple Friar Grey. Resene Black White on the walls allows for natural light to bounce around the room, as well as highlighting the features of the floor-to-ceiling brick fireplace. The ceilings are in Resene Quarter Bianca. Looking outside, you can also catch a taste of the fresh-looking Resene Green Spring weatherboards trimmed with Resene Orchid White.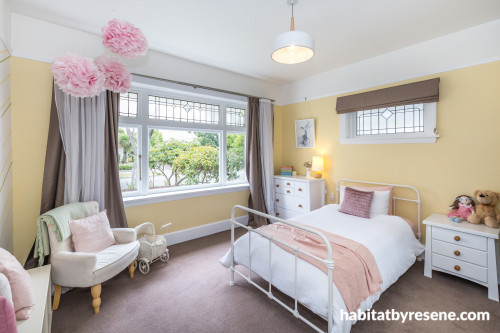 Four-year-old Millie's bedroom is painted in golden Resene Melting Moment and accented with accessories in different shades of pink and stone-hued carpeting and window treatments. Ceilings in Resene Quarter Bianca feature throughout the home while the trims are in Resene Quarter Rice Cake. To the left, you can see a glimpse of the chevron-patterned feature wall, painted in Resene Melting Moment and Resene Flourish, on a base of Resene Quarter Bianca.
In two-year-old Rupert's bedroom, walls were painted in serene Resene Sorrento, highlighting the view of the lush backyard outside. The ceiling is in Resene Quarter Bianca and trims are in Resene Quarter Rice Cake.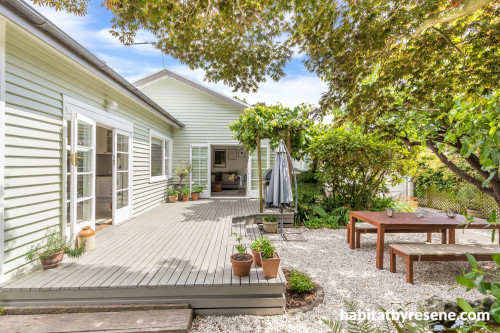 For the bungalow's exterior, the weatherboards were painted in fresh and welcoming Resene Green Spring, with trims in Resene Orchid White and a roof in Resene Friar Grey. The large deck, painted in Resene Triple Friar Grey, leads into both the kitchen and living room to allow for greater air and traffic flow during the warmer months.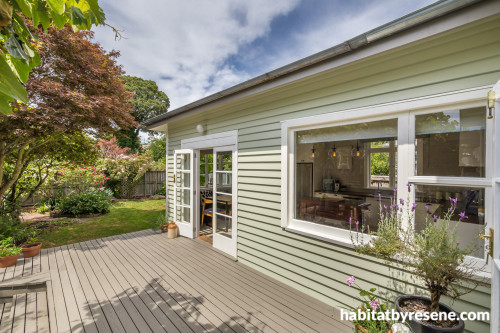 Large windows, with trims painted in Resene Orchid White, allow parents to be busy in their kitchen while also keeping an eye on the kids playing in the backyard. The weatherboards reflect the green garden, painted in Resene Green Spring while the roof and deck are both in Resene Triple Friar Grey.
design Laura Hedwig, RM Designs
images Adam Colley, Walkthrough
the look
If you're stuck on what
colour to use or need colour
advice, try out the Resene
Ask a Colour Expert service.