►
◄
latest
habitat tv
blog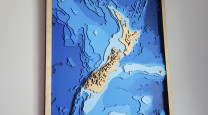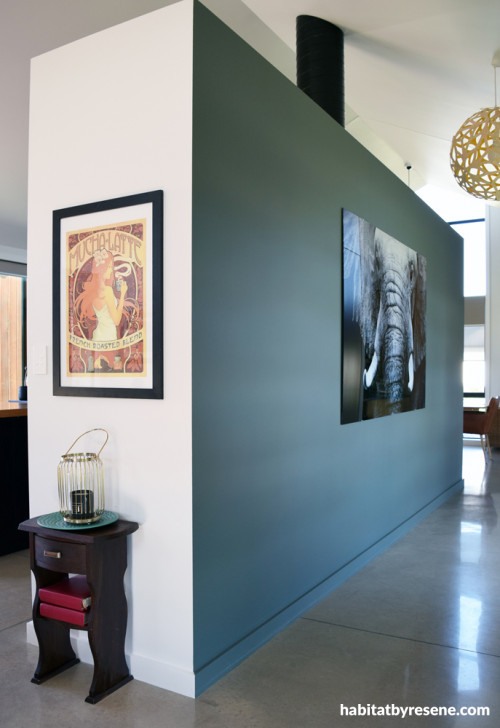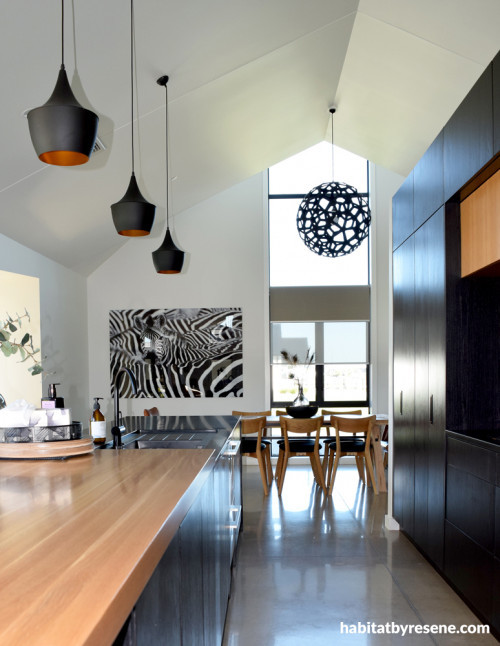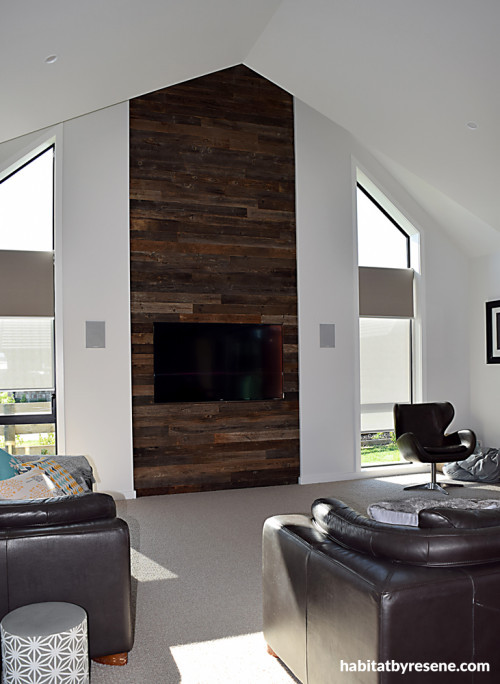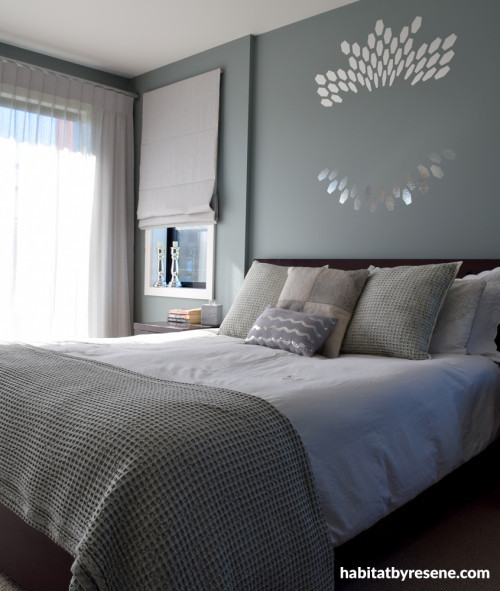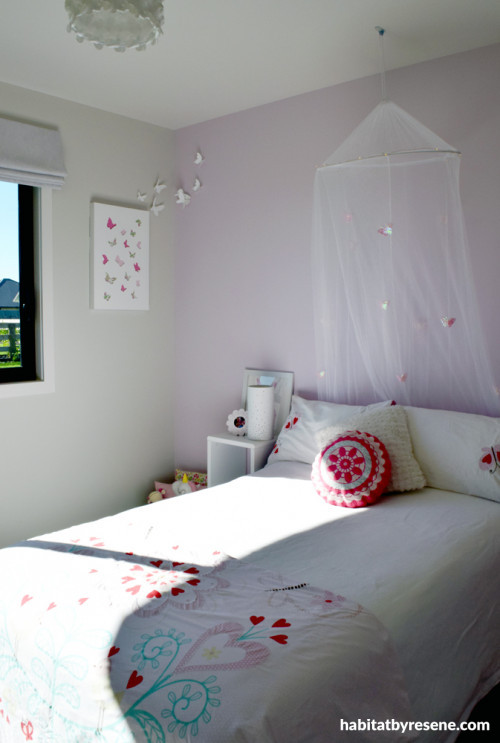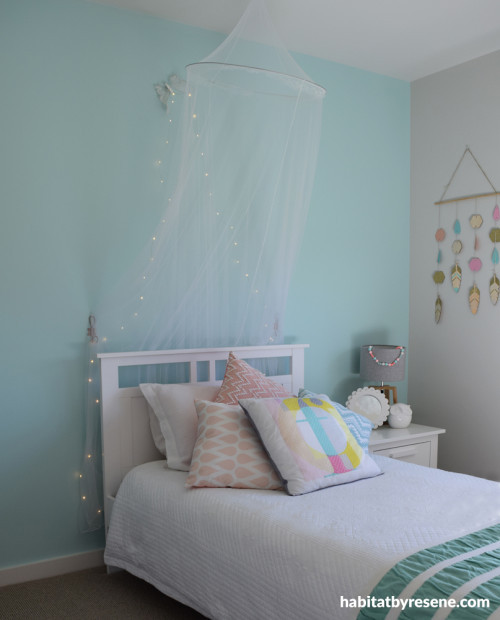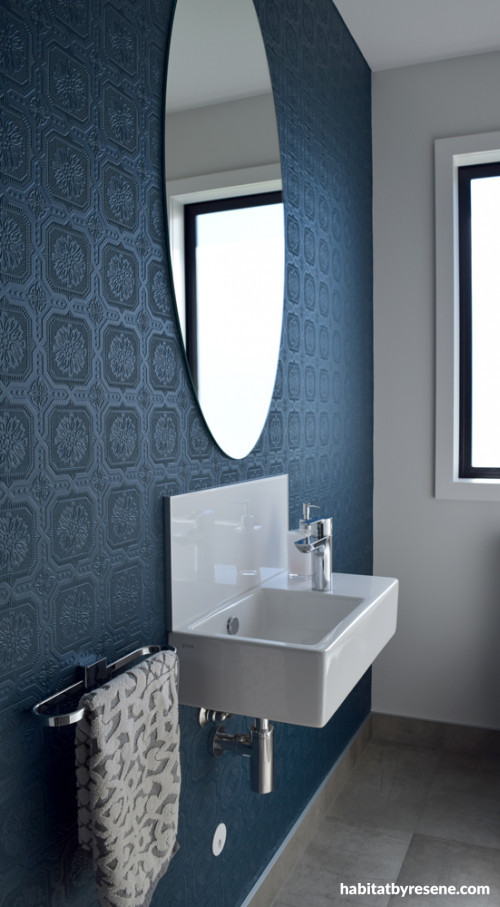 Lee and Kristin bring their modern barn to life
After living in a renovated state house with small wardrobes and cupboards, Kristin Turner's wish for her new home was to have open plan living, and the ability to see her daughters play outside from the kitchen and living area – as well as a lot more storage.
The rest was up to husband Lee, director at Turner Road Architecture, who was itching to create something of his own... a stunning modern barn style home, with high ceilings, clean lines, and restful Resene colours.
Kristin tells us more.
How did you decide on the overall look of the interiors?

Overall we tend to like a contemporary Scandinavian style with lots of light, natural and earthy elements and clean lines, but we're also keen on the use of texture and distressed features.
I like the Scandinavian style as a base but to me it can sometimes be a bit colourless. I tend to like more rustic character and colour added in. Lee likes some character but was still keen for the overall effect to be quite sharp and clean as well.
What part of the house are you most happy with?

For me the main living space – I love having the kitchen in the middle of the living area so I always feel part of what's going on. I'm also a big fan of high ceilings and the lofty sense of space it brings to that area of the house.
What was the biggest challenge for this project?

The paint colour for the toilet springs to mind. It was the only room in the house we couldn't seem to agree on. Lee was originally keen on Resene Galliano for the walls but, although I have nothing against yellow as a colour, I just wasn't keen on it for the toilet. I managed to talk him into Resene Elephant but had to compromise on having the whole room painted in it and just having the one feature wall.
Do you have a favourite colour, and if so why is it your favourite?

I really love Resene Reservoir, which is in my daughter Bella's room. I was initially worried that it might be overly bright and a bit garish but it is a lot more subtle once it's on the wall and it has a freshness that looks lovely in any light.
How did you find working with Resene paint and colours?

We generally knew the shades of colour we wanted but the problem was narrowing down the selection – Resene has so many beautiful colours. In the end we sought advice from Annique Heesen from Gezellig Interiors and she cleverly translated the sort of colours we were visualising into relevant Resene colour swatches.
Is there anyone you would like mentioned – builder, designers, painters?
My husband Lee Turner of Turner Road Architecture designed the house and managed the project.

Rob May Building were the builders and did an amazing job.
Emma Osment from HUS in Cambridge gave us great interior advice and stocks beautiful, timeless furniture. Our favourite large glass art pieces are from HUS and were perfect for the large walls in the entry, dining room and hallway.
Matt, Peter and the team at PMD Painting were fantastic. Their attention to detail and professionalism was second to none.
Published: 06 Jul 2017
Do you have a home full of wonderful Resene paint and colour? Send us some snaps by emailing [email protected].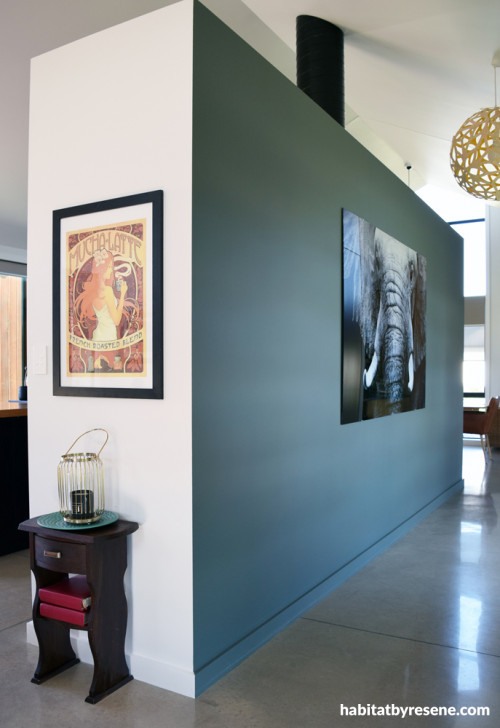 Lee and Kristin wanted to bring some colour and interest to the entry way, but in keeping with natural tones. Resene Easy Rider on the walls works well with the lighter American oak timber and the burnt yellow within the David Trubridge pendant light. Resene Sea Fog is painted on the other walls.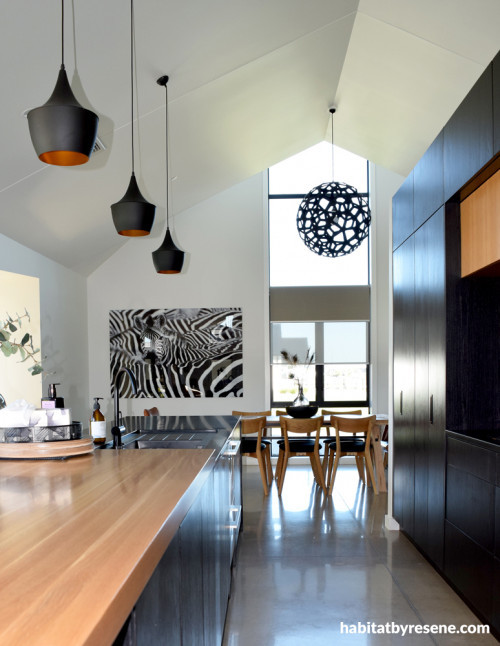 As a contrast to the black timber in the kitchen, and to add brightness and light, the couple painted the kitchen Resene Sea Fog, with Resene Half Sea Fog on the ceiling.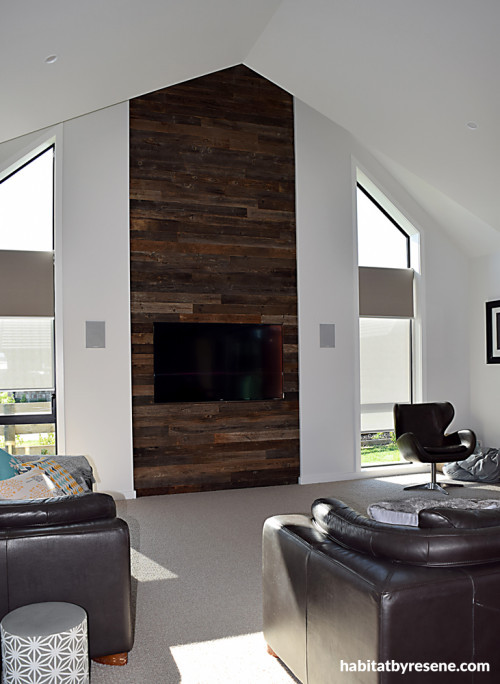 For the main living areas, they wanted a grey white to give a softer, more muted feel. The walls are painted in Resene Sea Fog, and ceiling in Resene Half Sea Fog.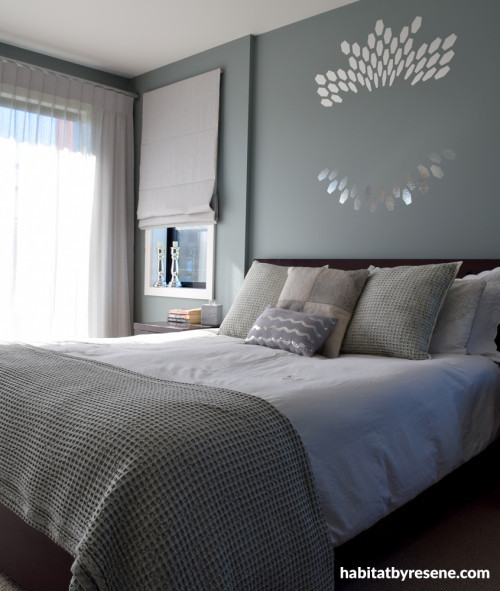 For the master bedroom, Lee and Kristin wanted a luxurious, cosy feel, painting the walls in Resene Inside Back for a sense of snugness. The ceiling is painted in Resene Half Sea Fog.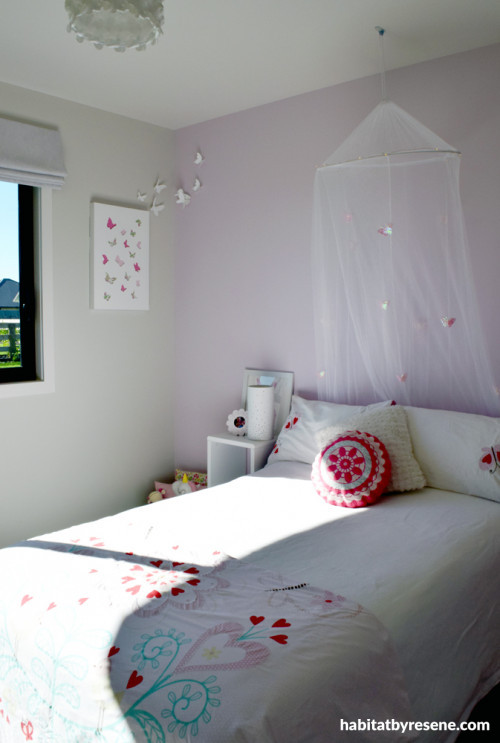 Six-year-old Emme chose pink for her bedroom, but Kristin was keen to steer clear of anything too bright or lolly pink that her daughter might tire of quickly. She focused on more dusky and pale pastel shades, painting the room in Resene Abercrombie and Resene Milk White. The ceiling is painted in Resene Half Milk White.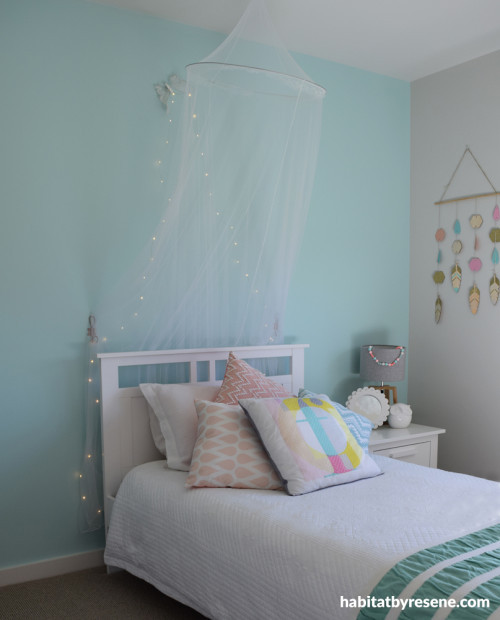 For eight-year-old Bella's bedroom, they wanted something clean, contemporary and restful. The room is painted in Resene Reservoir and Resene Milk White, which ties in nicely with the coral, copper and white accents in her room. The ceiling is painted in Resene Half Milk White.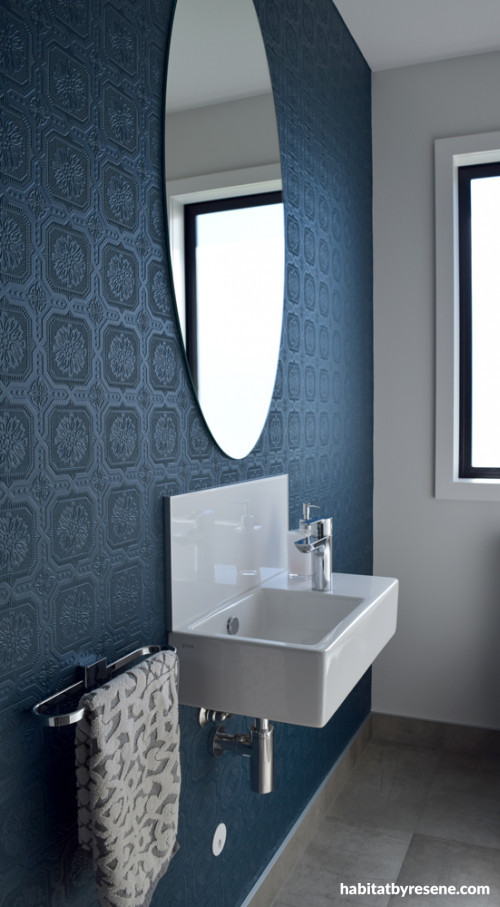 In the bathroom, the angaglypta wallpaper on the walls was originally painted black. Lee and Kristin felt black was too dark for such a small room but still wanted something a bit more dramatic and intense... they repainted it in Resene Elephant. The wallpaper is from Resene, but out of stock. Get a similar look with Anaglypta 2011 Code RD0151, available from Resene ColorShops.
















the look
If you're stuck on what
colour to use or need colour
advice, try out the Resene
Ask a Colour Expert service.