►
◄
latest
habitat tv
blog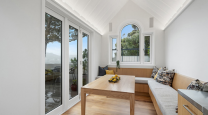 Master Builders' Chief Executive David Kelly shares his tips for building in the challenging climate.

Planning... more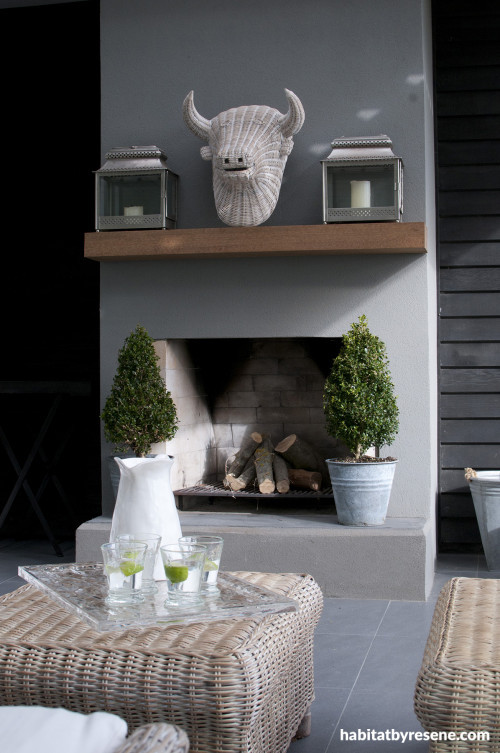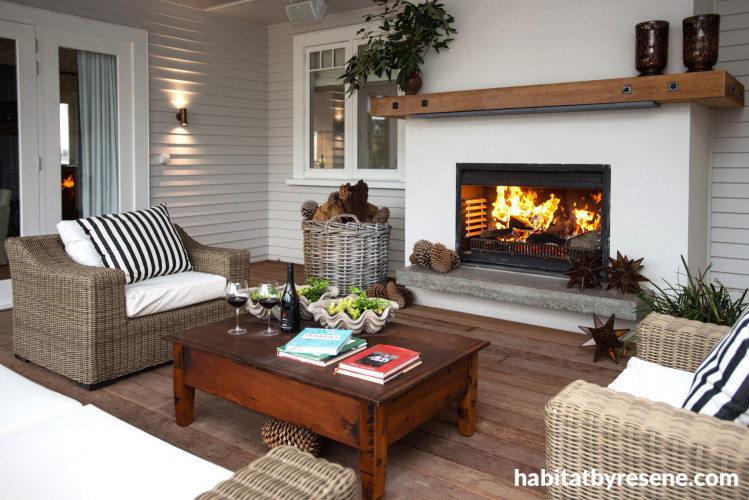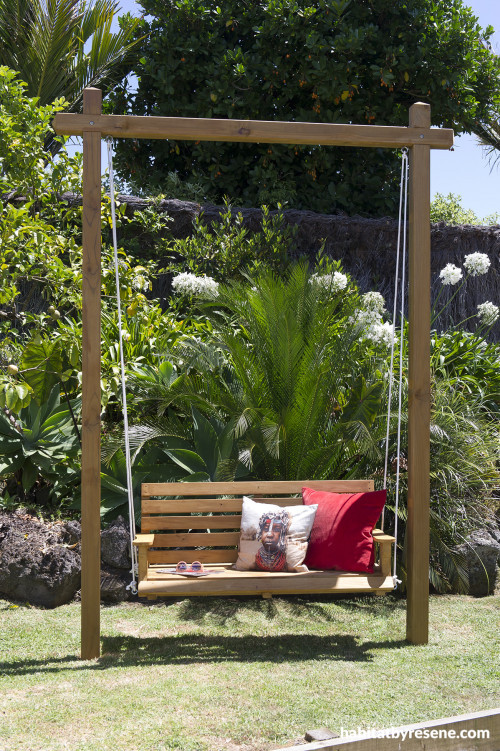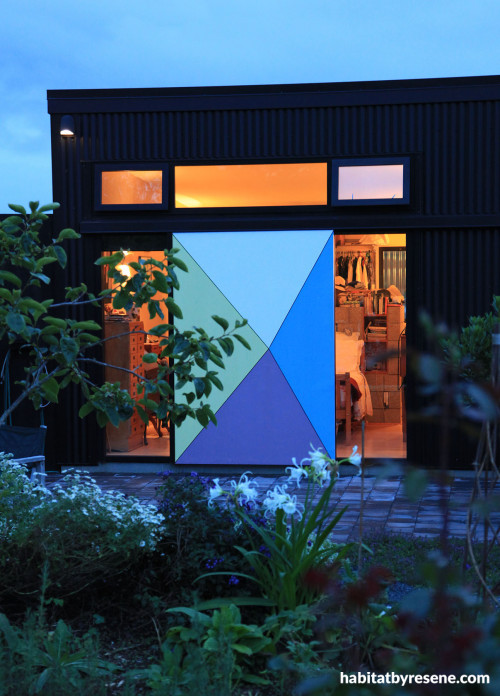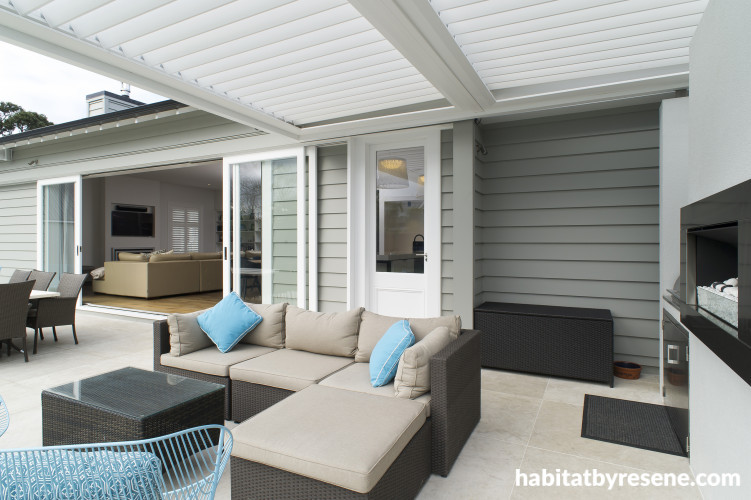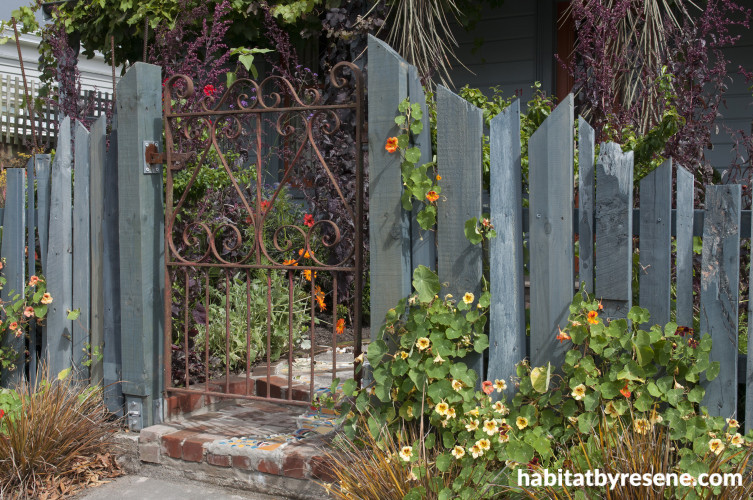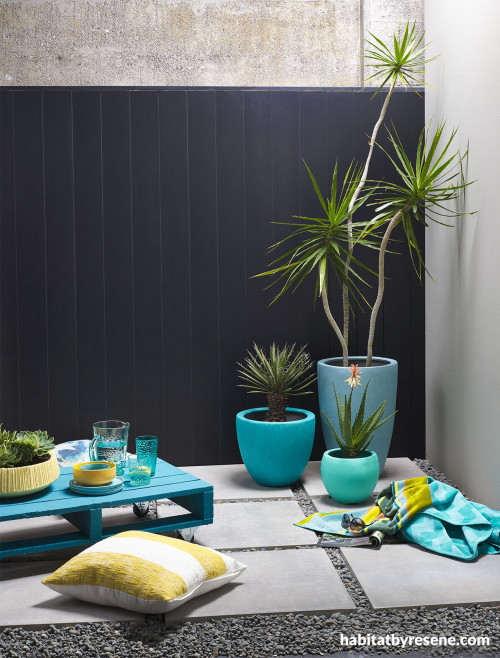 Let's lead you up the garden path – beautiful outdoor looks
What is it about our psyche that as soon as we have a higher-than-18-degrees sunny day, we look out the window and think: "Got to get the garden sorted."
During winter we may have pretty much ignored the garden, let moss grow on the paths, let the deck discolour and the outdoor furniture take a battering from the weather.
Don't despair, some of those are easily fixed by some clever Resene products (see below). They haven't invented anything to help with the weeding unfortunately, which is said to be our most-hated garden activity. So let's forget that for the moment, and concentrate on other parts of our outdoor areas.
The outdoor room
Yes, these really are rooms now – with sofas, fireplace, rugs, a coffee table. The 'walls' may be the exterior walls of the house, a large sliding door from inside and may be joined by roll-down blinds or roll-away shutters for wind and sun protection. The 'roof' may be an umbrella, an open pergola, a solid veranda or pergola, translucent roofing, or an automated louvre.
The 'kitchen' could be a modest open-topped barbecue, or a full-on hooded number built into a custom-made bench. The 'heater' might be a fireplace, a firepit, a brazier or… nothing.
When it comes to style, it's best to make these spaces a visual extension of the interiors. One variation you might make is to use colours that are more muddied and greyed off. These non-glaring tones are a better choice for the strong sunlight at this end of the world, are a great backdrop to plants, and they blend beautifully with other natural elements in the garden.
The exterior walls of our house also become an important colour element in our garden schemes particularly around any outdoor living area – just like the interior walls of our house, choose furniture and accessories that work in with the colour of the cladding.
Top tip: Paint or stain your boundary fences in a black or almost black colour, such as Resene Nero or Resene Crowshead. This will not only provide a neutral backdrop for the plants in front, but will make the fence appear to recede and therefore visually expand the size of your garden, no matter how small.
Keep it looking good
Exposed to the elements, the surfaces of our garden and outdoor living areas are subject to wear and tear… even when we're not actively using them.
Resene has a few products to help keep decks, paths and the exteriors of our houses looking good for longer.
If your deck and outdoor furniture is looking a bit drab, use Resene Furniture and Decking Oil to give it a fresh look. It enhances and restores the timber colour and protects against water, fungi, and UV light, and should be reapplied each year.
Or use one of the many colours from the Resene Woodsman stains range to rejuvenate your timber surfaces. Or a colour from the Resene Concrete Stain range to give your concrete surfaces a new look.
If you're worried about slippery paths or decks, use Resene Non-Skid Deck and Path paint. It can be tinted to many colours in the Resene range and the finish has a comfortable grit texture, reducing the risk of accident no matter what the weather.
If you've chosen a dark paint colour to use outside, use Resene CoolColour paint. It reflects more of the sun's heat than normal paint, protecting both the coating and the surface beneath.
Published: 31 Dec 2015
Do you have a home full of wonderful Resene paint and colour? Send us some snaps by emailing [email protected].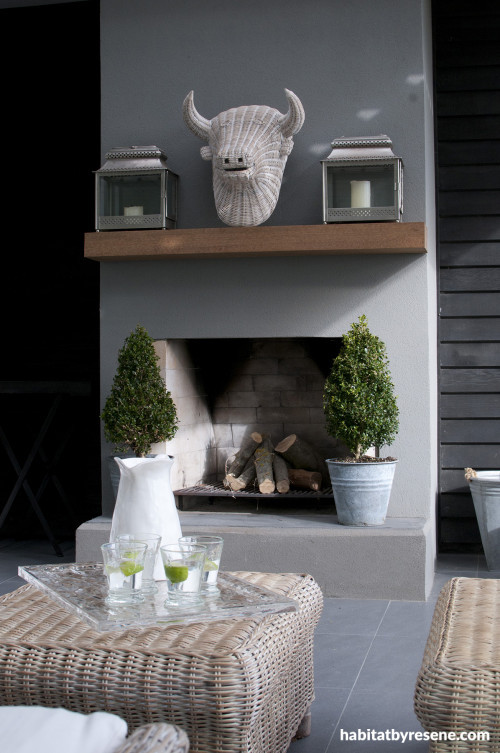 A European aesthetic is enhanced with symmetrically placed candle lanterns and clipped buxus in galvanised buckets in this scheme designed by Bridget Foley. The house was designed by Bevin Slessor Architects, who specified Resene Woodsman Pitch Black for the weatherboards. The concrete rendered face of the fireplace was left raw.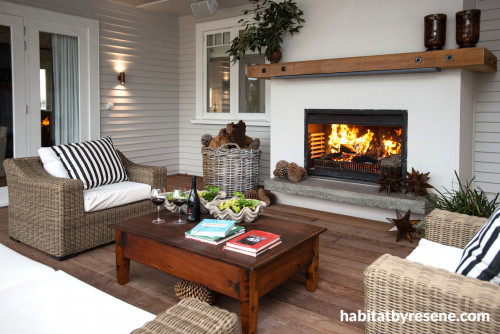 A concrete hearth and chunky timber mantel anchor this large custom-built fireplace in a house designed by Clarkson Architects. The weatherboards and chimney are in Resene Double White Pointer and the rest of the area was created by interior designer Kate Shanahan.
pictures
Sally Tagg, Juliet Nicolas, Tim Whittaker, Mark Heaslip, Melanie Jenkins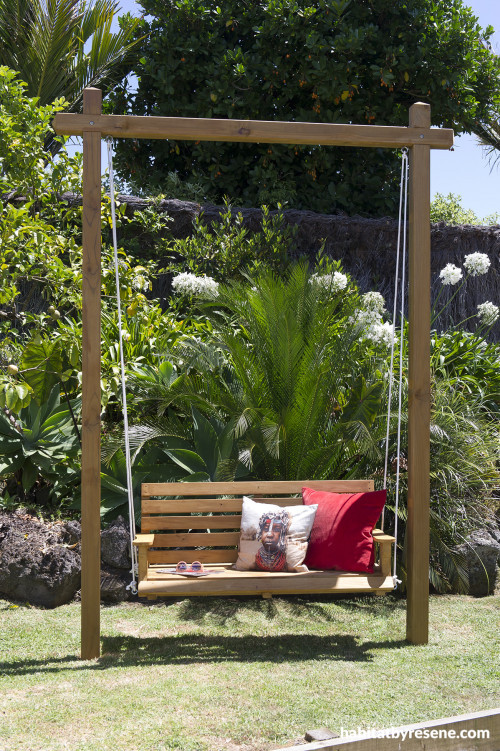 How about building your own swing seat with a bit of help from Hirepool and Resene? This is finished in Resene Waterborne Woodsman stain in Resene Natural, and you'll find instructions on how to make it in a recent issue of habitat.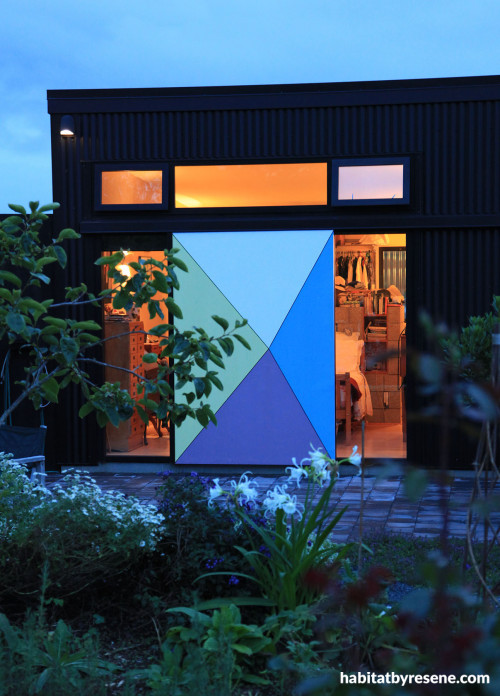 The hero of John and Caroline's Locke's property was always the incredible garden. Their house, designed by their son Tom Locke, was always meant to be a recessive backdrop… except for the door. Using Le Corbusier's 1950s designs as inspiration, it punctuates the otherwise black corrugate house.
The door is painted in Resene Pearl Lusta (an off-white which has taken on a pale blue tone in this dusk shot), Resene De Janeiro (mauve), Resene Paris Daisy (yellow, which looks green here with the night lighting) and Resene Jordy Blue.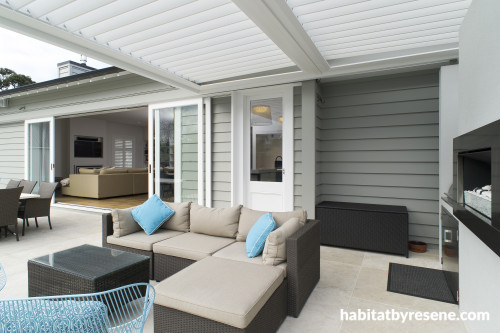 This outdoor room carries on the interior themes of the house. The fire surround is painted in Resene Eighth Tapa, the weatherboards are Resene Half Tapa and the trims are Resene Quarter Sea Fog. See more of this house in the latest habitat magazine.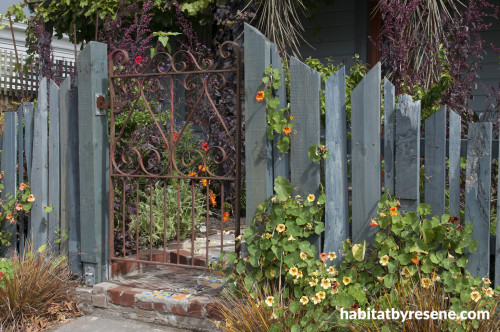 Who said a fence had to be straight? This quirky design is in Robyn Kilty's garden and perfectly frames an old rusty iron gate. It's stained in Resene Pickled Bluewood from the Resene Waterborne Woodsman range.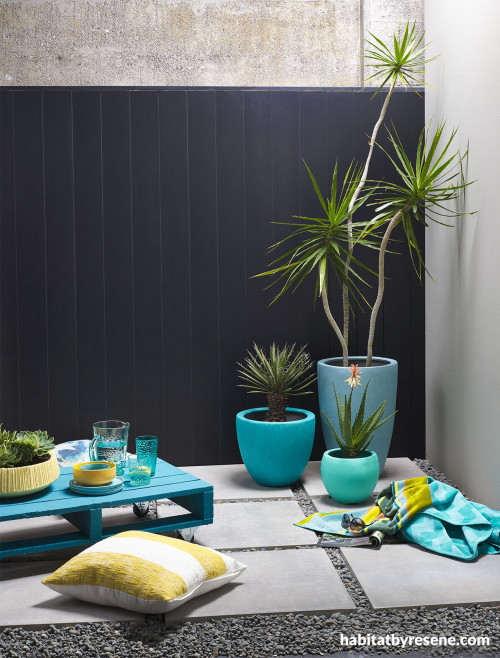 A fence in Resene All Black is the perfect backdrop for a Mexican-inspired colour scheme of bold turquoise and soft mustard yellow.
The upcycled pallet table is painted in Resene Dauntless with pots in Resene Ziggurat, Resene Java, Resene Dali and Resene Chenin (the yellow one on the table). The house wall on the right is Resene Double Truffle, and the concrete pavers have been stained in Resene Bleached Grey from the Resene Concrete Stain range.
Styled by Claudia Kozub, this setting appears on our most recent habitat cover. Visit habitat tv to see how this look was put together, plus more cool ideas with Resene paint.