►
◄
latest
habitat tv
blog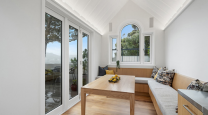 Master Builders' Chief Executive David Kelly shares his tips for building in the challenging climate.

Planning... more
Lisa calls in the colour pros for a refined revival
After doing some research on Sunday drives, Lisa knew that she wanted to go grey to update the exterior of her 1947 Wellington home. The tricky part was deciding which shades of Resene grey would best suit its character.
Extensions had been previously added to the house in the 1980s, including a master bedroom and ensuite. The plan this time around was to push out another side of the house to increase the bedroom sizes and add an extra room that Lisa and her eight-year-old twins, Liam and Ruby, now use as a playroom and office.
With a full exterior and interior redecorating programme on her hands, Lisa opted to use a Resene colour consultant to help her narrow down her colour choices. The result is an exterior that is fresh and crisp, perfectly complementing the new-look neutral palette on the inside.
Lisa takes us through her ambitious renovation.
What design and decorating challenges did your home present?
The house was tidy when I bought it, but the paint job and plastering throughout was terrible. All the doors and wardrobes were painted to match the wall colours so the whole house was a mix of colours and styles. Relining all the walls wasn't in my budget, so having to prep and paint over old walls, strip layers of old wallpaper and try to achieve a finish that looked great was hard.
What Resene colours and products have you used and what inspired those choices?
I decided to hire a Resene colour consultant who came around, discussed options and put together a full booklet with colour selections and samples based on our discussions.
It was from those recommendations I decided on the exterior colour combination of Resene Silver Chalice with Resene Black White on the frames and Resene Nocturnal on the base and deck to tie in with the new COLORSTEEL® roof. I roped in the help of my parents and two of my brothers to help paint the exterior.
Top tip: Check out the Resene Whites & Neutrals colour collection for a range of great tonal selections that can be used for the exterior and interior of any style of home.
On the interior, I started using Resene Eighth Akaroa as the base colour for the bedrooms, TV room and study. The TV room already had a dark blue feature wall which I loved but it wasn't well painted, so I chose Resene New Denim Blue to go over it and Resene Powder Blue for the playroom/office next to it. I loved the Resene Powder Blue so much I used it in the ensuite also for a crisp, light-coloured background.
I painted the main living room in Resene Half Parchment which I love and had used in my previous house. I like how it picks up accent colours so each room takes on a different hue depending on the shades of the curtains or carpet, but each room still flows nicely from one to the next.
I found the drawers in Liam's room at the dump shop for $20. I love the shape of the legs, and with a good sand and repaint in Resene Gold metallic, they came up a treat.
How did you decide on the overall look of the interiors?
I love Art Deco and antique items that are a bit quirky, but I also don't like it to look too busy. I go with a few pieces I love against a fairly neutral background. I do spend way too much time on Pinterest and reading magazines to get ideas for looks I like.
What part of the house are you most happy with?
I love the TV room as it's cosy and snug. I love the playroom colour too and it's great to have a space in the house for all the kids' toys instead of having to have them all over the living area.
What is your advice for someone trying to achieve a similar look?
With so many colour choices, definitely use the Resene colour consultants. Their advice is invaluable and it saves wasting a lot of money and time on a paint colour you don't like.
To get help with your colour scheme, go to www.resene.com/colourexpert. Advice is available free online and free in-store at Resene ColorShops. Or for you can book an onsite visit through selected Resene ColorShops or online and the Resene colour specialist will come to you (charge applies).
Published: 14 Feb 2019
Do you have a home full of wonderful Resene paint and colour? Send us some snaps by emailing [email protected].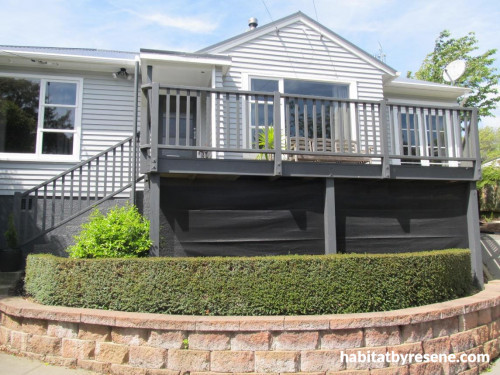 Resene Silver Chalice weatherboards with Resene Black White trim on a Resene Nocturnal base has given the outside of Lisa's home a crisp, fresh revival.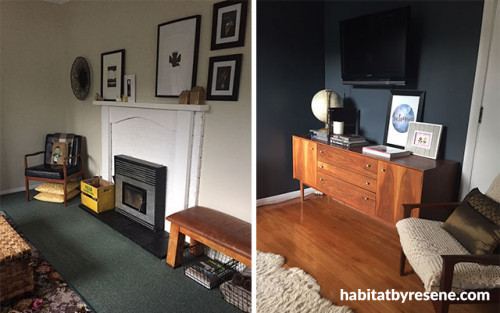 Lisa loves her Resene Half Parchment walls in the main living room for the way the colour seems to change depending on what other colours it's paired with. The Resene New Denim Blue gives the TV room a cosy, warm feel.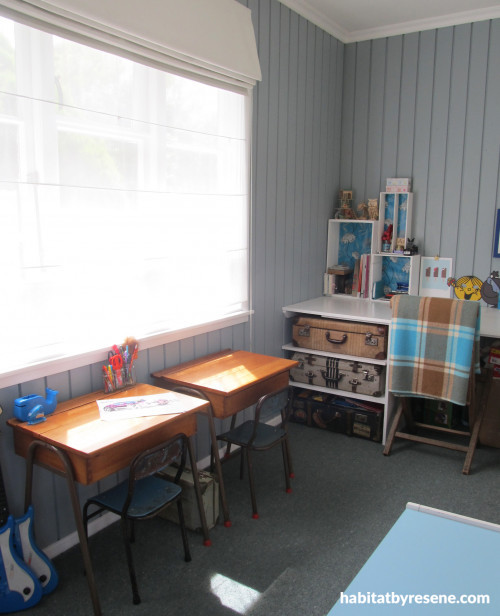 Resene Powder Blue in the playroom has ended up being one of Lisa's favourite colours inside the home.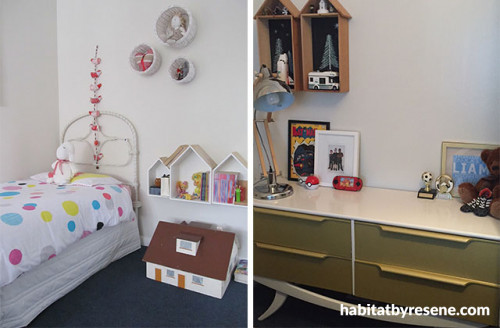 Resene Eighth Akaroa was used as a base colour for the bedrooms, with accents of colour added in the decoration. The drawers were a unique dump store find, painted in Resene FX Metallic Gold.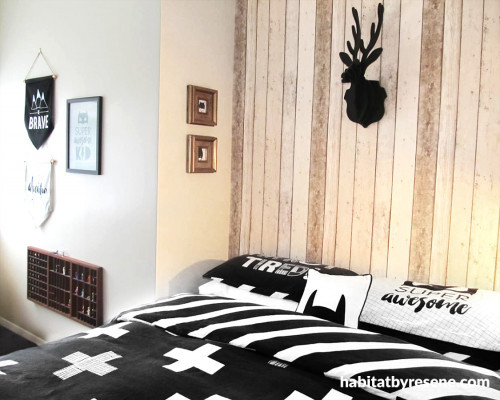 Resene Half Parchment on the walls of her son's bedroom provides a neutral backdrop to complement the fun, graphic black and white bedding and décor.
the look
If you're stuck on what
colour to use or need colour
advice, try out the Resene
Ask a Colour Expert service.