►
◄
latest
habitat tv
blog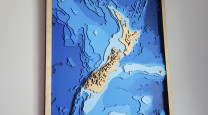 Lisa Maria and Paul's electric Kapiti Coast home
It takes a great eye and flair for colour to achieve what Lisa Maria and Paul have with their 1950s Kapiti Coast home. Just two minutes from the beach by foot, the pair saw its potential from the moment they laid eyes on the typical Kiwi holiday home – even if its outdated aesthetic and functionality left something to be desired. After completely gutting the bach and adding some flair with bold Resene colours, their home is now a stand-out in every way.
Lisa Maria's approach to colour was both fierce and playful from the get-go, and her new scheme is a far cry from the home's original neutral palette. "It had previously been painted entirely beige, which killed our souls. We wanted our home to retain some of the bachy feel using colour to create a relaxed and fun atmosphere," she says.
Since the vibrant living area was previously lacking flow, the decision was made to completely gut and reconfigure it to create an open layout. With the home being so small, Lisa Maria wanted to use colour to cleanly and clearly define each area of the open plan space, while maintaining a relaxed feel to reflect the beach location. "Really, the use of colour was in rebellion to the typical beige and neutral homes that are so common," she shares.
Lisa Maria and Paul had already committed to a red fireplace and needed the perfect wall colours to complement it, ones that would bring the right energy to the open plan area. They turned to Resene Colour Consultant Sarah Cummins to push them out of their comfort zones. "Sarah suggested Resene Mexican Red and Resene Norway with Resene White elsewhere to keep the space feeling open," says Lisa Maria. The bright tones work beautifully with the space's trendy plywood pieces made by local furniture designers, including the large book case, TV console and entertainment unit. The rest of the décor is both simple and cosy, and invites you to sit back and relax.
For the kitchen, Resene Ziggurat was chosen for the splashback and offers a clean and modern touch to the functional space. With a large work island and plenty of storage, it's a dreamy, light and cool look that ties in the rest of the home's refined tones.
Moving through the rest of the house, it's clear just how much the location influenced the neutral whites, cool greys and blues used elsewhere. "The colours in the remaining rooms are calmer, in line with their uses and the light available," says Lisa Maria. Resene Lynch,Resene Secrets and Resene Dusted Blue offer a sense of wellness and nature-inspired beauty to the study and bedrooms, and work to integrate the greenery seen through each window.
Lisa Maria and Paul's home has undergone quite the transformation, from fixing major structural problems to modernising the living space from the top down. The inspiring colour palette proves bold choices do pay off, and the result is simply mesmerising. For anyone going for a similar palette, Lisa recommends having fun with colour and throwing caution to the wind. "You can always paint over it if your taste changes."
Published: 11 Mar 2020
Do you have a home full of wonderful Resene paint and colour? Send us some snaps by emailing [email protected].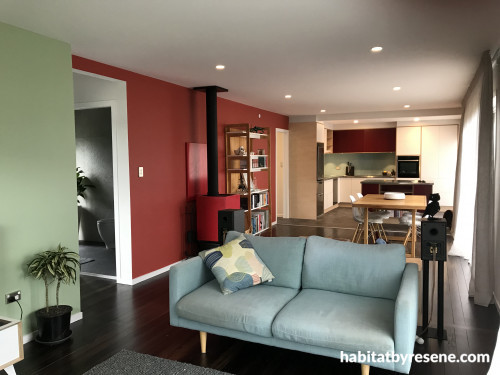 The open plan living space is a treat for the eyes with the living room wall in Resene Norway, dining feature wall in Resene Mexican Red and kitchen splashback in Resene Ziggurat balanced with simple, Scandinavian style fixtures and furnishings. Ceilings and trims tie everything together in Resene White while Resene Half Barely There adorns the other main neutral walls.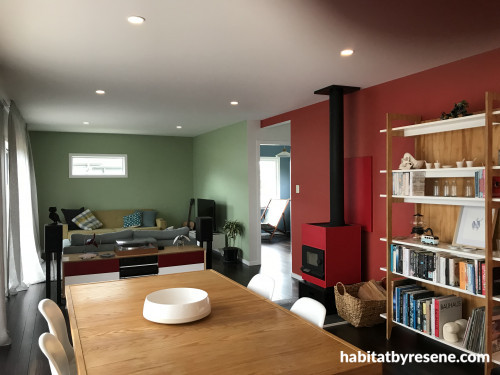 Opening up the living, dining and kitchen area during the renovation has allowed for smooth traffic flow and a greater sense of space. Living room walls in Resene Norway, dining feature wall in Resene Mexican Red and ceilings and trims in Resene White. In the far back, Resene Lynch can be seen on the study walls.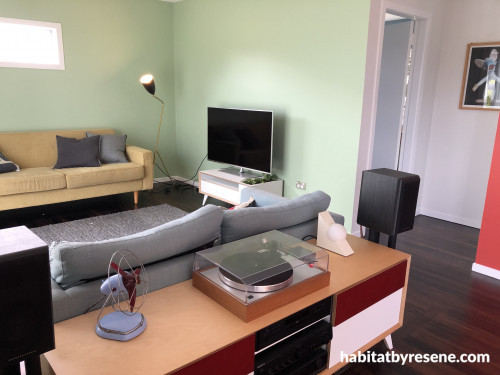 Pared down neutral furnishings allow Lisa Maria and Paul's carefully chosen wall colours to shine. Living room walls in Resene Norway, dining feature wall (far right) in Resene Mexican Red and ceilings and trims in Resene White. Ceilings and trims are painted in crisp and clean Resene White. Try painting the drawers of a sideboard in Resene Jalapeno and Resene White and go for timber floors stained in a rich brown like Resene Colorwood Bushtrack to get a similar look to Lisa Maria's.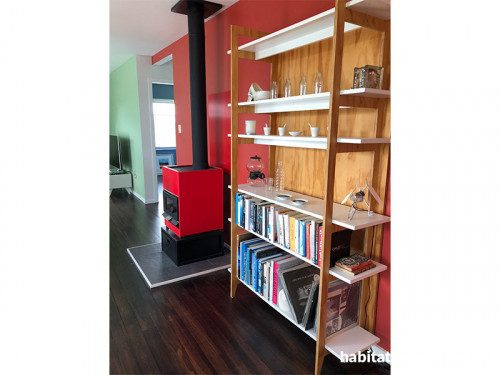 The red fireplace box coordinates beautifully with the Resene Mexican Red feature wall in the dining area. Living room walls in Resene Norway and ceilings and trims in Resene White.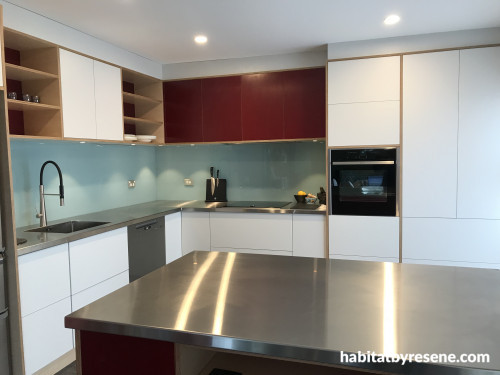 The minimalist, contemporary kitchen features a chic splashback painted in Resene Ziggurat. Ceiling painted in Resene White. Try painting a run of upper cabinets in Resene Salsa for a similar look.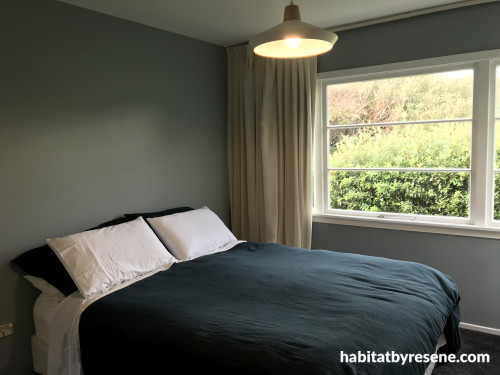 Lisa Maria and Paul's master bedroom is painted in restful Resene Dusted Blue with ceilings and trims in Resene White. The greenery outside pops when framed by the toned-down walls and offers a calming vibe in keeping with the location.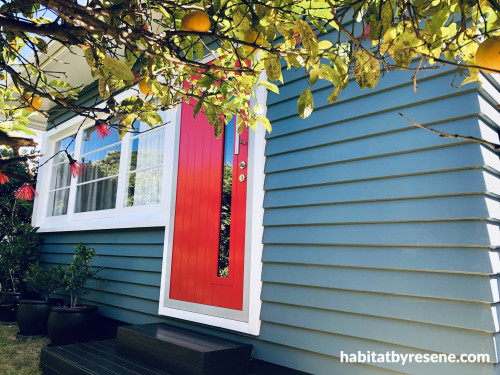 Lisa Maria and Paul's exterior is an exciting invitation in Resene Balderdash and Resene White while the bright door hints to the fun inside. Get the look with a vibrant red like Resene Havoc or Resene Jalapeno.
Top tip: To make sure your new kitchen joinery complements your Resene colours, make sure your joinery supplier uses Resene AquaLAQ to get the authentic Resene colours. Or if you are just after a quick DIY update, use Resene Waterborne Smooth Surface Sealer and Resene Lustacryl semi-gloss waterborne enamel.
images Lisa Maria
























the look
If you're stuck on what
colour to use or need colour
advice, try out the Resene
Ask a Colour Expert service.