►
◄
latest
habitat tv
blog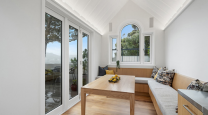 Master Builders' Chief Executive David Kelly shares his tips for building in the challenging climate.

Planning... more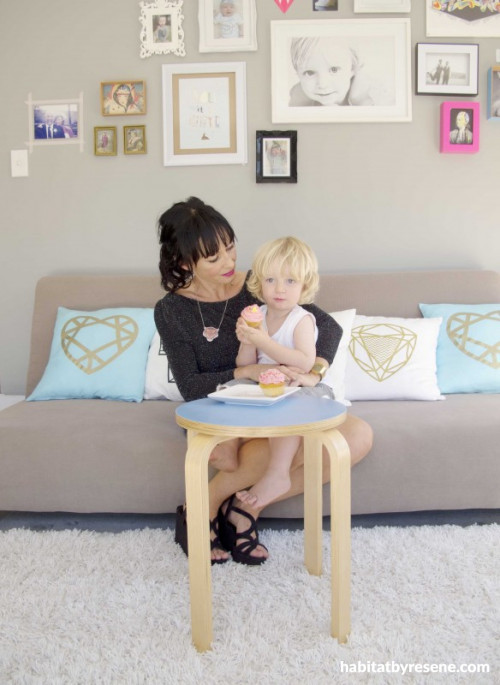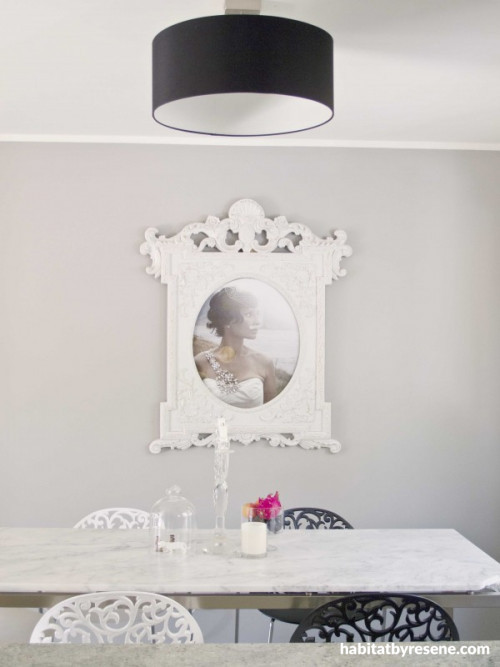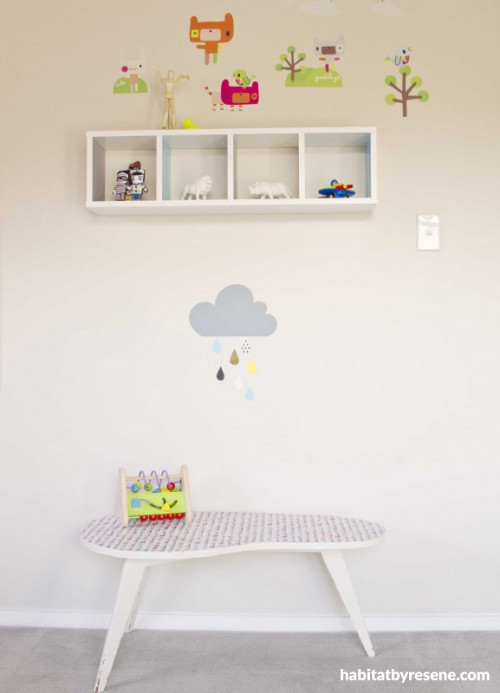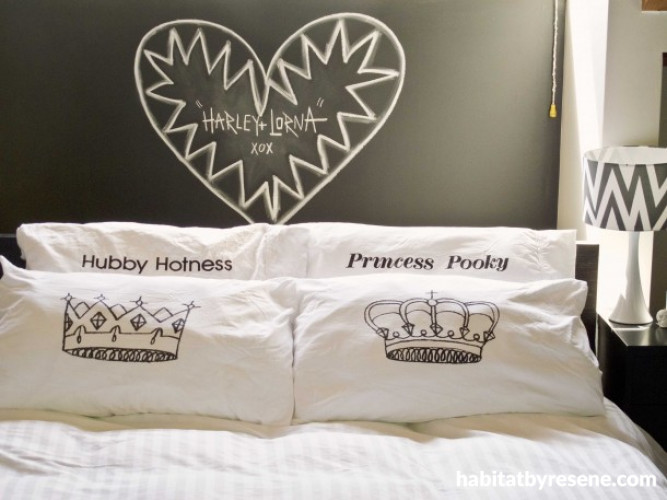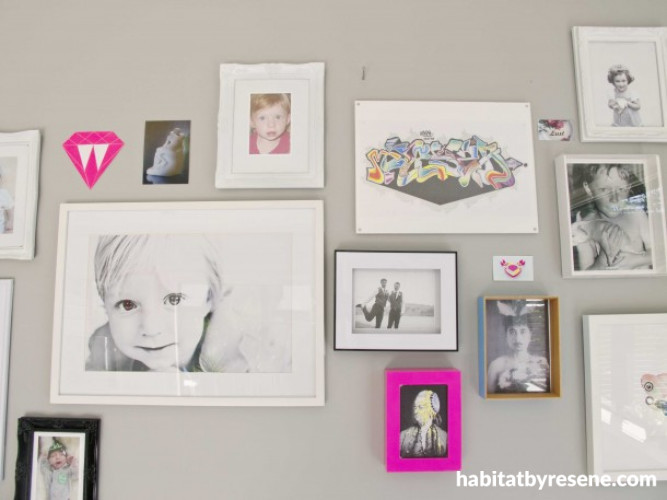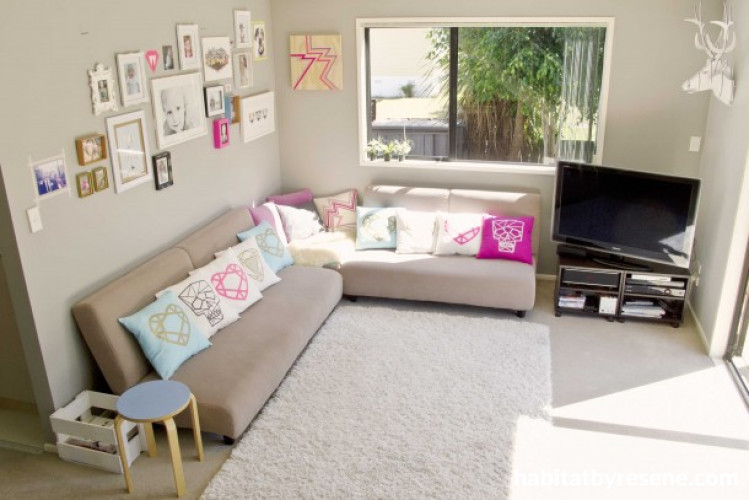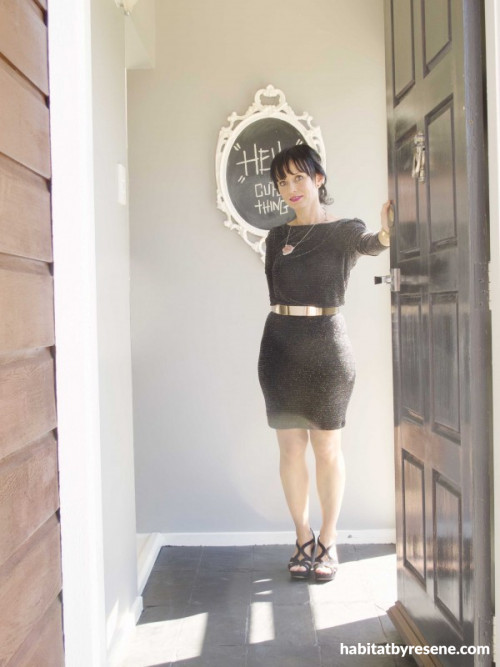 Lorna shares the love
When you run a creative endeavour from home, it makes sense that your home would be a product of that creativity.
For Lorna Anderson, owner of LornaLove – an inspirational and fun interiors and craft website – her home is also a restful backdrop to that creativity, finished in soothing silvery greys like Resene Surrender and Resene Quarter Tapa.
When she and husband Harley first bought the house on Auckland's North Shore, two of the living room walls were painted purple – which even for a woman who doesn't shy from colour was a bit much. Now the room is a combination of those two greys, and a light, bright place to be.
It's all in the detail
Attention to detail comes naturally to Lorna and can be credited for the rapid rise in popularity of LornaLove during the past year.
The birth of her son Raphael kick started this former high school art and design teacher to begin exploring her own creativity. Motherhood bought on a serious bout of 'nesting', which began with baking, progressed to making and crafting and to updating her own interiors.
She set up online and created free downloadable tutorials and patterns for her cardboard skulls, cushions, mobiles and more. It was her husband that then urged her to develop the project further and begin earning some money by selling her range online. It's now also wholesaled.
One big artwork
Lorna describes her house as a piece of artwork that she is continuously working on and changing. "My husband laughs at how often I change things around and repaint bits and pieces! I guess it is partly because I work from home and am staring at the same spaces all the time. The house has great angles in the ceilings and big rooms. The living area flows out onto a super sunny deck and grass area for Raphael to play in."
Aside from the purple walls, another colour that had to go was an orange feature wall in the kitchen. Lorna would love to eventually renovate the entire kitchen because of her aversion to its mushroom-coloured cabinets but for now, she has given it a facelift with a wall of acid lime Resene Las Palmas which is a perfect counter-point to the cool greys.
Not shy of sharing
Aside from selling her wares and ideas, Lorna also shares low-cost ways to make homes more special and interesting. "You don't have to buy expensive furniture and art to have a vibrant, modern, unique and gorgeous home. Although my home is modest, I think it exudes personality and an upbeat, quirky energy that makes you grin when you walk in the door." Certainly, the little paper skulls that sit on the shelf by the dining area make you do a double take… then smile. To print out and make your own, click here.
"After teaching art and design for seven years I realized that people like to know the little details about how to do and make something."
"I like to support fellow local designers by buying their work and prints. I'm a bit cheeky and often ask if they want to do a swap of one of my products for one of theirs!"
photography and information Courtesy of Studio Home
Published: 25 Jul 2015
Do you have a home full of wonderful Resene paint and colour? Send us some snaps by emailing [email protected].
Creativity blossoms in restful surroundings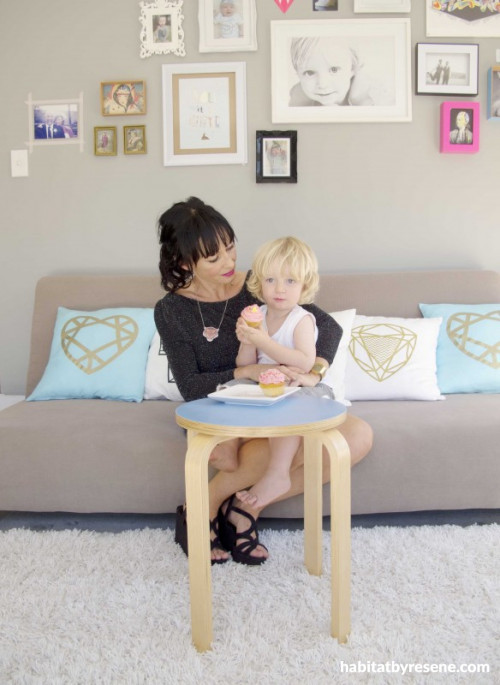 Lorna describes her house as a piece of artwork that she is continuously working on and changing.
Warm grey for dining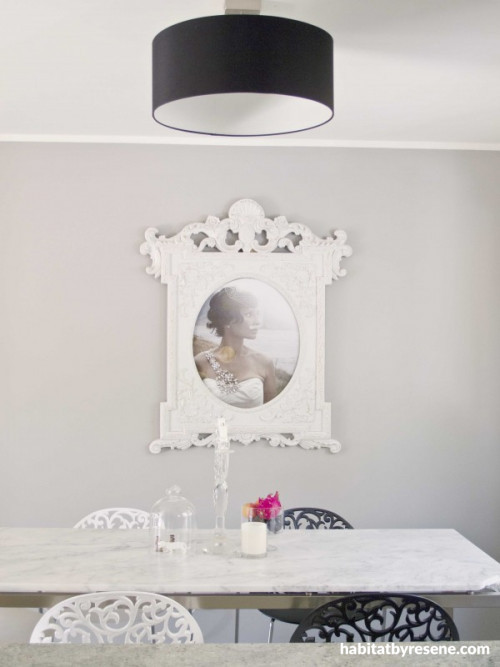 The warm grey of Resene Quarter Tapa backdrops the ornate white frame on a wedding photo and whimsical dining chairs.
A shot of colour
An acid green Resene Las Palmas wall is Lorna's temporary facelift for the 'mushroom' kitchen.
Whimsical detailing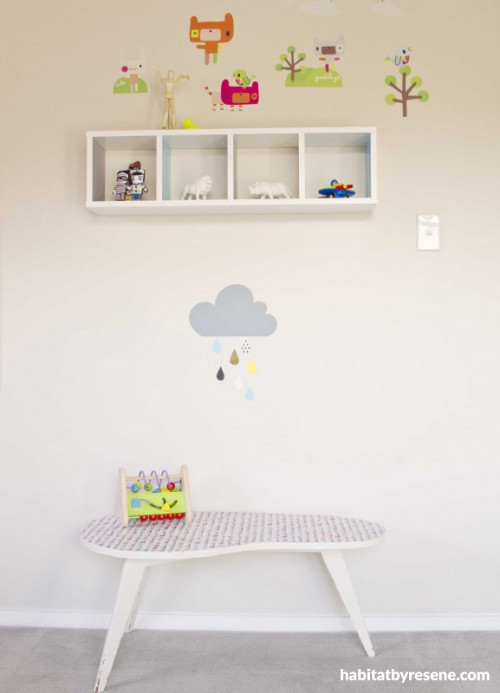 Quirky stencils decorate the Resene Half Tea wall in Raphael's room.
Loving messages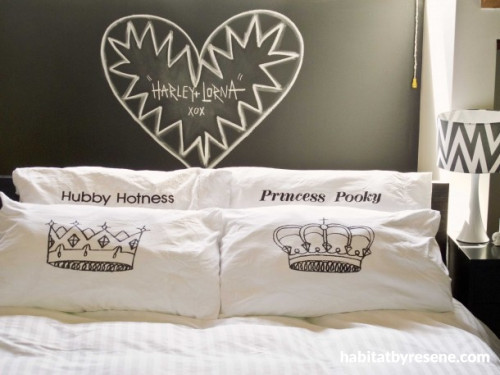 Blackboard paint is a surprising finish for this bedhead. A unique way to ring in the changes with different messages.
Framed up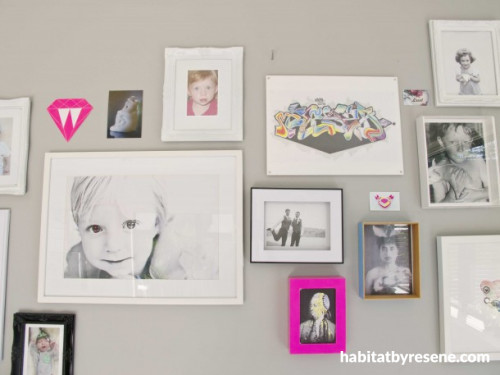 A collection of photos and ex-students artwork adorns the Resene Quarter Tapa wall in the living room. The LornaLove website has quirky ideas for all sorts of interior accessories, including frames.
Light and lovely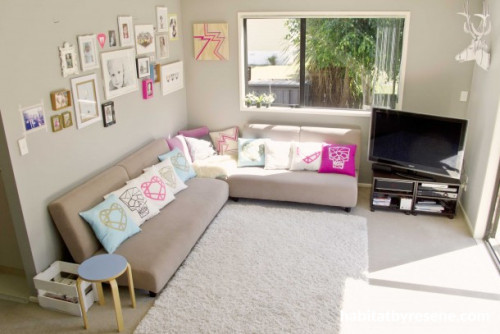 A now light and airy space with a combination of Resene Quarter Tapa and Resene Half Surrender.
A cheery welcome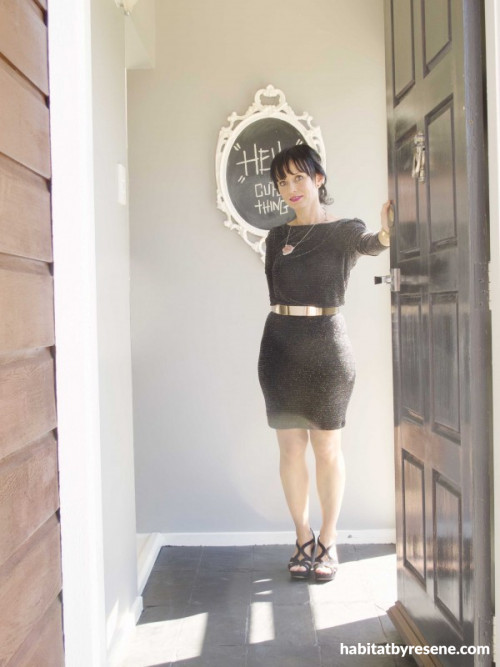 Lorna at the front door of her house with one of her DIY artworks behind.
the look
If you're stuck on what
colour to use or need colour
advice, try out the Resene
Ask a Colour Expert service.