►
◄
latest
habitat tv
blog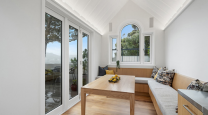 Master Builders' Chief Executive David Kelly shares his tips for building in the challenging climate.

Planning... more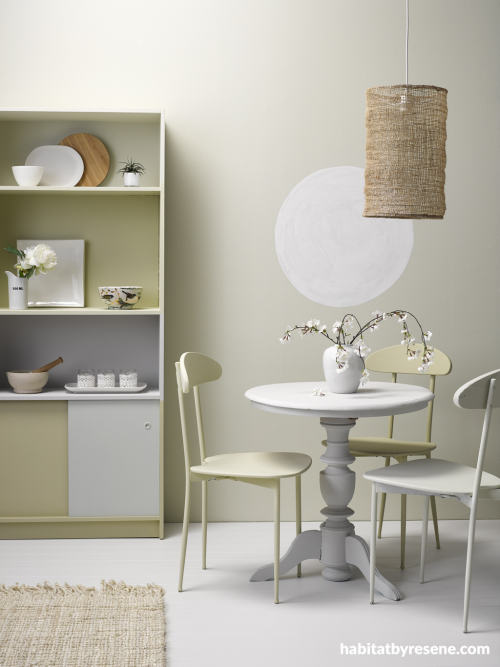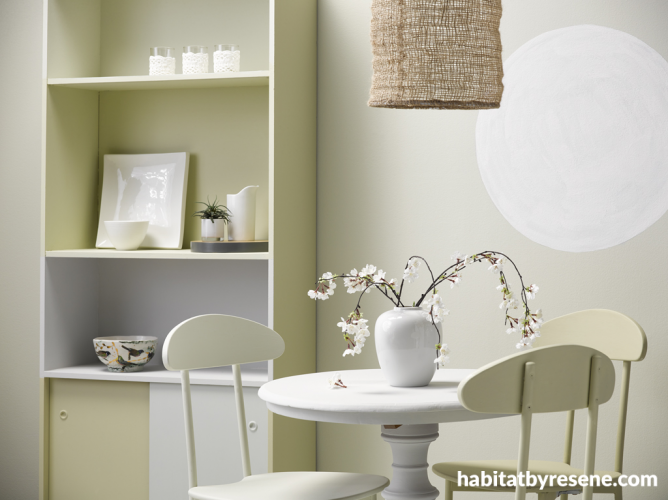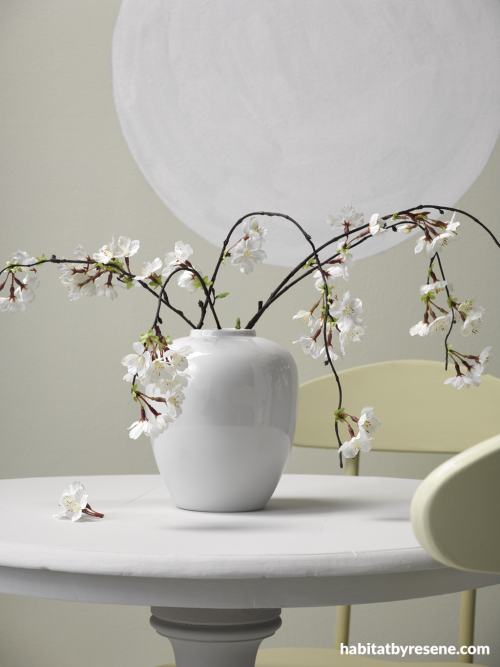 For the love of zen
Where in the house do you retreat to when the going gets tough? Within the folds of your favourite blanket on the couch? Or do you prefer sinking into a hot bath? Let's face it... with the hustle and bustle of everyday life, having a place to zen out is important.
Recently, there seems to be a conscious shift the world over to disconnect from screens and social media, and to take on a more mindful approach to living. For the home, this means painting the walls in colours that relax you, bringing nature indoors, and having a dedicated space away from the distractions of technology.
Stylist Megan Harrison-Turner designed this zen dining area using placid greens from the Resene paint range, blended with neutral hues. Green is a great choice for this setting, a colour that subconsciously connects us to nature; soothing and harmonious.
'Hygge' was the buzzword of 2016, but this year it's all about 'lagom'. The Swedish word translates to "not too little, not too much. Just right." It's a great description for this dining area, decorated with minimalism in mind, while still being beautiful.
If space permits, why not take the lead from Megan and transform a room into a peaceful, technology-free area? Or turn an empty nook into a reading corner... get in there and make it your own with festoon lights and fluffy pillows.
Zen tips
Blues are also great for a calming paint palette, especially for the bedroom. Straight-laced teals and aquas such as Resene She'll Be Right and Resene Hope are known to make us feel safe, so are perfect for making your bedroom feel like a sanctuary.

Organic shapes are thought to be calming to the human brain. This means shapes that aren't perfect and have a natural flow (as opposed to the rigidity of geometrics). Elements such as Megan's textured moon on the wall and the Citta hessian pendant from Freedom are interesting features, but don't mess with the flow of the dining room.

Playing with varying strengths of a shade can make a room feel alive with texture, without going overboard with colour. You can also look at Resene paint cards for colours in the same family, and combine them for a beautiful colour combo.

Comfy is key. Furniture with clean lines is what is normally recommended but really it's all about what feels good when you sit (or lie) down.

Declutter. It's about finding that balance of a room that feels homely but is also free of distractions (i.e. no unnecessary gadgets!). Fill the room with a few plants here and there, a gorgeous rug underfoot, and treasured items that bring with them happy memories.
Published: 02 Mar 2017
Do you have a home full of wonderful Resene paint and colour? Send us some snaps by emailing [email protected].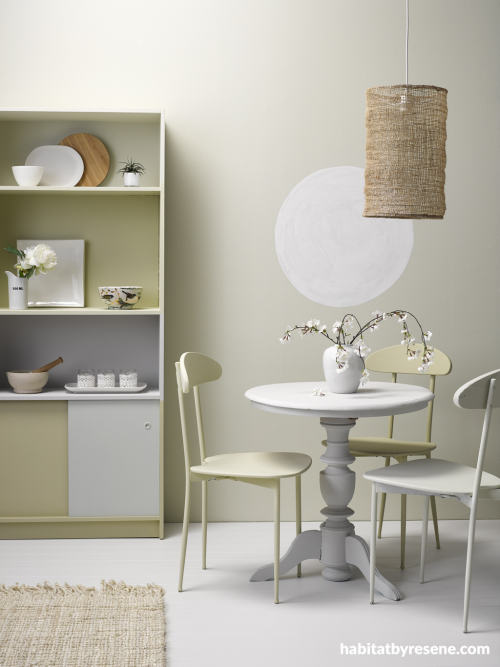 Feeling inspired to create your own zen space at home? Stylist Megan Harrison-Turner created a peaceful dining room setting using paint from Resene.
Get the look with Resene Quarter Coriander for the walls, Resene Alabaster for the floor and moon circle, Resene Quarter Titania for the table and chairs (left to right) in Resene Miso, Resene Thistle and Resene Secrets.
The shelving unit is painted in Resene Thistle, Resene Quarter Coriander, Resene Miso, Resene Quarter Atmosphere and Resene Secrets.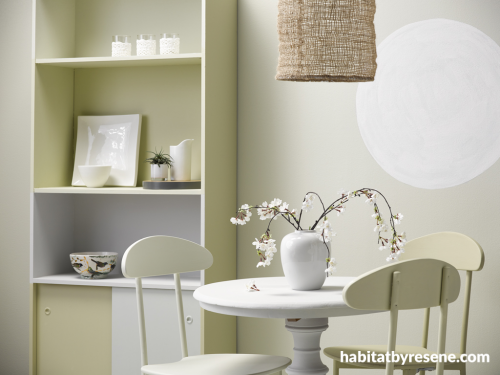 Indoor plants and flowers, organic shapes and tints of green in a room's colour scheme are simple ways to make a room feel zen.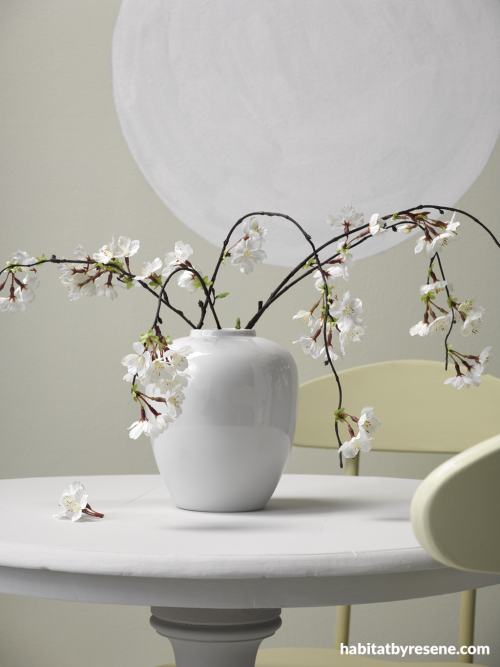 Megan painted this moon circle in Resene Alabaster with a brushed effect for a sense of texture, on top of a wall painted in Resene Quarter Coriander.
Painted circles are easy to DIY, and make a gorgeous feature. Click here to see how we created a half-circle bedhead for a bedroom, using chalk, string and Resene paint.
pictures
Melanie Jenkins. Styling by Megan Harrison-Turner.
Resene Quarter Atmosphere
the look
If you're stuck on what
colour to use or need colour
advice, try out the Resene
Ask a Colour Expert service.