►
◄
latest
habitat tv
blog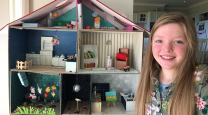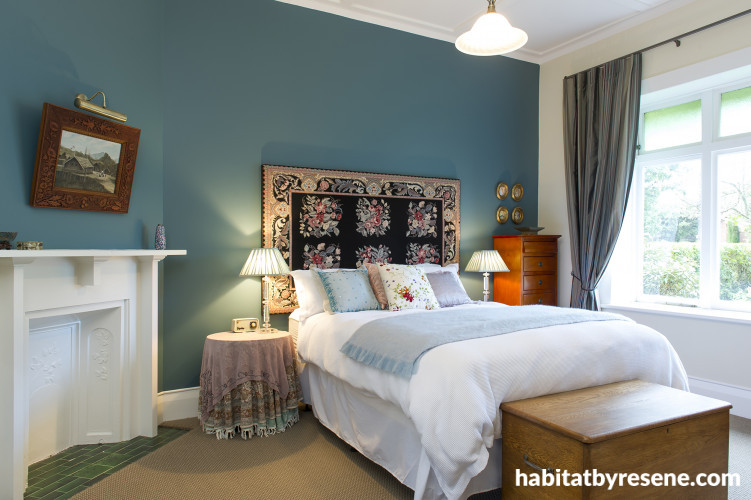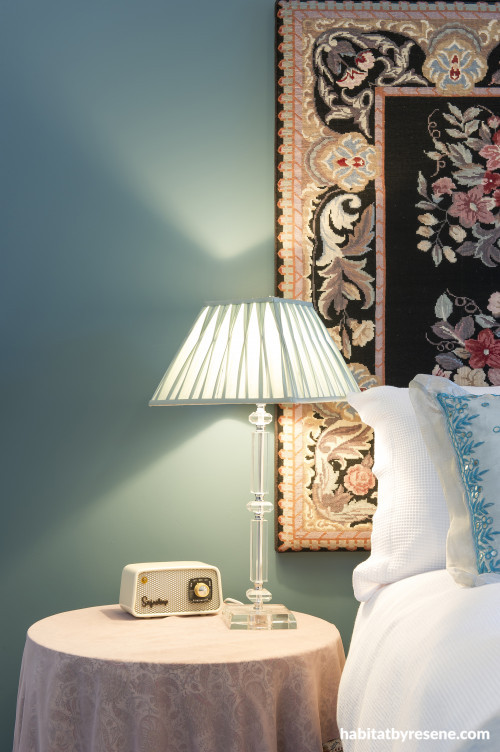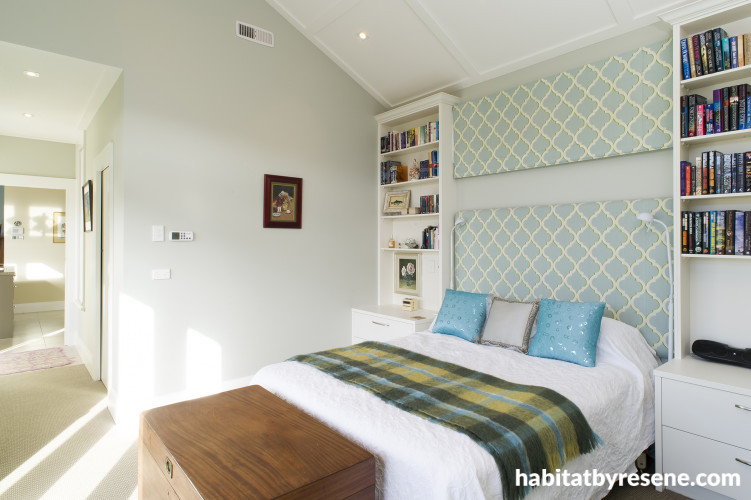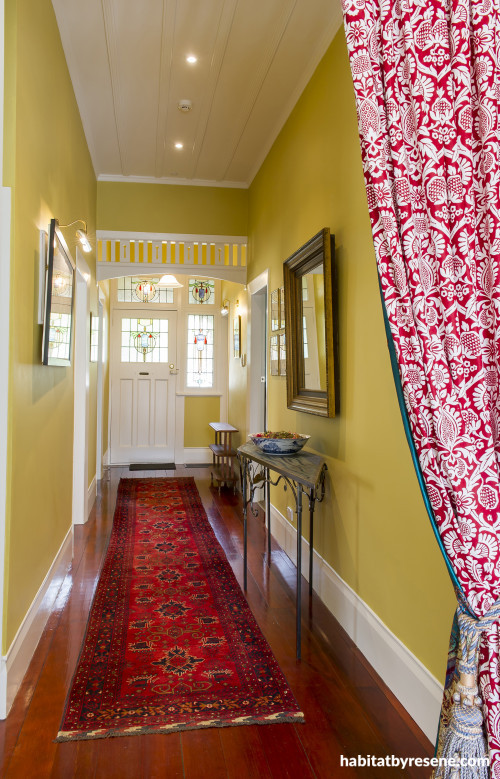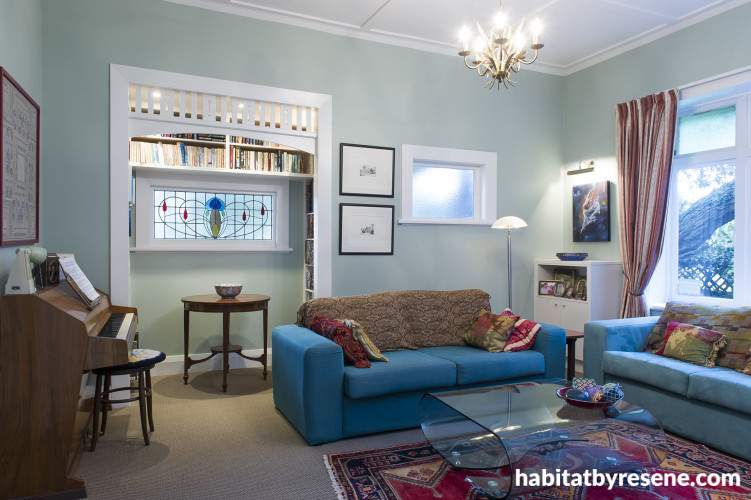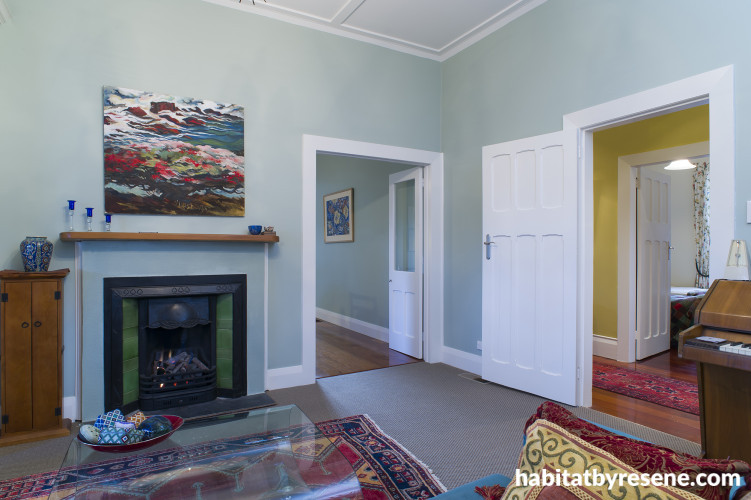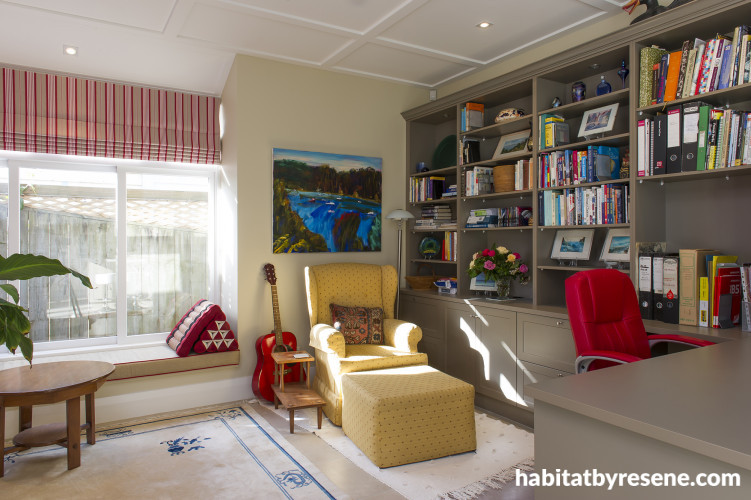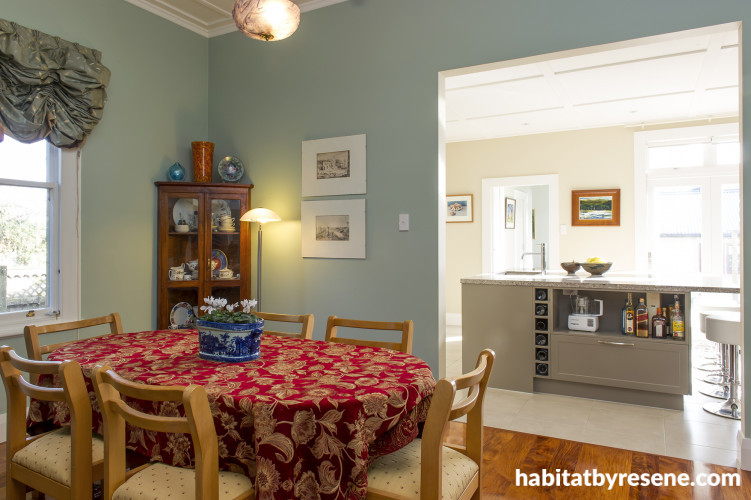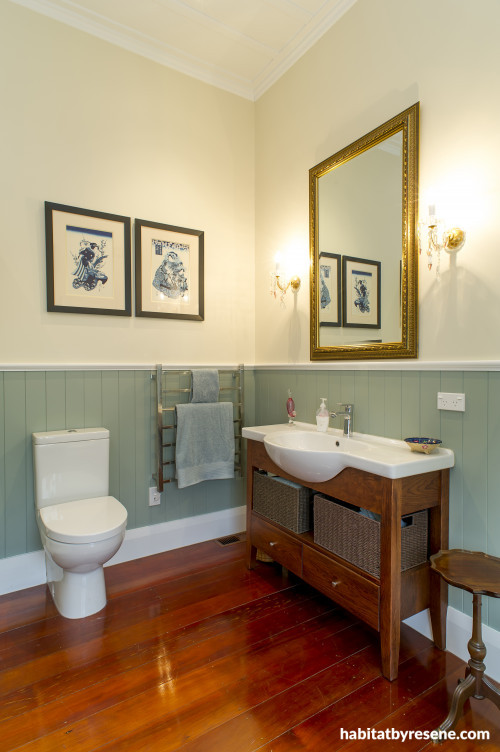 Maggie's charming 'forever' home
Elegant, tasteful and yet still adventurous with colour. It's almost unbelievable that Maggie Robertson's renovation of her Auckland villa, which she purchased in the mid-90s, was done remotely from her other house in Wellington. But armed with a great builder (Kevin Kirkbride), Resene colour charts and a drawing plan, she was able to update the house into what she now calls her 'forever home'.
The house was updated with rooms moved and a new wing built; something Maggie wanted for the Edwardian-style villa as she had become used to living in a modern townhouse. She was also adamant about one thing: "I always use Resene paints because I love their intensity," she explains.
Maggie describes herself as a 'blue and green girl' which doesn't go unnoticed as you do the house tour – steely blue Resene Tax Break is a soothing feature in the front room, pastel green Resene Mantle illuminates in the sunny living room and dining room, and specks of blue pops up throughout, in the couches, tables, ornaments and the guest room's bedhead.
More surprising is the golden Resene Tacha hallway, which is buttery at the doorway and becomes more mustard the further in, and away from natural light, you go. Here's where you get an introduction to Maggie's love of art and collected treasures, which extends beyond the stunning sari separating the hallway and the main living area.
"I painted it after the other rooms and considered red before deciding that yellow would work best," says Maggie. "I had some floral tapestries with vivid colours which inspired me."
It was important to this homeowner to have a 'house to share' and the main living area is effectively what is part of a guest wing, along with two bedrooms and a bathroom.
"One set of English friends come every year to escape their winter and I regularly have the parents of friends of Holland; so of course they are friends now too!"
Guests usually find themselves drawn to the bright, spacious, central kitchen positively 'lit' by Resene Double Spanish White. And when the food is ready, everyone gathers in Maggie's separate dining room, painted in half Resene Mantle, where swagged blinds add a touch of Hollywood glamour.
When talking of the reno, Maggie says the process went practically without a hitch "although there were a few small things such as the unexpectedly hard volcanic rock, which meant I had to spend extra money hiring special drilling equipment."
Maggie concedes that being essentially hands off was probably a good thing. "I let Kevin do the worrying!"' she laughs.
Top tipUse an architectural feature such as stained glass windows to inspire your scheme. Maggie used the yellow of her windows to choose Resene Tacha for her hallway.
words Louise Richardson
pictures Mark Heaslip
Published: 17 Dec 2015
Do you have a home full of wonderful Resene paint and colour? Send us some snaps by emailing [email protected].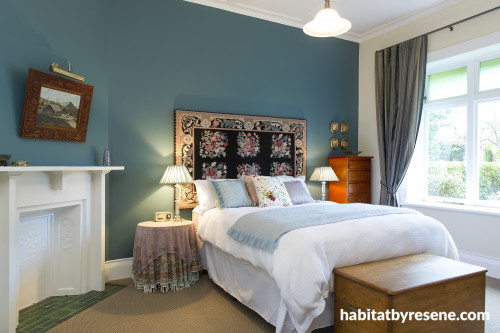 A tapestry hangs as a bedhead in the front bedrooms, a room that always delights guests. A feature wall in strong steely Resene Tax Break is offset by Resene White trims and on the other walls.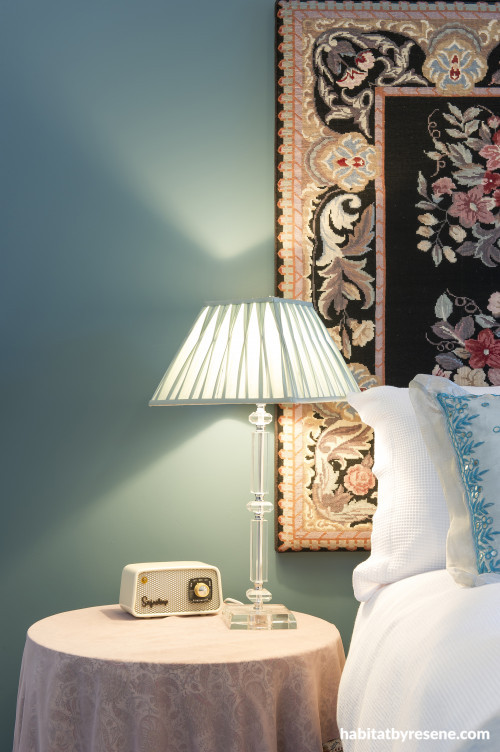 Resene Tax Break is a saturated grey blue with a green undertone, perfect for bedrooms.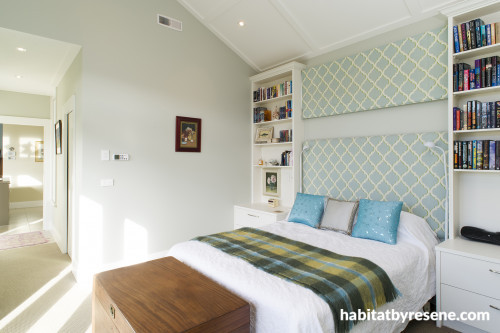 The second guest bedroom is painted in cream Resene Spanish White. A fabric bedhead, from Auckland Drape Company, brings the colour.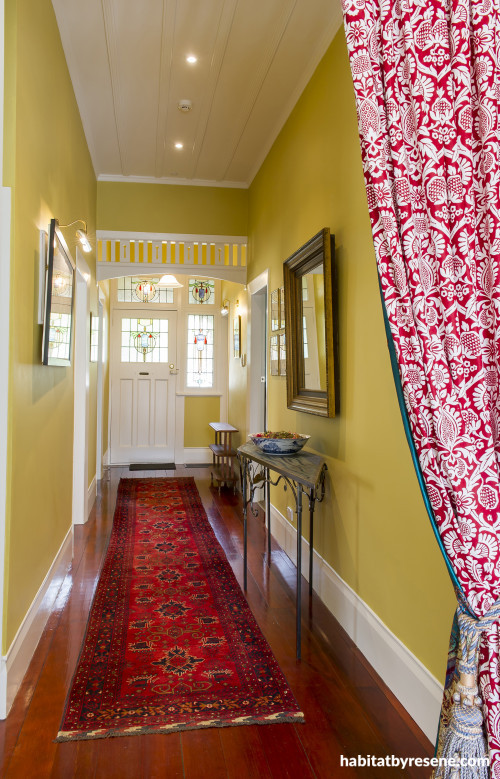 A sunny welcome to guests, the hallway is painted in Resene Tacha. The colour transforms from buttery yellow at the windows to slightly more mustard the more you move indoors, due to the change of natural light. A rich red sari curtain separates the hallway from the guest wing.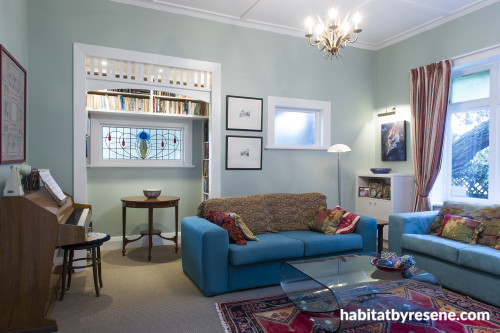 Resene Mantle is an all encompassing pastel green, with just a hint of blue, and makes for a tranquil backdrop for the living room. The frames and trims are in Resene White.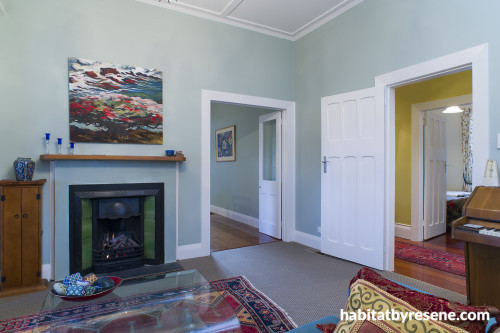 The living room is filled with collected treasures, big and small. This includes a fireplace which travelled up from the South Island which Maggie had installed.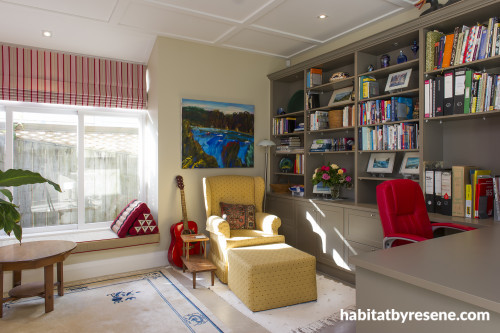 Another living room is painted in creamy Resene Double Spanish White with Resene White trims. The bookshelf is painted in Resene Friar Grey to match the cabinets in the adjacent kitchen.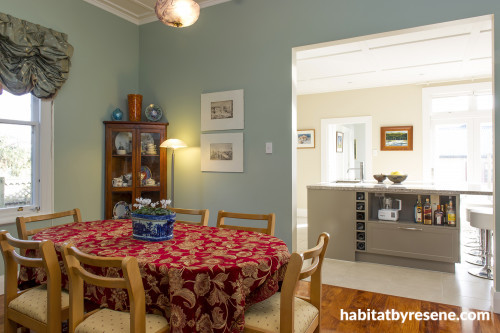 And a glimpse into the kitchen, with a large central island that's a magnet to guests. Natural light pours into the kitchen, wonderfully bouncing off the Resene Double Spanish White walls. The dining room is in Resene Half Mantle, carrying through the colour scheme from the guest living room.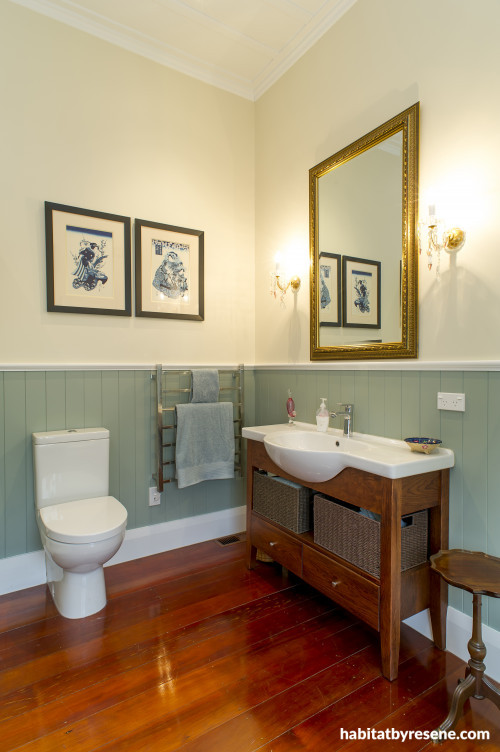 A splendid bathroom painted in Resene Spanish White (top) and Resene Mantle (bottom). Trims in Resene White.
Resene Double Spanish White
Resene Eighth Lemon Grass
the look
If you're stuck on what
colour to use or need colour
advice, try out the Resene
Ask a Colour Expert service.