►
◄
latest
habitat tv
blog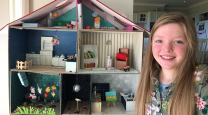 Make work fun
The kids are back at school, and you've probably been back to work for a few weeks now.
Are you one of the lucky ones who are able to flexi-work – work from home part or all of the time? Perhaps you run a business from home, or need a dedicated part of the house for the kids to do their homework.
Be inspired by our ultra-organised and super bright office space, using Resene Wild Thing.
We chose this yellow as our main colour, not just because it's an on-trend shade, but because it's said to stimulate mental activity and creativity. It's the colour of the intellect and energy. So no excuses now…
Yellow can be overpowering so we've kept it to the lower part of the wall, and teamed it up with Resene Quarter Alabaster on the top part of the wall, and Resene Blackboard Paint to create a grid of squares that can be used as a calendar or a noticeboard… whatever suits your purpose.
Top tip: Use an undercoat of Resene Magnetic Magic underneath either the Resene Alabaster wall or the Resene Blackboard Paint grid. Then you can use the surface as a magnet board for even more practicality.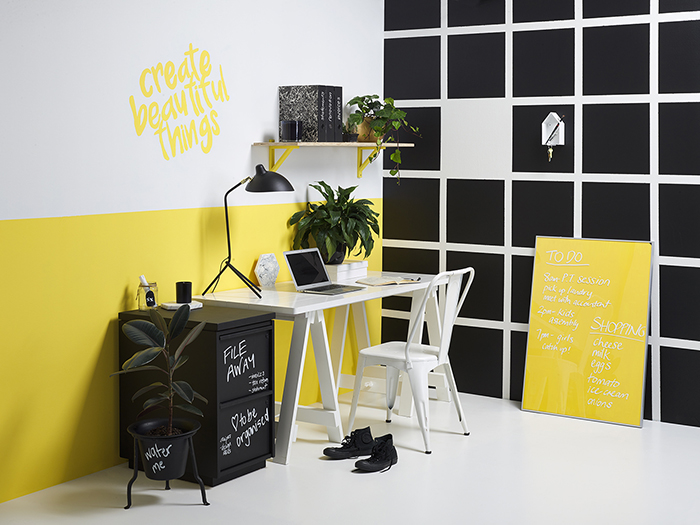 If you want a more flexible and portable noticeboard, the one leaning against the wall simply uses Resene Wild Thing painted onto the back of a piece of framed glass. Then you can write on the glass with chalk pens or white markers.
For another easy way to achieve the same effect, use Resene Write-on Wall Paint as a topcoat to turn any colour into the equivalent of a whiteboard – write on it, then wipe it clean.
An old set of file drawers, the ring binders and the pots have also been painted in Resene Blackboard Paint. The shelf brackets are in Resene Wild Thing and the floor in Resene Quarter Alabaster. Add an inspirational message to the wall, and you're good to go.
Published: 16 Feb 2016
Do you have a home full of wonderful Resene paint and colour? Send us some snaps by emailing [email protected].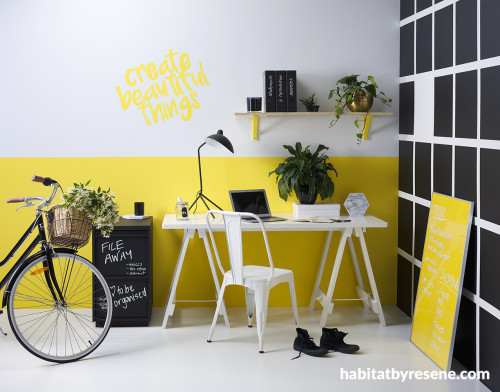 Gava Planter from Citta Design, Stationer's Trestle Desk, Laurent Dining Chair and Pico Table Lamp from Freedom Furniture, and the Cabin keyholder and shelf (on wall) from Thing Industries. Shelf, bicycle, sneakers and noticeboard frame, stylist's own.
pictures
Melanie Jenkins?, styling by Amber Armitage.
the look
If you're stuck on what
colour to use or need colour
advice, try out the Resene
Ask a Colour Expert service.