►
◄
latest
habitat tv
blog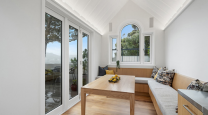 Master Builders' Chief Executive David Kelly shares his tips for building in the challenging climate.

Planning... more
Marcelle and Simon's colour-lover's villa
When advertising executive Marcelle Baker came to designing the interior of her renovated, century-old villa in Onehunga, Auckland, colour was key in the form of a bold Resene palette. "I love colour," says Marcelle. "I had a pretty good idea in my mind of what I wanted and I'm really happy with how it's turned out."
The whole interior design process was a labour of love for Marcelle, who shares the home with husband Simon and children Lulu and Gus. "Dreaming up interiors is definitely my creative outlet," she says.
The home's interior colour palette is now a mix of warm and cool tones that pop out from a backdrop of white, while the exterior has also been given a facelift.
"We saw this colour combo on a beautiful house near us," says Marcelle. "We drove by it several times over a few months and still loved it, so we slipped a note in their letter box to ask them what it was. They replied by email and told us what the colours were, the Resene shop they'd bought them from and told us we were welcome to use them at our place. We are very grateful!"
Interior highlights
Inside the original part of the villa, the charcoal grey library in Resene Nocturnal doubles as a television room. It is framed beautifully from the architect-designed extension recently added to the back of the house and can be closed off by a cavity slider.
Another favourite room for Marcelle is the study in Resene Korma. "Space for our computer and paperwork was something else that was a high priority. Up until the renovation, all the office clutter lived on our dining table, which drove us crazy. So we were happy when our architect Lisa Webb of Studio/LWA cleverly found space for everything. As well as the amazing hideaway office with barn doors, there are floor-to-ceiling cupboards behind the fireplace wall."
Marcelle spied similar style barn doors while researching renovation options online and added them to her must-have list. "It's so great being able to pull those doors shut when we have people over. And when the doors are closed they actually become a feature of the room."
Love at first sight
When Marcelle spotted the century-old villa at an open home 10 years ago, there was no other house for her. "As soon as I walked through the doors I felt at home. Its wrap-around verandas and fretwork reminded me of the farm homestead I grew up in. It has amazing original features like high, pressed tin ceilings and a fantastic arch in the hallway. It's also got a large back section and a north-facing aspect. It had been re-piled and partly renovated, including the addition of an ensuite and walk-in wardrobe, which made it instantly liveable."
After they moved in Marcelle and Simon carefully considered renovation options over the next few years, until they came up with a plan that modernised the house while remaining sympathetic to its historical roots. Creating a timeless look was important to the couple.
"Given that our villa is very early 1900s and our renovation was in 2016 we wanted the addition to be quite seamless, recognising what was original and new, but in a really complementary way."
Creating a canvas
Resene Alabaster is the base on which Marcelle built her interior design ideas, allowing other bold colour choices to really shine.
But it was when it came to choosing the palette for Lulu's room, that Marcelle's colour confidence really shone. The striking green-blue walls in Resene Reservoir are the perfect foil for the pops of pink (Resene Glamour Puss) and yellow (Resene Wild Thing) that repeat the home's cool and warm colour theme.
The Resene Alabaster walls in the contemporary living area, mean the bold petrel blue sofa really stands out.
Though the new living area is open plan it has been cleverly zoned to cater for different eating, sitting and gathering activities. At the heart of it all though, is the beating heart of this family dwelling is the white, marble, brass and oak kitchen.
Marcelle loves to cook and it was important for her to get this space right. It features custom-designed touches such as the black pendant lighting strung above the kitchen island. She had the iron fittings cut to her specifications by a local engineer.
"I love being in the kitchen on the weekends and Simon loves to be out in the garden, with the kids running between the two. The house is really great for hosting friends and family because of the separate social spaces. I wouldn't change a thing," says Marcelle.
Top tip: Always check your paint colour choices with a Resene testpot. Paint an A2 size card, leaving an unpainted border. Move the colour around the room at different times of the day and night to see how it looks.
This house features in the latest issue of habitat by Resene magazine. View the full magazine online.
Builder: Maybeck Residential, www.maybeckresidential.co.nz
Images by Helen Banker; original article by Leanne Moore
Published: 18 Oct 2018
Do you have a home full of wonderful Resene paint and colour? Send us some snaps by emailing [email protected].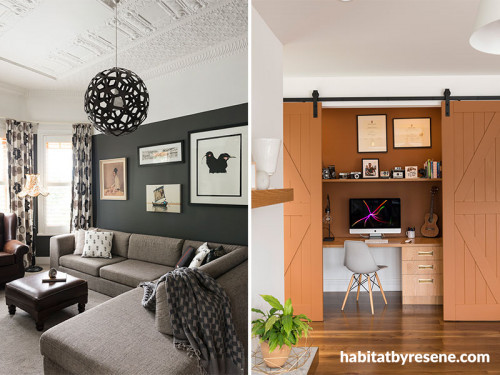 Resene Alabaster creates a crisp, light canvas from which to showcase bolder colours such as Resene Nocturnal in the library, and Resene Korma in the study space and the bold barn doors.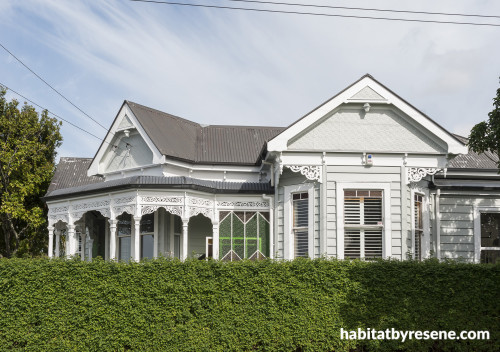 The exterior of the century-old villa was also given a makeover in custom made colour Resene Moody Grey (very close to Resene Atmosphere) and Resene Eighth Black White.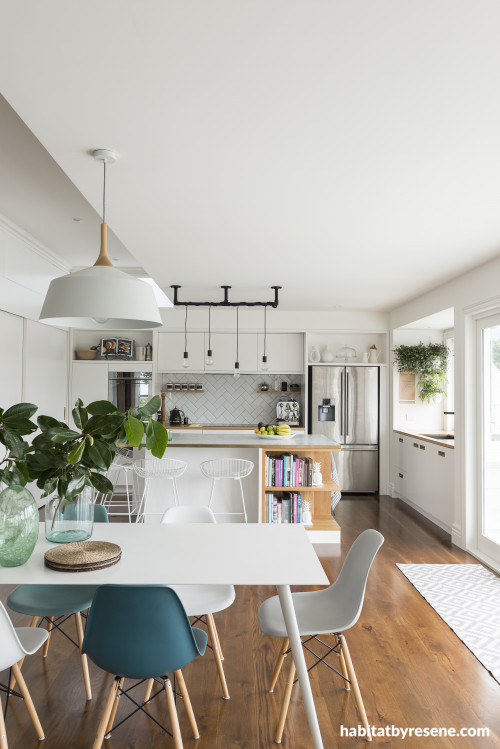 The Resene Alabaster kitchen with its dramatic, custom black pendant lighting is the heart of the open plan living area.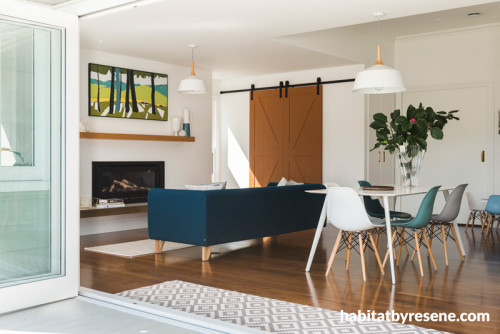 The bold petrel blue sofa and Resene Korma barn doors stand out in the Resene Alabaster living area.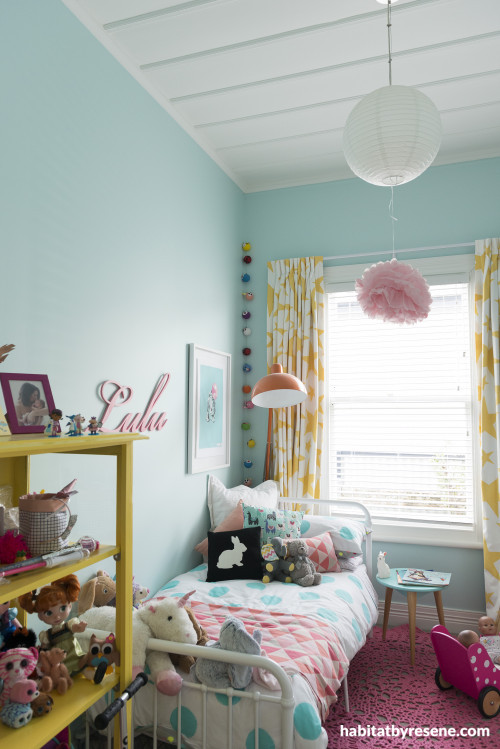 Lulu's bedroom is a riot of colour with Resene Reservoir on the walls, contrasting beautifully with the pops of Resene Glamour Puss pink in the toy trolley and Resene Wild Thing yellow on the shelves.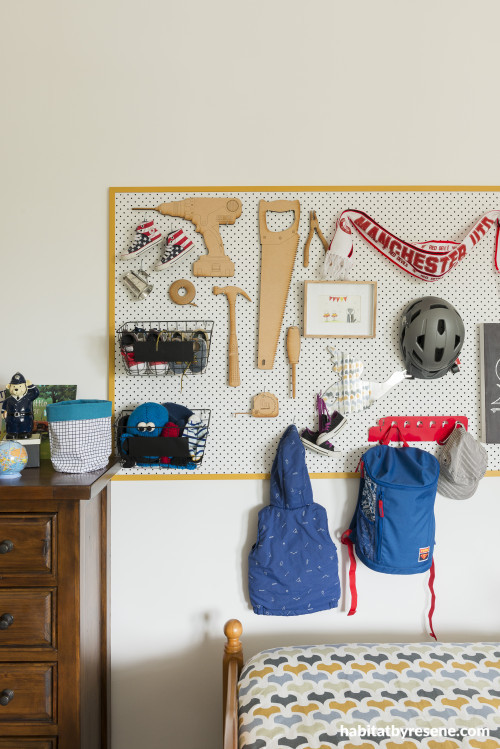 A cool and practical peg board is a feature against the Resene Alabaster walls of Gus's bedroom.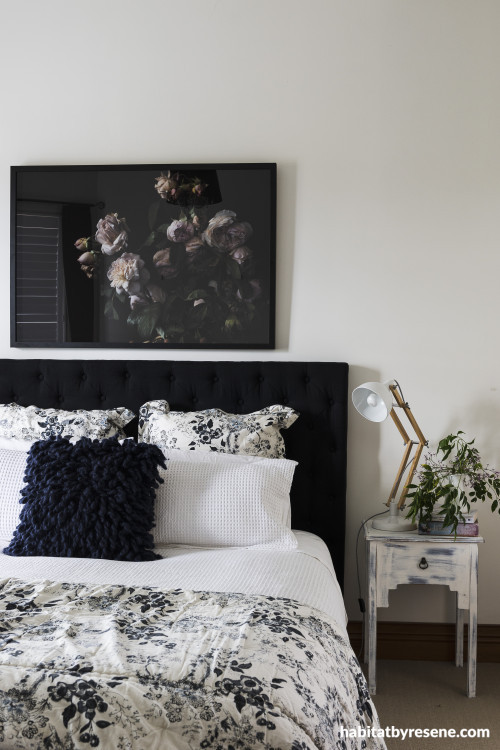 The moodier darks of the furnishings and decoration against the Resene Alabaster walls make this bedroom a soothing retreat.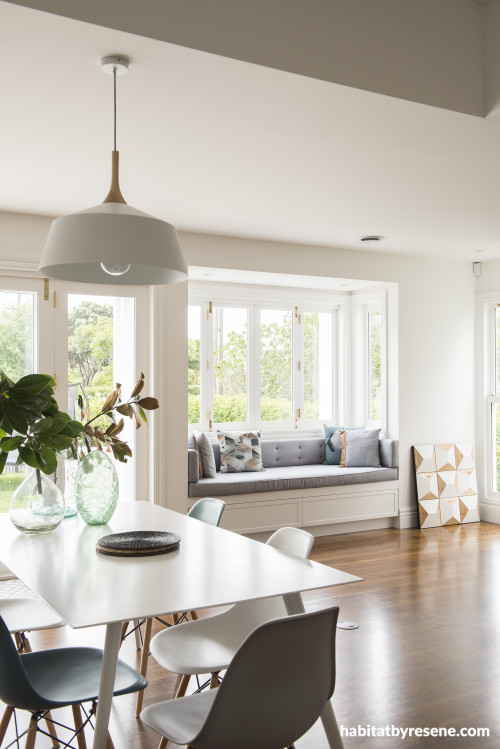 Big windows and the bright white of Resene Alabaster mean the open plan living space is bathed in light.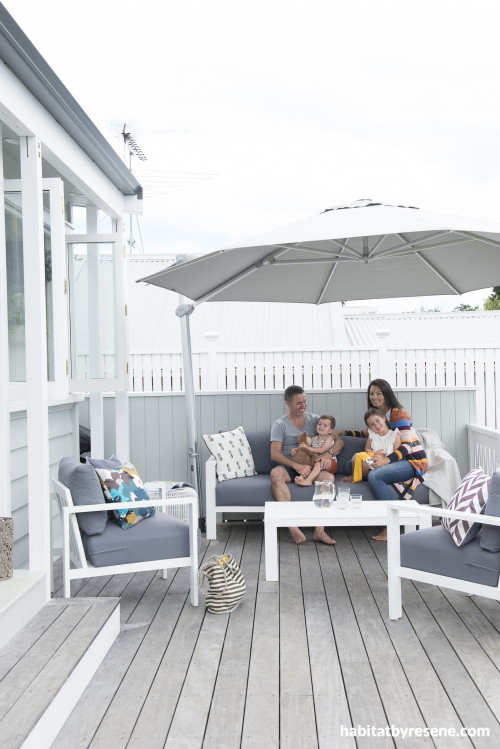 Marcelle and Simon Baker with Lulu and Gus enjoying the outdoor living area of their renovated villa, painted in a custom-made Resene colour very similar to Resene Atmosphere with Resene Eighth Black White trims.
the look
If you're stuck on what
colour to use or need colour
advice, try out the Resene
Ask a Colour Expert service.