►
◄
latest
habitat tv
blog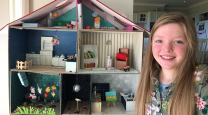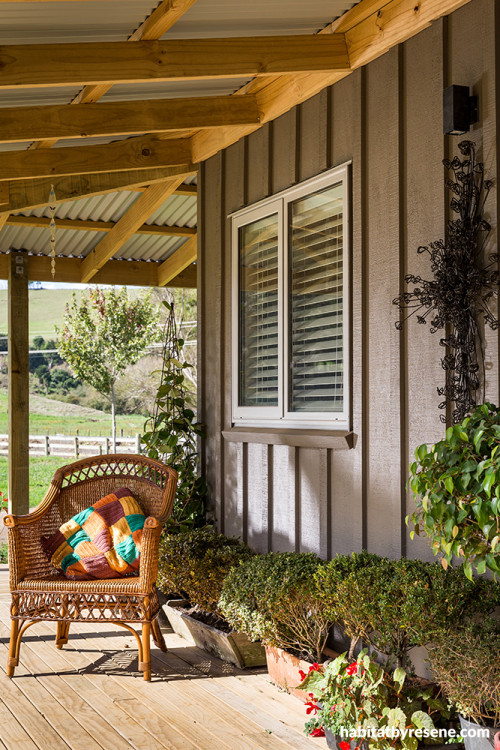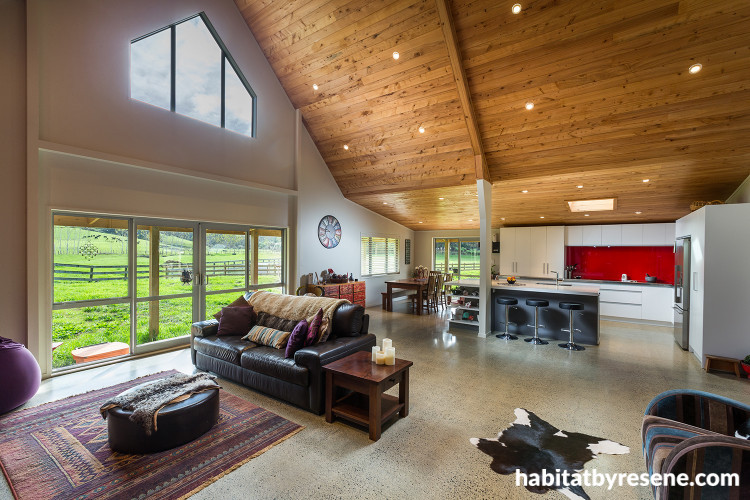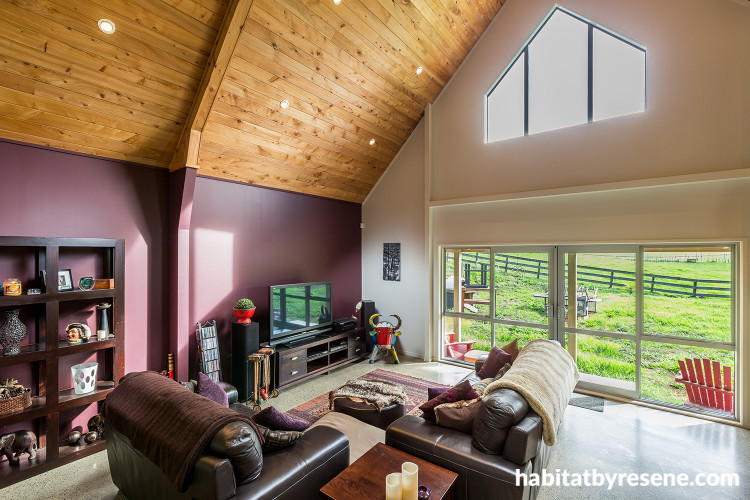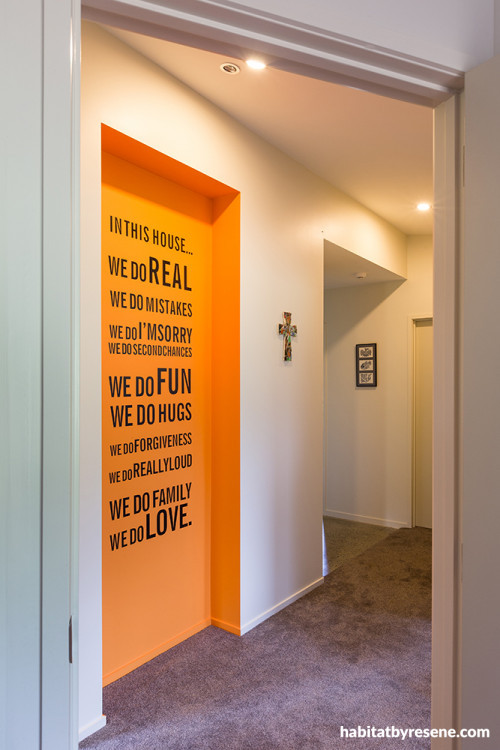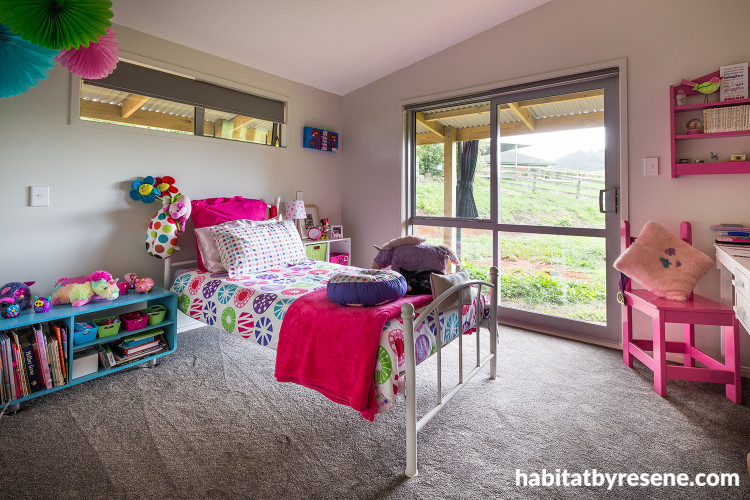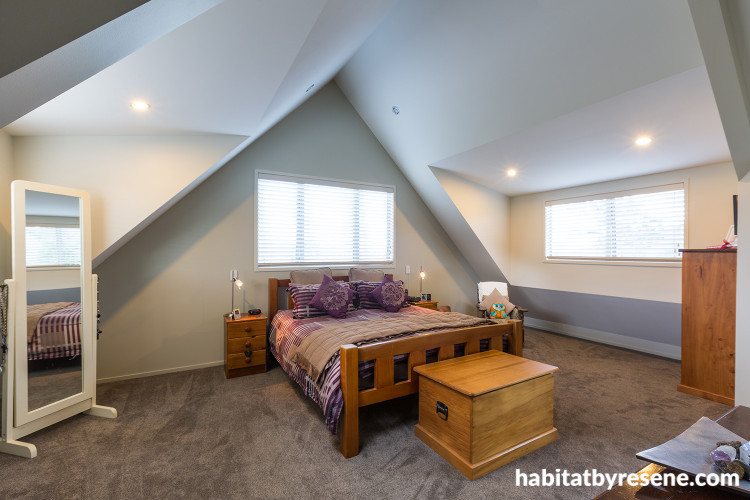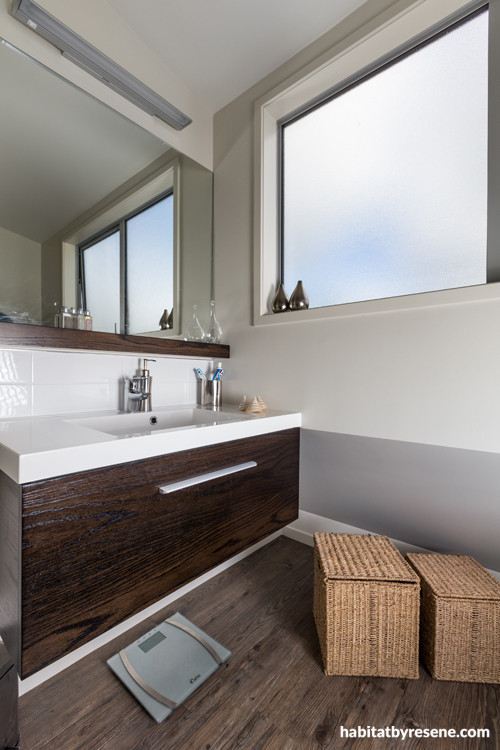 Megan and Gordon embrace the lifestyle
Highland cows, chicks, bees, a kunekune pig, cats, dogs… oh, and a special spot for mother-in-law Noeline. A marriage of stylish Customkit home and Resene paint gave Megan Ashe and Gordon Brown the perfect solution for their lifestyle block and extended family.
The couple wanted a family-friendly home with a rustic board-and-batten country look that had functional, well-planned spaces. It needed to cater for them, their three children Harry (19), Jack (16) and Molly (8), as well as Megan's mum Noeline. Working with Customkit design and sales consultant Julie Richardson-Smith, they ended up with a main house and a secondary dwelling, with spaces that are both cohesive but individual enough to suit everyone's needs and tastes.
How did you decide on the overall look of the interiors, and the colours used?
We wanted a warm, inviting space that our family would enjoy. We also wanted to use colour as accents to ensure each person had a space that suited their individual style.
As a neutral backdrop, we chose Resene Thorndon Cream walls, Resene Double Thorndon Cream doors and Resene Eighth Thorndon Cream ceiings. Then we used accents of Resene Jalapeno (red), Resene Flashback (orange) and Resene Cab Sav (grape) and Resene Mondo for the exterior.
What part of the house are you most happy with?
We love the living area, with its high sarked ceiling, concrete floors and stunning stylish kitchen. We spend a lot of time in this room.
What is your advice for someone trying to achieve a similar look?
Go with what feels right for you. Magazines and the latest styles are nice to look at to get ideas, but we found we wanted to house to represent our personalities as well as be functional and stylish.
What was the biggest challenge for this project?
We built two dwellings (one for the us and one for Noeline) so it was hard at times trying to accommodate everyone's ideas as well as keep within budget. We also wanted to ensure it to be eco-friendly with solar power, wetback fireplaces, a worm septic system, and concrete rainwater collection tanks. The two dwellings are also different in their style, so it was important everyone got a say.
We were very lucky to have a great bunch of people to help us achieve our dream, from Customkit to our builders Shane Fisher and Fred and Dave Ashe of Southern Membrane Roofing.
Do you have a favourite colour, and if so why is it your favourite?
Resene Jalapeno is our favourite. We have used this colour in our kitchen and love its warmth. It always gets comments.
And the last word goes to Julie of Customkit:
Megan and Gordon were fantastic clients to work being both open minded yet precise about the needs for their large family and their own personal sense of style. They chose their own colours, which beautifully reflect the diversity and colourfulness of their family, and reflect a respect for the external environment.
The master bedroom is my favourite room with the varying ceiling angles offering a wonderful play on light and space.
Read more: Kate and Dave take to the country.
Published: 16 Apr 2015
Do you have a home full of wonderful Resene paint and colour? Send us some snaps by emailing [email protected].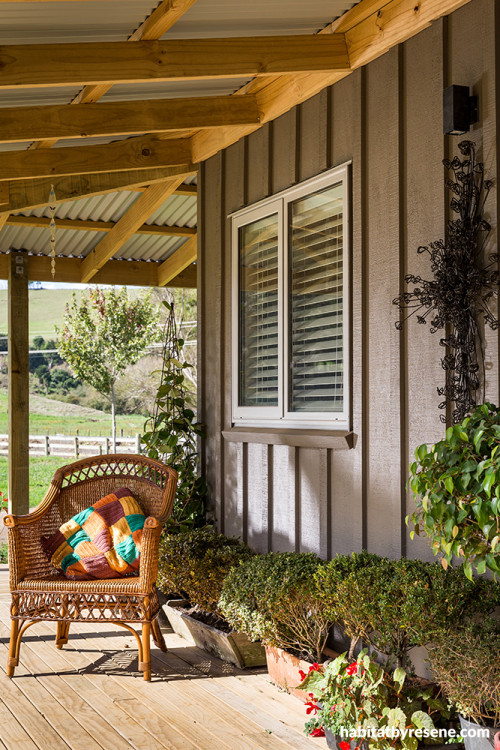 Megan and Gordon chose classic board-and-batten cladding finished in Resene Mondo for their new lifestyle block home.
A pop of bright red Resene Jalapeno is used as a splashback in the kitchen and has become Gordon and Megan's favourite colour.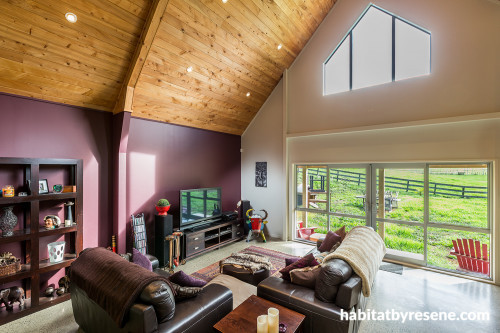 A wall in rich Resene Cab Sav is used as a feature in the living room, while other walls are in Resene Thorndon Cream, a green-tinged neutral that complements the warmth of the timber sarked ceiling.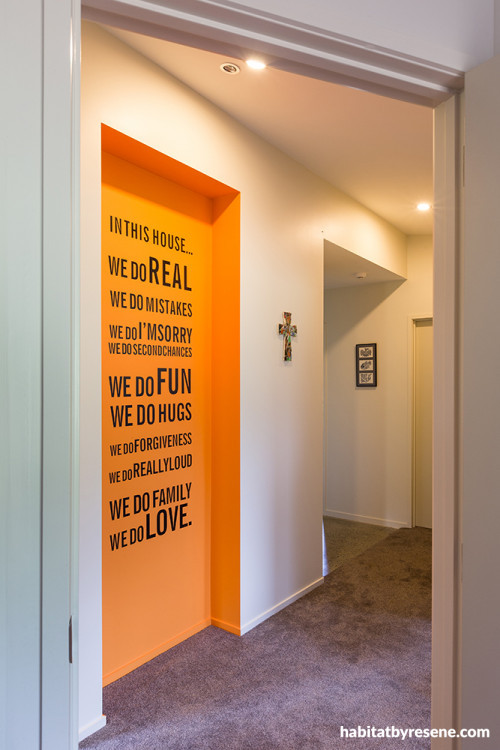 A personal and apt message for this extended family is displayed in the hall against a niche painted in Resene Flashback.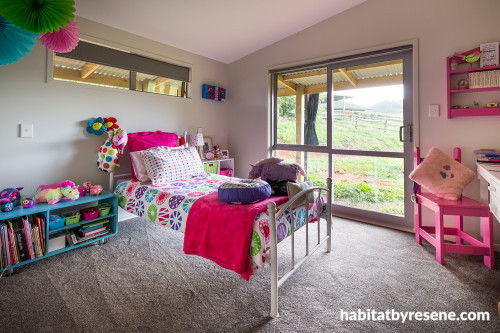 Resene Thorndon Cream walls in Molly's room are a quiet backdrop for the bright array of colours in the furniture and bedlinen.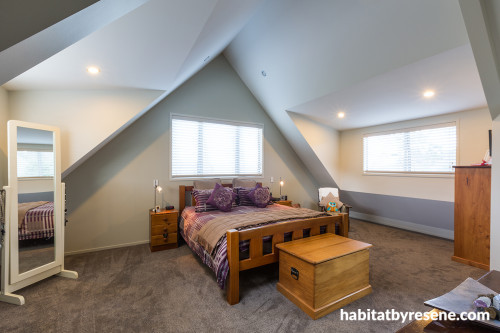 The pitched roofline adds drama to the master bedroom and provides the perfect triangle of bedhead wall to use as a feature. It's painted in Resene Triple Thorndon Cream with other walls in Resene Thorndon Cream.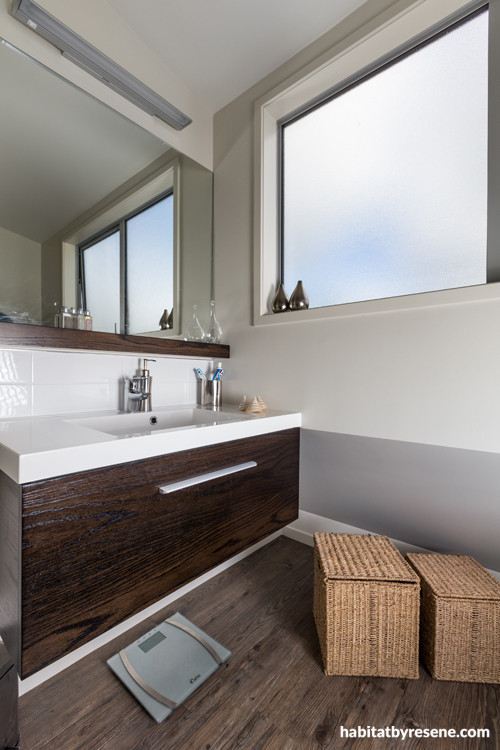 Clean lines and timber detailing feature in the bathroom.
Resene Eighth Thorndon Cream
Resene Double Thorndon Cream
the look
If you're stuck on what
colour to use or need colour
advice, try out the Resene
Ask a Colour Expert service.