►
◄
latest
habitat tv
blog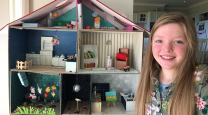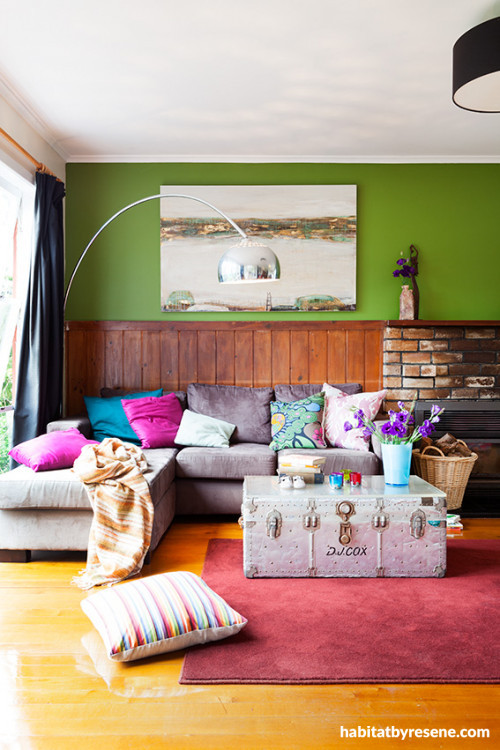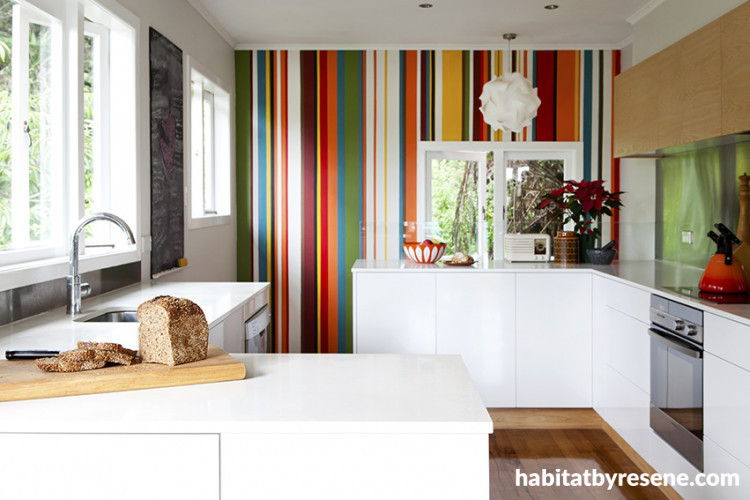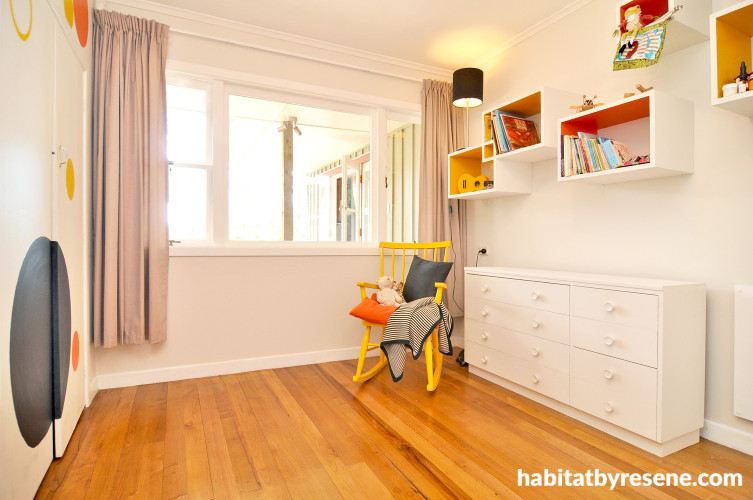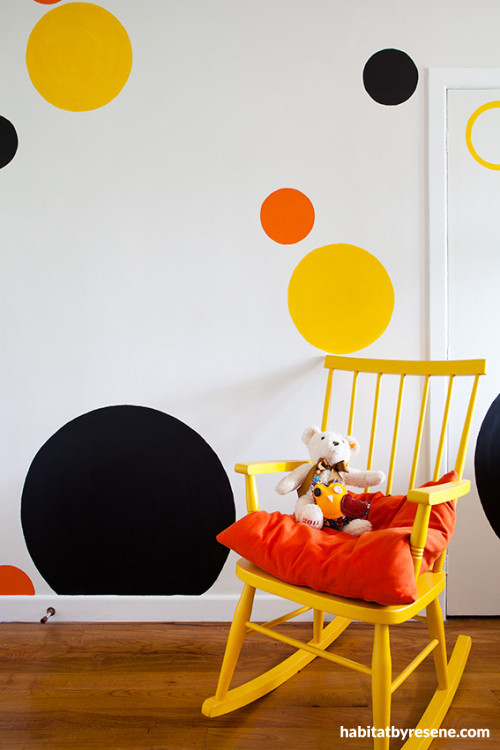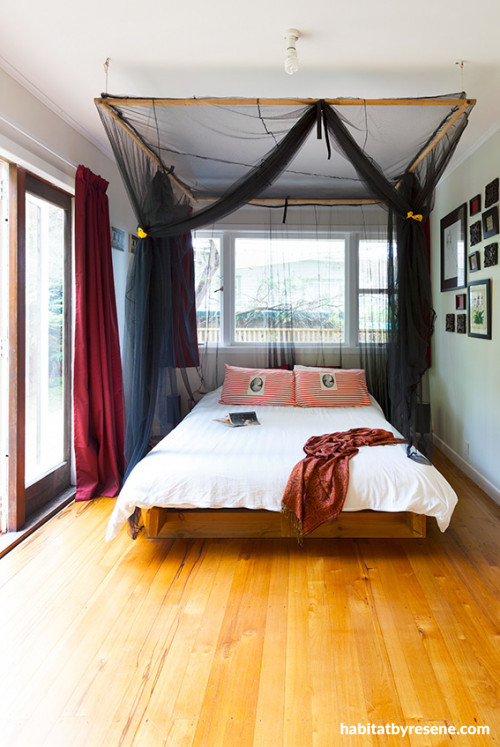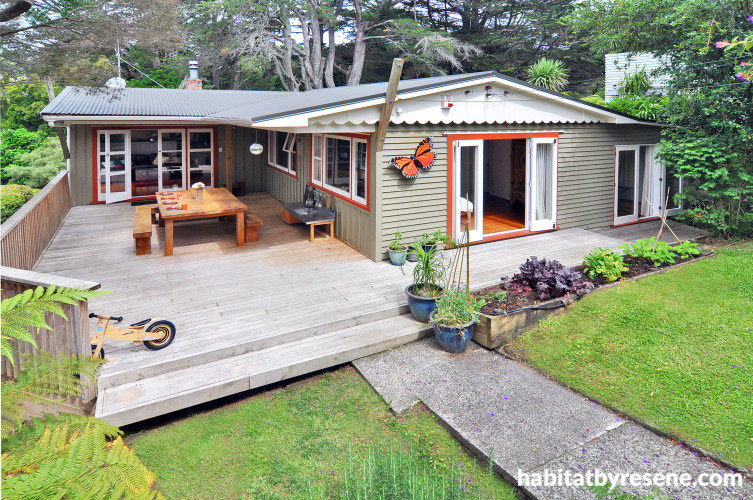 Michele and James go bright but earthy
Michele Powles and James Winton's basic 1950s bungalow was in a sad state. Its skin was peeling and its tongue hanging out, but with a good drink of Resene paint, it has not only become the envy of the neighbourhood but was a finalist in the Your Home & Garden / Resene Colour Home awards a couple of years ago with a striped painted wall in their kitchen.
After 10 years of renovation, the couple and their children Fox (3) and Huxley (1) are selling their home and beginning a new building venture, detailed on Resene and detailed on Michele's blog, www.buildingboxes.co.nz.
What Resene colours have you used and what inspired those choices?
With a striped kitchen wall that people assume is expensive wallpaper, a child's bedroom with spots, the lounge all in green, classic red, black and white in the main bedroom, and crazy frames and a grandfather clock in the hall, we've used almost every colour in the spectrum.
But it was the white that took us the longest to pick. I chose the colours in half an hour; the white took two months!
It's easy to play it safe, but we decided paint can be changed very simply so we would go for it with colour. Many homeowners seem to be in love with white. People kept discussing the importance of resale appeal, but with a house like ours, it's going to be an emotional purchase anyway. You either like it or not, and in the mean time, we've gotten to enjoy living in a home that is relaxing and invigorating in turns.
How did you decide on the overall look of the interiors, your overall philosophy?
Bright yet earthy, fun yet grown-up. I wanted to go crazy with colour but to choose tones that went with the abundance of green outside. We love living where we do because the outlook is green from almost every angle. I wanted to have a little of that inside.
What part of the house are you most happy with?
Everyone loves the kitchen, and I love it too. It's so easy to work in with its big wide benches, and the striped wall makes the white look even brighter without being sterile somehow. I also love my little boy's room. The big yellow, orange and black spots just seem to suit his nature - inquisitive and bubby.
What is your advice for someone trying to achieve a similar look?
Don't be afraid to try. I didn't plan out the stripes in the kitchen, just taped them up freehand and went with whatever felt right. I figured, it's paint, if it doesn't work, I can repaint! I think giving myself that freedom has resulted in a nice mix of random colour combinations that contrast and blend with each other in turns. The house looks bright and invigorating rather than too ordered, and that's what works.
Do you have a favourite colour?
I don't have a favourite colour, but I am having a love affair with teal and navy at the moment. I'm thinking there might be some tones of kingfisher in our new build house…
Michele and James are selling their house privately, with help from Homesell and Trade Me. Call 021 864 955.
This house also featured in New Zealand Interior Style by LeeAnn Yare and Larnie Nicolson, available at Collected.
Published: 05 Mar 2015
Do you have a home full of wonderful Resene paint and colour? Send us some snaps by emailing [email protected].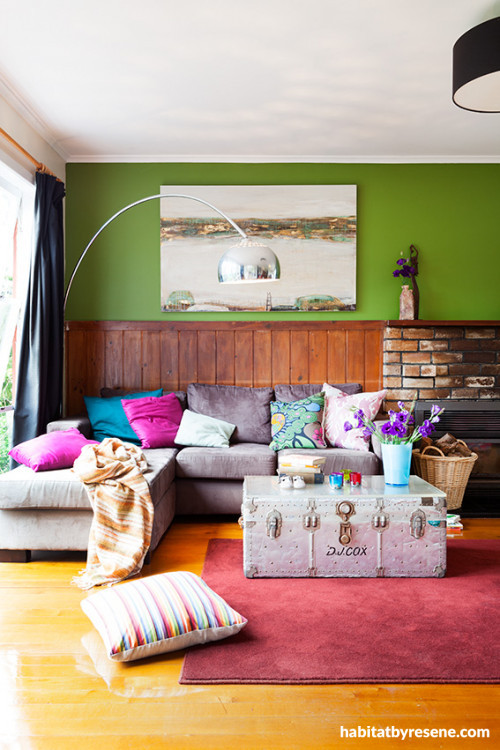 The living room walls bring a touch of the bush-clad property indoors, with Resene Topspin. You can get a similar look with Resene Kakapo from the Resene The Range fashion colours 16 or Resene Green Leaf from the Resene Multifinish range.
pictures
Photograph by Larnie Nicolson. Styling by LeeAnn Yare.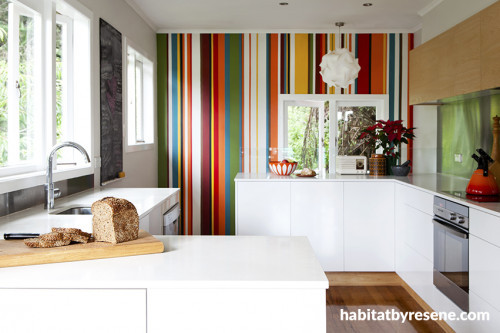 The couple's famous striped kitchen walls is done in Resene Topspin (green), Resene Ecstasy (orange), Resene Galliano (yellow), Resene Bullseye (red), Resene Blackjack, Resene Free Spirit (turquoise), Resene Drumbeat (brown), Resene Breakfree (maroon) and Resene Calypso (blue). The cabinets are in Resene Milk White and the chalkboard is in Resene Blackboard Paint.
pictures
Photograph by Larnie Nicolson. Styling by LeeAnn Yare.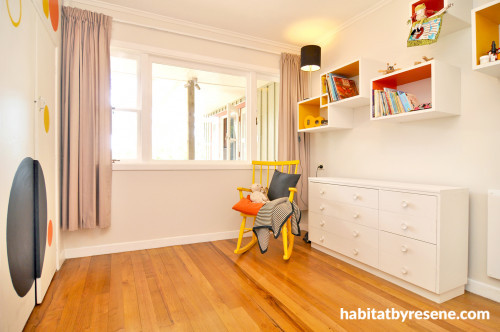 Box shelving in Fox's room is painted on the inside with Resene Galliano (yellow) and Resene Ecstasy (orange) while the walls are Resene Milk White.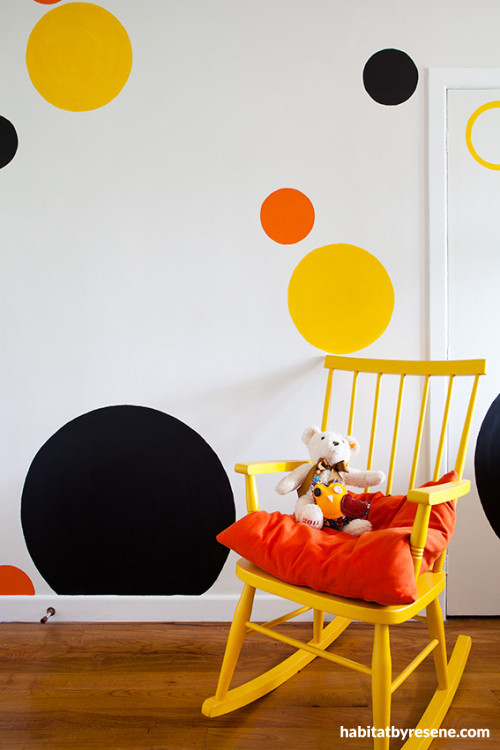 Fun spots in Resene Galliano (yellow), Resene Ecstasy (orange) and Resene Blackboard Paint bubble up the wall and wardrobe doors in Fox's room. The chair is also in Resene Galliano.
pictures
Photograph by Larnie Nicolson. Styling by LeeAnn Yare.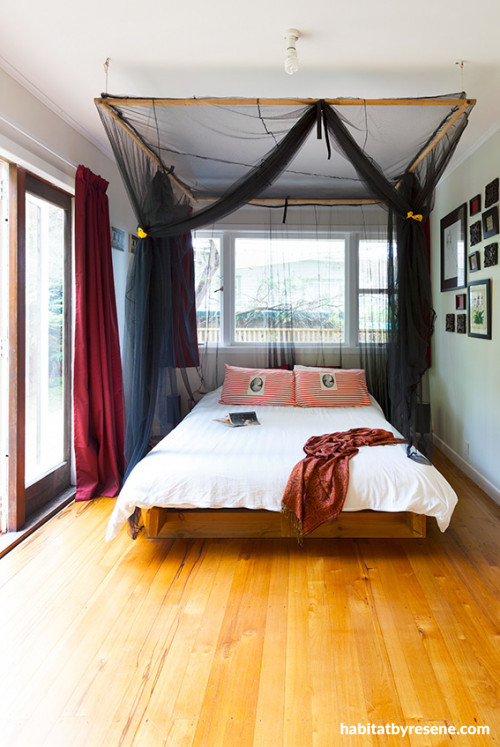 Black rather than white mosquito netting hangs over the bed in the main bedroom. Resene Breakfree, a theatrical red, peeps through from the back wall with Resene Milk White on the other walls.
pictures
Photograph by Larnie Nicolson. Styling by LeeAnn Yare.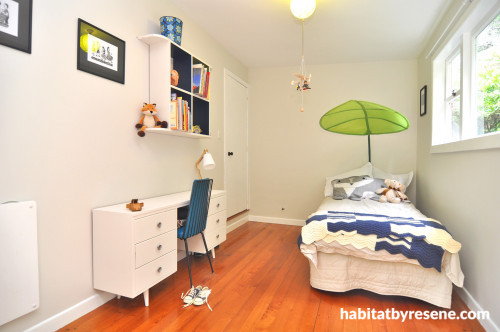 Son Huxley's room is a calm retreat in Resene Milk White. The inside of his shelves are painted in Resene Retro and Resene Kakapo.
A collection of different shaped mirrors and framed art makes a visual statement at a turn of the hall.
pictures
Photograph by Larnie Nicolson. Styling by LeeAnn Yare.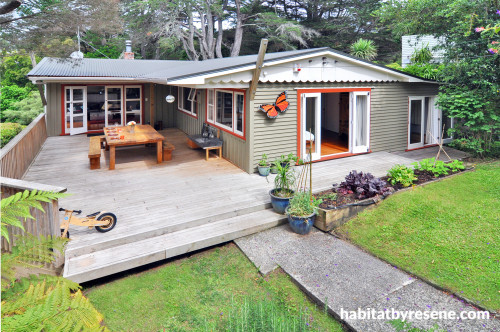 An earthy scheme with a shot of hot burnt orange is perfect for the house's bush setting. The weatherboards are Resene Half Hillary with trims in Resene Thunderbird and Resene Half Pearl Lusta.