►
◄
latest
habitat tv
blog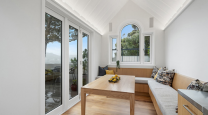 Master Builders' Chief Executive David Kelly shares his tips for building in the challenging climate.

Planning... more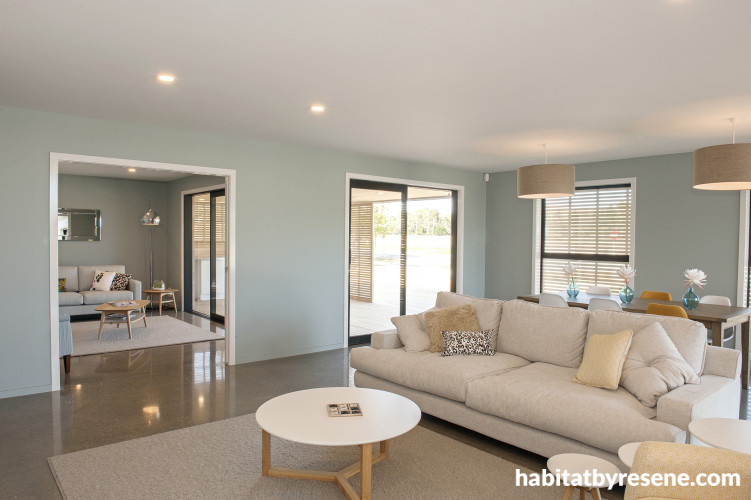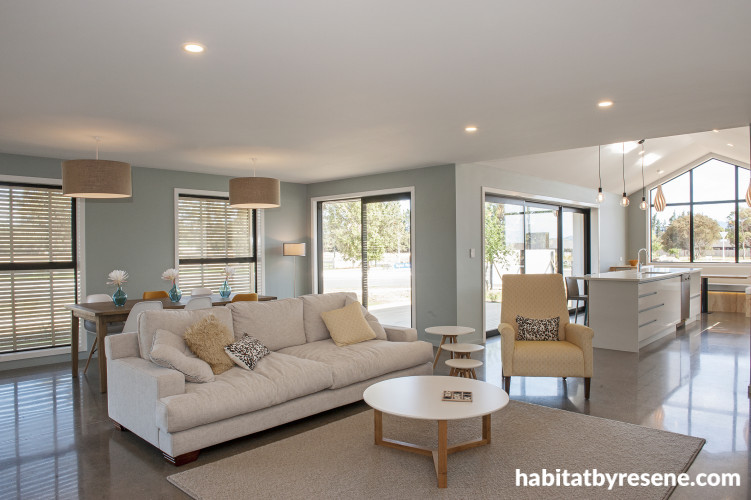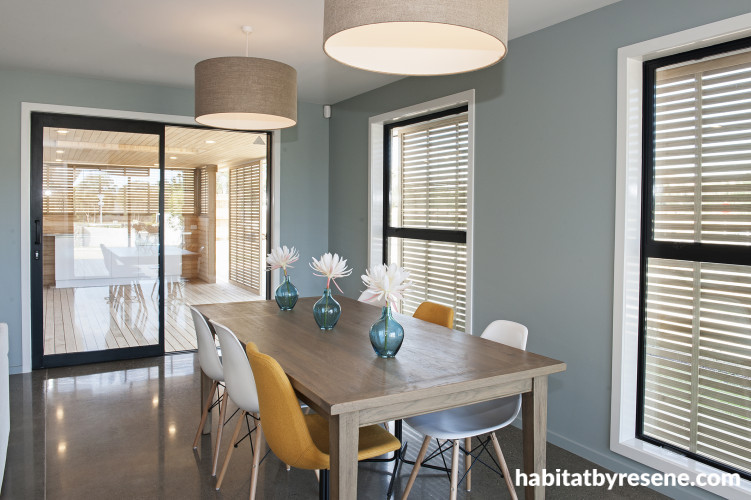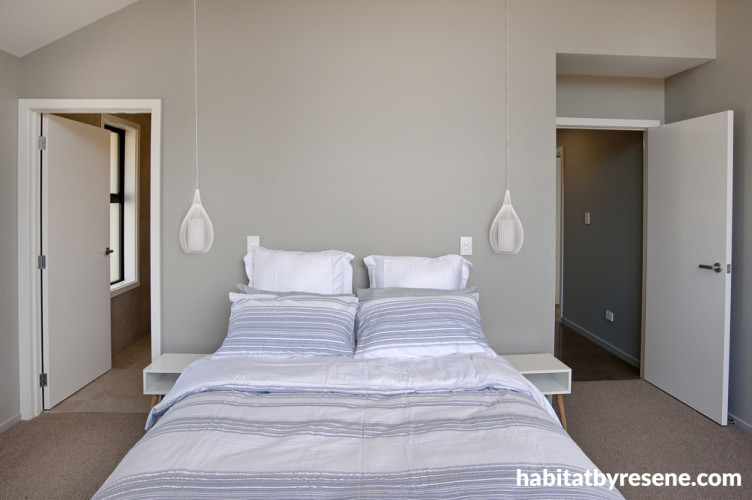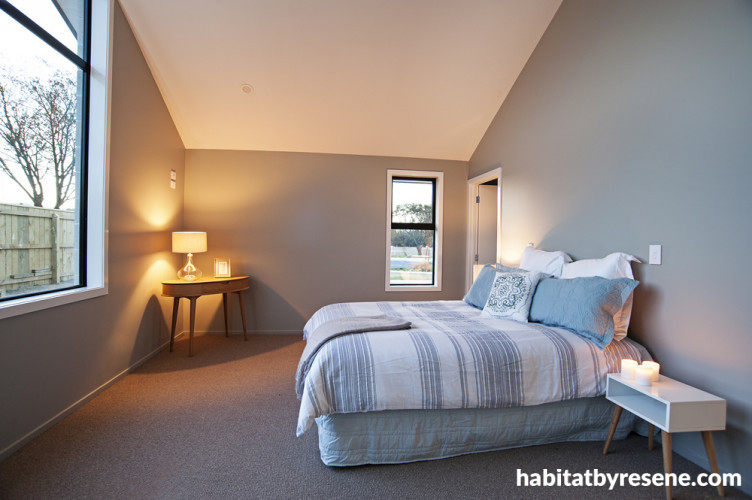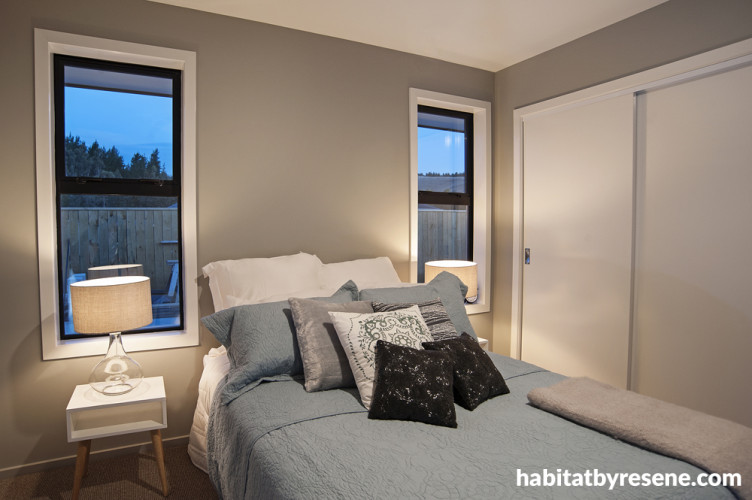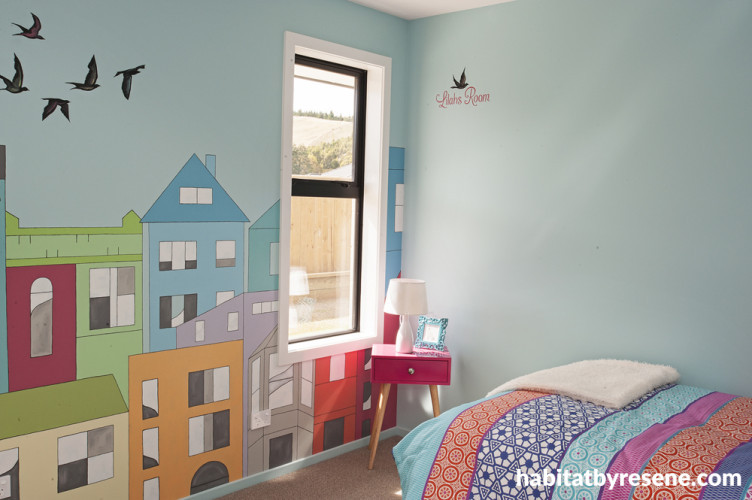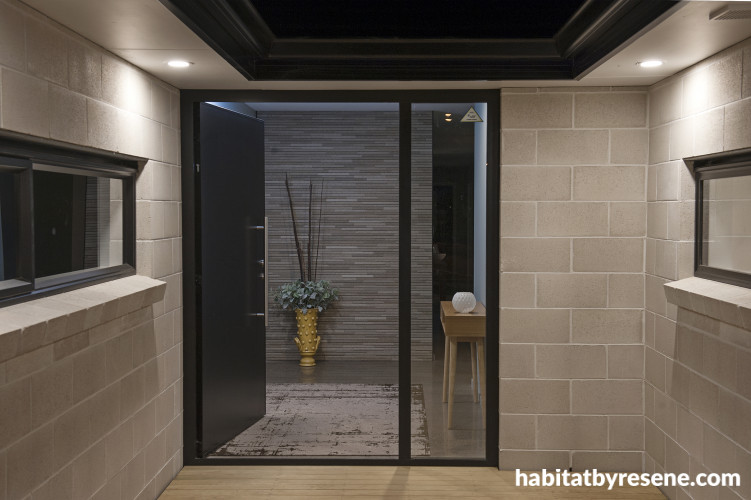 Michelle and Andrew show some vision
Let's be up-front and honest – this house is a show home. Surprised? So were we when we saw it. The assumptions we carry about show homes is that they will look nice, but by the very nature of having to appeal to a wide range of tastes, they can end up looking less than personal. The company which created this one used stronger Resene colour and added some quirky details to create a home that many of us would love.
Michelle Pope of Andrew Pope Homes tells us how they carefully trod the line between broad appeal and contemporary vision.
How did you decide on the style of the architecture and interiors?
We wanted to design a house that would best suit the site as well as work well as a show home. It had to be aesthetically pleasing with a classic style; the gables and roof pitch are classic design features. The mix of contemporary products like the Firth Manorstone brick and oversized front door add a modern twist but won't date. The interiors were created on the same theme – timeless but modern. The retro furnishings are a nod to 1970s style.
What was your overall design philosophy?
Timeless style, function and good flow. A home should be easy and enjoyable to live in, and each space should have both a purpose and a social function. Like the kitchen, which was designed as a meeting point with easy access to all areas including storage and cook tops.
What Resene colours were used, and what inspired those choices?
We used Resene Half Inside Back in the living areas, hallway, wine cellar, and laundry. For the bedrooms I chose Resene Sea Fog and for the ceilings and doors, Resene Half Black White. The internal doors, book shelf and window reveals are in a high-gloss finish to add interest and depth. I wanted an interior that was warm and calming to live in. Artwork looks great on these colours, as does the lighting.
What part of the design are you most happy with?
It's hard to pick just one part but I guess the entrance and kitchen are standouts for me. The entrance feature wall, oversized entrance door, and the floor-to-ceiling window which frames the native plants outside, which are lit up at night, looks amazing and is such a lovely space to walk into. I love simple design of the kitchen and the mix of high gloss and plywood features. I believe the kitchen is the hub of the house and I believe we have achieved this.
What was the biggest design challenge for this project?
The biggest design challenge was achieving the raking ceiling, the kitchen window and the recessed doors, which take up the entire west wall in the kitchen opening out onto the deck. To achieve this, the entire end of the house had to be engineered and specific designs were needed to strengthen the large window
How has the show home been received? How do people respond to the interiors?
The response has been fantastic. The ultimate compliment has been customers replicating our kitchen and interior colours. We're thrilled with the feedback. It was a bit of a risk choosing polished concrete floors as it's quite different to what other show homes have in Blenheim. But everyone loves them. I think the point of difference has worked in our favour.
See more of Andrew Pope Homes at www.aphomes.co.nz.
Published: 07 Dec 2015
Do you have a home full of wonderful Resene paint and colour? Send us some snaps by emailing [email protected].
One of Michelle's favourite spaces is the kitchen with its mix of high-gloss Resene Half Black White cabinetry and plywood. The build-in seat is a quirky yet handy feature. The walls are in Resene Half Inside Back.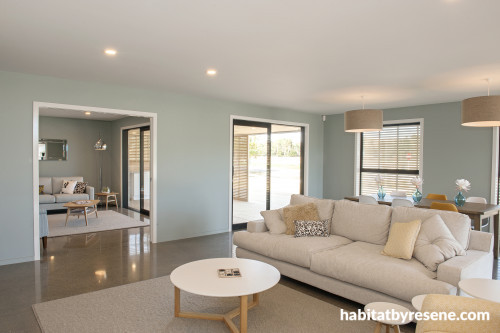 The two living areas have walls painted in Resene Half Inside back, an unusual choice for show homes, which normally feature more subtle colours.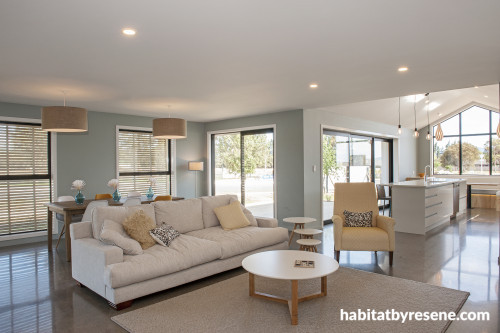 The kitchen is an extension of the living room, and has a stunning completely glazed gable end. The walls are in Resene Half Inside Back with ceilings in Resene Half Black White.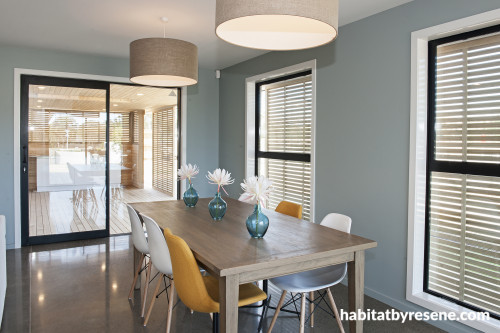 The dining area, with walls in Resene Half Inside Back, opens to a sheltered deck.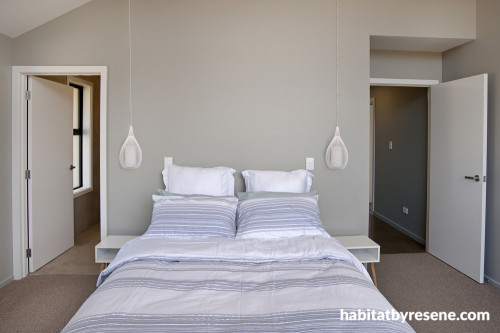 Resene Foggy Grey is a watery grey vapour, smart and contemporary – it's a wonderful colour for this main bedroom.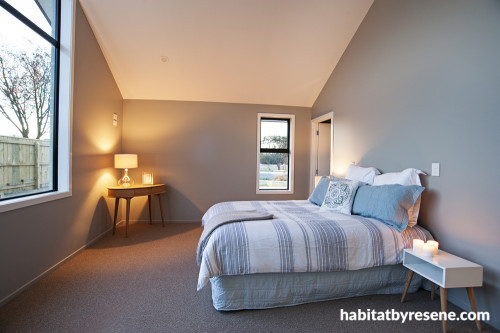 The bedroom at dusk. The walls are painted in Resene Foggy Grey.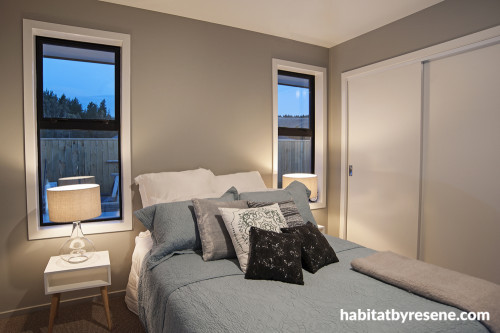 The guest bedroom is also painted in Resene Foggy Grey.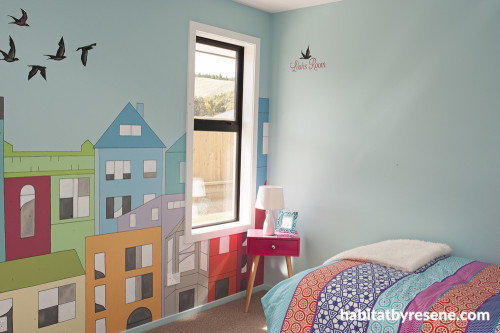 A child's room has a fun mural against walls in Resene Half Kumutoto.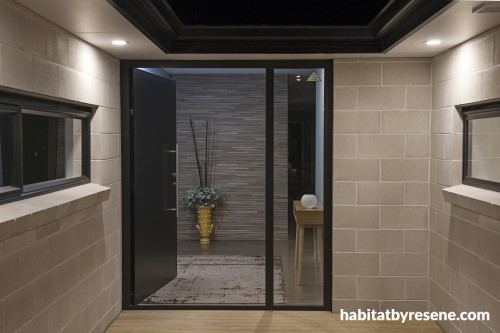 The oversized front door is one of Michelle's favourite features.
the look
If you're stuck on what
colour to use or need colour
advice, try out the Resene
Ask a Colour Expert service.