►
◄
latest
habitat tv
blog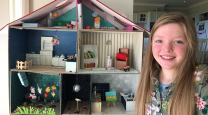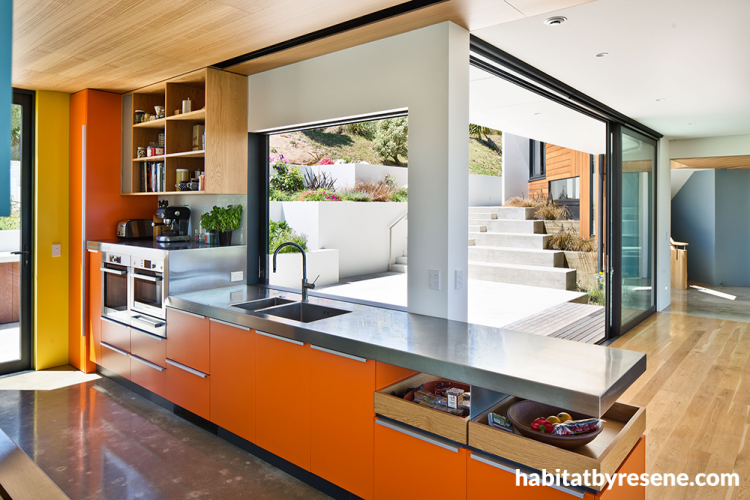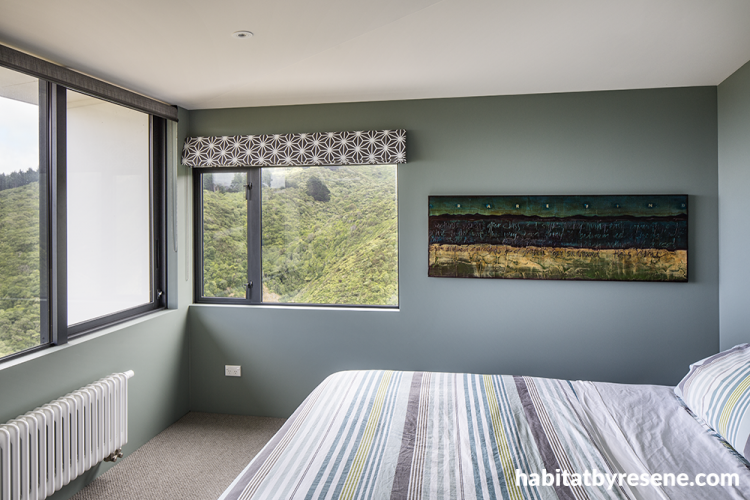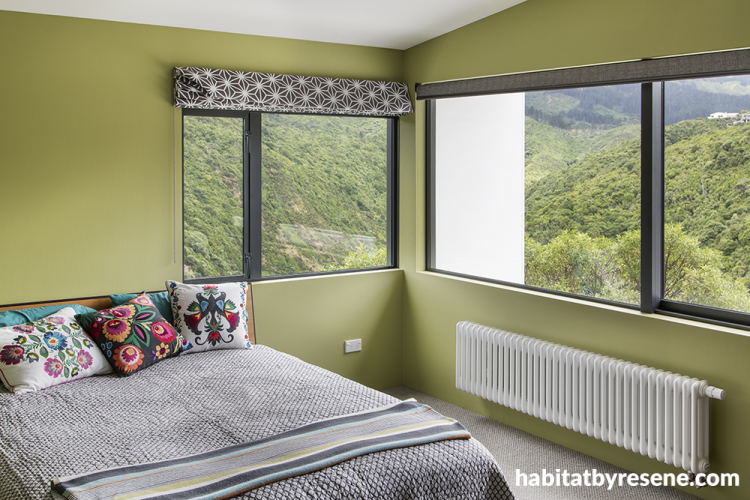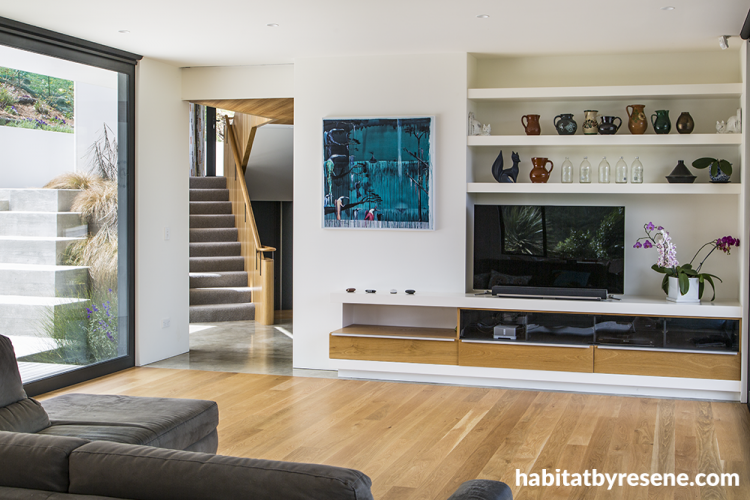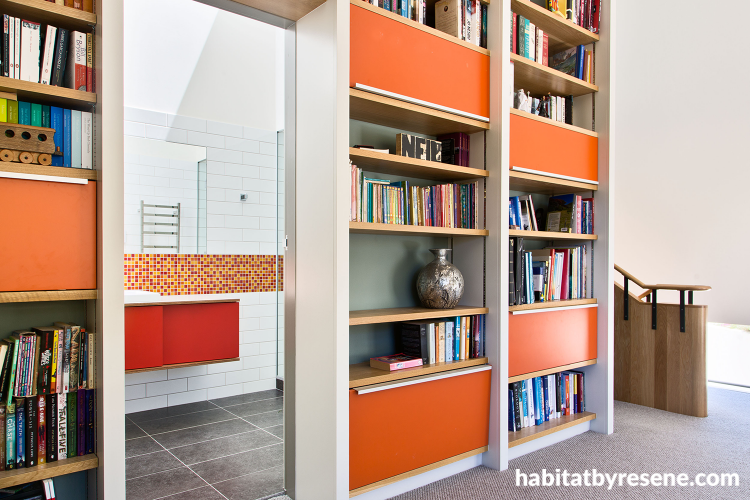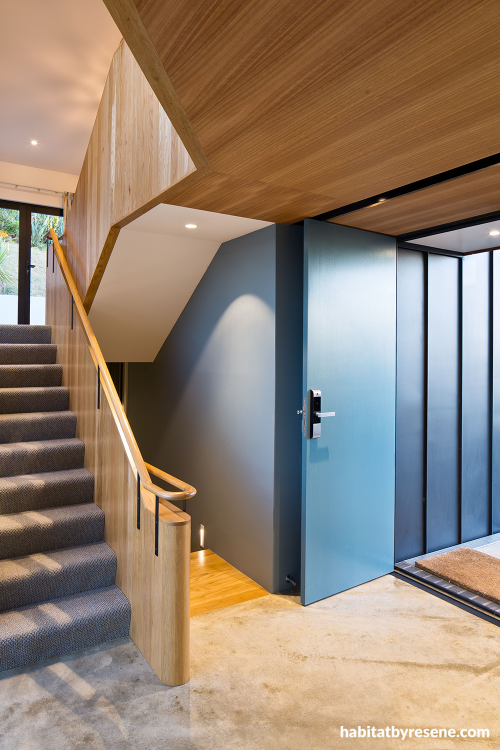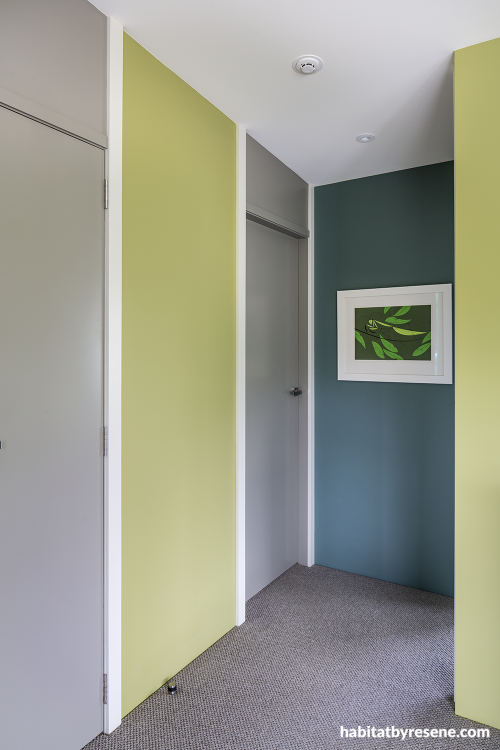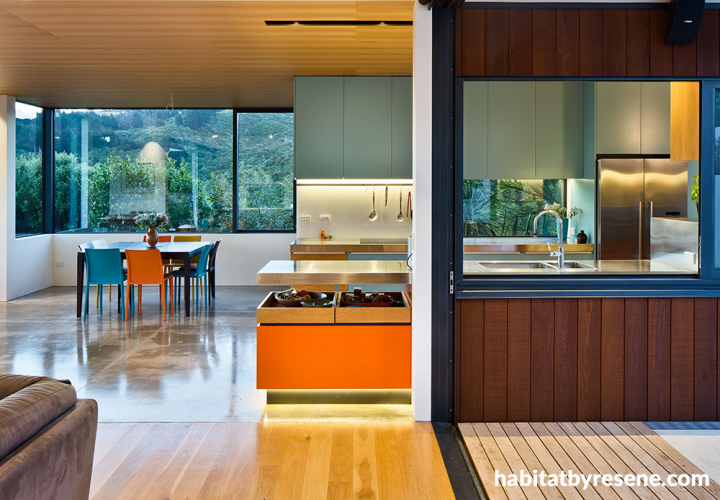 Mike and Monica's stunning modern colour fusion
Most contemporary homes take a fairly restrained approach to colour – lots of white walls, raw concrete and artisan timbers. But architect Gerald Parsonson doesn't run with the herd, and neither do his clients, as this home shows. It's a sensational blend of striking contemporary lines and fairly out-there colour.
Homeowners Mike and Monica regard colour as critically important as architectural design, so this new-build in Wellington was always going to be distinctive.
Monica spent hours poring over Resene colour options, ending up with a stack of about 40 A2-sized sheets of colours she and husband Mike liked. They then spent an intense couple of sessions with Gerald to develop a scheme that was playful, unique and interesting.
"Downstairs we've used big colours against the neutrals and naturals of the timber ceiling and concrete floor in the kitchen, and timber floor and neutral walls in the other living and dining areas." That includes a kitchen in not just one but three colours: Resene Trinidad (orange), Resene Banana Split (yellow) and Resene Kumutoto (aqua).
The palette is set against a neutral background of walls and ceiling in Resene Bianca; doors, horizontal architraves, frames and panels in Resene Taupe Grey and vertical architraves in Resene Ecru White. The hall and stairwell have a continuous wall in Resene Bluff.
The large home rises over half levels, with a number of living areas to accommodate children of different ages. It won a Master Builder's award for Scotty's Construction.
The wide range of colours continues upstairs with bedrooms in a range of calming greens, and earthy terracotta, and a red bathroom. The upper level activity room is in Resene Smoky Green with shelving in Resene Taupe Grey. The doors and architraves are painted in Resene Rock Spray.
Monica says Gerald completely understood and appreciated her thoughts. "That's why we chose him as an architect. We talked to a few architects when we were looking to build, but the thing that stood out about Gerald was that he was a good listener."
Says Gerald: "People should remember, bright colours make you happy; it's so easy to default to shades of whites and greys but that makes a house look like any other and in this home the owners were prepared to be bold."
The house continues to offer surprises for the family both in architectural terms and colour. "We get a lot of pleasure from the different angles, it works so well on the site, it's very peaceful… Gerald has been so clever with his design we have outside areas protected from the wind regardless of whichever way the wind is blowing. So we can live with the doors open, which we do a lot."
Monica says the boundary between the inside and out is blurred both in architectural terms and colour use, just as she and husband Mike had hoped.
"It's a thrill, a home that is both exciting and yet peaceful. Every day I come home I feel like I'm coming home to a bach, a place of tranquillity, of peace yet also inspiration."
Designed by Parsonson Architects. Building by Scotty's Construction.
Published: 03 Aug 2016
Do you have a home full of wonderful Resene paint and colour? Send us some snaps by emailing [email protected].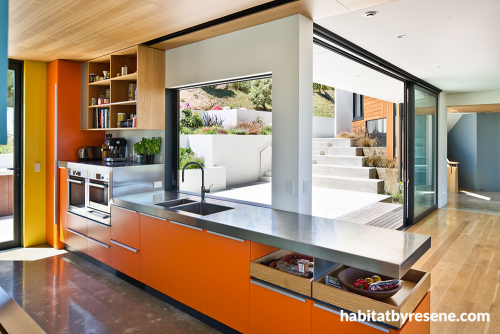 The colour journey began with the kitchen, painted in Resene Trinidad (orange) Resene Banana Split (yellow) and Resene Kumutoto (unseen, blue).
pictures
Paul McCredie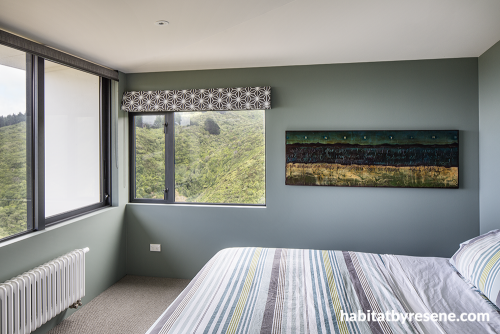 The bedrooms have been turned into restful spaces with calming greens, like this one in Resene Boulevard.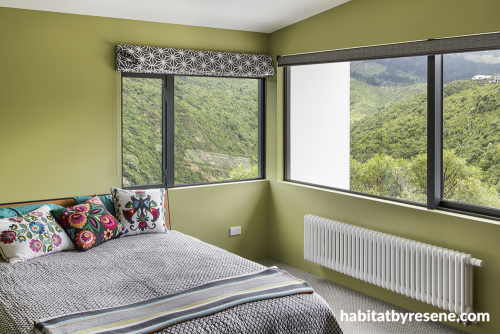 Another bedroom echoes the green of the bush-clad hill outside the window, with walls painted in Resene Crisp Green.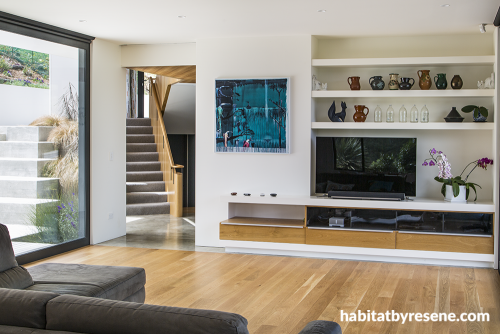 The only neutral-coloured space is the main living room, where the natural elements like the concrete floor, and timbers are left to shine against Resene Bianca walls.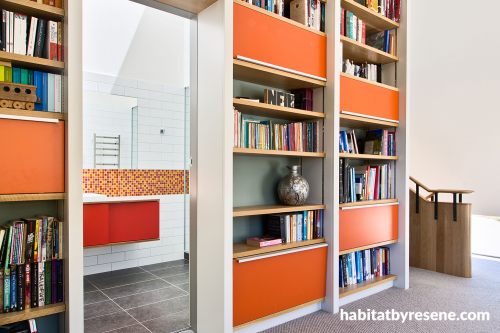 A bathroom with Resene Pulse cabinets is framed by a shelving unit in the activity room, which is in Resene Rock Spray (orange), Resene Smoky Green (behind the shelves), Resene Ecru White on the uprights and Resene Taupe Grey on the architrave.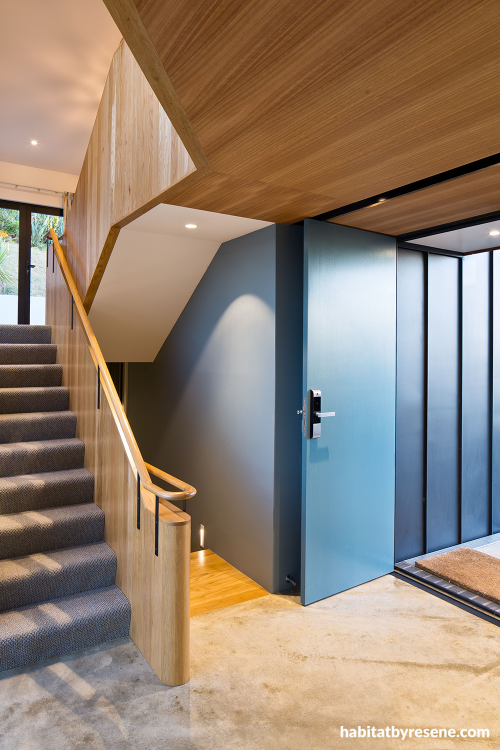 The entry hall and stairwell have a continuous wall in Resene Bluff, with a front door in Resene Streetwise.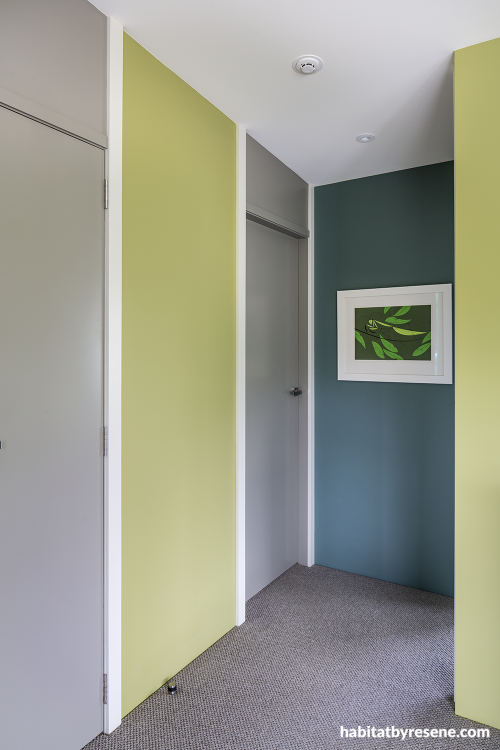 The hallway has more restful greens, Resene Crisp Green and Resene Imprint.
Resene Kumutoto colours the wall cabinets in the kitchen while the chairs in the dining room echo the strong colours of the kitchen. The lower cabinets are Resene Trinidad.
the look
If you're stuck on what
colour to use or need colour
advice, try out the Resene
Ask a Colour Expert service.