►
◄
latest
habitat tv
blog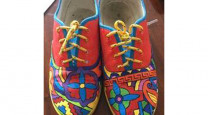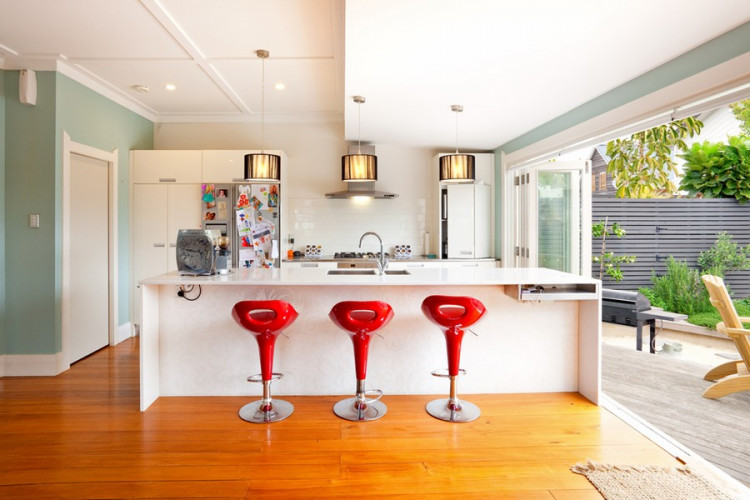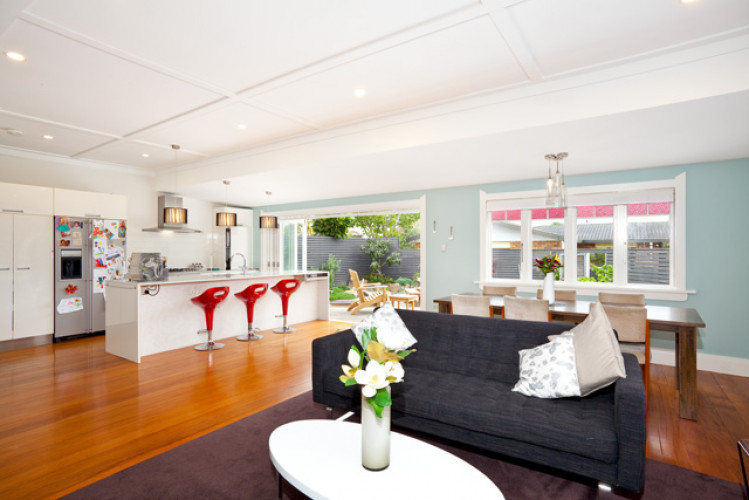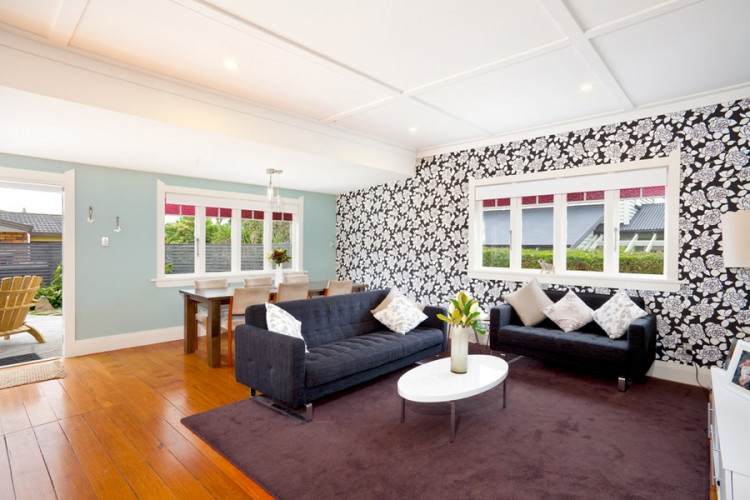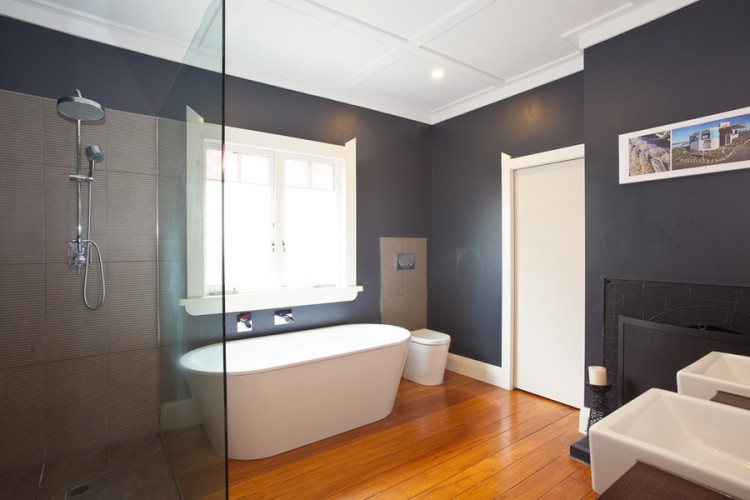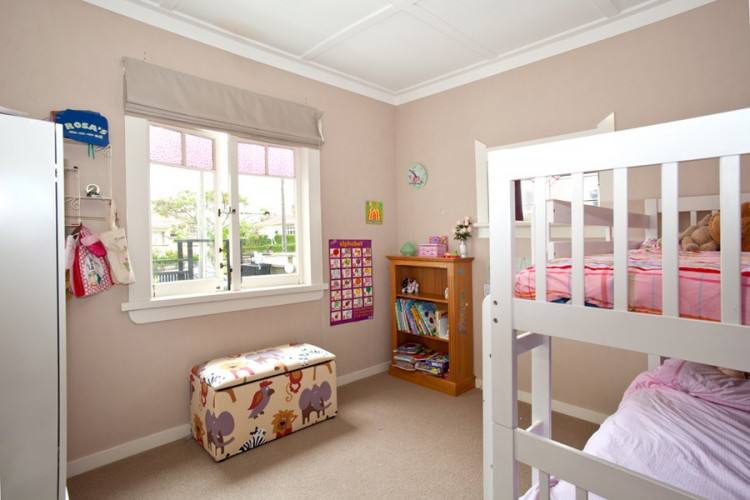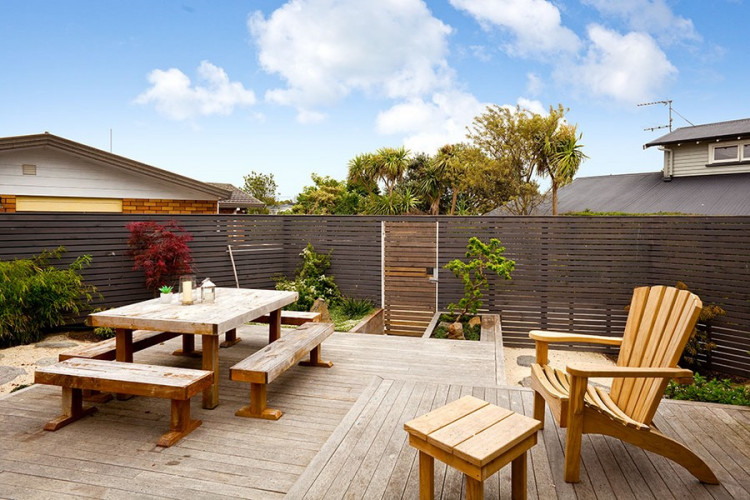 Brent and Susan do it their way
08 Dec 2011
Do you have a home full of wonderful Resene paint and colour? Send us some snaps by emailing [email protected].
An interior that mixes bold and serene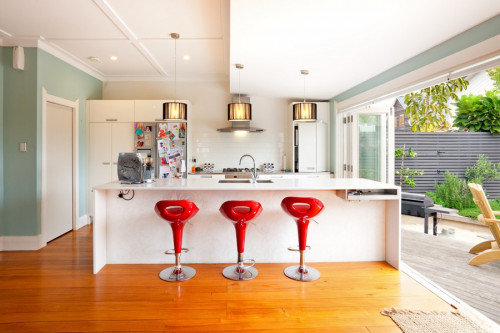 When you spend six years working next-door to London's Design Centre and pouring over home decorating magazines, it should surprise no one when you choose dramatically patterned wallpaper for your newly renovated living area, and paint your entire bathroom black. Yet Susan and Brent laugh as they recall the number of people who tried to talk them out of their colour choices. No one succeeded and, several years later, they are happy that they followed their instincts.
What did your home look like before the renovation? It had suffered through several average DIY efforts in its former life, including (apparently) being split into flats - the benefit of that incarnation is the en suite off the front room. Also, there was exposed wood everywhere except, oddly, the beautiful rimu floor, which was covered in old carpet!
What did you want to achieve with the renovation? A liveable, peaceful, open space - and one that would accommodate a young family. We wanted to add storage unobtrusively and create indoor/outdoor flow. Our architectural draftsman, Phil Shaw from ICR Consulting, improved on our ideas and made a huge difference. We also wanted to right some of the previous DIY wrongs and remain true to the style of the house. Hence the windows in the living area match the originals, including the rose coloured glass, which came all the way from Christchurch.
Where did your inspiration come from? I had been collecting images and ideas in scrapbooks for years. I lived in London for 6 years and worked in Chelsea Harbour right next to the Design Centre there. I think that's where my love of texture comes from. A lunchtime spent window-shopping there was a trip into another world. That said, I love Australasian and Pacific style and I relished Habitat magazine arriving in my letterbox each month. In fact, the idea for the colours and wallpaper in the living area came from there.
What was the biggest challenge? Making decisions! This was our first house so I'd never renovated anything previously. There is so much choice out there that you have to really focus on what you want, your budget and your instinct. The black and white Brocante wallpaper (available from Resene) in the living area and the nearly-black bathroom generated a lot of "interest" from well-meaning relatives and friends.
What was the greatest success? I love the bathroom. People thought we were crazy having such a big bathroom, but it works. The colour (Resene Foundry) creates a cocoon-like feeling. A bubble bath with a glass of wine, some candles and the fire going, is the perfect antidote to a rough day at the office. With children, the space meant that baby could be playing on a rug, you could see her from the shower and you didn't feel cramped and harried. The almost-invisible cupboards in the hallway also work really well. We still managed to keep the wide halls.
Which space in the house do you get your greatest satisfaction from? I love being in the kitchen, and looking across to the living space or out to the Japanese-style edible garden. It just feels so complete. If houses had souls, I get a sense that, after decades of funny angles, boxy rooms and stained woodwork, our house is now smiling too.
What colours did you use? We used Resene Quarter Spanish White in a gloss finish for the kitchen, Resene Ashanti in the living area, Resene Foundry in the bathroom (be brave!), and Resene Half Perfect Taupe in the children's room. The wallpaper is from the Brocante range, available from Resene. (Editor's note: the Brocante range is no longer available, but Brocante 2 has similar patterns.) Throughout the house we used Resene Quarter Spanish White for the trims, skirtings, etc. The exterior of the house is Resene Nebula with Resene Pearl Lusta trims.
What is your advice for someone trying to achieve a similar look? I think it's important to keep the bones simple and balanced. It gives you much greater freedom to experiment with colour and pattern.
Get the look:
Using a statement wallpaper is a quick and easy way to add extra interest to your home. If you are keen on adding texture to walls but are struggling to find a wallpaper in the right colour, consider using a Paint On wallpaper. You hang the Paint On wallpaper then paint over it with your favourite Resene colour. You can then enjoy the colour you want in a textured finish. For thousands of wallpaper ideas, see the Resene website.
pictures
Many thanks to David Simons at Unlimited Potential Real Estate for permission to use these photographs.
Open plan living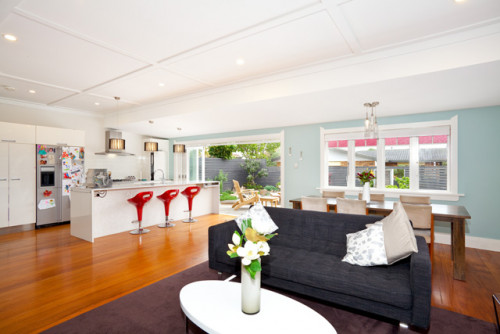 The open-plan living area is painted in aqua Resene Ashanti, with ceilings in Resene Quarter Spanish White. "The blue-green palette is calming and refreshing at the same time," says Susan. "I wanted a sense of tranquility without feeling like we had to whisper. A recharging zone rather than a chill-out zone."
On the wall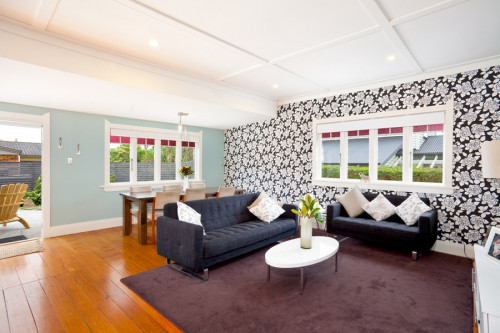 In the living room, a striking feature wall is created by wallpaper from Vision's Brocante range. (This pattern is no longer available, but if you like it, then check out the similar styles in the recent Walltrends III collection, available from your local Resene ColorShop.)
The all black bathroom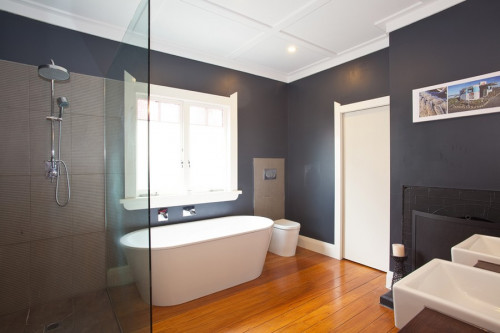 Painted in Resene Foundry, the black bathroom is surprisingly soothing, especially when experienced by candlelight.
Play, sleep and be merry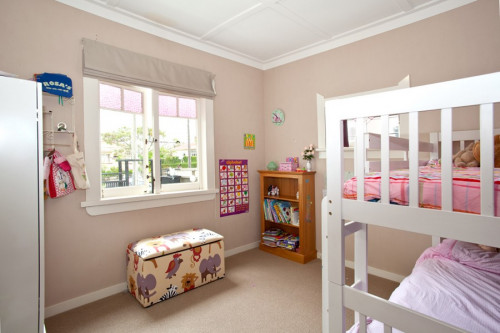 The children's room is painted in Resene Half Perfect Taupe.
Decked out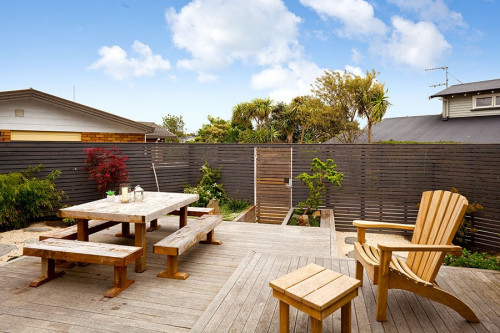 The back deck connects the kitchen/living area with the Japanese-style edible garden.
Resene Quarter Spanish White
Resene Half Perfect Taupe
the look
If you're stuck on what
colour to use or need colour
advice, try out the Resene
Ask a Colour Expert service.