►
◄
latest
habitat tv
blog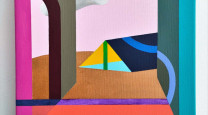 Father's Day gift ideas to help you shop local or get creative at home
26 Aug 2021
Celebrate local creativity this Father's Day with a range of hand-crafted gifts from small businesses. We've gathered some local artisans and funky DIY gift ideas together to help you find – or make – a great gift for your dad. Whether he's an animal lover, keen on collecting, or a barbeque fan, we've got the perfect gift for your Dad this Father's Day.
Note delivery of any online products is subject to government restrictions. Check for updates on New Zealand's alert levels. We've included some homemade gift ideas as well.
Dive deep into Shipwreck Trading's collectables
Find gold this Father's Day in the depths of Shipwreck Trading. Specialising in all things ocean collectables, Resene painted model ships and upcycled finds Shipwreck Trading is an easy way to add to your dad's treasure trove. "Shipwreck Trading is the perfect place to go for Father's Day because they specialize in marine salvage and collectables," says Shipwreck Trading's Robert. "We're often mentioned as one of the most interesting men's stores in New Zealand with compasses, telescopes, dive helmets, portholes, model ships and boats, flags, and much more."
Visit their online store here
Purr-fect pet portraits from Annie Kelly Art

If your dad has a soft spot for the family pet, why not treat him to a colourful pet portrait created by the talented Annie Kelly. Using Resene paints, Annie brings her pop art paintings to life with vibrant colours that perfectly capture man's best friend. "Pet portraits are great for people, especially those men in our lives who are adamant that they don't need a pet but end up with the most loving relationship with them," says Annie. "It's a great way to capture that spark and personality of your pet in a bold and thoughtful way."
To contact Annie or see more of her work visit her Instagram or Facebook
Fabulous furniture from In the Shed
Craig Poad's hand-crafted furniture is a fantastic mix of fabulous colour and functional design. As a designer and craftsman, Craig creates brightly coloured furniture – including record holders, writing desks and side tables – perfect for any kind of hobby your dad may have. All designs can be modified to suit customer requirements and are great for those seeking a particular shape or colour.
To contact Craig and see more of his work, visit his Facebook page
Make a roar-some Father's Day card
Surprise dad with a dino-mite home-made card. A thoughtful gift doesn't necessarily mean an expensive one, and this dinosaur card is the perfect ways for littlies to express their affection. Upcycle some plastic animals using a splash of colour from your favourite Resene testpots and get creative with some leftover craft supplies to create something truly unique this Father's Day.
See the DIY here
Create a cool barbeque caddy
With the days warming up, why not prepare your dad for those backyard barbeques with a colourful and handy barbeque caddy. This toolbox-style caddy makes it easy to hold and transport eating essentials and will brighten up any picnic table. Use Resene paints to colour the caddy in your dad's favourite colours and fill it with chocolates or sweets before wrapping it up.
See the DIY here
Published: 26 Aug 2021