►
◄
latest
habitat tv
blog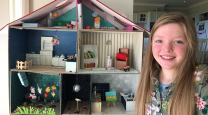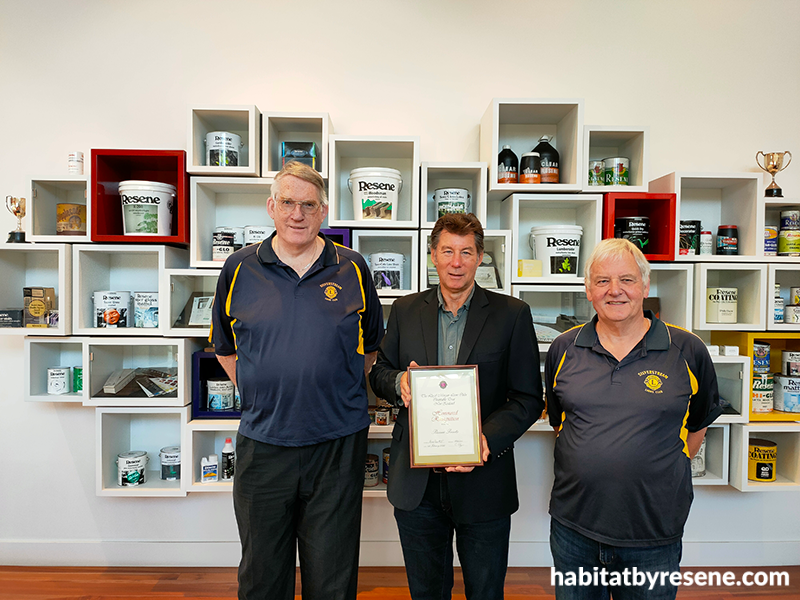 Lions Club award presented to Resene for supporting Heads Up For Kids
02 Jun 2022
You may have spotted old coin collection tins at Resene ColorShops across Aotearoa. Donating your old coins allows the Lions New Zealand to raise money for Kiwi kids.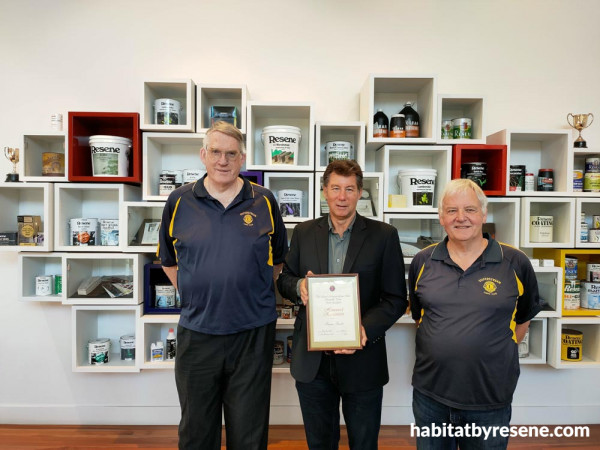 Resene Managing Director, Nick Nightingale (centre) is presented with the prestigious Lloyd Morgan Lions Club Trust: Honoured Recognition Award by the Lions Club.
In May Lions Clubs representatives presented Resene Managing Director, Nick Nightingale with their prestigious Lloyd Morgan Lions Club Trust: Honoured Recognition Award, to mark the support received from the company for this long running project
This Lions Clubs project was launched in July 2010, and is coming up to 12 years old. It was initially supposed to run for just 12 months, but such has been the success that it is still going. The project is unique in that it involves the collection of old New Zealand money and Foreign Currency, with the proceeds used to support Kiwi kids.
Throughout the project, it has been supported by two major sponsors. Resene has been with the project from the start – providing collection tins, counter space at the Resene ColorShops and a location for the counting room. Fastway Couriers (now Aramex) have also been a major contributor in transporting the money packages.
Many Lions Clubs across the country work with the Resene ColorShops in collecting, sorting and bagging the coins and notes for transport to the counting room. Collections are also made from Lions Clubs working with schools, local councils (foreign coins in parking meters), churches and banks.
At the counting room the deliveries are sorted, counted and packed for selling off. Pre-decimal, and old decimal notes and coins are sold to The Reserve Bank. New Zealand 1 and 2 cent pieces, pennies and half-pennies are sold for their scrap metal value. Foreign coins are sold to an Australian firm, and foreign bank notes are sold to collectors.
Two local Silverstream Lions Club members – Roy Peterson and John Adam – man the counting room racking up in excess of 3000 man-hours to date. Money through the counting room has totalled $650,000, weighing 31,000kg, and consisting of 6.5 million coins and 20,000 bank notes.
The funds from this Lions project have benefitted more than 1,000 Kiwi kids, through grants for them to participate in programmes like Outward Bound, Sir Edmund Hillary Pursuits Centre, Spirit of Adventure, and other academic, sporting and personal development and leadership activities.
Read more on the programme here and how you can help: www.resene.co.nz/headsup.htm
Published: 02 Jun 2022