►
◄
latest
habitat tv
blog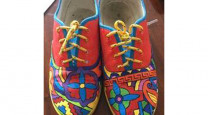 One of New Zealand's most popular art fairs goes digital
29 Apr 2020
While many have been disappointed to see event after event being cancelled or postponed, some organisers have seen our current predicament as a chance to get extra creative and take advantage of the technologies at our fingertips.
For the first time in its history, this year will see the Auckland Art Fair go online. From 11am NZST on Thursday 30 April until Sunday 17 May, Artfair.co.nz will be hosting a Virtual Art Fair where you will discover more than 30 galleries from New Zealand and Australia displaying works that would have otherwise been seen at the 2020 Auckland Art Fair.
According to the organisers, the Virtual Art Fair is in recognition of the artists who have already made special works for the Auckland Art Fair that couldn't happen, and the galleries who have supported them in doing so.
"It comes at a time of global uncertainty, when the importance of art, community and culture are especially apparent," their team said in a recent statement. "It is a celebration – as best we can – of the talent and diversity of art making by artists from our region; not only across New Zealand and Australia, but also around the wider Pacific-rim. We hope that, wherever possible, some of these artists and galleries will be supported by someone buying a work of art."
Browse, look, enquire and consider as you get to know new galleries and artists in support of contemporary culture at a time when the artists and galleries really need it.
Find out more at www.artfair.co.nz.