►
◄
latest
habitat tv
blog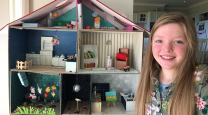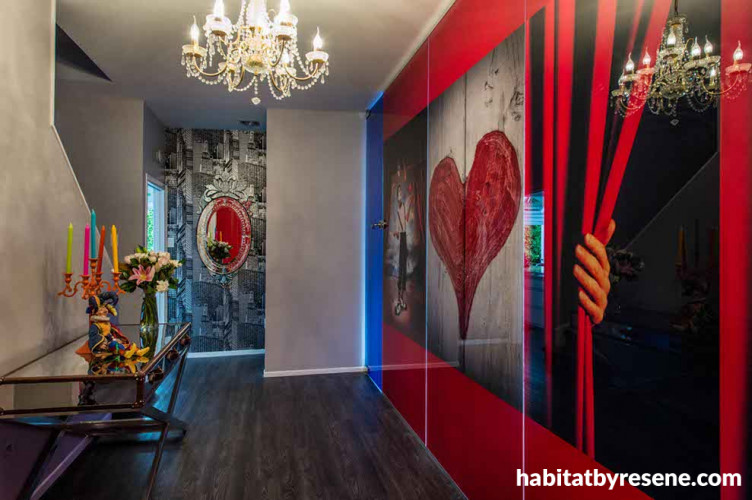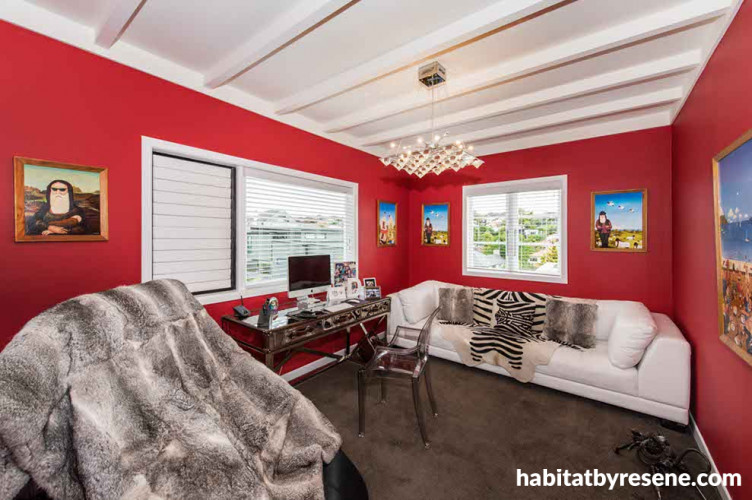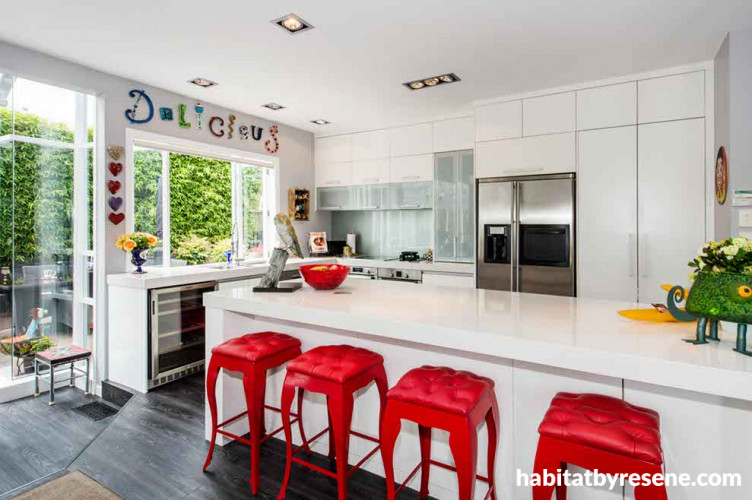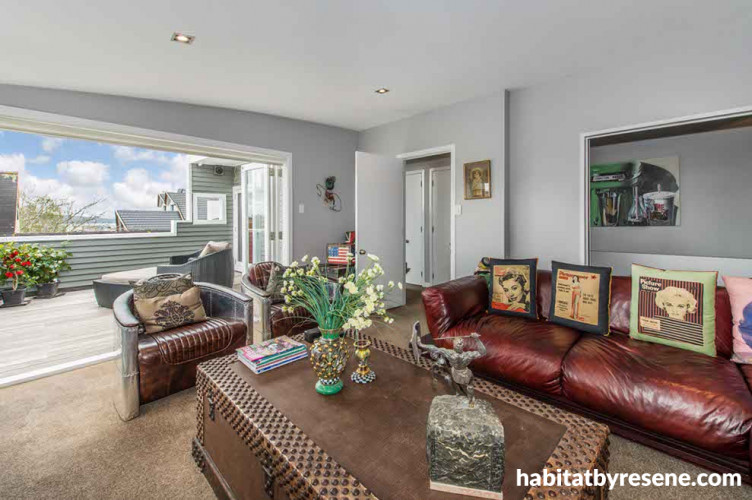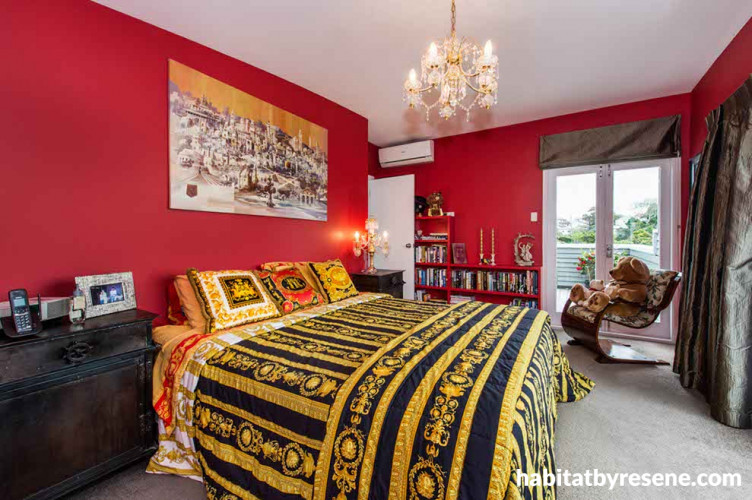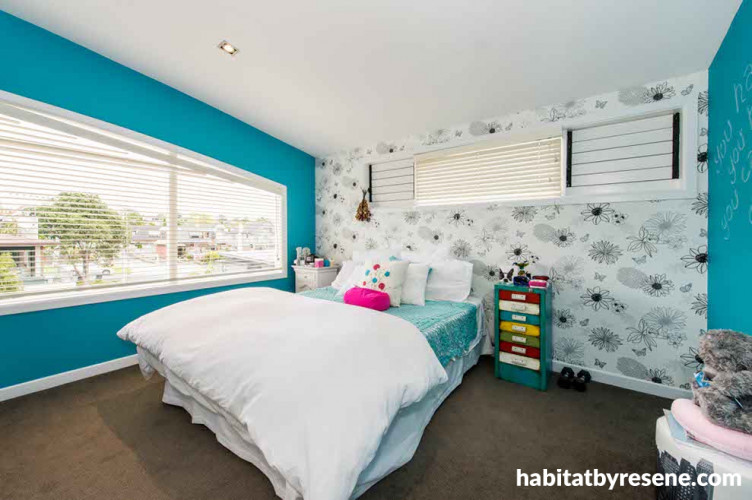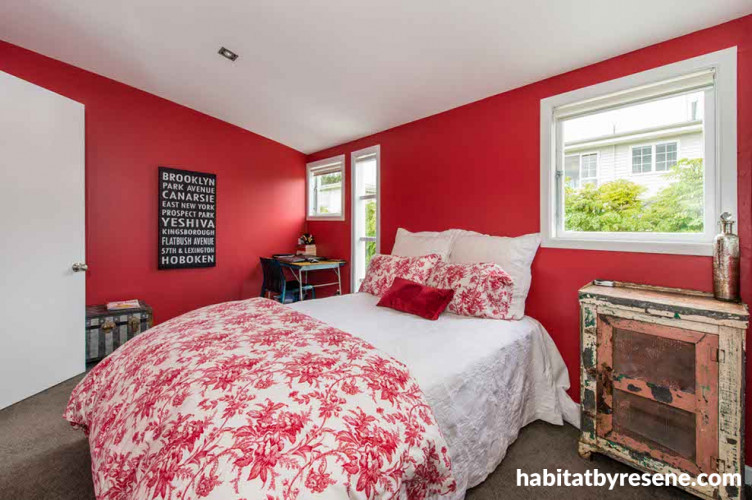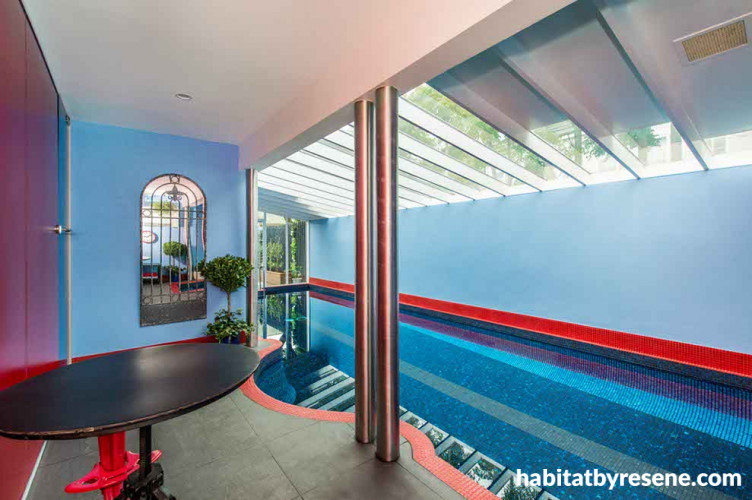 Noelene and Alan's red-hot home
It's no surprise to learn that this family love colour… any colour. It may have been tempting to give free reign to that passion during the renovation of their 1950s home, but by choosing Resene Pirate red as the hero, Noelene and Alan have created a sophisticated scheme that is quite simply breath-taking. The journey begins literally at the over-sized red glass front door with red appearing in bedrooms and the study, tempered with the cool grey tones of Resene Rakaia.
What inspired the colour choices for the various rooms?
When we purchased our 1950s weatherboard home we decided that we would renovate and decorate to our tastes and not for resale purposes. Whoever bought the house in future would have to love red. Using red was an easy choice to give wow factor. We had an amazing painter/owner, Sam from Regency Painters, who helped us decide on the final colours. I had bought a huge array of testpots and painted little splotches all over the house.
How did you decide on the overall look of the interiors? What was your overall philosophy?
We have some beautiful artwork and furniture so we chose colours to enhance them. At the start we decided to go with what we loved, and not worry about achieving a generic look.
What part of the house are you most happy with?
I love every room, but my favourite is the entrance way. New York is one of our favourite places so picking the Manhattan wallpaper (no 2528-21) from Resene was an easy choice. The art glass wall is amazing and the ReseneRakaia grey we chose for the other walls unifies everything.
What is your advice for someone trying to achieve a similar look?
Go with your heart and be bold. Whatever you love will translate to a final look that you will be happy with.
What was the biggest decorating, renovating or building challenge for this project?
We were so fortunate to have been recommended such amazing contractors. Our building contractor was Nathan from Hampstead Homes and like the painter Sam, had such a wealth of knowledge in so many other areas. I think Nathan would agree that the entrance way proved the most challenging. The floors and ceilings were not straight so everything had to be rebuilt and be perfect to accommodate the floor to ceiling art glass wall.
Anyone new to the house doesn't realise that behind the art glass wall is an indoor heated swimming pool, which is a wonderful surprise.
We decided to add a Hungarian Vizsla puppy, called Hudson, to the mix while all this renovating was happening. My biggest challenge was keeping him from under the feet of the contractors!
Do you have a favourite colour, and if so why is it your favourite?
I love all colours, even black!
Published: 19 Jun 2014
Do you have a home full of wonderful Resene paint and colour? Send us some snaps by emailing [email protected].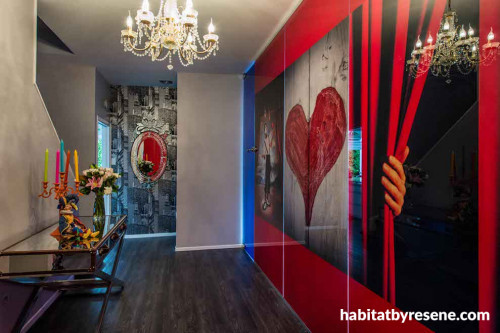 The entry foyer is large and welcoming with an entire wall of glass enclosed images framed with Resene Pirate. Other walls are in Resene Rakaia, while the feature wall beside the front door is finished in a New York landscape wallpaper called Manhattan, from Resene.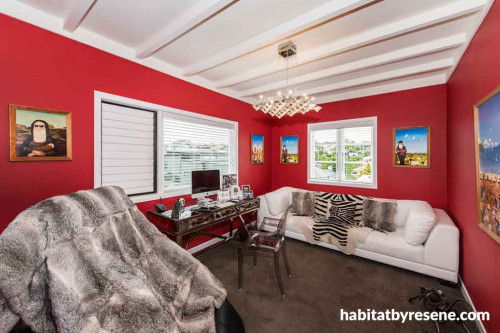 An office leading off the entrance way is painted in Resene Pirate. The scheme is rounded out in a classic partnership with white, black and pewter grey.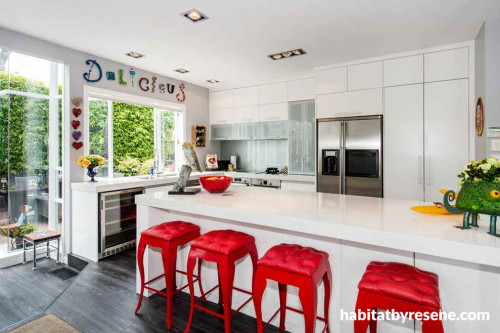 While the open-plan kitchen area is more neutral with Resene Rakaia walls, Noelene and Alan still seized the opportunity to add red accessories with gorgeous red bar stools.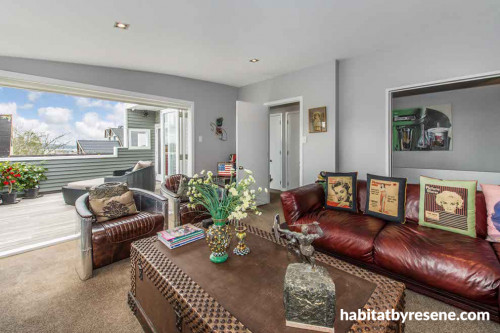 The Resene Rakaia living room opens onto an expansive deck, with a weatherboard balustrade painted in Resene Chicago, with Resene Half Alabaster trims.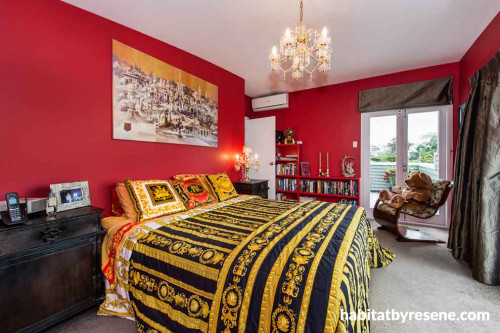 A truly glamorous look for the main bedroom with gold and black linen and accessories set against vibrant Resene Pirate walls.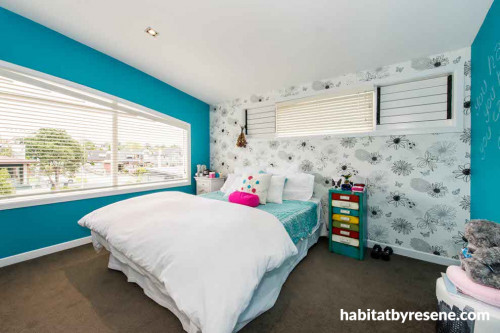 Daughter Jaimee's bedroom is painted in Resene Scooter and Resene Toto, both soft turquoise blues. The right-hand wall is set up as a chalkboard, simply using Resene SpaceCote Low Sheen which gives a flat enough surface to use for the purpose, while the feature wall is in a Seduction collection wallpaper (no 432237) from Resene.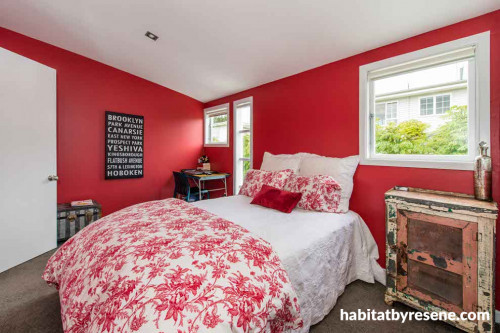 The red goes on, into another bedroom glowing with Resene Pirate walls. A simpler red and white scheme gives this room quite a different personality.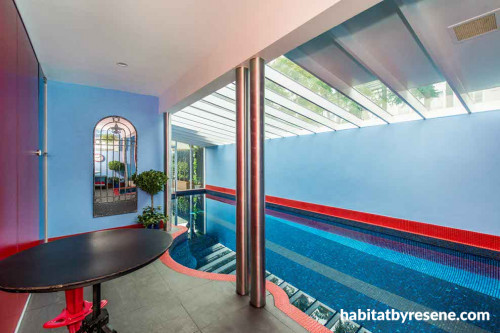 Behind the stunning glass art wall in the hall is a surprise element – an indoor heated pool where the walls are painted Resene Delta Blue and which gives the house a resort-like feel.
the look
If you're stuck on what
colour to use or need colour
advice, try out the Resene
Ask a Colour Expert service.