►
◄
latest
habitat tv
blog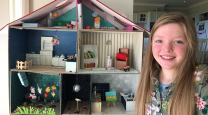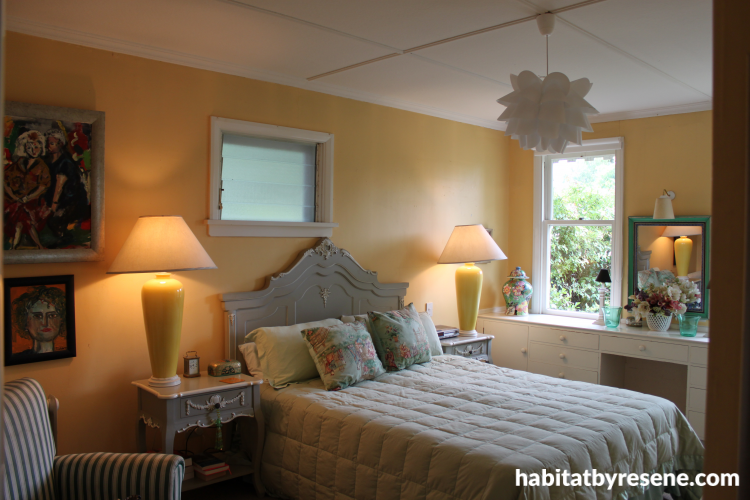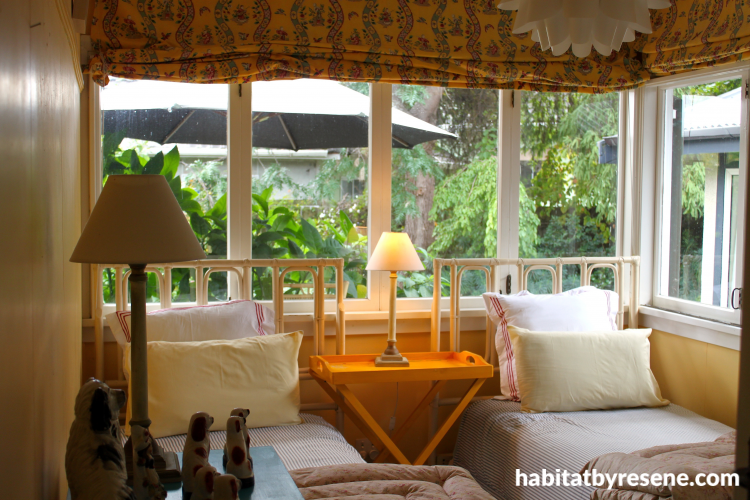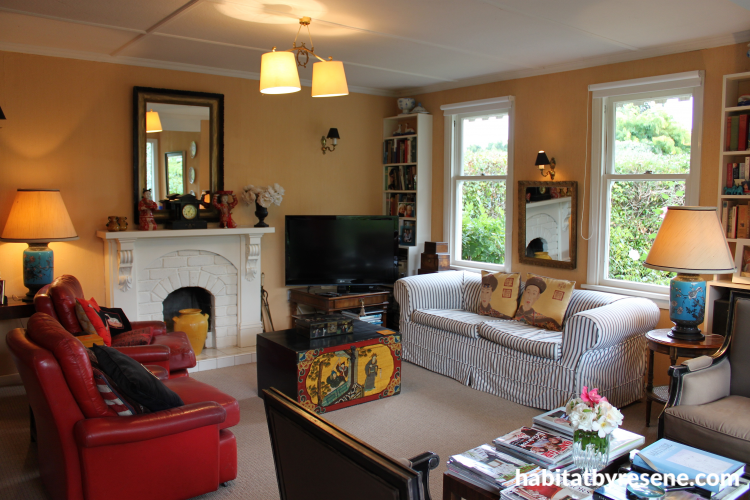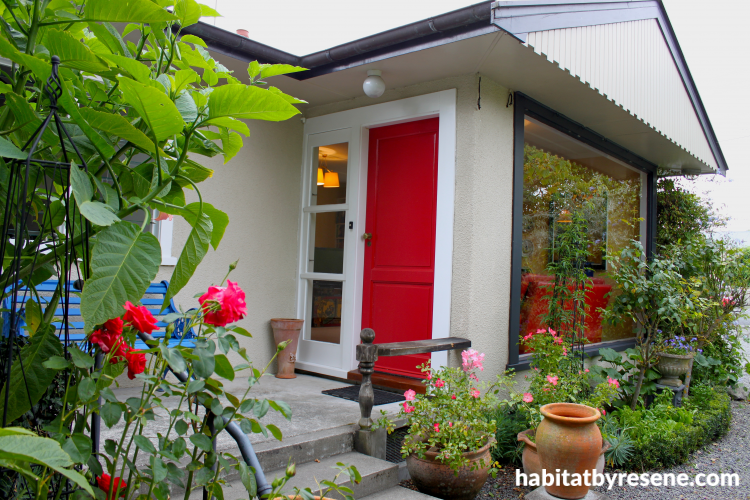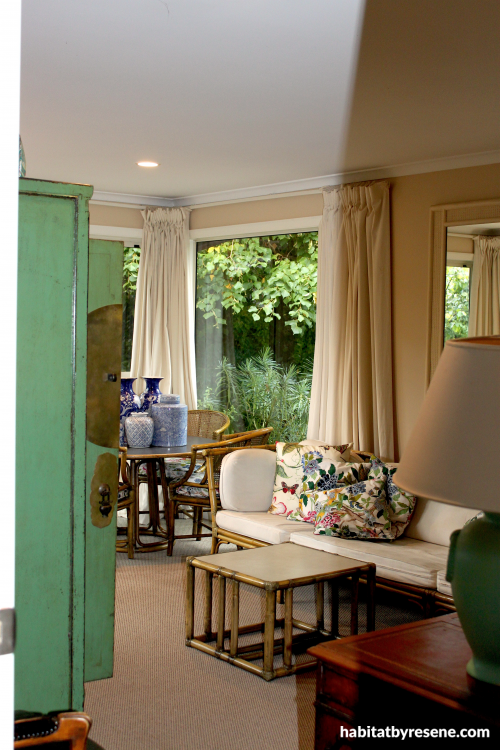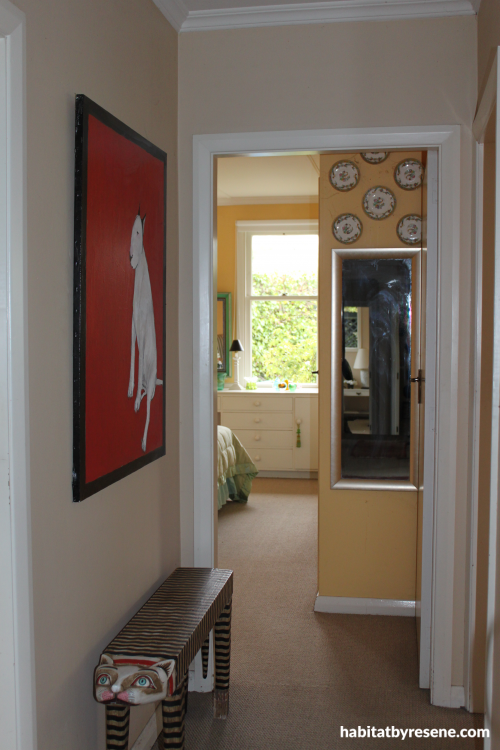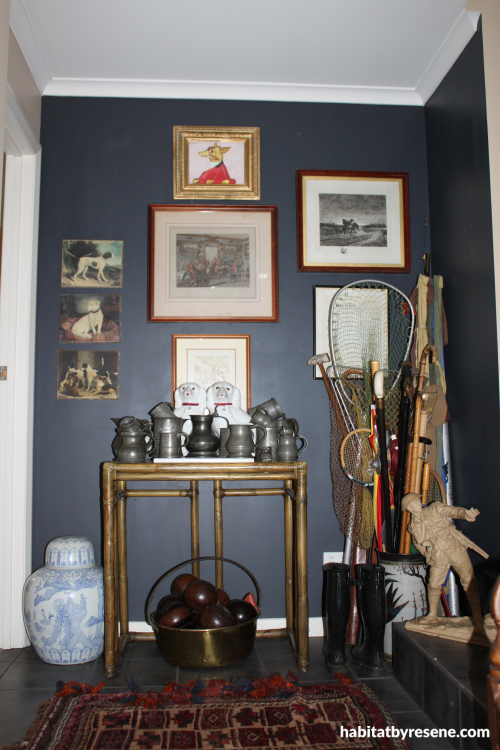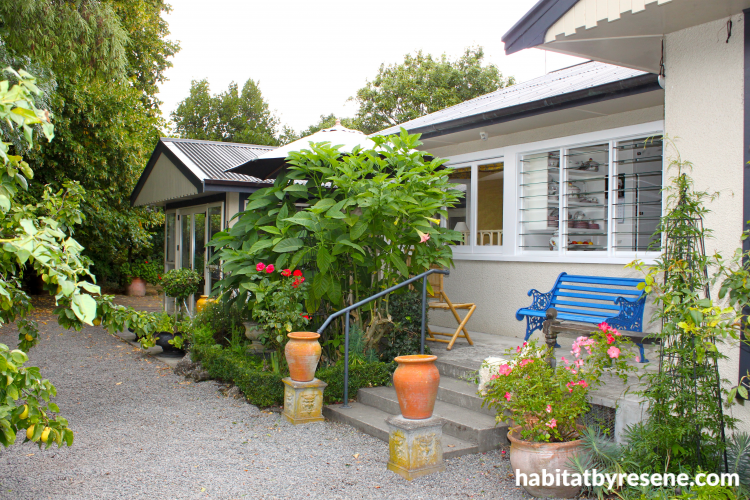 Jill's ever-changing honey coloured home
Decor, colour, houses and furniture have been Jill Gibbs' life for years, advising clients through a variety of retail outlets. After-hours she plays havoc at home with a palette of Resene colour that is ever-changing.
"I wear black all the time but I love colour so I am always looking at new ways to colour things… there is never an end to how you can use colour and the great thing about paint is that when you're bored you just change the colour and change the whole look – it's as easy as that," she says.
A paint shop is like a candy store for Jill. "You just have to be brave, try a colour, dare to be different, get out of your comfort zone. You don't know what it will look like or whether you'll like a colour or a look until you've tried it." She is the first to admit some things work and others don't, but she loves to let her imagination run wild.
The interiors of her home are an array of rich ochres and buttery tones, punctuated with celadon greens and warm creams.
For the exterior Resene Battleship Grey colours the roof and blends with the foliage of the surrounding tall trees. The same colour has been used around the windows while the cladding is in Resene Alabaster. The front door is in Resene Bright Red to mimic the leather lounge suite in the sitting room, spotted through the big windows as guests approach the front door.
"We've owned that lounge suite for decades… I have never tired of the vibrancy of the colour so to reflect that in the door was an opportunity not to be missed."
The lounge is painted in Resene Corvette, a rich ochre. "I adore brown paper, its texture, the feelings it conjures up. I think Resene Corvette is a tribute to that look and feel." Resene Half Pearl Lusta is used on the ceiling, the fire surround and a built-in bookcase to lighten the room and give it height.
The halls are Resene Sand, used as a backdrop for Jill's artwork, which she creates from Resene testpots.
Jill's painting doesn't stop at walls and art. In the main bedroom, a mirror is painted in Resene De York and sanded off to create a distressed finish. The replica French style bed head and side tables are in Resene Nebula with accents in Resene Half Emerge.
In a bedroom set up for visiting grandchildren, a butler's table between the beds is in Resene West Side. Another guest room has side tables in Resene Buttery White and walls in a half tint of Resene Cherokee.
Resene Arrowroot walls create a more relaxed and casual feel in the summer sitting room, with its floor-to-ceiling windows. An old armoire is a colour that reminds Jill of earlier days in New Zealand, Resene Anise, a fresh spring green.
Jill has kept husband Roger's corner in his memory, where a wall in Resene Shark is a strong backdrop to a hoard of Roger's paraphernalia, from old sporting equipment to fishing gear, ancient suitcases to hats.
Colour also features in the garden where a seat on the veranda is painted in Resene Submerge.
"You can never have enough colour. It makes you happy. Never be scared of being bold and different. If it doesn't work or you tire of it, just whip down to your local Resene ColorShop, grab a few testpots and try something different. You can change a look and feel in a moment. Even if you keep the walls in the same colour, making over furniture is fun, and with the leftover paint, you can try your hand at some art!"
words and photograpy Jill Wild
Published: 15 Mar 2016
Do you have a home full of wonderful Resene paint and colour? Send us some snaps by emailing [email protected].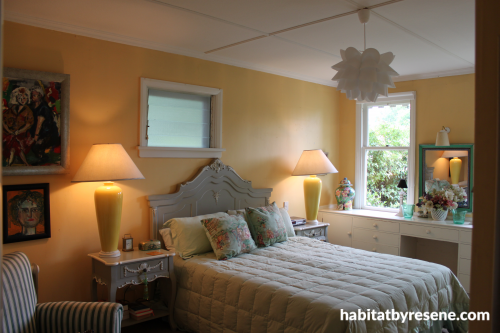 The main bedroom is alive with paint colour – a half tint of Resene Cherokee on the walls, a Resene De York mirror, Resene Nebula side tables and headboard with accents in Resene Half Emerge.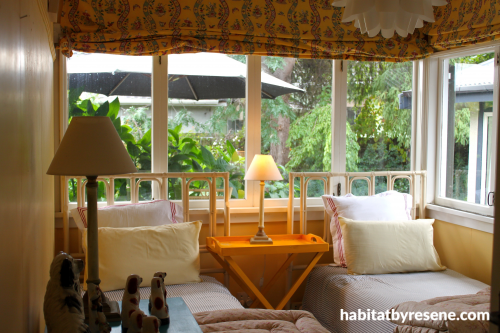 Walls in Resene Corvette are teamed with Resene Half Pearl Lusta trims in this twin bedroom for visiting grandchildren. The butler's table between the beds is painted in Resene West Side.
Another guest room has side tables in Resene Buttery White and walls in a half tint of Resene Cherokee.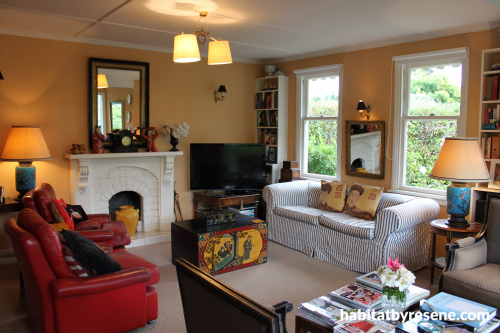 Resene Corvette walls tie together an eclectic mix of furniture and accessories. The trims and ceiling are Resene Half Pearl Lusta.
pictures
Photographs and words by Jill Wild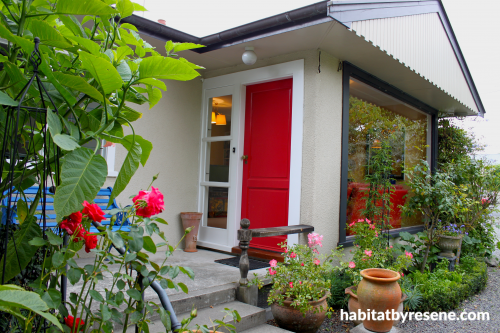 A front door in Resene Bright Red glows out cheerfully from walls in Resene Alabaster and a roof in Resene Battleship Grey.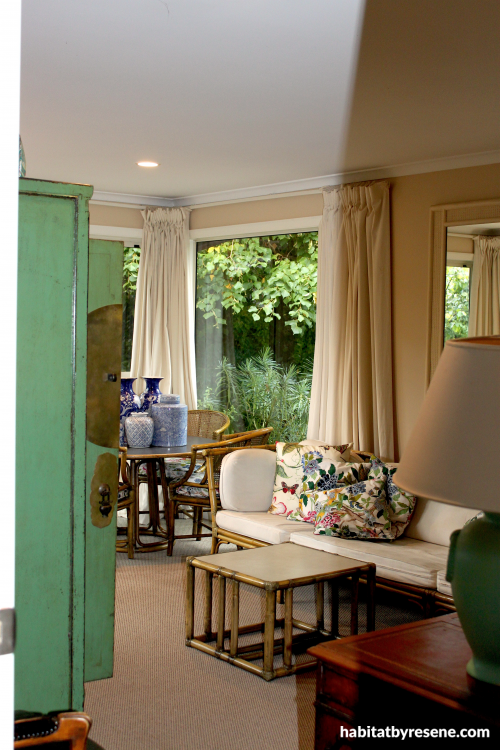 The summer sitting room has a relaxed vibe with walls in Resene Arrowroot and trims in Resene Half Pearl Lusta. The tall armoire is painted in Resene Anise, one of the many pieces of furniture painted by Jill.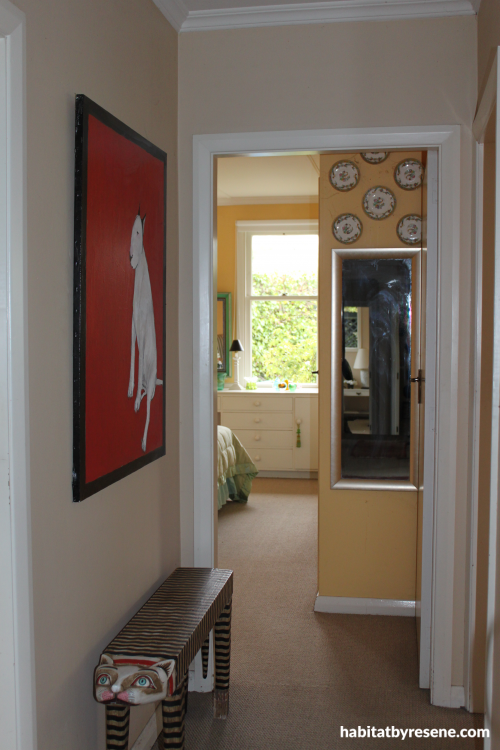 The hall walls are Resene Sand, a warm neutral backdrop for artwork.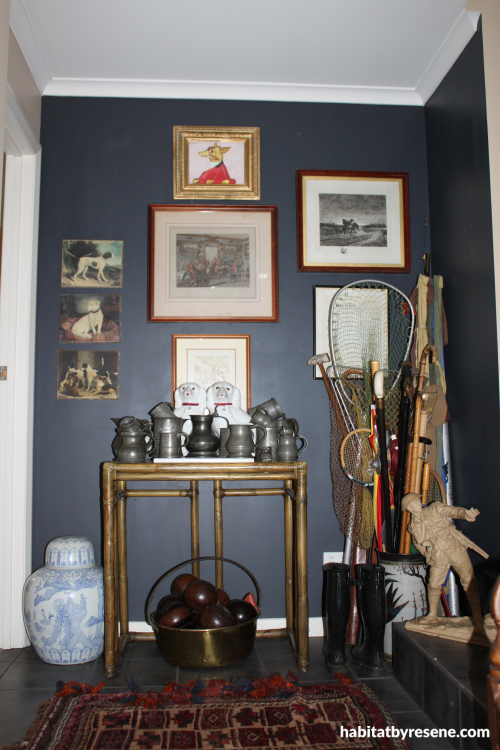 A collection of memorabilia is a tribute to Jill's late husband, set against walls in Resene Shark.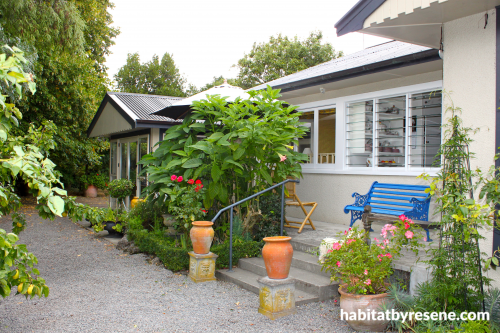 A garden seat on the front veranda is painted Resene Submerge.
the look
If you're stuck on what
colour to use or need colour
advice, try out the Resene
Ask a Colour Expert service.