►
◄
latest
habitat tv
blog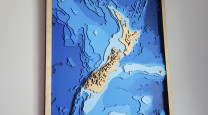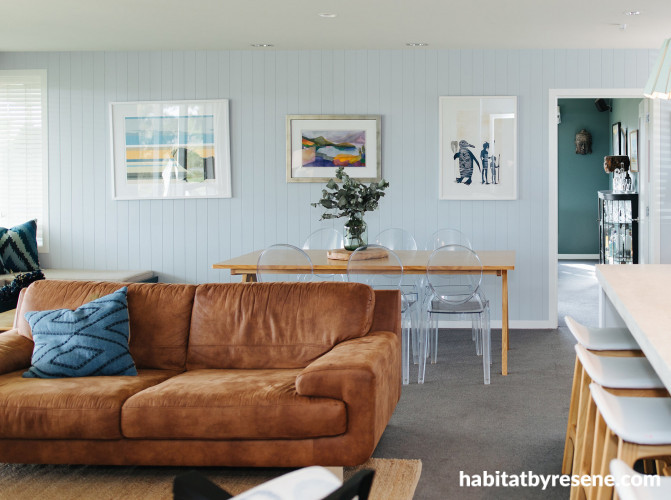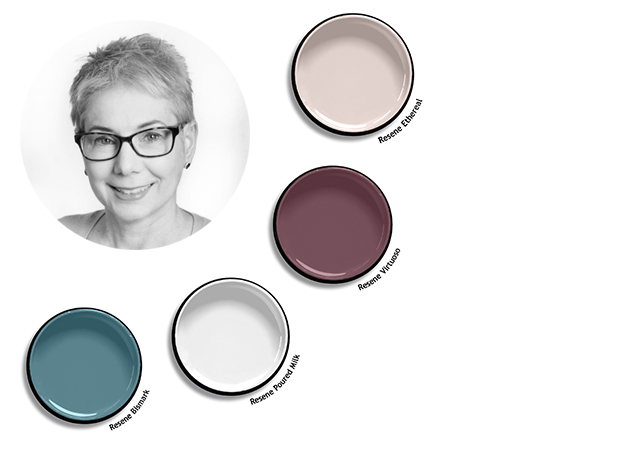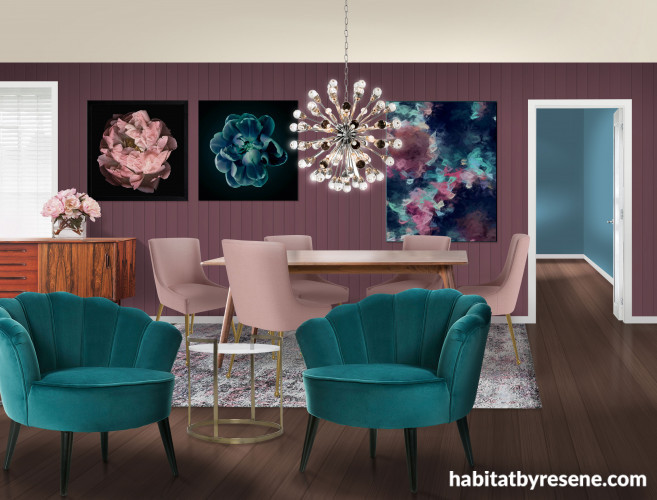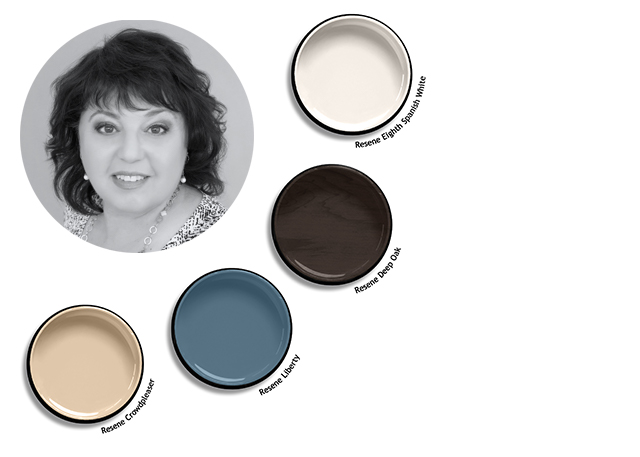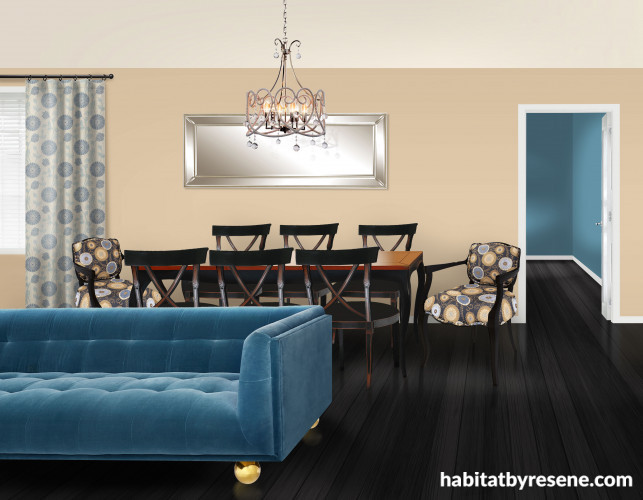 One living/dining room, three ways
Decked out in a range of beautiful coastal Resene blues, designer Annabel Berry's open plan living and dining area was one of the most popular rooms in the Autumn/Winter 2019 issue of habitat magazine.
"I'm obsessed with blue," she says. "While my personal aesthetic still tends towards coastal hues, when we were choosing the new palette, I found that I wanted more depth and texture.
Published: 24 Sep 2019
Do you have a home full of wonderful Resene paint and colour? Send us some snaps by emailing [email protected].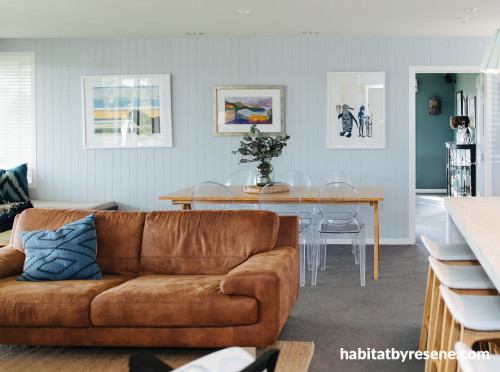 The tongue-and-groove panelling in Annabel's living/dining room is painted Resene Loblolly with Resene Milk White trim. Through the doorway, Resene Green Meets Blue, which is reminiscent of sea glass, was used for the walls of the media room.
Originally painted Resene Milk White from top to bottom, Annabel opted for Resene Loblolly on the walls of her living/dining area with Resene Milk White trim for added contrast. The addition of tongue-and-groove panelling, which complements some of the other heritage features in the home, provides additional visual texture.
While we're very big fans of how her renovation turned out, two other designers have dreamed up their own ideas for how this same space could look.
Designer Fiona Saville suggests this alternative scheme: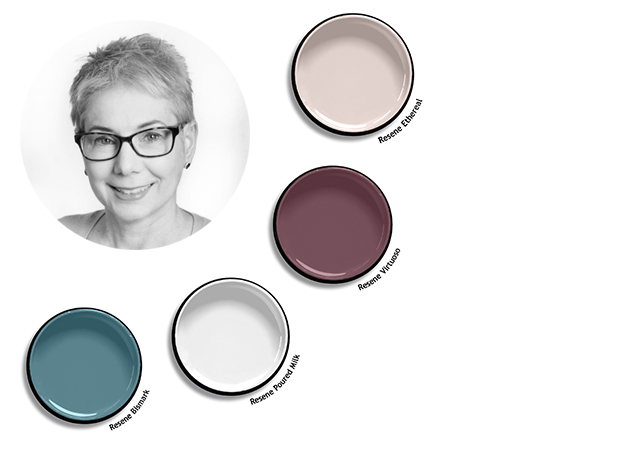 "I drew the inspiration for this solution from vivid Resene Bismark, which I've echoed in the artwork and petal chairs, as well as the vintage pieces used in the adjoining room. The rich colour palette includes strong claret and teal balanced with soft pink with gold accents and off-white Resene Poured Milk trim, while the flooring stained in Resene Colorwood Bark natural wood stain and furniture pieces ground the space and provide a balance for the glittering accents. The buffet is a vintage mid-century piece, which can be professionally stripped and restored. It feels good to bring something old back to life again rather than always buying new items, so I love it when my clients are open to trying to mix it up a bit!"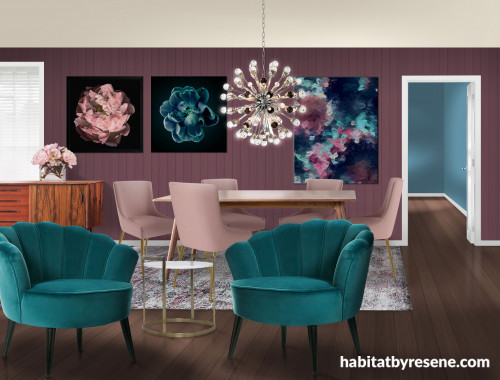 As a colour designer, Fiona loves the chance to use bold colours. The Resene Virtuoso statement wall behind the dining table provides a dramatic backdrop for the modern, colourful artworks and pale rose dining chairs. The other walls in the room are painted in Resene Ethereal to lighten and balance out the rest of the space. The trims and doors are painted in Resene Poured Milk and the ceiling is in Resene Quarter Solitaire to provide a high contrast with the accent wall and the flooring stained in Resene Colorwood Bark natural wood stain. The Frank Dining Chairs in Rose Tan are from Brosa, Antares Small Nickel Chandelier from Regency Distribution, Bermuda Rug in Silver from The Rug Collection Australia, Mercer + Reid Ariel Velvet Chairs in Teal from Adairs, and Butler Occasional Table in Marble/Gold from Freedom Furniture. All the artwork in the space is from Urban Road.
top tip: Resene SpaceCote Low Sheen keeps glare at a minimum when you're working with rich, dark colours while also providing a durable finish.
Designer Susan Templer suggests this alternative scheme: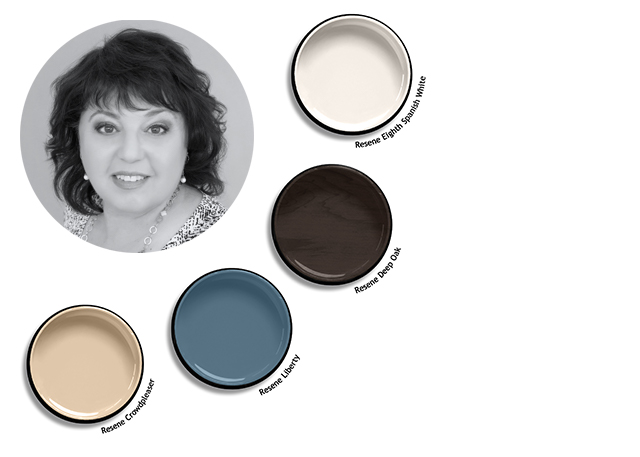 "My design pairs elegant finishes with a dose of glam. The dark woods, bright sofa, and patterned fabrics are offset by the lighter accent wall in Resene Crowdpleaser, which matches the golden tones in the chair and pairs well with the blues in the sofa and curtains. A peek of Resene Liberty, seen through the open door to the adjoining room, also picks up the same blue tones. The large mirror and big, sparkly chandelier add a bit of bling that feels so right with the French provincial style of the furnishings. Affordable items have been mixed with more expensive signature pieces because, while it makes sense to invest in furniture that will get the most use, like the dining table, chairs and sofa, you can save on decorative accessories, like the mirror and chandelier."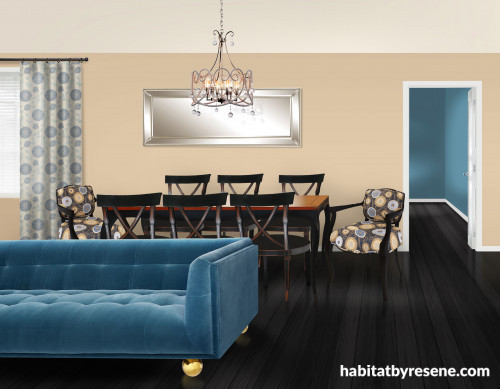 Susan's design swaps the tongue-and-groove panelling for a smooth wall finish in Resene Crowdpleaser. The ceiling and trims are in Resene Eighth Spanish White and the remaining walls in deeper Resene Quarter Spanish White. Through the doorway, the feature wall is in Resene Liberty with walls and trim in Resene Eighth Spanish White. The timber flooring has been finished with Resene Colorwood Deep Oak natural wood stain. The Rive Gauche Dining Table, Cavaillon Chairs at the head and foot of the table, and Chicago Dining Chairs in Black Velvet on Cherry Wood are from Montigny Furniture, Claridge Sofa by Jonathan Adler in Lisbon Petrol Velvet is from Republic, Chandelier from Rembrandt Fine Arts, and Beaded Bevelled Mirror from Mainly Mirrors.
top tip: Resene wood stains and urethanes help to enhance the beauty of timber flooring while protecting your investment. Inside, use Resene Colorwood to rejuvenate the colour in your wooden floors, walls, ceilings and furnishings. Outside, use Resene Woodsman to enhance, rejuvenate and protect timber.
All three of these designs teach some important lessons in open plan living/dining design. Here are two important takeaways to take note of.
Takeaway #1: Consider contrast
Contrast is the secret ingredient that gives spaces their impact and makes them memorable. When used correctly, this foundational design principle can add a huge dose of visual interest to your interiors while simultaneously pulling it together.
One of the easiest ways to create contrast is with colour. A high contrast combo like black and white is classic and will never go out of style, but choosing a complementary colour scheme — or one that uses two shades on opposite ends of the colour wheel — is another option if your sense of style is a bit more colourful. For a monochromatic or tone-on-tone space, just be sure to choose shades that are very different in 'value' or depth of colour so that your eye can easier differentiate between each of the colours you use for the most impact.
Keep in mind, though, that one colour needs to take a dominant role while the others accent it. Consider choosing one key colour for your walls and bring in your contrasting hues through textiles, furniture and accessories.
To finish things off, you'll need to tone things down by adding in neutrals. Doing so will give eyes a spot to rest while also providing a quiet background for your contrasting colours to pop out against.
Takeaway #2: Offer up a mix of seating
Each of these designs offer up a variety of seating in different textures and levels of comfort, but what will work best for you in your space will depend primarily on how you want it to be used. Focus on which area(s) you want to spend the most time in – will you be having long dinner parties, do want to have a formal sitting room, or is it most important to have a cosy sofa that you can curl up in? – then choose comfortable seating for the area where to want to encourage people to linger.
Since everyone is different, seating that might be more comfortable to one person may be uncomfortable to another. It's a smart idea to incorporate a mixture of seating options into your design.
This could mean having different end chairs than side chairs for dining rooms. If you have kids, using wooden side chairs (where the kids will sit) and larger upholstered end chairs is a great way to keep a high-end look without being worried about spills every time you sit down at the table.
And remember that seating that looks really good, decoratively speaking, isn't necessarily the most comfortable. Be sure to try out your chairs before you buy them and imagine what it will be like for guests to sit in them for a few hours before you settle on your final choices.
designersAnnabel Berry, Fiona Saville, Susan Templer?
illustrationsMalcolm White
photoRachel Wybrow






Resene Eighth Spanish White






Resene Quarter Spanish White










the look
If you're stuck on what
colour to use or need colour
advice, try out the Resene
Ask a Colour Expert service.