►
◄
latest
habitat tv
blog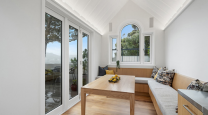 Master Builders' Chief Executive David Kelly shares his tips for building in the challenging climate.

Planning... more
Open plan hacks: How to make your spaces work for you
Open up to the idea of doing more with your space. Open plan homes have become increasingly popular and with a range of Resene colours and some creative hacks, it's never been easier to reclaim your space and take advantage of every nook in your home.
Often when we have open plan spaces the trend is to keep things minimal, focussing individually on the lounge, kitchen and dining areas. But what about all those little spaces in between? Putting the underused zones of your home to use can vastly increase the functionality of your home. Whether you're in need of an organised craft area or a relaxing spot to read a good book, you don't need an entire room to create your dream small space.
Open up to fresh ideas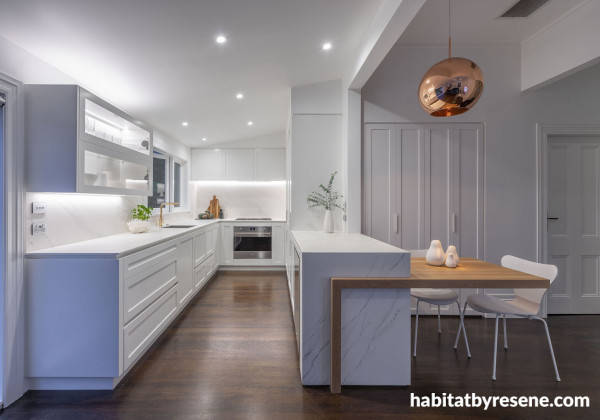 Kitchen designer Leonie Hamill created an elegant open plan space in this kitchen with Resene Half Black White on the walls, ceiling and trim. Image by Kallan MacLeod.
Utilise the area between the dining room and kitchen by moving your dining area forward into the space. This will also allow you to have a bigger lounge area. One way to create a seamless flow while still making the space feel defined is to bring accents and colours from your kitchen into your dining space. If your timber kitchen floor is stained in Resene Colorwood Natural, carry those warm hues through with a wooden dining table that uses the same stain.
If you have a traditional villa or an older home, creating an open plan layout is an excellent way to create the illusion of space while still keeping things practical. This kitchen and dining space was created by kitchen designer Leonie Hamill, who used Resene Half Black White on the walls, ceiling and trim to create a greater sense of space. Leonie worked in harmony with the traditional villa elements of the home and 'cheated' the space by creating a lowered timber benchtop to replace the need for a dining table. "My advice is to work within the space and combine the kitchen and dining together," says Leonie. "Look into your house floor plan and see if there is another room which you can combine into your kitchen and dining space.
"If you have space limitations, you may not need both formal and casual dining. Think about joining the spaces to incorporate the study into the kitchen to create a more social space for families."
Check out more of Leonie's work on her website, Facebook or Instagram.
Book in the nook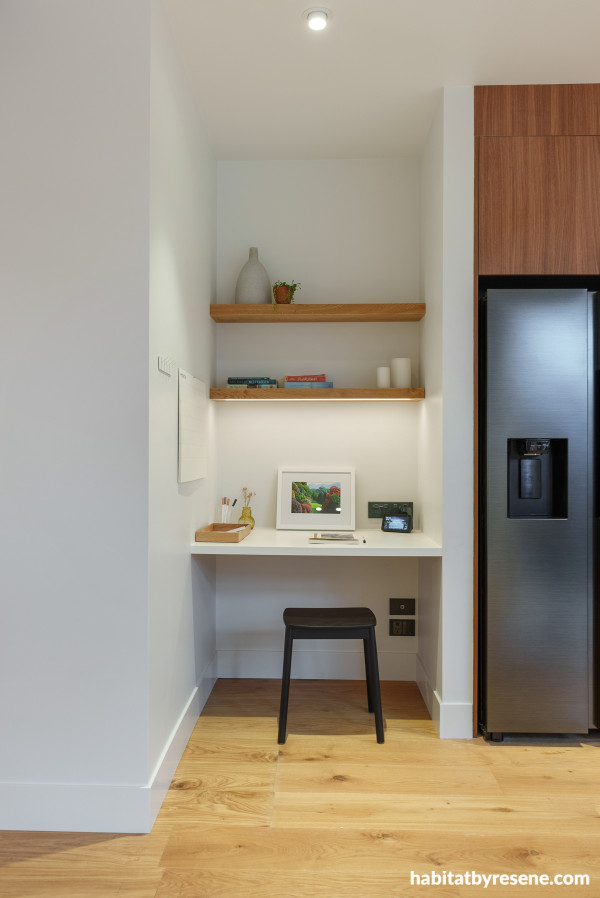 Tim & Arthur from Three's The Block NZ utilised their extra space next to the kitchen by creating a reading nook in Resene Black White.
Convert an unused corner into a reading or craft nook. If you're keen to keep your existing colour scheme throughout the home don't worry, there are plenty of creative ways to create zonal definition without repainting your walls. If your interiors are a neutral shade such as Resene Black White, try going for a bold and colourful contrast. Shelves painted in Resene Rock Spray, Resene Spotlight and Resene Green Leaf are a great way to bring colour into a creative DIY area. Alternatively if you're looking for a more relaxed reading atmosphere, paint a desk or chair in soothing Resene Duck Egg Blue and pair with cosy textiles such as a woollen throw or rug.
Zone out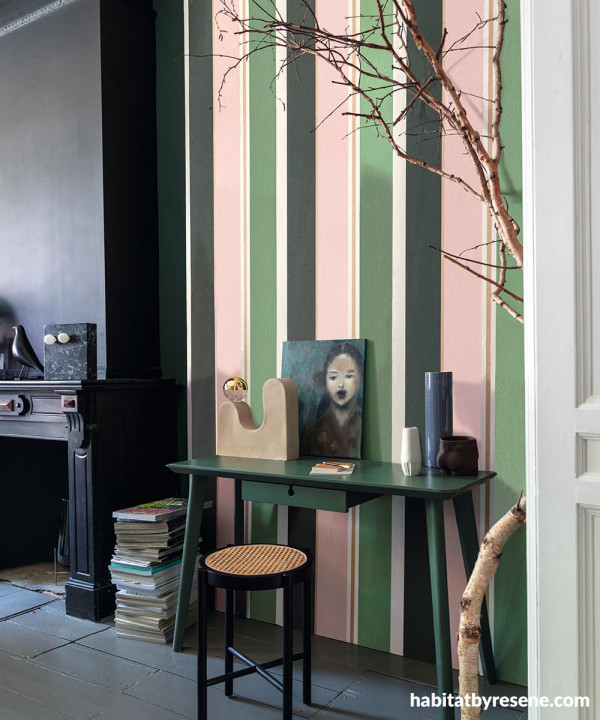 This colourful space is easily defined with a feature wall in Resene Wallpaper Collection 539028. Try pairing the wall with surrounding interiors in deep Resene Nero.
Get on a roll and carve out a niche using a colourful wallpaper such as Resene Wallpaper Collection 539028. Wallpaper is a great way to create interest in a large space without relying on décor choices. Cover a section of your living room wall with wallpaper to create an individual zone for a writing desk or television area. If you decide to create one of these small-scale feature walls, remember to include key accents from your home's overall palette as a unifying constant. For example, if your home lends itself to a darker, more moody atmosphere, select deeper colours in the wallpaper, think rich blues or blacks such as Resene Nero, to colour the surrounding walls or create accent features.
Floor it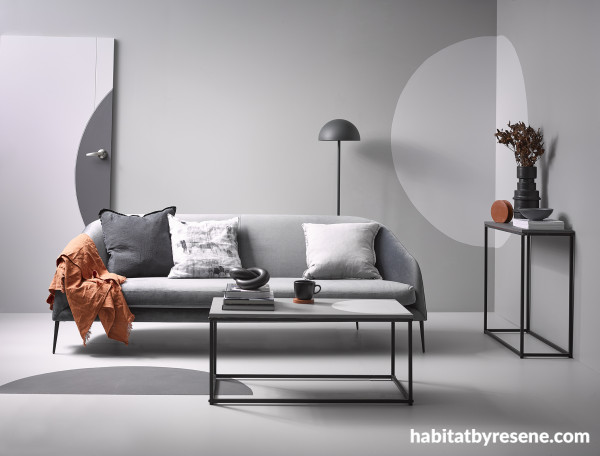 This elegant tonal room uses walls in Resene Half Stack and Resene Silver Chalice with circle in Resene Surrender. The floor is in Resene Silver Chalice with half circle in Resene Half Grey Friars. The door is in Resene Surrender with circle detail in Resene Half Grey Friars. The coffee table is in Resene Double Stack with circle detail in Resene Silver Chalice. Moon floor lamp from Citta. Project by Vanessa Nouwens. Image by Wendy Fenwick.
Level up your open plan space with a bold floor. Painting your floor is a great way to dip your toe into a more adventurous colour scheme. A change in flooring is also a useful way to herald a shift in purpose or create a new atmosphere. Painting shapes on your floor using Resene Walk-on in a monochrome colour palette such as Resene Half Tuna with lighter Resene Quarter Surrender can help you define social areas and spaces designed for solitude. Painting your floor in a solid colour provides an excellent foundation for you to add interesting textures with your furniture and décor.
Colour code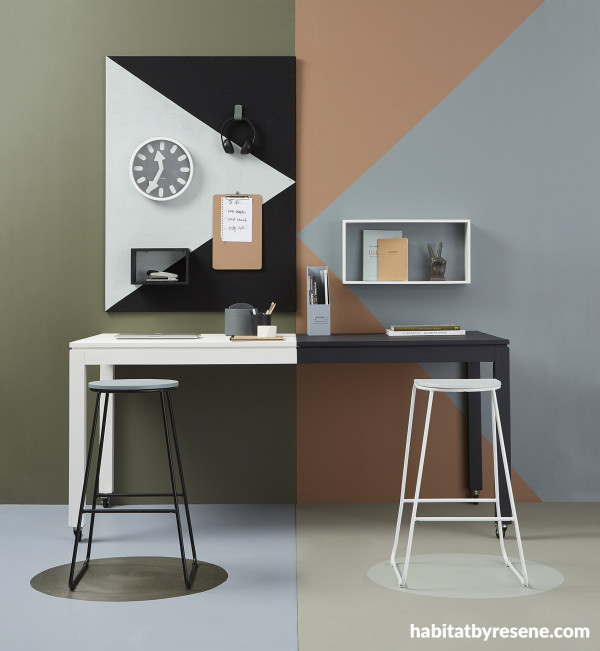 This creative use of space uses colour to define this office space. The left wall is in Resene Raptor with triangle in Resene Rolling Stone. The left side of the floor is in Resene Neutral Bay with circle in Resene Blast Grey 3. The right wall is in Resene Leather with triangle in Resene Emerge. The right side of the floor is in Resene Castle Rock with circle in Resene Half Washed Green. The left-hand side of the table is in Resene Alabaster, while the right is in Resene Jaguar. Project by Greer Clayton. Image by Bryce Carleton.
Working from home comes with its challenges, particularly when your home doesn't have a separated office or you are sharing the space with other family members. With a creative eye and colourful collection of Resene paints, it's easier than ever to create an office area against a single wall or in your open plan living room. Using lines of colour neatly defines the space, sectioning it off from the 'relaxation area' of the living room while still allowing for open interaction between the two spaces. Create a dynamic study space by masking off areas to create shapes or a dividing line between desks. Use the Resene Colour Palette Generator to ensure your colours work well together. Other options to section off a study space include creating a partition with shelving stained in Resene Colorwood Natural, a curtain you can draw around your nook when you're working or an upcycled foldaway screen.
Whether it's reclaiming a corner, nook or under stairs space, demarcating spaces on your floor or opening up your kitchen and dining areas there are lots of ways to make the most of your homes spaces using Resene.
Published: 11 Aug 2021
Do you have a home full of wonderful Resene paint and colour? Send us some snaps by emailing [email protected].