►
◄
latest
habitat tv
blog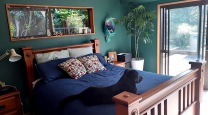 Our step-by-step guide to building a perfectly styled console
An impeccably styled console table can be just the ticket to finish off your foyer or hallway with a flourish.
While these tables are in and of themselves the ideal blank canvas for decorating, you may be unsure where and how to start. Follow our simple formula below for creating an expertly styled console with plenty of unique ideas to help you customise it with your own personal flair.
Start with a surface
Choose a console that fits with the style of your home in a size to suit the space you'll be placing it in. Whether it's a glamorous glass and metallic model or a rustic weathered wood design, the most important element is that your console be the right size and scale for where it's going to sit. A secondary consideration is how many pieces you want to display. If you like more of a maximalist look, picking one with a lower shelf will double your styling potential.
A console table can be purely decorative, sprinkled with clues that divulge your tastes and character to visitors, or it can take a more functional role if it includes drawers or a shelf – but it's where you place it in your house that will largely dictate its purpose. For instance, a dining room console will probably be used for spare tableware, where one in a hallway might be solely for display.
Published: 18 Sep 2019
Do you have a home full of wonderful Resene paint and colour? Send us some snaps by emailing [email protected].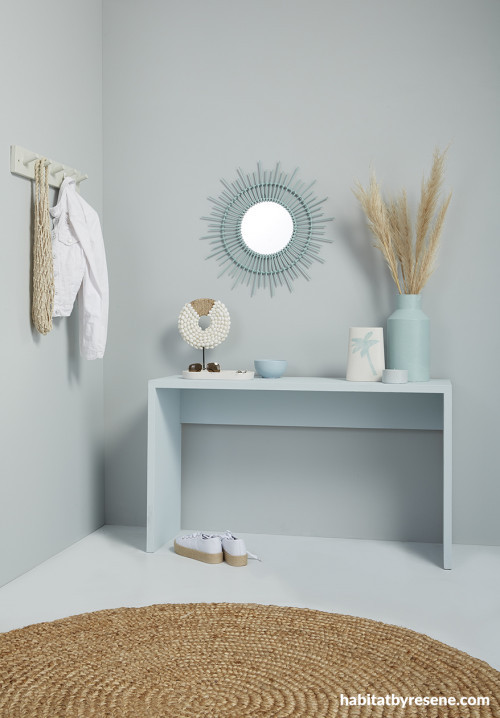 Every home configuration and floor plan is different, but you may find that you'll be able to fit a bigger console table in a corner or at the end of a hallway, where it will be out of the general path of traffic. These walls are painted Resene Duck Egg Blue, the floor is in Resene Quarter Duck Egg Blue, the console table and tea light holder are in Resene Slipstream, the tall vase, bowl and rattan mirror frame are in Resene Raindance and the hook rack is in Resene Truffle. To add an extra bit of character to the beachy theme, a palm tree was painted in Resene Raindance over a background in Resene Quarter Tea on the lower vase.
Add a statement piece of art
Whether it's a stunning seascape or a bold abstract print, choose a large enough piece of artwork to hang above your console to visually anchor its place against the wall. However, the overall width of frame should be narrower than the width of your table on each side to keep it from feeling too top-heavy.
Alternately, try a diptych or a triptych of works hung in a line or a set of four or six smaller identically-sized prints arranged in a grid. The goal is to create a single cohesive focal point that will serve as the foundation for the rest of your table top arrangement, which means separate pieces of artwork will need to hang close enough together so that all of the pieces feel like they are visually connected.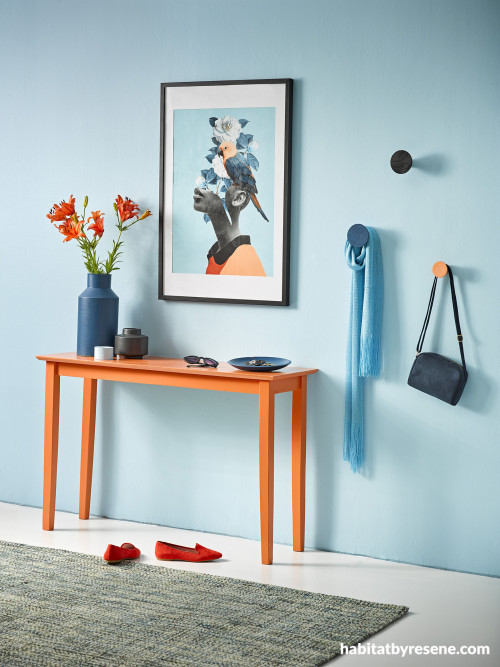 Inject personality into your console table by painting it a vibrant colour matched to your chosen artwork. In this entrance way, the wall is painted Resene Bluetooth, the floor is in Resene Alabaster, the table is in Resene Jailbreak, the large vase is in Resene Wishing Well, the short vase is in Resene Noir, the tea light holder is in Resene Mystery, the low dish is in Resene Wishing Well and the coat pegs are in (clockwise from top) Resene Noir, Resene Japonica and Resene Wishing Well.
Give it some height
Be sure to bring in at least one object or vessel that's taller than the lower edge of your artwork's frame to unify the art with the vignette below it. It could be something like a vase or a candlestick with a sculptural silhouette that echoes the abstract forms of your artwork, or a brass statuette.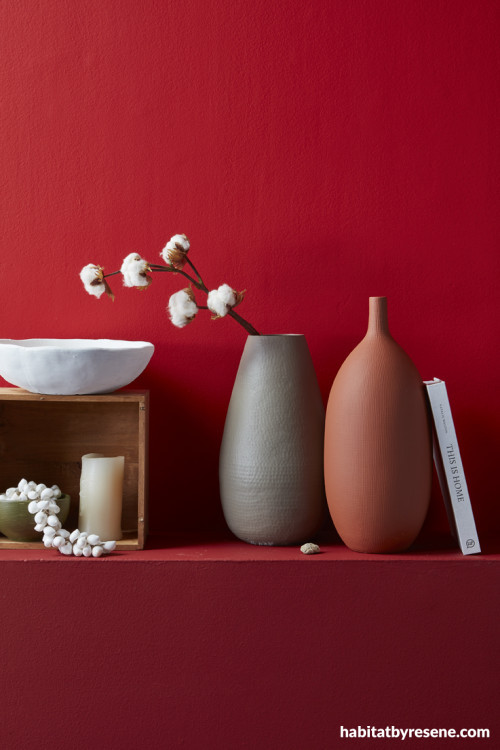 Contrasting shapes create contrast on a console table, but so do contrasting colours. In this vignette, a bright red Resene Dynamite built-in wall console contrasts with the earthy shades and shapes of the objects on top of it. The back wall is painted Resene Poppy, the large bowl is in Resene Elderflower, the vase on the left is in Resene Double Pravda, the vase on the right is in Resene Raging Bull and the wooden box is stained in Resene Colorwood Natural timber stain.
Keep it balanced
When styling a console, most people tend to favour a balanced layout. It's more pleasing to the eye and, despite the formality of its appearance, the look offers a sense of calm.
Most symmetrical console table arrangements feature identically sized pieces at either end, such as a pair of lamps or vases, with a focal feature in the centre. This type of arrangement can offer maximum impact with minimal styling effort – whatever you do to one side, do the same on the other.
Just because a console layout is classified as asymmetric doesn't mean it should be messy or cluttered. In fact, probably more thought needs to be given to balancing its theoretically unbalanced layout than to a symmetrical one. More often than not, there is a great deal of logic to the positioning of the pieces on an asymmetrically-styled console – with their shape, size and colour all needing to be taken into consideration – but the end result should feel decidedly nonchalant.
When in doubt, go with your gut. If the arrangement feels visually pleasing to you, it probably will to others too.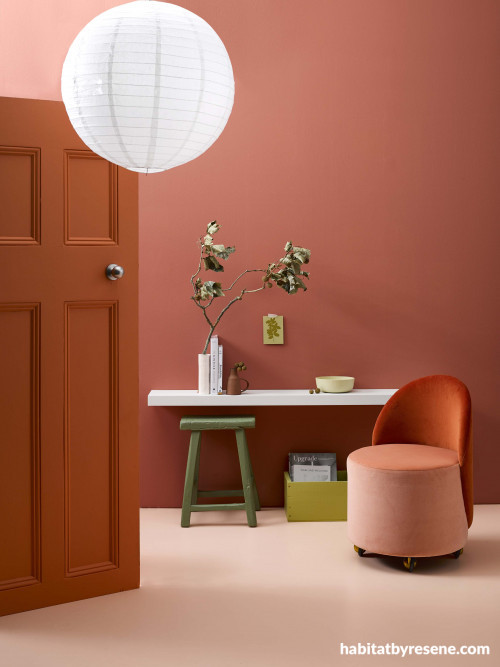 On this floating console, not only do the objects on top of its surface support its minimalist asymmetry, but so do those beneath it. The wall is painted Resene Apple Blossom, the floor is in Resene Wax Flower, the floor is in Resene Sebedee, the floating shelf is in Resene Quarter Tea, the stool is in Resene Woodland, the wooden crate is in Resene Gingko, the thin vase is in Resene Just Right and the bowl is in Resene Yuma.
Layer in your accents
Next, you'll want to bring in some more shapely pieces to break up the vertical and horizontal lines created by your table and artwork. Think about the feeling that each object emits and focus on creating contrast between each of the different elements through colour, texture and scale. A raw-edged wooden bowl might give off organic warmth, an obelisk for a geometric punch and a bud vase filled with greenery for softness.
Working from large to small as you layer your accents will help you start to see your final arrangement taking shape.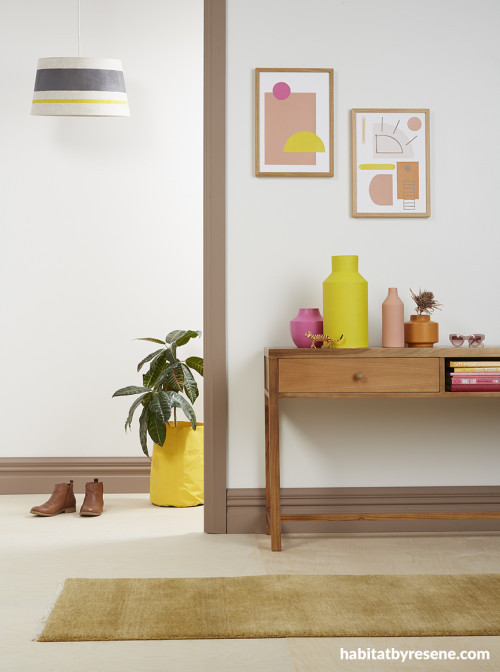 Lots of lovely layers have been built up through contrasting colours, shapes and textures on this console. The walls are painted in Resene Rice Cake, the architraves are in Resene Tablelands, the lamp shade is in Resene Quarter Bokara Grey and Resene Hive, and the vases on the sideboard are in (from left to right) Resene Smitten, Resene Hive, Resene Just Dance and Resene Twisted Sister.
Fill it out
In the empty spaces between accents and on top of your books and boxes, cluster smaller objects – things like ceramic vessels, figurines, a collection of shells or anything else that speaks to you and your personality – in sets of two or three. Whichever pieces you choose, be sure to overlap a few of them slightly so that the groupings feel easy and natural.
And be sure to keep 'like with like' – which is to say, objects that are very similar should be kept closer together rather than far apart. Otherwise, your arrangement could end up feeling bitsy, scattered or cluttered. If something about your arrangement doesn't feel quite right, this is the number one thing to check for.
Chances are, you may need to edit your console down at this stage. Try taking one or two things away, leave it alone for a while, then come back to it later. Looking at it with a fresh set of eyes can help you see your arrangement from a new perspective and you may realise that there is either too much or not enough going on.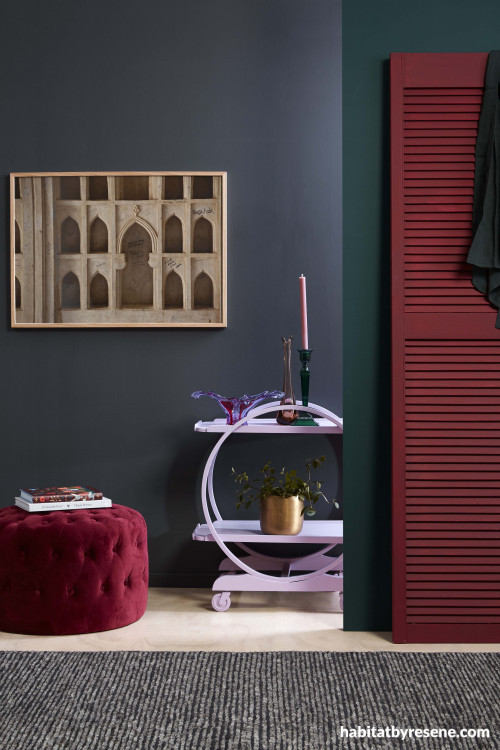 Console tables come in all sorts of different shapes and sizes, so seek out a style that really speaks to you. In this entryway, the back wall is painted Resene Nocturnal, the front wall is in Resene Palm Green, the door is in Resene Lonestar, the table is in Resene Marionette, the candle stick is in Resene Charcoal and the plywood floor is finished in Resene Colorwood Whitewash timber stain.
Add a landing pad
If your console table is close to the entrance of your home, consider adding a dish or vessel to act as a catch-all for keys, coins, sunglasses and any other small bits and bobs you might need to unload from your pockets when you arrive home. Incorporating a set of hooks above your console can help keep larger items up off the surface – and the floor – to reduce the overall clutter in the space.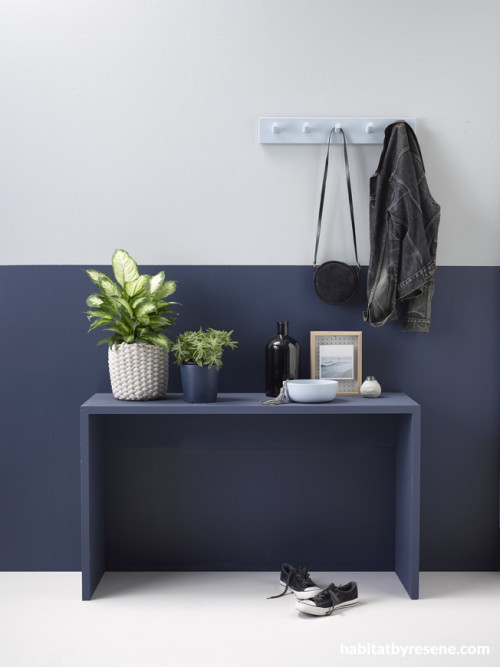 Paint your console table the same colour as the wall behind it to make it feel like it's embedded right into the space. This console table and lower wall section are painted Resene Biscay, the top of the wall is in Resene Half Dusted Blue, the floor is in Resene Chalk Dust (this colour is from an older colour chart, try Resene Poured Milk as a current alternative), the hook rack and bowl are in Resene Frozen and the small plant pot is in Resene Bunting.
Light it up
Whether it's an attractive table lamp, a trio of beautiful candles or even a sconce-style picture light, every console could use a light source to highlight that gorgeous vignette you just created! We opted for a chic tortoiseshell style with a rectangular shade that echoes the clean lines of the console.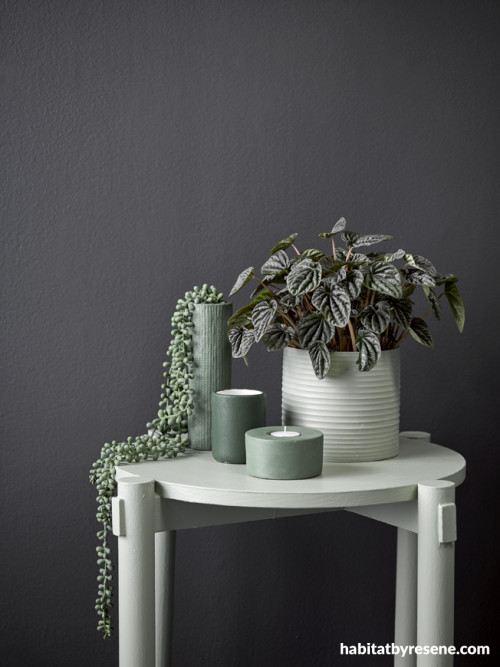 Short on space? Opt for a small round console table for building your vignette. Here, the wall is painted Resene Nocturnal, the table and plant pot are in Resene Organic (this colour is from an older colour chart, try Resene Secrets as a current alternative), the skinny vase is in Resene Paddock, the tall candle holder is in Resene Seaweed and the short candle holder is in Resene Passport (this colour is from an older colour chart, try Resene Rivergum as a current alternative)
styling Gem Adams, Kate Alexander, Amber Armitage, Vanessa Nouwens?
images Bryce Carleton, Wendy Fenwick, Melanie Jenkins