►
◄
latest
habitat tv
blog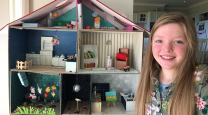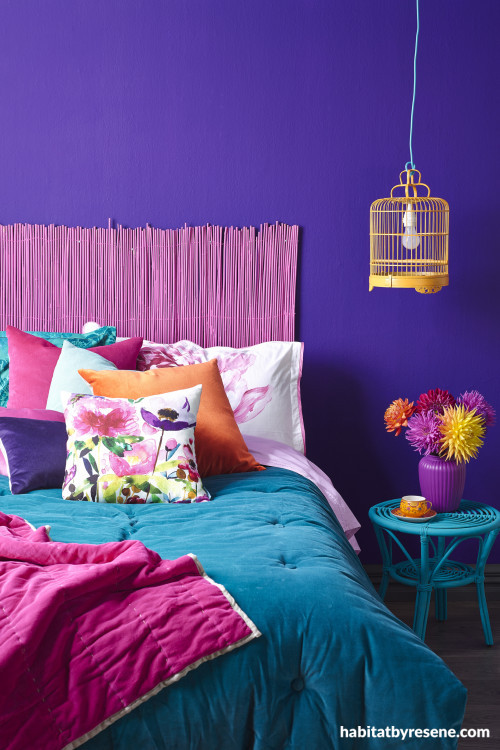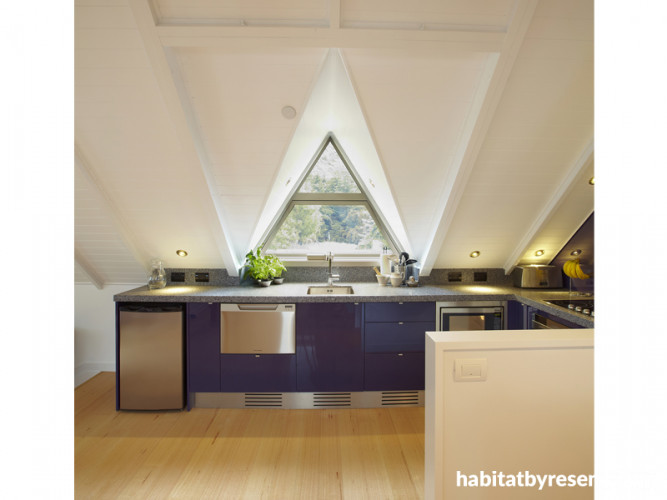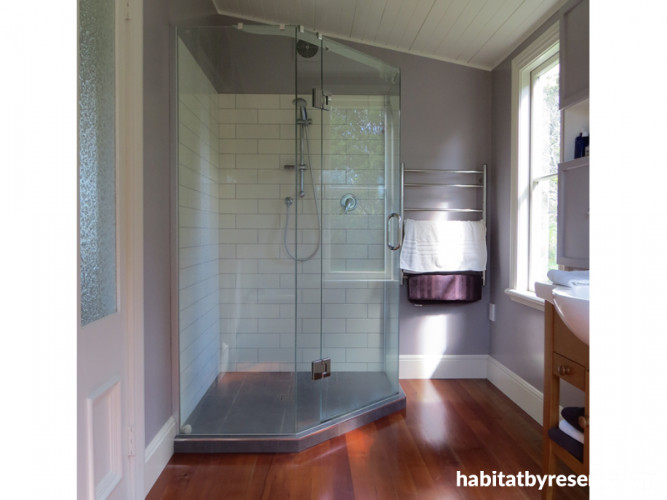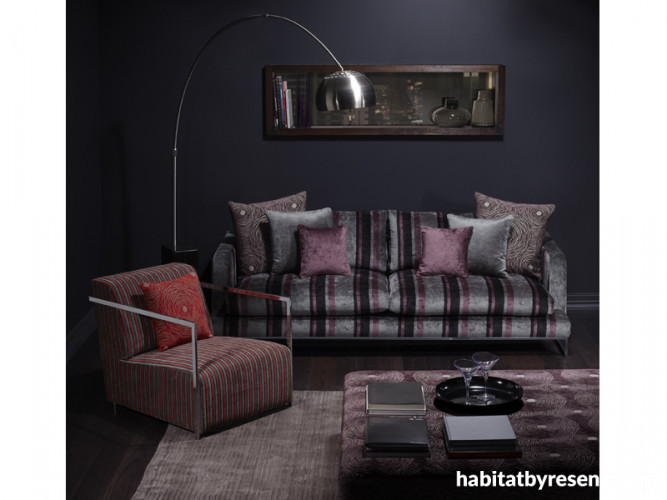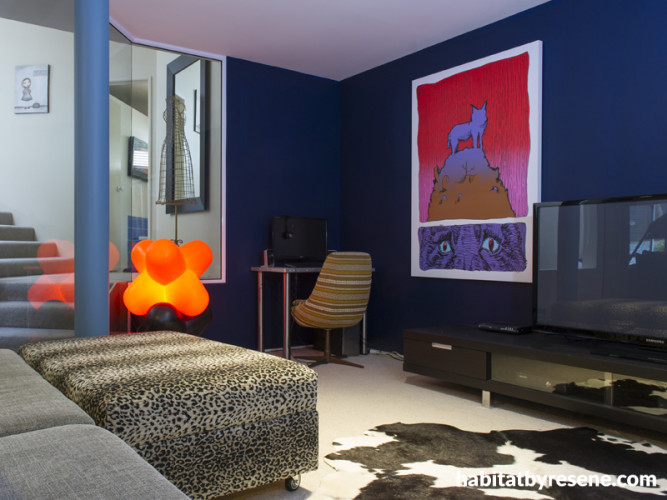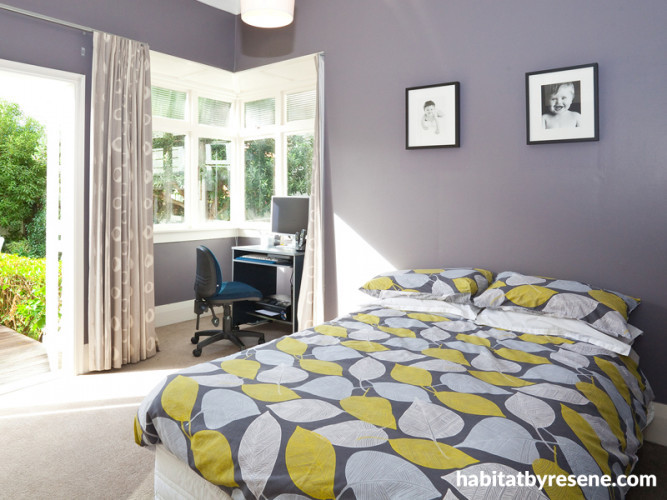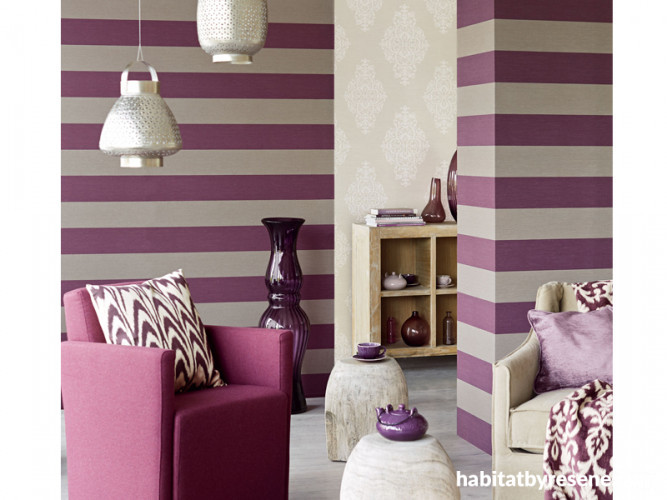 The power of purple
Purple is one of those colours that we can't seem to get enough of. Other on-trend colours swirl about our interiors while purple, and its quieter sidekick mauve, may wax and wane… but they never go away altogether.
At the moment, clear strong deep purples are having a bit of a revival. Resene insiders are hinting that the new Resene The Range fashion fandeck due out in early September will feature a delicious offering of some amazing new purples, from rich glamorous hues to softened playful lavender and pinkish tones.
Indigo purples hint of royalty and luxury. You have to be pretty fearless to use them, so they're often relegated to an accessory colour or feature wall. If you tone them down to make a soft lavender tone (like Resene Morepork) or grey them up (Resene Yasna) they become more muted and smokey, and therefore easier to use as a whole-room base colour.
If you add some red to purple, you get eggplant and mulberry colours (Resene Loulou), which can be easier to deal with. Purple's close cousin, pink, is sweeping the colour hit parade too, mostly in blush and saturated pastel tones, but also with pinks that are closely aligned with purple – cyclamen and lilacs like Resene Centre Stage. Pantone's colour of the year, Radiant Orchid, is very like this shade.
The key is to using purple is to get just the right tone and amount. Try these combinations.
Purple with aged gold tones: Rich purples look great with any metallic tones. If you use glass and silver or chrome, you'll end up with a blingy lusciousness that exudes an air of nightclub glamour. If you pair purple with tarnished golds and bronzes, a room will take on an aged, regal feel, reminiscent of Renaissance Italy. (Think ornate mirrors and crushed velvets as key accessories.) Timber has similar amber tonings to gold so it also looks good alongside purple, whether you use it on the floor or through furniture.
Deep purple and charcoal: This combination gives a room a lush, witty, urban look. Charcoal can be quite masculine and serious, but purple gives the scheme a playful, sensuous twist.
Spicy shades and purple: Purples and aubergines are seen in Moroccan- and Indian-inspired décor schemes. To follow their lead, put a few rich, spicy tones – like orange, pink or turquoise – alongside purple for a playful, vibrant scheme that's not too eye-jangling.
Provençal pairings: Team soft greyed lavenders with eggshell blues and dusky creams for a dreamy, French-inspired interior. This colour also looks great with washed green/blues in a seaside scheme alongside wicker furniture and aged timbers.
Published: 09 Jul 2014
Do you have a home full of wonderful Resene paint and colour? Send us some snaps by emailing [email protected].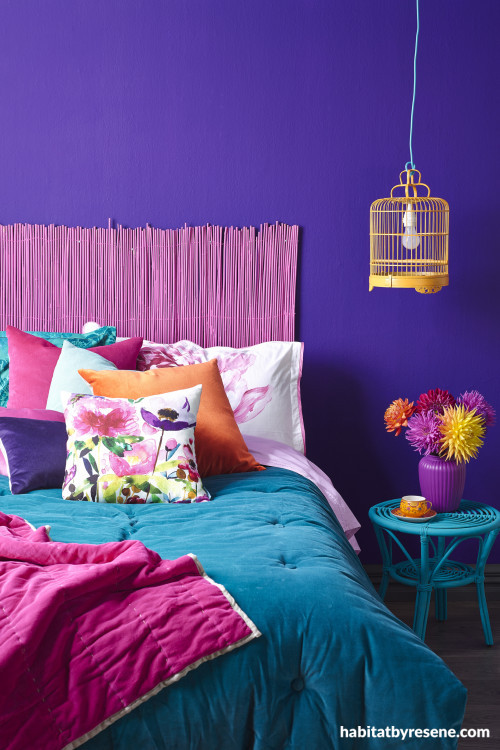 Jewel like tones make this bedroom a true boudoir. An old matchstick blind is upcycled as a bedhead, painted in Resene Smitten and set against a wall of sumptuous amethyst Resene Pukeko. The side table is painted in Resene Seeker and a cane birdcage is converted into a lamp and painted in Resene Flashback. Overblown and colourful flowers are in a vase painted in Resene Centre Stage and the finishing touch is a bed dressed in vibrant velvet throws and decadent linen (linen and cushions from Allium and Madder and Rouge).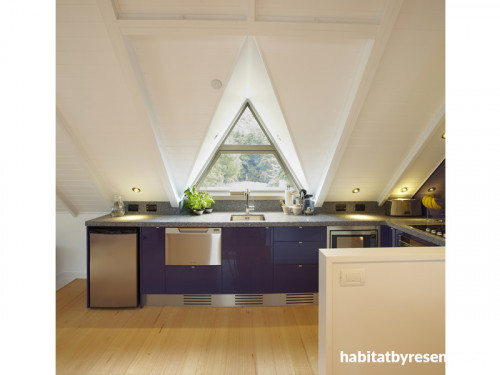 Who would think to paint a kitchen purple? Designer Sian Gillanders and her adventurous clients took the leap with Resene Wicked for the kitchen of a guest suite of this Central Otago property.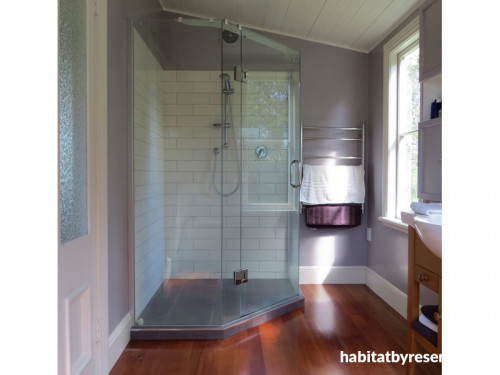 Having painted their bedroom in neutral colours Susan and John Snelgrove felt free to do something a little more daring in their bathroom. Friend and interior stylist Jane Swinard took them way outside their comfort zone, suggesting Resene Nobel to complement their Resene Parchment bedroom. Resene Nobel was more subtle than the other lilacs and mauves they had considered and beautifully frames the garden views from the window. The couple chose cream rather than white tiles to give an old lavender and antique lace look to the room.
Low light and strokable velvets add to the moodiness of this living space. Get the look with a wall painted in Resene Dotcom (no relation). The fabrics are from Warwick Fabric's Gillespie collection.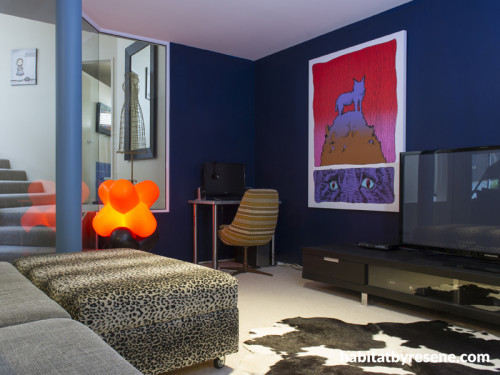 The deep indigo tones of Resene Nite Life are perfect for this moody teenage rumpus room. Designed by homeowner Debra Yearsley, she's added animal prints, vibrant art and a funky orange light. This house featured in the latest habitat magazine.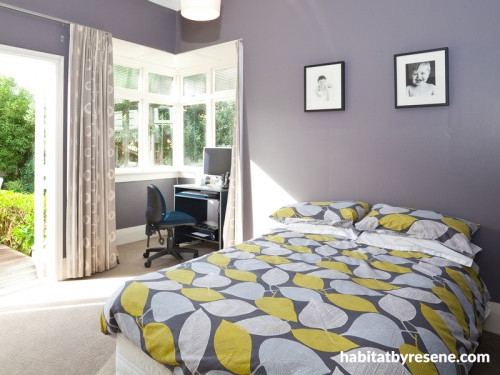 The muted lavender tones of Resene Salt Box complement the green garden outlook in this bedroom.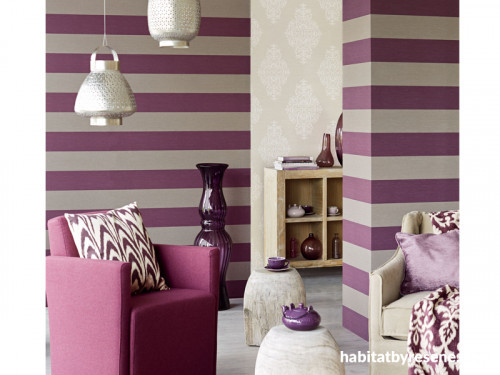 Cyclamen purples are growing in popularity and look great with warm neutrals. A great colour to add to this scheme would be Resene Centre Stage, and the floor look can be created with Resene Colorwood Whitewash. These wallpapers are new from Aspiring Walls, available at Resene, from the Charm collection from Eijffinger.
the look
If you're stuck on what
colour to use or need colour
advice, try out the Resene
Ask a Colour Expert service.