►
◄
latest
habitat tv
blog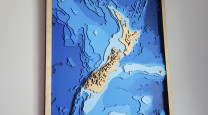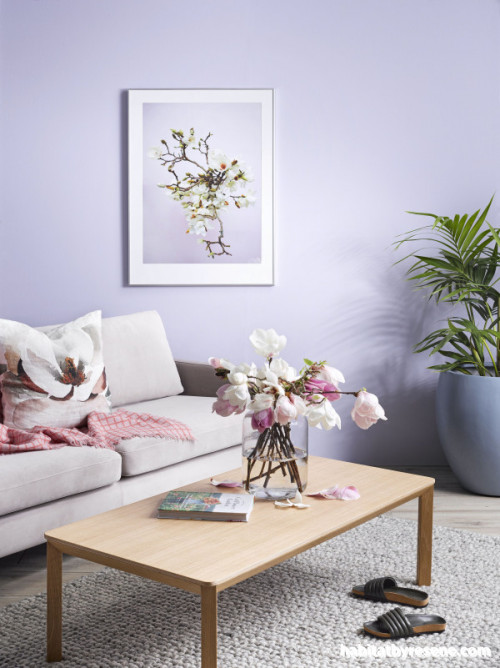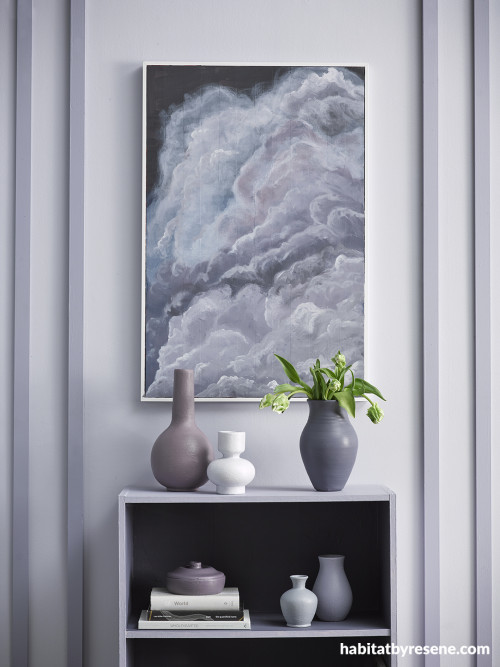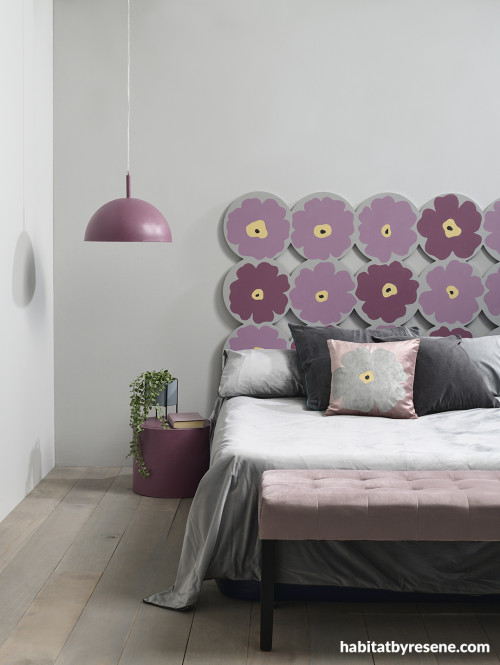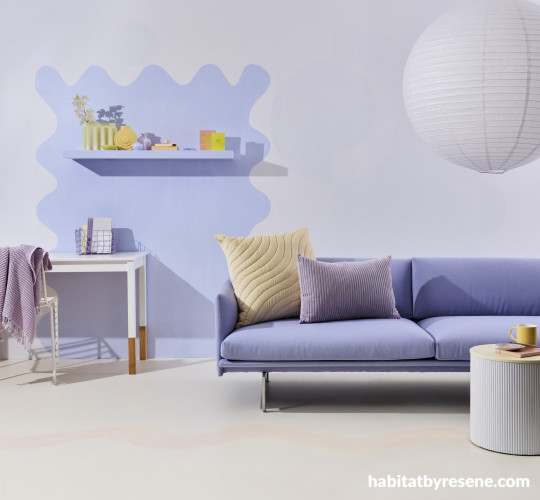 Purple passion: Five ways to embrace this regal hue in your home
November is Pancreatic Cancer Awareness Month. You can help to support a good cause by Hosting a 'Big Purple Dinner' your way! Eat purple, dress purple, decorate with purple and have fun with your friends and family all while raising vital funds for those impacted by pancreatic cancer – click here to learn more.
We've also got five ways that you can incorporate the colour purple into your home using Resene paints and wallpapers. Whether you go big and bright, or small and subtle, these ideas are sure to inspire your home design.
Thanks to the rich grey-indigo undertones that shift and change throughout the day, hues like Resene Ghost and Resene In The Mauve are infinitely more interesting than a true neutral. And yet, they're neutral enough in their own right to be a flexible base for building up a wide range of different colour palettes. Any of these shades look spectacular with a range of luxe metallic accents shimmering silver like Resene Silver Aluminium to warm copper like Resene Bullion. But they also look fabulous with furniture in soft blacks or crisp whites such as Resene Gumboot and Resene Alabaster – making mauve an ideal choice if you're after a glamourous living or dining room setting.
Dream a little dream… of treating yourself to a soothing, joy-sparking bedroom in a beautiful bouquet of paints. Making your bedroom a true haven to which you can retreat is underrated given the difference it can make to your wellbeing. A thoughtfully decorated boudoir is so much more than simply a place to sleep — it's a special sanctuary that bookends your day with the simple pleasure of well-deserved home comforts.
Spring is a season for the feminine and fun, and this scheme ushers them in in the form of a floral headboard and a calming colour palette that includes soft, dawn-mist grey Resene Quarter Delta, old musk rose Resene Cosmic and muted mauve Resene Strikemaster. It's a look to delight adults, teens and kids alike. Try creating your own headboard in the image of your favourite flowers, using a spicy rich red like Resene Pohutukawa, a lime green like Resene Wasabi or bright golden yellow like Resene Bloom.
For years, pastel colours have been associated with youth – pale pink or yellow bedrooms for girls and baby blue or soft green for boys, generally speaking. Today they adopt a more dynamic, softer, romantic role rather than pale and bland. These walls could let the bright living room sofa do the talking, but by painting a wall feature in a soft lilac they reach another level. The fluid lines of the wall art tie in with the organic curves of the pendant, cushion and footstool, all of which add to the sensual nature of the space.
Purple is often associated with opulence and royalty, and this wallpaper design will give you that touch of glamour and luxury you're looking for. With contemporary shapes and patterns, and rich mauve shades, it would look great as a feature wall in a lush bedroom or living space. Try pairing this with neutrals to really make it the focal point of the room, such as blacks like Resene Nero and Resene All Black, or warm whites like Resene Quarter Blanc and Resene Villa White.
The lighter shades of lavenders and lilacs, like Resene Biloba Flower and Resene Fog, can create a soft and serene ambiance in a bedroom, bathroom or living room. When choosing a shade of purple, consider the other colours in the room and how they will complement or contrast with the purple walls. For example, white or light-coloured furniture can help balance a bold purple wall, while gold or brass accents can add warmth and richness to the space. Try painting a photo frame or vase in Resene Gold Dust metallic paint for a sophisticated touch to the room.
For more paint and wallpaper advice, visit your local Resene ColorShop. If you're interested in hosting a Big Purple Dinner and want to support a good cause, or learn more about pancreatic cancer research and awareness – visit www.bigpurpledinner.nz
Published: 14 Nov 2023
Do you have a home full of wonderful Resene paint and colour? Send us some snaps by emailing [email protected].