►
◄
latest
habitat tv
blog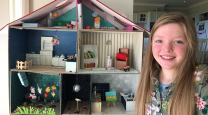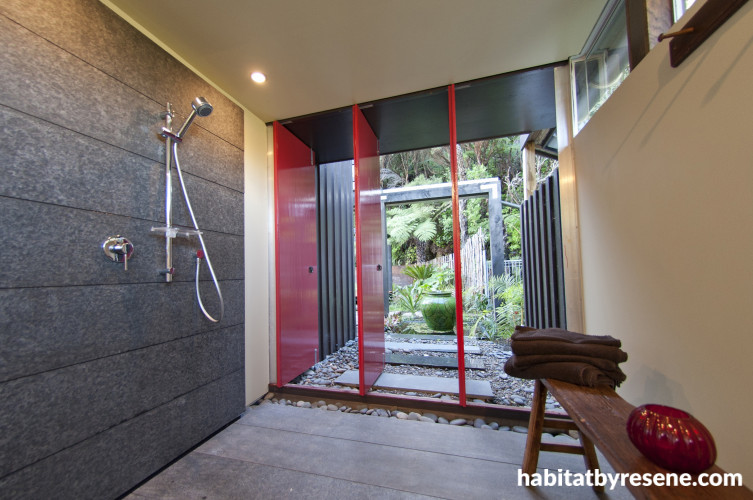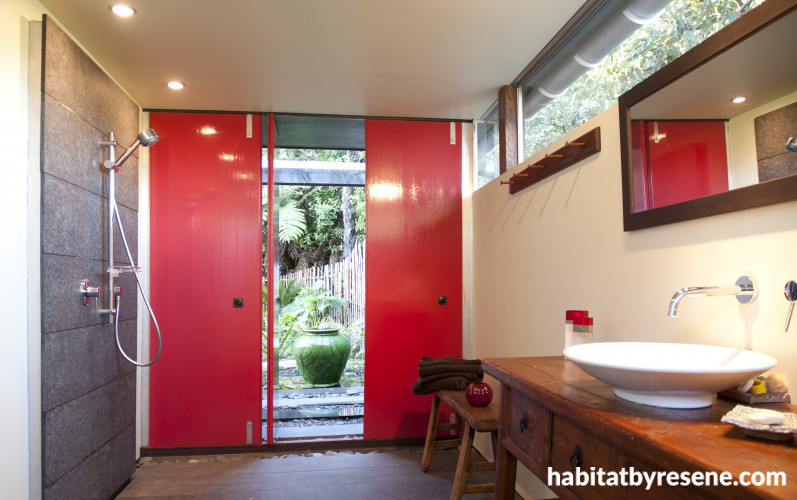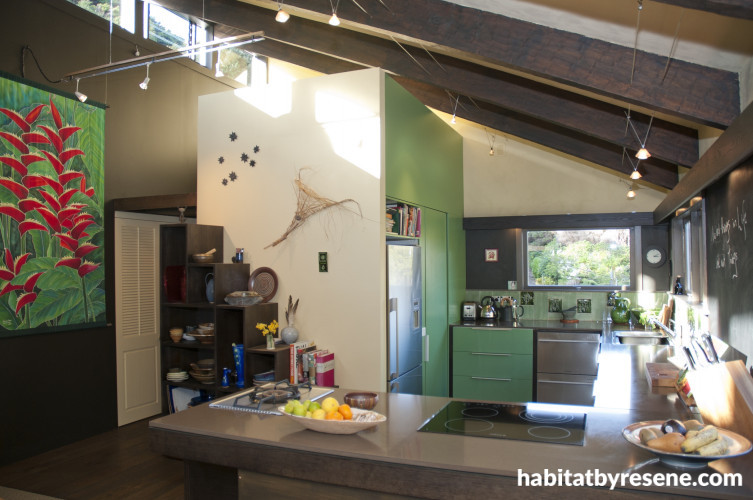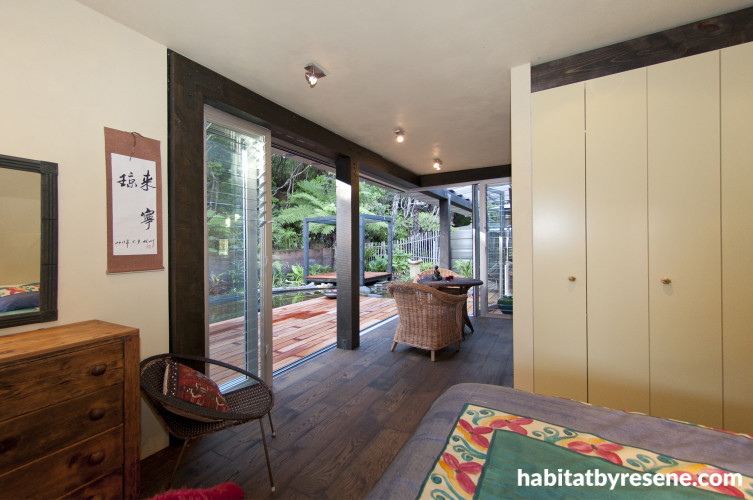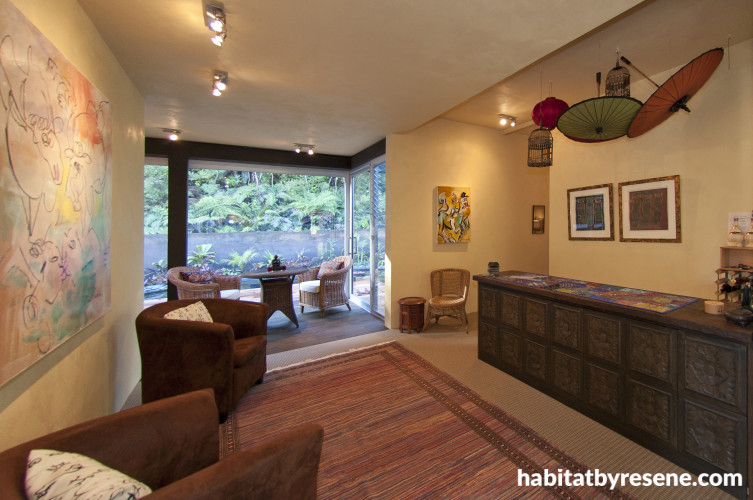 John and Linley's Quirky Coromandel Beach House
Published: 20 Oct 2011
Do you have a home full of wonderful Resene paint and colour? Send us some snaps by emailing [email protected].
A simple bach goes glam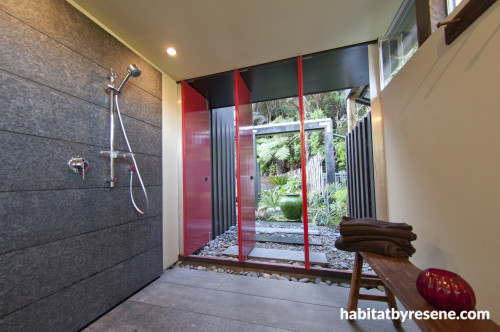 While John and Linley's Coromandel beach house may look sleek and modern these days, in fact it has a long and colourful history that includes being used as a hippie commune, tomato farm, fish hatchery and restaurant. Despite being poorly maintained, with a dated interior and dark living areas, "it still had a magic" for John and Linley, who loved the property's quirky history, large gardens, secluded position, and proximity to the sea.
A major renovation was inevitable, but where to start? The easy bit was updating the orange and brown colour scheme, which John and Linley did by painting it with fresh greens (Resene Miso and Resene Hippie Green), soft cream (Resene Butter) and bold red (Resene Paprika). The hard bit was changing the entire layout of the house, levelling the floors, and replacing the original small windows with as much glass as possible. It has taken John and Linley many years to complete, but the result is a relaxed beach house with a hint of glam.
What did you want to achieve with the renovation? We wanted a relaxed, informal, South East Asian-inspired interior. We didn't want it too polished though - it still had to feel like a beach house. We also wanted to achieve as close to completely open-plan as we were brave enough to do, with bedrooms flowing on from living spaces, rather than being separate rooms.
Where did your inspiration come from? Bali, India, Malaysia, Vietnam and Japan (all places that we have travelled to in the last 10 years) inspired the style as well as the colours. We were also inspired by the native bush surrounding the house, and the sea views through pohutukawa trees.
What was the biggest challenge? Creating a simple, flowing, open-plan layout. Actually, the biggest challenge of all was bringing the entire building up to standard in order to be able to install new windows, floors and beams.
What was the greatest success? Converting the existing courtyard swimming pool to a fishpond (not needing swimming pool fencing) with new overhanging jetty-style decks, pavilion, duck feeding canoe and tropical planting. Also, moving the bathroom from the middle of the house to the far end, and using the old bathroom space to connect the living area and courtyard, then increasing the light to the living area with full height glass doors.
What is your advice for someone trying to achieve a similar look? First, go back to basics. Think about how you want to live. Try to throw out all assumptions and preconceptions based on existing positions of kitchens, bathrooms, etc, and get the spaces (both inside and outside) and functional relationships right first. Get plenty of natural light through multiple sources. Then choose materials and colours that express your character and work well together. Be brave and have fun!
Which space do you get your greatest satisfaction from? Our "Raffles Room". Not a room at all really, but not quite a passage either, it hovers between the living room and the courtyard. It is magical at any time of day and most strongly expresses what we love about some of what we saw in our travels. A place to sit beside the quiet water at breakfast, for a drink with friends in the evening, or to read a book at any time. The dark oak floor and massive macrocarpa beams (stained with Resene Blackwood) give a spa resort feel. The runner-up for favourite space would have to be the bathroom, with its massive open basalt shower opening via three Japanese-style pivot panels into the tropical plants and water feature.
What colours did you use? The exterior of the house, and the interior beams, are stained with Resene Blackwood, which we chose to work with the dark staining of the wooden cabinetry and with our pieces of authentic Asian furniture. Soft yellow Resene Butter (on the walls) works well with the kitchen highlight colour, Resene Hippie Green (what else in the Coromandel!), a shade reminiscent of Asian interiors. We used Resene Top Gear for the high internal "slicing wall" through the living area. In the bathroom we used Resene Miso – the soft colour is perfect with the spicy Resene Paprika of our Japanese-style pivot doors. Tying the whole colour scheme together is Resene Nest Egg, a neutral earthy colour echoing the surrounding bush.
pictures Architectural Specifier: Linley Rose and John Eaglen at John Eaglen Architectural Design www.johneaglen.co.nz Aluminium Joinery: Intext Architectural Systems, Albany Fairview Windows and Doors, Kopu (Bathroom) Benchtops: Dalgety Stone Ltd (t/a Trethewey Granite & Marble) Cabinetry and Timber Joinery: Peninsula Joinery, Thames Carpet: Hills Flooring Plumbing Fittings: Franklins, Pukekohe Timber Flooring and Basalt Slabs: Artedomus, Grey Lynn Photographer: Dmitri Kostelevski (Fernvision) Get the look: Continuing one key colour from the outside to the inside is a great way to ensure your home's entire colour palette will feel like it belongs together. When you're using paints and stains, you can keep the colour the same and just vary the product to make sure it is suitable for the environment. If you're staining you can use a stain such as Resene Waterborne Woodsman outside, then inside used Resene Colorwood finished in Resene Aquaclear for an interior stained finish.
Red door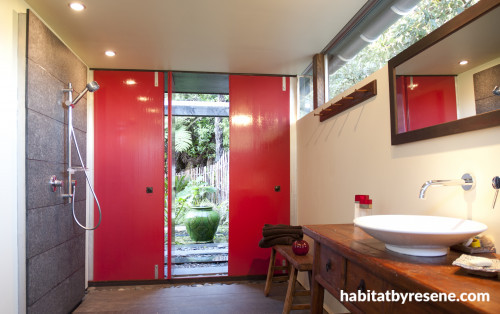 The new bathroom features Resene Paprika red Japanese-style pivot panels which open into the tropical plants and water feature outside. Walls are Resene Miso.
Go green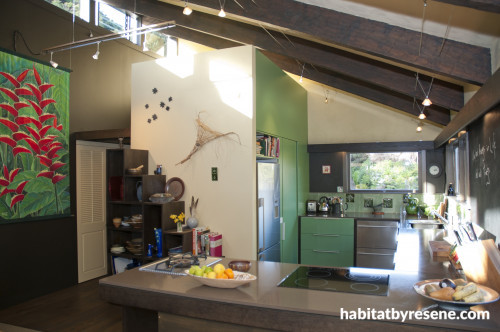 The kitchen, where Resene Hippie Green cabinets echo the green in John and Linley's treasured Batik hanging. The walls in this photo are Resene Top Gear and Resene Butter, while the macrocarpa beams have been stained with Resene Blackwood.
Exotic garden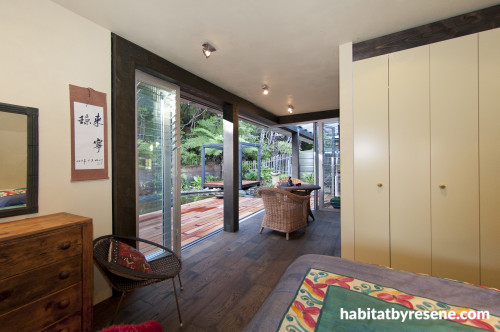 The bedrooms have no doors, in keeping with John and Linley's "as open-plan as we were brave enough to do" concept for the house. The view from this bedroom takes in the sunny north courtyard which now has a fishpond, tropical plants and a pavilion. Inside are Resene Butter walls, oak floors, and macrocarpa beams stained with Resene Blackwood.
The Raffles Room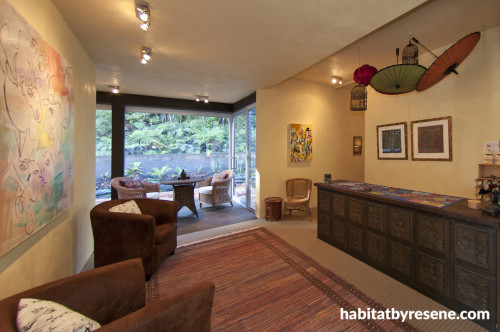 John and Linley's favourite space in the house is the area they call the Raffles Room: "Now people say "Wow!" instead of "Oh God!" when they come in."
Simple but elegant

The simple, open-plan layout was difficult to achieve, but has totally transformed the beach house into a light, modern dwelling. Here, walls are Resene Butter and Resene Top Gear, kitchen cabinets are Resene Hippie Green, and macrocarpa beams are stained with Resene Blackwood.
the look
If you're stuck on what
colour to use or need colour
advice, try out the Resene
Ask a Colour Expert service.