►
◄
latest
habitat tv
blog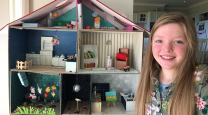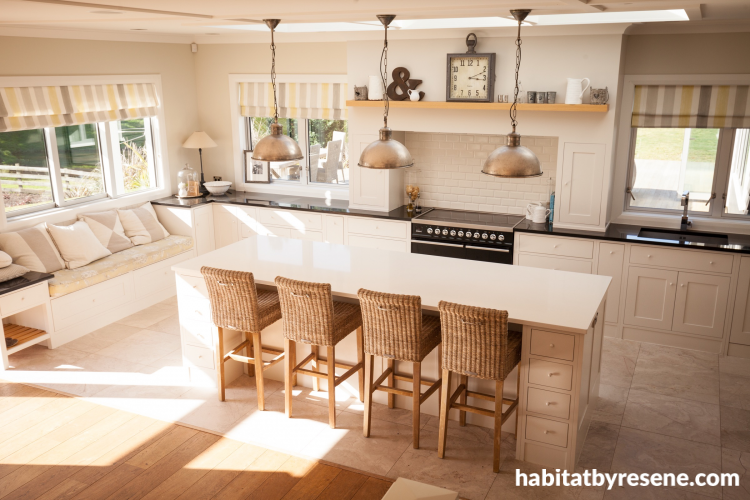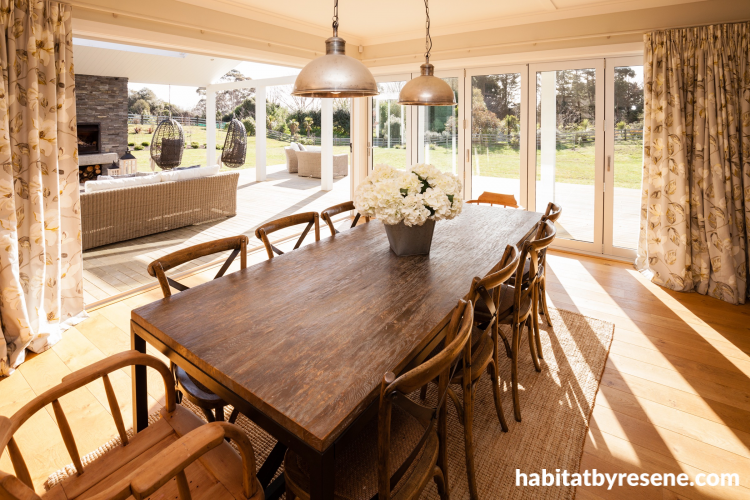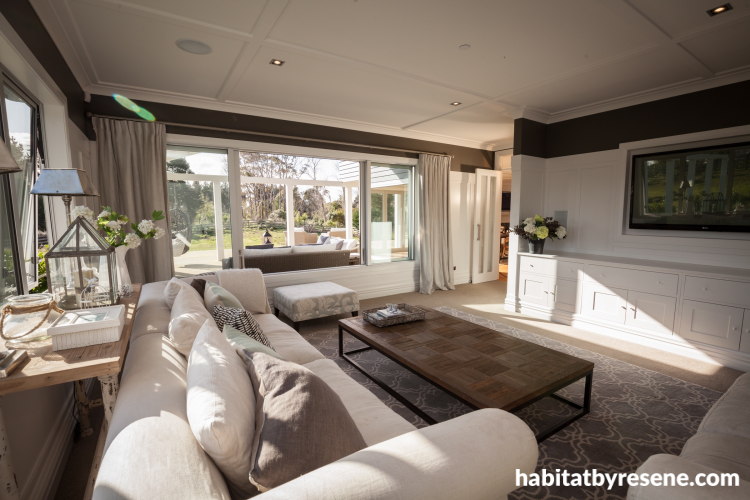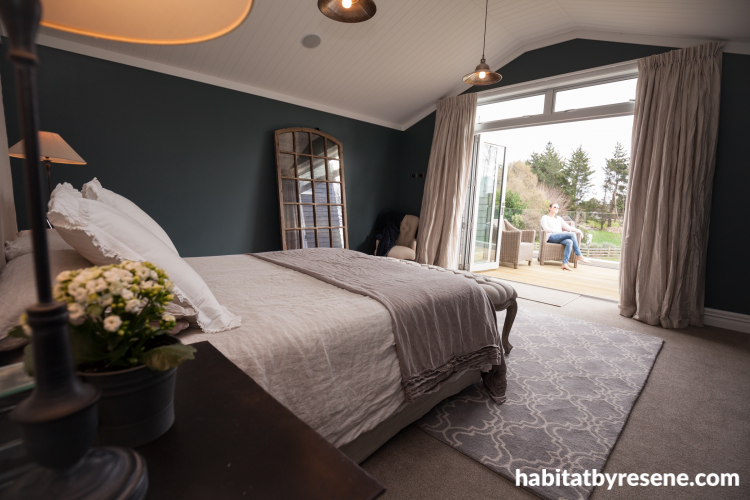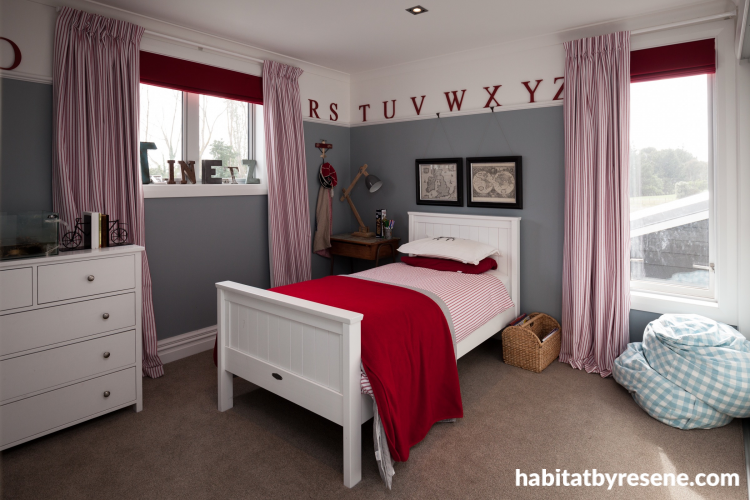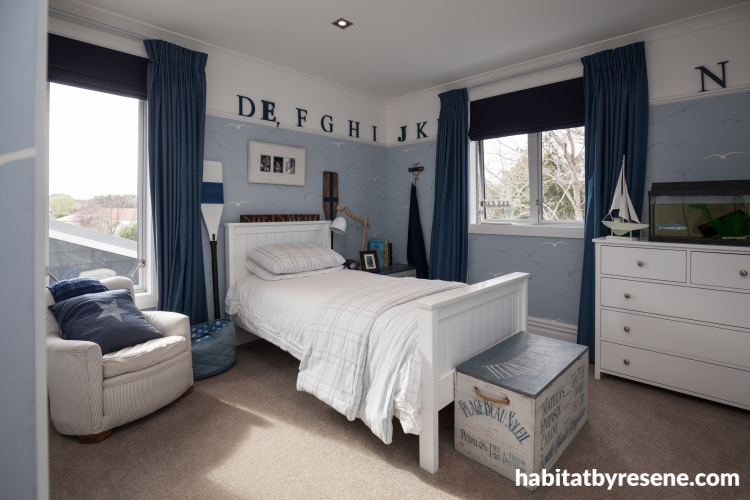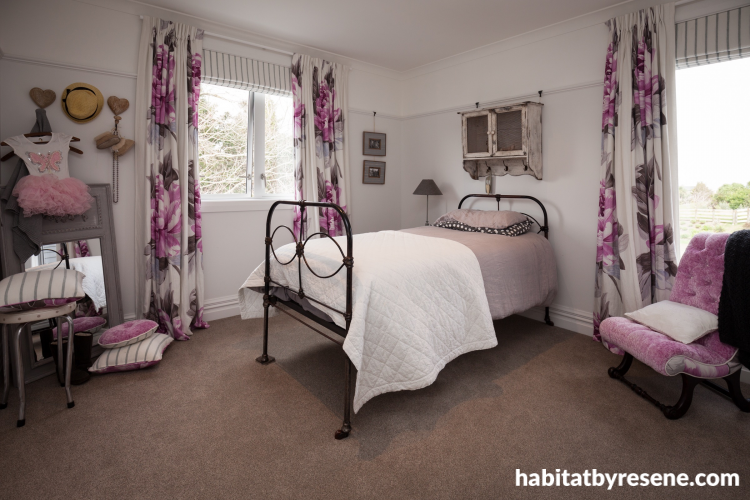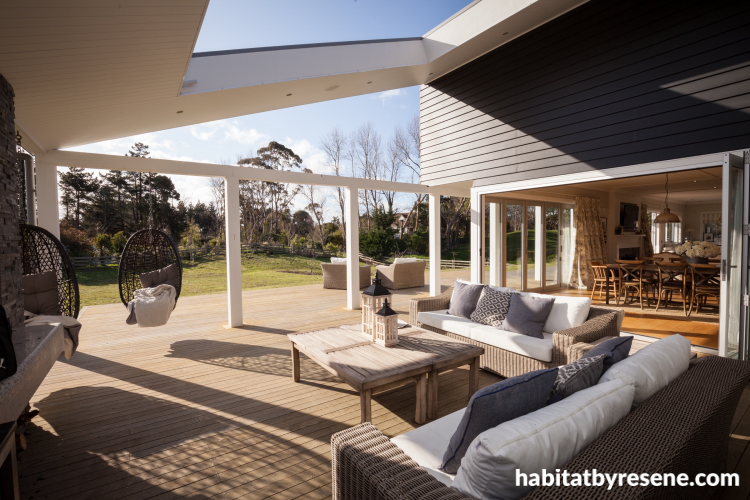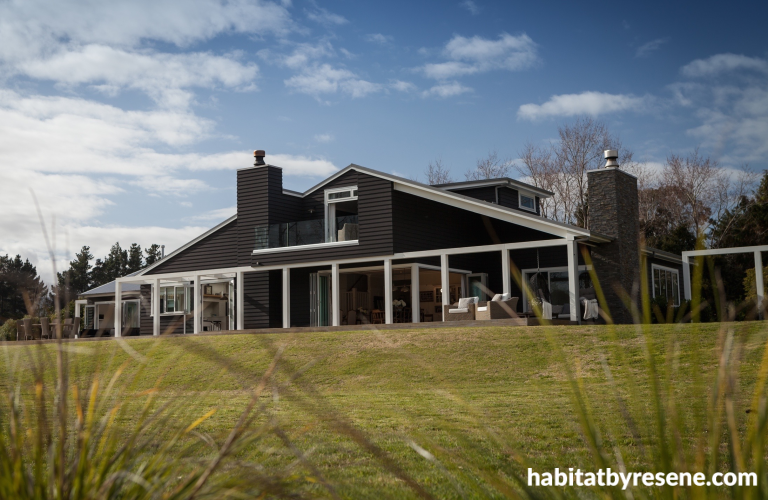 Rachel and Paul's global getaway
When Paul and Rachel Steinmetz came home to New Zealand after years of living in Europe, they didn't arrive with just the kids and furniture. They also bought a love of international interiors, and a passion to build their own home.
Rachel is an interior designer and so, with Resene colour swatches in hand, she decorated their new home in a true, gorgeous global fashion, using a palette of sometimes strong, yet soothing colour. Rachel explains how she did it.
What Resene colours and products have you used, in which rooms, and what inspired those choices?
I am a big fan of creating beautiful comfortable spaces for people to live in. This home has a lot of details, so the key to its success was creating a simple, neutral backdrop and then dressing the home with beautiful, interesting things.
I love using dark, moody colours in master bedrooms. Here, we used Resene Balderdash, a dark blue. We did this room five years ago and dark blue still seems to be going strong.
It's a lot of fun creating kids' rooms. One of my children, Luca, is obsessed with the sea, so a beach themed room was an easy concept to arrive at, using a seagull motif wallpaper we bought overseas and Resene Black White on the upper part of the wall.
In Micah's room I used Resene Clouded Blue with berry red accents. I love how these colours work together.
Resene Black White was used in my daughter's bedroom. It was the perfect shade of grey/white to complement the fabrics we used in this room.
I love a dark exterior colour scheme, so we chose Resene Blackjack Linea weatherboards, with trims in Resene Black White.
Top tip: Resene CoolColour technology gives you peace of mind when using dark coloured paint on the outside of your home, as it helps protect the paint and the substrate from the sun's damaging heat.
How did you decide on the overall look of the interiors? What was your overall philosophy?
I wanted a comfortable neutral backdrop and some traditional elements. Neutral doesn't have to be boring – the key is to have different textures and tones to make it work.
What part of the house are you most happy with?
I love our kitchen/living area. This is where we as a family spend most of out time. It is the perfect entertaining space, too.
What is your advice for someone trying to achieve a similar look?
In theory choosing neutral paint colours should be easy… That's true, to a point. It can be tricky to get neutrals right. Some neutrals have pink, yellow or green tints to them. Then, of course, there is the amount of natural sunlight that the room gets and other elements such as flooring.
It's so important to invest in some testpots or order A4 drawdown sheets from your Resene ColorShop. Place them in different parts of the room and look at them at different times of the day.
What was the biggest decorating, renovating or building challenge for this project?
The biggest challenge for us was not the inside but the outside. We had a 500 sqm home just plonked on a section. The challenge was making this home feel like part of the landscape. We are only really getting there now.
Do you have a favourite colour, and if so why is it your favourite?
My favourite neutral is Resene Quarter Truffle or Resene Eighth Truffle, and my favourite dark moody colour is Resene Raven.
---
See more of Rachel's work at Appletree Designs. The house was designed by Rochelle Dennis of Kapiti Architectural Design, and built by Steinmetz Builders.
Published: 14 Apr 2016
Do you have a home full of wonderful Resene paint and colour? Send us some snaps by emailing [email protected].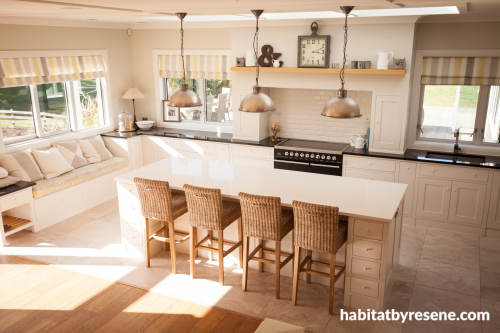 A stunning kitchen with Resene Thorndon Cream walls, Resene Black White trims and cabinets in this new home, owned by designer Rachel Steinmetz. Panelled cabinets, an enclosed hob area and a subway tile splashback enhance the new home's European feel.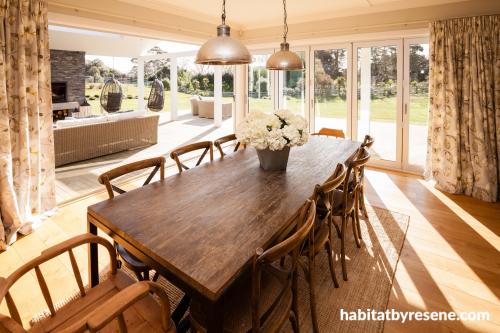 A timber and iron table, and plenty of texture, brings the neutral scheme of the house to life.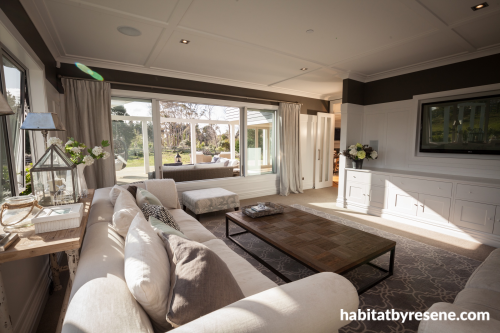 Traditional elements are used in the living room, where the walls are in Resene Thorndon Cream with a panel of Resene Masala at the top. The ceiling is in Resene Black White.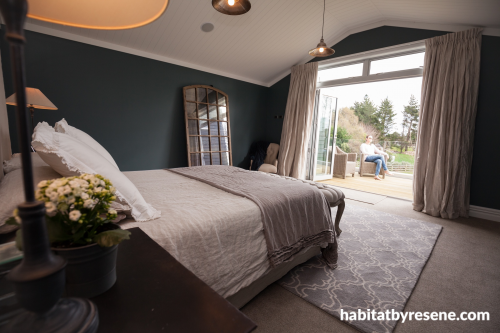 The moody master bedroom has walls painted in Resene Balderdash, a stormy dark blue with green undertones.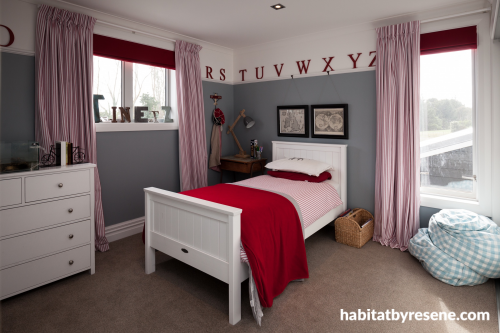 Rachel used a favourite combination of Resene Clouded Blue walls with rich red accents in son Micah's room.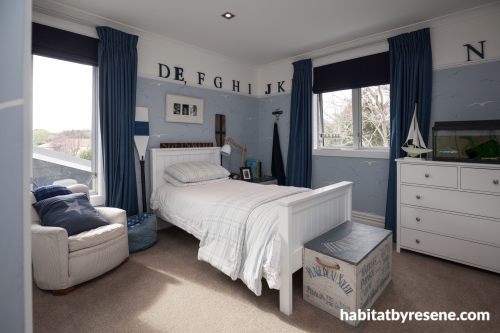 Luca loves the beach so a seaside theme was appropriate using an imported seagull-motif wallpaper and Resene Black White on the upper walls.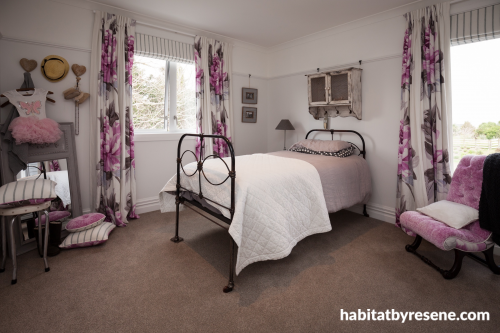 Quin's room is finished in Resene Black White, "the perfect shade of grey/white to complement the fabrics we used," says Rachel.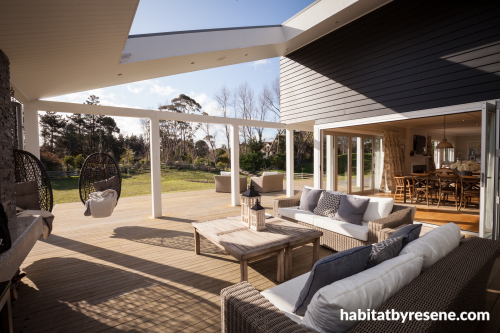 It would be forever summer in this stunning outdoor room with its hanging chairs, oversized sofas and outdoor fireplace.
The generous deck is stained in Resene Waterborne Woodsman Natural, while the weatherboards are Resene Blackjack and the trims, pergola and veranda ceiling are in Resene Black White.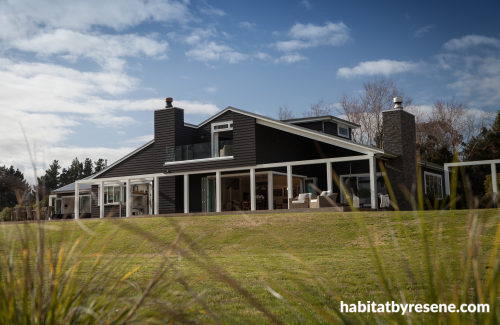 Rachel's love of dark exterior colour schemes manifested in Resene Blackjack CoolColour weatherboards, with trims in Resene Black White.
the look
If you're stuck on what
colour to use or need colour
advice, try out the Resene
Ask a Colour Expert service.