►
◄
latest
habitat tv
blog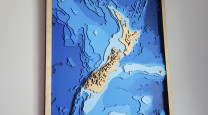 Refresh your outdoor space and get summer ready this spring
As the days grow longer and we welcome the warmer weather, it's a great time to breathe new life into your outdoor space to make it the perfect retreat for summer. One of the easiest and most impactful ways to achieve this transformation is by using paint to add colour, personality and style to your outdoor area. Whether you're aiming for a serene neutral haven, a lush patio retreat or a charming European escape, Resene has the perfect shades and tips to bring your vision to life.
Shelley Ferguson had the right idea when designing her gorgeous neutral outdoor space. A beautiful grapevine trails down the stair balustrade and looks striking against the white walls painted in Resene Alabaster. Resene Walk-on flooring and paving paint was painted onto the deck tinted to Resene Blanc. This space is refreshed and ready for relaxing or entertaining. Design by Shelley Ferguson Studio, image by Helen Bankers.
This is a chic, tranquil outdoor space that celebrates the beauty of nature with a neutral palette and lush greenery. Soft whites can transform any patio into a serene haven. Try Resene White Pointer for walls and Resene Quarter White Pointer for furniture to create a fresh, clean and cohesive look. With a neutral canvas you can easily change things up if you want to add some colour. Try painting plant pots with summery colours like Resene Soft Apple and Resene Coral Tree and add accented cushions and some colourful citronella candles to keep the beasties away.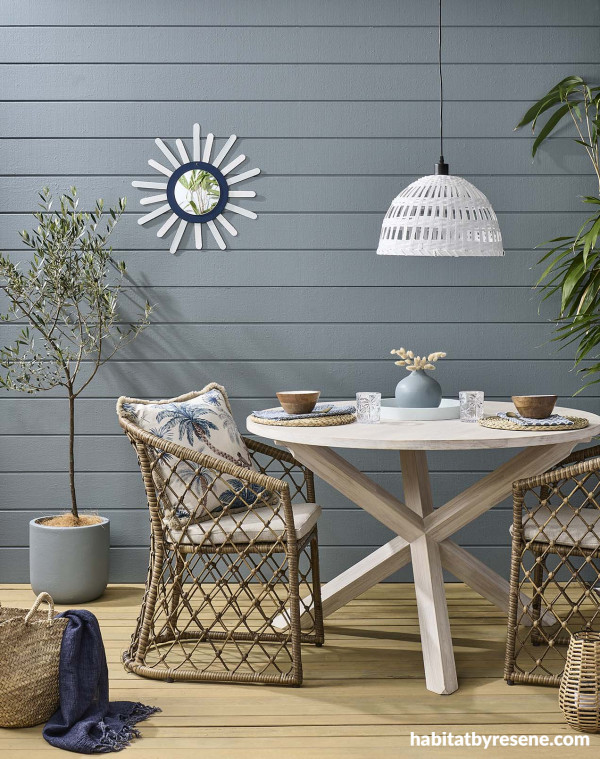 These coastal blue weatherboards are painted in Resene Baring Head, while the deck is stained in Resene Woodsman Uluru. The planter is painted in Resene Baring Head, small vase in Resene Ocean Waves, light in Resene Alabaster and the wall art in Resene Timeless and Resene Alabaster. Table and chairs from Danske Møbler, cane basket and cushion from Bed Bath & Beyond. Project by Melle Van Sambeek, image by Bryce Carleton.
This space exudes the timeless charm of ever popular Hamptons style, with gentle blue weatherboards and classic wicker chairs. Resene's range of coastal blues, such as Resene Bismark, Resene Calypso and Resene Wedgewood, pair perfectly with crisp whites like Resene Sea Fog and Resene Barely There. Finish off this coastal chic look by adding some comfy beachy cushions, plants and rattan or cane accessories.
Tip: Using good quality paints helps you get a cost-effective finish over the long-term as their durability will help the paint last longer and protect the surface it is painted onto. Opt for Resene Sonyx 101 or Resene Lumbersider Low Sheen in your topcoat colour. Use the Resene CoolColour version of the topcoat colour if selecting a dark shade, this will allow you to use a darker colour on your exterior without having to be worried about the effects of damage from the sun.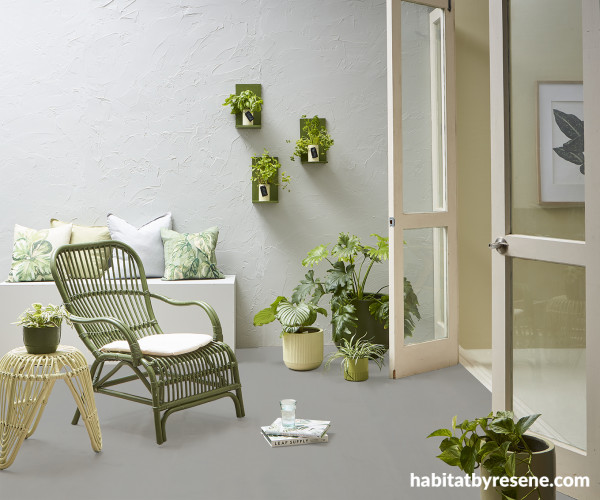 This textured exterior wall adds some interest and depth to this otherwise plain area. The wall is painted in Resene Resitex Plastercote in Resene Foggy Grey, flooring in Resene Gunsmoke, bench seat in Resene Foggy Grey, chair in Resene Awol with a small side table in Resene Nirvana, table pot and large planter in Resene Turtle Green, medium planter in Resene Fawn Green, small planter in Resene Awol, planter holders in Resene Clover with tins in Resene Fawn Green, interior walls in Resene Miso and interior floor in Resene Thorndon Cream. Chair from Danske Mobler, leaf cushions from Briscoes, green cushion and artwork from H&M, grey cushion from Adairs. Project by Vanessa Nouwens, image by Wendy Fenwick.
If you have a patio with no lawn or garden, that doesn't mean it can't be lush and inviting. By incorporating touches of green, you can create a refreshing oasis even with limited greenery. Try muted, pastel greens like Resene Pale Leaf and Resene Surf Crest, or opt for bright and vibrant greens like Resene Conifer and Resene Bilbao. Mix and match these shades with some real greenery and plants to infuse life into your outdoor space and make it a relaxing retreat.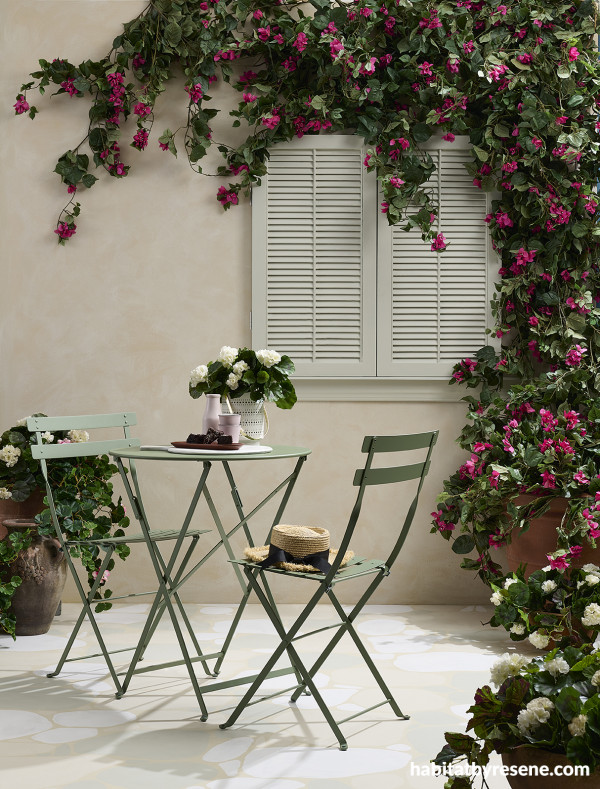 Embrace the romance of Europe right in your own backyard.In this sunny courtyard, the wall is painted in Resene Half Canterbury Clay with Resene FX Paint Effects medium mixed with Resene Eighth Canterbury Clay and Resene Double Spanish White. The shutters and windowsill are painted in Resene Kangaroo, cobbled patio floor in Resene Half Canterbury Clay, Resene Eighth Canterbury Clay, Resene Double Spanish White, Resene Blanc, Resene Paris White and Resene Half Spanish White, large amphora vase in Resene FX Faux Rust Effect and other vases in Resene Soothe, Resene Pewter and Resene Alabaster. Table and chairs from Jardin. Project by Annick Larkin, image by Bryce Carleton.
A trip to Tuscany might be once in a lifetime, but you can make every day a European escape by creating a courtyard with Mediterranean touches. This outdoor area is adorned with flowery vines, simple bistro-style seating and painted in soothing greens and sun-glowed neutrals. If you're looking for that Greek 'Santorini' blue feel, try Resene Half Resolution Blue and Resene Mariner with pure whites like Resene Half Sea Fog and Resene Double Alabaster.
A cobblestone effect underfoot will give your patio a hand-crafted artisanal vibe, and the look of natural stones is easily mimicked using Resene Walk-On paving paint. We started by applying two basecoats in Resene Half Canterbury Clay. Once dry, we used a professional quality flat angled paintbrush – available from your local Resene ColorShop – to hand paint our random, rounded shapes in various neutrals. Be sure to balance very large shapes with very small shapes and leave inconsistent gaps for your base colour 'grout' to show through for a more realistic effect.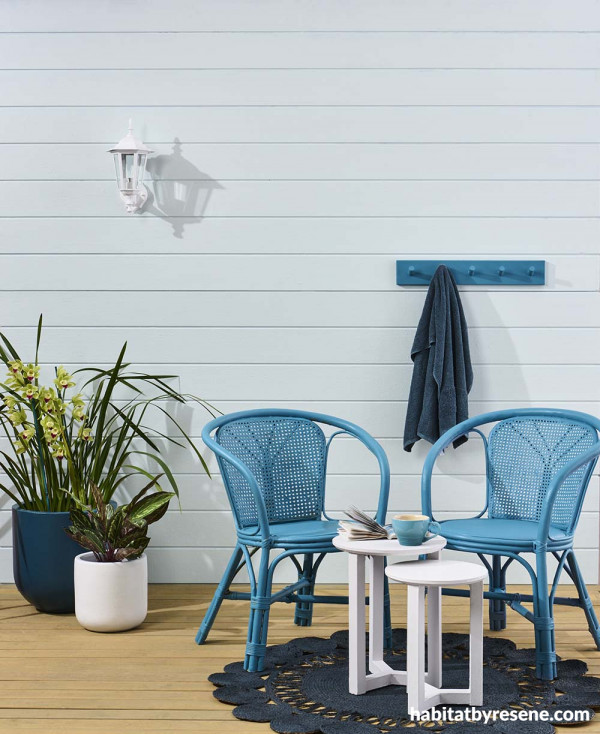 A splash of sea and a touch of sky, Resene Carefree is a soft blue that works harmoniously with the natural environment making it a great option for bach or villa weatherboards. This soft shade is contrasted with crisp white Resene Alabaster on the side tables, planter and lamp. The chairs and coat hook are in Resene Calypso, large plant pot in Resene Tarawera, decking in Resene Woodsman Uluru and rug in Resene Coast. Mug from Le Creuset. Project by Megan Harrison-Turner, image by Bryce Carleton.
This bach-style outdoor space with blue weatherboards and chairs and a warm toned deck mimics the shades of the beach on a summer's day. It's a welcome space that invites you in to take a seat and soak up the sun.
If you're not looking to change up your exterior walls however, this vibrant and approachable look can easily be achieved by adding some colour to existing chairs and accessories with a few Resene testpots. Here are some colour ideas to match with existing exterior colours:
If your exterior is a grey tone, try using pops of complementary shades of yellow or green like Resene Sunflower and Resene Lima for a trendy and energetic vibe, perfect for summer gatherings:
For a classic more modern look, with a taupe or beige exterior, try using Resene New Denim Blue and Resene Designer White:

Alternatively, you could add some good old fashioned Kiwi bach colours to a neutral exterior like mint greens or bright reds – Resene Fringy Flower and Resene Roadster:

As you prepare your outdoor space for the upcoming summer season, you'll find an array of colours and finishes to help you achieve the look and feel you desire. So, grab your brushes and favourite Resene colours and get stuck into transforming your outdoor dream into a reality ready for a summer of relaxing and entertaining. If you get stuck or need some advice, our friendly team are always here to help, visit your local Resene ColorShop or Ask a Resene Paint Expert online today.
Keep up to date with the latest trends, tips and inspiration and follow us on Instagram.
Published: 27 Sep 2023
Do you have a home full of wonderful Resene paint and colour? Send us some snaps by emailing [email protected].